What Is a Rollover or Play-Through in Sports Betting?
Credit:
Maddie Malhotra/Getty Images.
Sportsbooks offer attractive deposit bonuses, which bettors should certainly take advantage of.
But they often come with stipulations that you should know before signing up — most commonly called a rollover or play-through.
Rollovers exist so that you can't claim a free-money deposit bonus and cash it out immediately, but some rollovers are predatory and you'll likely never see the money if you're not careful.
Rollover Definition
A rollover is a multiple of a deposit that you must bet in order to cash out any winnings from that sportsbook.
If you deposit $200 with a 10x rollover bonus, you need to make $2,000 worth of bets to ever see that money.
It sounds harmless since you likely deposited at that sportsbook to bet, not win once and run. But when you do the math, you'll realize you may never see the bonus money.
Sportsbooks sometimes bury rollover requirements deep in their terms and conditions, so new bettors are often unaware that they're not getting a fair shake.
Rollover Examples
Let's use a real example from PointsBet, which has a 1x rollover on its promotions. That's the most fair deal you're going to get.
If you deposit $100 and get a $100 bonus, you only need to make $100 worth of bets to claim the bonus. It's just 1x the deposit amount.
So if you're betting $20 a game, you need to make five bets before you're eligible to cash out.
But with a 10x rollover, you need to wager $1,000 before you can cash out.
Let's say you keep betting $20 per game. You need to bet 50 games before you can cash out.
Even hitting 50% of your bets over that time (assuming they're -110), you'll lose $50, which is half your bonus.
With a 20x rollover, you'd lose your entire bonus.
Different Books Have Different Rollover Stipulations
Some books count bets differently toward your rollover, and have rules in place so you can't try to game the system.
Say you deposit $100 and claim a bonus with a 10x rollover. That's $1,000 that needs to be risked.
You could bet $100 on 10 favorites at -1000 and get there quickly, right?
Nope. Many sportsbooks don't count favorites of greater than -200 against your rollover requirements.
Some books will also only count your winnings toward the rollover. If you bet $30 to win $20 on a -150 MLB favorite, only that $20 will count.
Other books will count winnings on winning bets, and the total amount risked on losing bets.
Where to Find Rollover Requirements
Some books are more forthright than others.
Offshore books, which often have ridiculous rollover requirements, hide it deep in their terms of service.
Some legal books do too, and often don't call it a rollover — FanDuel calls it a Play-Through Requirement (it has a favorable 1x rollover on its $500 risk-free bet).
PointsBet is more transparent, but they have a favorable rollover, so it's not surprising they want to promote that as a differentiator.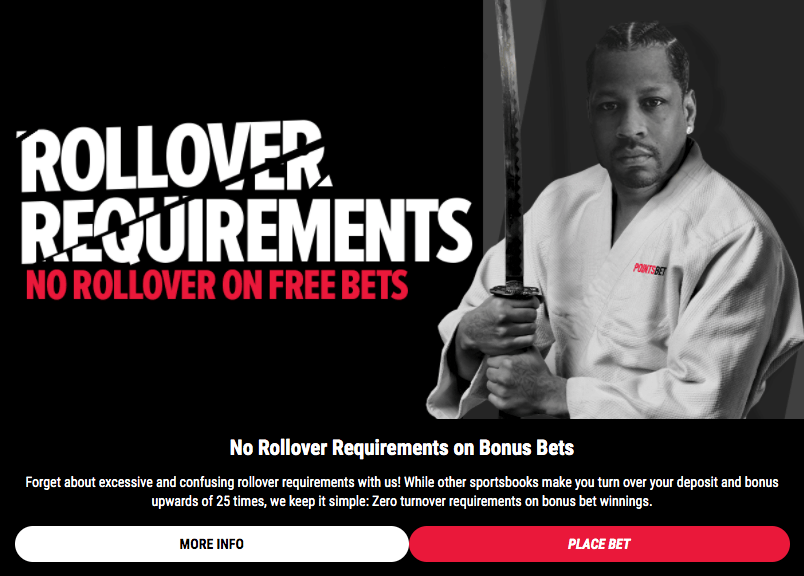 Checking on the Status of a Rollover
Books with unfriendly rollovers want to hide them as much as possible. So they're not going to offer you some kind of status bar in your account that shows how close you are to reaching the cash out limit.
DraftKings actually does. You can check it by clicking "View Bonus Status" in your account.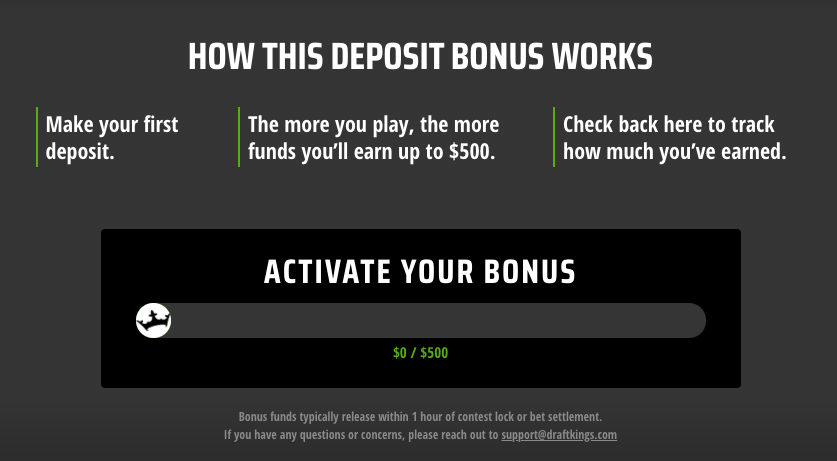 How would you rate this article?
This site contains commercial content. We may be compensated for the links provided on this page. The content on this page is for informational purposes only. Action Network makes no representation or warranty as to the accuracy of the information given or the outcome of any game or event.