How to Bet on CS:GO with Legal eSports Wagering Coming to Colorado
Credit:
Photo credit: Derry Ainsworth/Getty Images for Hong Kong Tourism Board
Today, Friday, May 1, sports betting will be launched in Colorado. That's exciting news, but what's even better is that the state seems to be quite progressive in its betting offerings.
Colorado will be the first state to offer eSports wagering, including League of Legends, CS:GO, Overwatch and more.
On that note, I'll detail the basics of CS:GO, including how to bet it, the wager types for the game, which stats to look at and more.
[In Colorado and new to betting? Check out BetRivers, where Action Network users can get a 100% deposit match up to $250. Click this link and use promo code "250MATCH" to take advantage!]
How to Bet on CS:GO
The Basics of CS:GO
Counter-Strike: Global Offensive (CS:GO) is a first-person shooter game that was originally released in 2012 with competitive play coming online shortly thereafter.
In each game of CS:GO, one team functions as the "terrorists" with the other playing the role of the "counter-terrorists." The objective of the terrorists is to detonate a bomb within the map's specified bomb sites; the counter-terrorists are working to prevent that from happening. Either team may also win a round by killing all five members of the opposition within the time limit. Each game lasts a total of one minute and 55 seconds.
In competitive CS:GO, most matches are hosted in the best-of-3-games format, though you will also occasionally come across best-of-5, best-of-2, and even best-of-1 matches depending on the tournament. Each game contains 30 rounds in regulation with an overtime period occurring if the game is tied 15-15 at the end of regulation. Halfway through the 30-round game, the teams will switch sides with the terrorists, becoming the counter-terrorists, and vice versa.
[Get All of Your Colorado Sports Betting Questions Answered Here]
Bet Types
Full Match Bets
The most common bet type in CS:GO is the full-match moneyline bet. These bets are identical to moneyline bets in traditional sports with one caveat. In best-of-2 matches, you will be presented with three options: Team A wins, Team B wins or the match ends in a tie.
Books will also commonly offer "Total Maps" and "Correct Map Score" bets. A "Total Maps" bet is essentially an over/under bet on the number of games played.
In a best-of-3 match, an "Over 2.5 Total Maps" bet is successful when the final score ends 2-1 or 1-2. A "Correct Map Score" bet takes the idea of a "Total Maps" bet one step further. In a "Correct Map Score" bet, you must specify both the winning team and the final score — for example, "Astralis to win 2-0."
Map Betting
Each game takes place on a different map. In a typical best-of-3 series, the match will take place over three maps: one selected by Team A, one selected by Team B and a mutually-selected map for Game 3. Most books will offer moneyline and spread bet options on the individual maps.
To win a Map 1 spread bet of Natus Vincere -2.5, for example, Natus Vincere must win the map by a margin of at least three rounds to be successful.
Books will also typically list "Total Rounds" bets on an individual map level. For example, a Map 1 total rounds bet of over 26.5 means there must be at least 27 rounds played on the map. In this case, the losing team must win at least 11 rounds for a final score of 11-16 or better.
Some books will even offer "Total Rounds (Odd/Even)" bets and "First Team to Five Rounds" bets on individual maps.
Props
In the more high-profile matchups, books may also offer player props. These will typically be offered on an individual map where the bettor is required to select "over" or "under" on a specified number of kills for a player — for example, "FalleN, Over 17.5 (Map 1)."
[For more on the best Colorado sportsbooks and apps to use, check out our CO sports betting hub.]
How to Research CS:GO
The best site to visit when researching CS:GO is HLTV, where you will find an encyclopedic amount of information for every team and player. I'll touch on the most relevant statistics and where to find them below.
Team Data
HLTV's Team Rankings page is updated with the latest rankings for each team. Click on "Ranking Details" to view the recent matches that are being factored into the rankings and, more importantly, a roster history for each team. For example, looking at the Team Rankings page for fnatic, we see that the team replaced two of its five players following the Europe Minor – StarLadder Major 2019 event, making results prior to that point less relevant: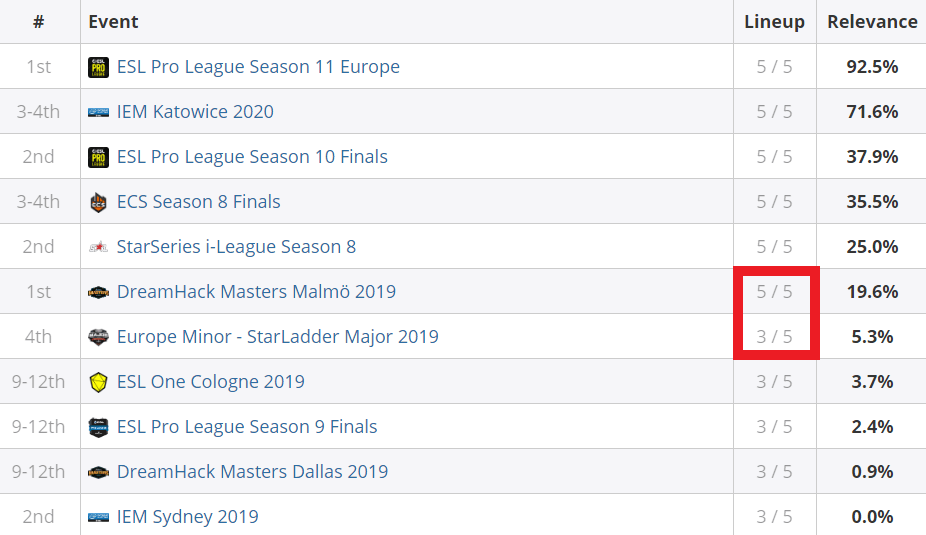 Player Data
I consider Rating 2.0 and Kill:Death Ratio to be the two most important statistics when evaluating player performance. From a betting perspective, player-level data will be most relevant when a team has recently updated its roster — which happens regularly — and when evaluating player props.
Rating 2.0 is a statistic developed by HLTV that weighs a group of stats, including kills per round, survival rate per round, multi-kill rounds and average damage per round into a single aggregate measure. Kill:Death Ratio measures the number of deaths the player accumulates for every kill. A K:D over 1.00 means the player has racked up more kills than deaths.
Map Data
As I mentioned in the introduction, each game is played on a different map. Prior to the match, the two teams will go through a draft process to select the specific maps to be included in the competition. Teams will first go through a round of removing a map from the pool, followed by a round of map selection, and this process is repeated until all maps have been selected.
For example, here's what the draft looked like in a recent best-of-3 match between fnatic and Natus Vincere:
fnatic removed Train
Natus Vincere removed Vertigo
fnatic picked Inferno
Natus Vincere picked Nuke
fnatic removed Dust2
Natus Vincere removed Mirage
Overpass was left over
Fnatic selected Inferno for Map 1, Natus Vincere selected Nuke for Map 2 and Overpass was the mutually-selected third map.
HLTV has a wealth of map-level data on each team, including win rates, pick frequency and a list of historical opponents played on each map. Although you will not often be privy to the selected maps before placing a pre-game bet, you can make educated guesses about which maps the teams are likely to select based on this information.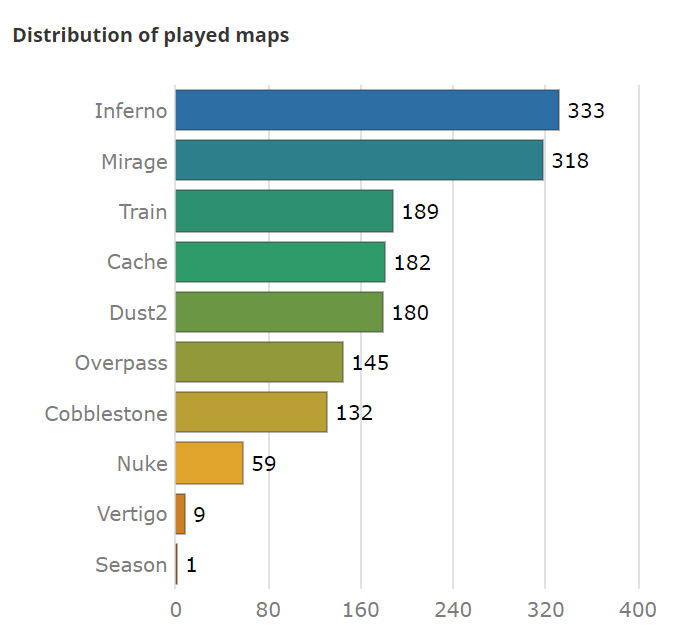 On a broader level, some maps are more favorable to either the terrorist or counter-terrorist side. Since teams switch sides halfway through a game, you can leverage map-level data to place an in-game bet. For example, Vertigo is a map that has favored the terrorist side, with terrorists winning rounds at a 52.7% clip over the past six months.
HLTV also provides win probability matrices for each map; these can come in very handy when placing live bets. For example, here is the win probability matrix for Vertigo that shows win rates at each score level: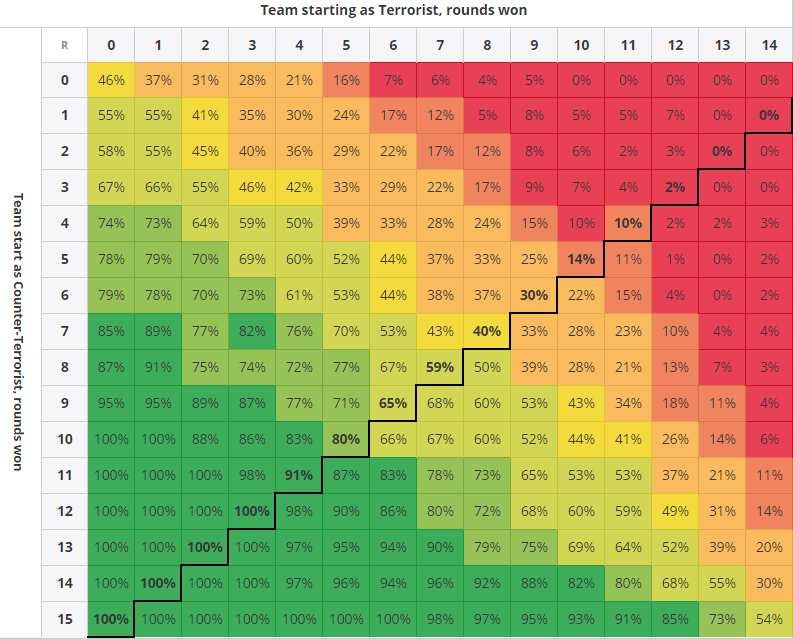 How would you rate this article?