LOL Betting Odds and Picks: League of Legends LCK, LPL Preview (April 1-3)
Credit:
Christoph Soeder/picture alliance via Getty Images
There is action every single day in the world of professional League of Legends. Circuits across the globe have condensed their schedules due to the ongoing pandemic and that has led to some leagues, like China's League of Legends Pro League (LPL) running seven days a week and others, like Korea's League of Legends Champions Korea (LCK) going five days a week. That's a lot of games, a lot of data — and most importantly — a lot of action!
Unlike the Western Leagues in North America and Europe, the major Eastern Leagues still use a circuit point system to qualify for the World Championships. This has led to a lot fewer "meaningless" games down the stretch.
Let's take a more detailed look at a few matches that I've got my eye on in the next few days:
LOL Champions Korea (LCK) Betting Picks
Sandbox (+325) vs DragonX (-429)
Kill Spread: DragonX -6.5
Kill Total: 22.5
Time: Wednesday, 2 a.m. ET
Notable Trends:
DragonX are 8-2 as favorites and 5-5 against the map spread for the season
DragonX are 3-1 as favorites of -200 or longer and 3-1 ATS in those positions
Sandbox are 2-4 as underdogs, 4-2 against the map spread for the season
Sandbox are 1-2 as underdogs of greater than +180 and 1-2 ATS in those positions
Favorites are 43-17 in the LCK this season
Sandbox enter this series off of one of the most egregious performances by any team in the LCK this season, an awful 0-2 loss to then-last-place APK Prince.
Prior to the loss to APK Prince, Sandbox had cobbled together a pair of wins out of the break against Afreeca and a struggling Griffin. Sandbox have been using a new lineup since the LCK resumed play, controversially benching Kim "OnFleek" Jang-gyeom and Park "Summit" Woo-tae, arguably their two best players. Many pros in Korea consider Summit to be the best player at his position in the LCK.
The strategy seemed to be working through the first two series, but it would not surprise me if OnFleek and Summit are back in the lineup after the humiliating loss to APK Prince.
Before the COVID-19 hiatus, DragonX appeared to be solidifying themselves as the third upper-echelon team in the LCK. A rusty first series back against Hanwha Life eSports and a loss to T1, one of the best teams in the league, should not change that.
Sandbox may have won the first meeting between these two clubs in Week 1 but that was a long time ago and these teams are trending in different directions. On an individual level, DragonX severely outclass Sandbox in every position, the lone exception being Summit if he does play.
DragonX are winning games by an average kill margin of 10.3 including double-digit totals in their past five and seven of their past ten. Sandbox are only losing by an average margin of 8.88 kills but have lost by double digits in their last six of their past eight games. We're taking the DragonX map spread and kill spreads on maps one and two. DragonX have covered the -6.5 in all but three wins this season and two of those were by five.
PICKS:  DragonX -6.5 kills;  DragonX -1.5 maps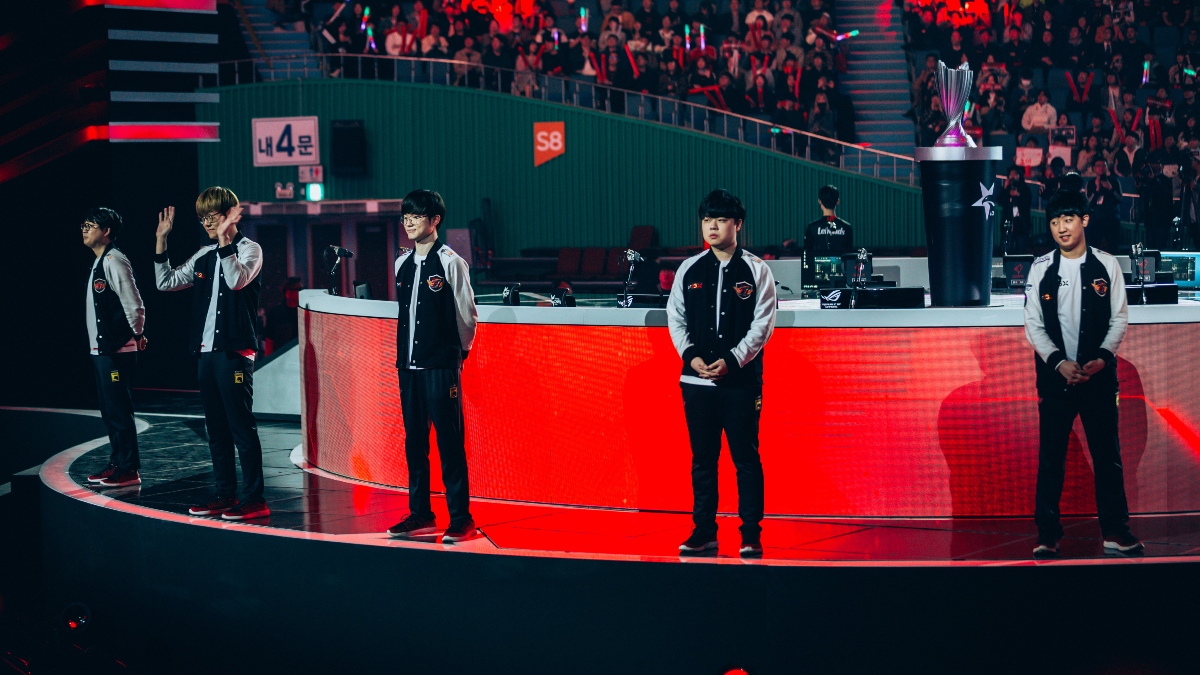 LOL Pro League (LPL) Betting Picks
Rogue Warriors (+182) vs BiliBili Gaming (-227)
Kill Spread: BiliBili Gaming -4.5
Kill Total: 24.5
Time: Thursday, 5 a.m. ET
Notable trends:
BiliBili Gaming are 1-3 as favorites, 0-4 against the map spread this season
Rogue Warriors are 2-4 as underdogs, 3-3 against the map spread this season
Favorites are 54-25 in the LPL this season but 33-46 ATS
Favorites between -200 and -900 are 36-15, 22-29 ATS
After opening the season with back-to-back wins in Week 1, BiliBili returned from the COVID-19 hiatus to lose six matches in a row before finally picking up their first win against Team WE on Saturday. BiliBili's schedule over the first half of the season has been nightmarish as they've faced nine of the top 12 teams in the LPL.
Recently, BiliBili have been mixing in former starting top laner Kang "ADD" Geon-mo in an attempt to bring some veteran leadership and energy to the team in hopes to break out of the slump.
After a poor Game 1 performance against Team WE, the team's starter for the majority of the season Hwang "Kingen" Seong-hoon was benched and ADD proceeded to lead the team to two straight wins to take the match.
Rogue Warriors are coming off of a brutal 0-2 defeat at the hands of Dominus eSports, arguably the second-worst team in the LPL. It was their first match since suspending their starting jungler Wang "WeiYan" Xiang after he violated league rules and it certainly was not a good showing.
Rogue Warriors have been competitive as an underdog, with a 3-6 record in matches (8-13 in games), but they still struggle with many of the strategic aspects of the game. Replacement jungler Chen "Haro" Wen-Lin has seen plenty of stage time in his career, including five games already this season, so it's not as if Rogue Warriors were starting a rookie. Their outlook for the remainder of the season could be bleak.
While Rogue Warriors are trending down, I think BiliBili are going the opposite direction. Despite some questionable drafts, BiliBili have found a way to make their previous identity work again, especially with ADD in the lineup. Just like they did in 2019, BiliBili have taken games off the elite teams this season and they have the easiest part of their schedule coming up, so there's reason to be optimistic about a longshot playoff run.
Rogue Warriors were looking slightly improved from their abysmal 2019 performance but were still not what you'd call a "good" team and the suspension won't help.
BiliBili have won by double-digits in all but one of their 10 wins this season while Rogue Warriors' margin of defeat is above league-average at 11.38. BiliBili prefer to play a slower, more controlling style, so the kill spreads looks appetizing in this position. When Rogue Warriors lose, they tend to get blown out, having lost by at least 12 kills in their last five game losses.
PICKS: BiliBili -4.5 kills -118; BiliBili -1.5 maps
---
Royal Never Give Up (RNG) (+147) vs eStar (-181)
Kill Spread: eStar -2.5
Kill Total: 27.5
Time: Friday, 7 a.m. ET
Notable Trends:
eStar are 5-1 as favorites, 3-3 against the map spread this season
RNG are 2-1 as underdogs, 2-1 against the map spread this season
Both of RNG's underdog wins were 2-0 sweeps
Favorites between -120 and -200 are 9-9, 4-14 ATS
The new kids on the block, eStar, have taken the LPL by storm. At 9-1 in matches with an 18-6 game record, eStar currently sit alone in first place. If you take into consideration that the expansion team was expected to finish in last place going into the season, it's quite the impressive feat.
eStar have defeated the previous two world champions, including a shellacking of Invictus Gaming this past Monday. If you're an NHL fan, think of eStar like the 2017-18 Vegas Golden Knights, who made it to the Stanley Cup Final in their first season.
Royal Never Give Up looked like the cleanest and in my opinion, the strongest all-around team in the LPL prior to an 0-2 loss to Vici Gaming. Their healthy blend of veteran leadership and young talent. combined with a cerebral approach to the game makes them potent as the "adult in the room" in a league full of fight-first, think-later teams.
Since the uncharacteristic loss to Vici Gaming and a tough 0-2 loss against the reigning world champions, FunPlus Phoenix, RNG have gotten back on track with two straight match wins against two top-eight teams in JD Gaming and EDward Gaming.
I think RNG will take down eStar in this match. While the new kids on the block have beating up on the LPL playoff mainstays so far, their linear, predictable style will be exposed at some point and I think RNG are just the team to do it.
Even if he's not currently playing, after years of playing with Uzi in their bottom lane, RNG are well-versed in playing a bottom-lane-centric gameplan which is exactly how eStar have been attacking every single game. Their discipline will also be a strong weapon against eStar who have benefited greatly from their opponents inability to say no to a skirmish.
Both of these teams play Wednesday morning and while we might get a better feel for how this match will play out after seeing those games, I think the time to jump on this is now.
eStar face Vici and while they should win, it wouldn't surprise me to see them finally drop a series. RNG face the last-place Victory Five and should dominate. If eStar lose we'll likely lose some line value on RNG here.
Lay the -209 for RNG to take a map and use the potential winnings from that to put on the RNG moneyline. If you have access to RNG -1.5 maps that's in play as well.
PICKS: RNG +1.5 maps; RNG moneyline +147
---
LOL DFS Picks and Preview
Last week, I discussed the differences between the LCK and LPL for DFS purposes. This week I want to mention stylistic matchups and then point to a few matches I'll be fading this week as examples.
In League of Legends, there are many different strategies and styles a team can deploy. Some teams are excellent at one thing while others are more versatile in their approach. It's important to know what each team wants to do in a game and more specifically how they might try to exploit a certain matchup.
Let's use the match above, eStar vs RNG, as an example.
While RNG are above league-average in kills per win and eStar lead the league outright in kills per win, I'd be cautious about assuming this match will be the bloodbath everyone projects it to be. If I think RNG has a reasonable chance to take this match, I have to look not just at whether or not they win. but how they win for DFS purposes.
When RNG win, they tend to take an advantage and use it to play the map for towers and neutral objectives rather than to force fights which minimizes the potential for their opponents to find a way back into the game. Frequently their winning games will enter the 20-plus minute mark with only a handful of kills. eStar have also put up 5-or-fewer kills in three out of their six losses.
Here are a few matches that I'm targeting for DFS plays this week based on anticipated game script and stylistic preferences of the teams involved:
Dominus vs LNG eSports (Wednesday)
LNG have eclipsed 16 kills in all but two wins this season and are above league-average in kills per win.
Hanwha Life eSports vs DAMWON Gaming (Thursday)
While the LCK tends to have lower kill totals overall, these two teams rank third and second, respectively in combined kills per minute in the LCK. Hanwha also have one of the higher kill per loss totals in the LCK.
Invictus Gaming vs Victory Five (Friday)
Both teams are in the top six in the LPL in combined kills per minute.
TOP eSports vs FunPlus Phoenix (Saturday)
Both teams are in the top five in the LPL in combined kills per minute.
Rogue Warriors vs LGD Gaming (Saturday)
Rank No. 2 and No. 3, respectively in combined kills per minute.
How would you rate this article?