Overwatch League Week 13 Betting Odds and Picks: Can the Hunters Upset Excelsior? (May 2-3)
Credit:
Hunter Martin, Getty Images.
Let's go over some basics for the uninitiated. The Overwatch League is an eSports league built around the Blizzard Entertainment (Starcraft, World of Warcraft) first-person shooter and strategy game, Overwatch. It's comprised of two teams of six players, with two players as tanks, two players as support (healers) and two players as DPS (Damage Per Second, or, attack).
You can bet on these games, now. Sportsbooks in Nevada and Colorado have started offering eSports betting, among other states. There are 20 teams in the league, with each match based on five sets of games across five maps. So it's a best-of-5 contest, essentially, which is how the lines below are represented. The match advantage of -1.5 means the favorite is favored to win 3-1, at least.
Each week in Overwatch League (and in the game across all platforms for all players), certain heroes are "banned" and unplayable. For Week 12, those heroes were the gigantic horse shield tank Orisa, the pain-in-the-backside time-dashing Tracer, and Moira, who has an unlockable skin based on David Bowie, which is just awesome.
For this week, the banned heroes are the super-macho cowboy gunslinger McCree, the femme fatale and super-annoying sniper Widowmaker, the German, iconic, individual healer and resurrector Mercy, and a giant mechanical ball driven, I kid you not, by a hamster named Hammond, AKA Wrecking Ball.
Let's talk a little bit about the impacts of those bans, because they factor in heavy to my analysis. The absence of two sharpshooters (hitscan) heroes in Widowmaker and McCree is happening alongside the introduction of a brand new hero, Echo. She's a robot. She flies, like a long time, with a short cooldown on her ability to fly.
She and the jetpack DPS character Pharah will be a pain this week for teams. However, the absence of Mercy means teams can't consistently heal the two flyers by having Mercy "pocket" them by flying around with them, boosting their damage and healing them instantly. (This is called "Pharmercy" as in Pharah + Mercy.)
So teams that have strong Pharah players will also be able to use Echo, and that can apply pressure to backline heroes. This is why teams using effective sharpshooter healer Ana will be important. Those teams can pick at the flyers while also burst healing their teams.
So we're looking at teams that are dependent on McCree to fade. Sharpshooter Ashe will be used often, but she has never been used consistently in Overwatch League. There's a little more instability this week due to both the introduction of Echo and the unknown impact of needing to use Ashe against them.
Last week's written picks:
Hangzhou Spark +1.5 vs. Seoul Dynasty (Loss)
New York Excelsior (-1.5) vs. Chengdu Hunters (Win)
Philadelphia Fusion (-1.5) vs. Atlanta Reign (Win)
SEASON: 5-1
This week we again have two favorites and an upset on the board.
Overwatch Week 13 Betting Picks
Dallas Fuel -1.5 (+135) over Washington Justice
Time: Saturday, 3 p.m. ET
The Fuel are on a roll. They've won three of four after dropping their first three, and are 11-7 in those matchups, including a 3-0 sweep of the Justice.
The Fuel have used Pharah roughly the same amount of time the Justice have, with more eliminations but a lower rate per life.
With Echo in rotation, you need to lean towards the better DPS and that goes to the Fuel. There has been speculation that Fuel DPS star Decay would be playing Echo, but instead, Dallas' coach has said they've been practicing with the other DPS, DoHa, as the robot scourge.
This would leave Reaper for Decay, which is a good thing as he one of the highest usage rate and one of the best eliminations-per-life rates with Reaper in the league.
Now, in that previous Week 10 matchup, D.Va and Reaper were banned. The Justice use D.Va at the second-highest rate in the league; the Fuel use Reaper more than any other team. Both heroes are back this week.
But the introduction of Echo impacts that D.Va play from the Justice as well. Echo's "ultimate ability" is to copy an opposing player, simulating their stats and weapons, and accumulating ult rate at 600%.
D.Va's ultimate is turning her big robot "mech" into a nuclear bomb that does devastating damage. So all of a sudden, one of the most powerful ultimates in the game is on the other team, if DoHa uses it.
The Fuel have some counters, with DPS player Corey capable of playing sharpshooter Ashe to counter, and Justice player AimGod averages almost 64 elims per life with Ana, which could counter the flying attack.
Oh, hey, Ana was banned in that Week 10 matchup, too.
However, the Justice have the second-worst advanced ratings in the league to go with their second-worst record. The Fuel are better in three of the four map types and have the better DPS. Getting plus money to lay the extra match is enough.
Lay the -1.5.
[Bet now at DraftKings. CO, NJ, PA, IN and WV only.]
---
Atlanta Reign -1.5 (-167) over Los Angeles Valiant
Time: Saturday, 5 p.m. ET
I faded the Reign last week vs. the Fusion based on their reliance on the banned Orisa. The big horse tank is back in the rotation this week, and should be able to help corral Echo if the Valiant go to it by using her "halt" orb.
Now, here's the Valiant's usage chart, with banned heroes in red.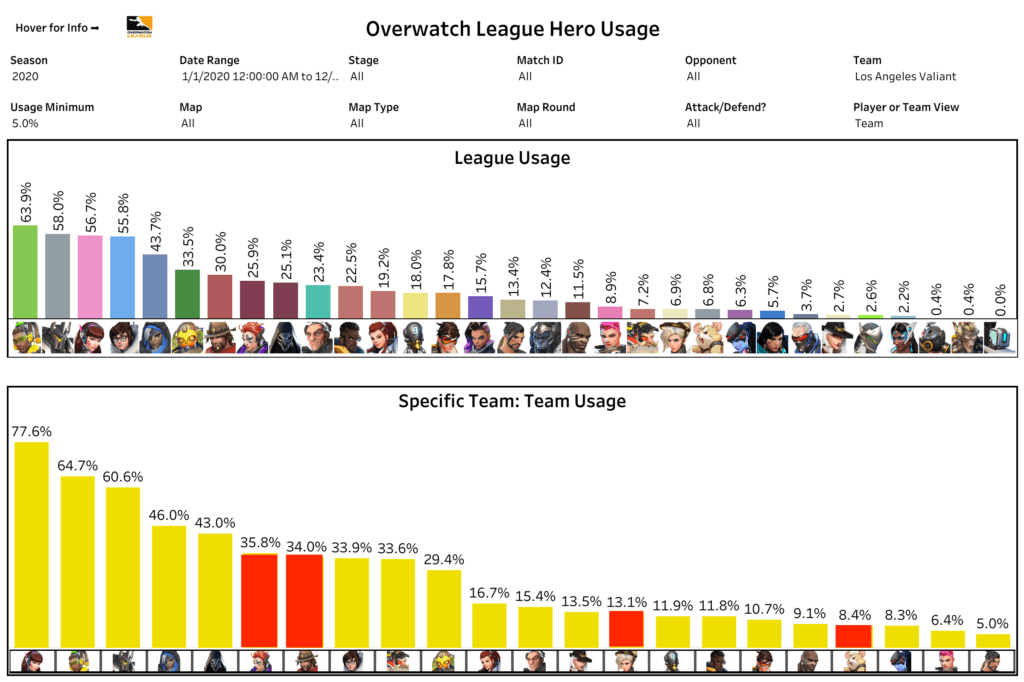 The Reign, meanwhile, aren't dependent at all on McCree, with the fourth-lowest usage rate with the cowboy. The Reign have comparable Ana usage and elimination rates with the Valiant, and their double-shield.
The Reign are also 4th in OWLStats.net's SRS rating which factors map differential vs. strength of schedule. The Valiant are 17th. The Reign have a 50% teamfight success rate vs. every team except the Fusion, Titans, Excelsior, Dragons, and Eternal. Three of those five teams are among the top four teams in the league.
Only laying -167 on the 1.5 map advantage is enough to get me on board. I like the Reign in a potential sweep.
[Bet now at DraftKings. CO, NJ, PA, IN and WV only.]
---
Chengdu Hunters +1.5 (+175) over New York Excelsior
Time: Sunday, 6 a.m. ET
Don't love betting against the Excelsior, but I'm getting +175 for Chengdu to win two matches here against one of the best teams in the league.
This is the Echo upset play.
Chengdu is the absolute league leader in Pharah usage and eliminations. There's no McCree for the Excelsior to counter. Libero for New York will likely play some Echo as a counter, and Excelsior has an advantage in Ana play, leading the league in eliminations with the old woman.
Chengdu has a little better chance of mixing up their comp to throw Excelsior off guard with a dive or rush composition. Excelsior is awesome, there's a reason they're a whopping -835 on the moneyline. But Chengdu is better than their record. I think they take two matches to force Excelsior to go the distance.
---
Around the League
Paris Eternal +1.5 (+120) vs. Philadelphia Fusion: This will come down to whether Fusion's usage of Torbjorn with McCree banned is able to counter Eternal's Tracer and likely Echo usage. I think in time, Echo will get neutralized but in this first week, I think the range is enough to give Fusion problems. Fusion has been skating through with more trouble than their record indicates and I like them to catch two wins.
Florida Mayhem -1.5 (-195) vs. Boston Uprising: The Uprising suck. They're the worst team in the league and that includes the Titans who are in the midst of an organizational meltdown. I'm betting against them every week.
How would you rate this article?