Overwatch League Week 14 Betting Odds and Picks: Time to Take a Dive (Comp)
Credit:
Hunter Martin/Getty Images. Pictured: Fans watch the opening entertainment of the Overwatch League Grand Finals.
Let's go over some basics for the uninitiated. The Overwatch League is an eSports league built around the Blizzard Entertainment (Starcraft, World of Warcraft) first-person shooter and strategy game, Overwatch. It's comprised of two teams of six players, with two players as tanks, two players as support (healers) and two players as DPS (Damage Per Second, or, attack).
You can bet on these games, now. Sportsbooks in Nevada and Colorado have started offering eSports betting, among other states. There are 20 teams in the league, with each match based on five sets of games across five maps. So it's a best-of-5 contest, essentially, which is how the lines below are represented. The match advantage of -1.5 means the favorite is favored to win 3-1, at least.
Each week in Overwatch League (and in the game across all platforms for all players), certain heroes are "banned" and unplayable. For Week 14, the ghostly shotgun-wielding Reaper, the German mech shield tank Reinhardt, the adorable Swedish mechanic healer Brigitte, and the long-gun sharpshooter Ashe.
Let's talk a little bit about the impacts of those bans, because they factor in heavy to my analysis. The flying robot DPS hero Echo made her debut last week and if you couldn't stop her, you really couldn't stop her. Having McCree and Widowmaker back in the rotation will help some teams, but the fact that some teams couldn't do anything against her with Ashe leaves concern about her impact.
With Reinhardt out, we're looking at more "dive" comps with D.Va and Winston, so we want to bet against teams that struggle vs. those comps and who rely on more traditional double-shield models.
Last week's picks:
Fuel (+1.5) over Justice (Win)
Reign (-1.5) over Valiant (Loss)
Hunters (+1.5) over Excelsior (Loss)
Eternal (+1.5) over Fusion (Win)
Mayhem (-1.5) over Uprising (Win)
SEASON: 8-3 overall
BEST BETS
LA GLADIATORS ML (-167) OVER PARIS ETERNAL
Time: Saturday, 1 p.m. ET
This match is too close on paper for the spread. For starters, the Gladiators have gotten 23.9% of their total elims this season from heroes banned this week, the second-highest in the league. The Eternal, on the other hand, are middle of the pack at 17%.
The Gladiators are 14-13-2 in map rounds this season, the Eternal are 20-20. Eternal have had a weaker schedule, but the two teams are still close in overall advanced metrics.
There are two ways to play this. This is likely to go to a fifth match, but I also think the Gladiators likely win. Gladiators ML is -167, better than the -190 you have to pay to take the points.
The key here is that while the Gladiators prefer compositions with Reinhardt, who's banned this week, they're better without him. LA has won 51% of all teamfights with Reinhardt. They've won 55% with Orisa-D.Va comps and 55% of Orisa-D.Va comps.
They won't run dive, and that's OK, Eternal won 43 of 98 matches this season running dive, and teams largely haven't tried it against the Gladiators this season. Maybe that works more successfully, but it doesn't look like a winning strategy.
The safer and less profitable play is paying the -190 for Paris +1.5, but the Gladiators grade out better overall and the hero bans may actually work in their favor. I'm taking LA straight up.
[Bet now at DraftKings. CO, NJ, PA, IN and WV only.]
---
SHANGHAI DRAGONS -1.5 (-190) OVER SEOUL DYNASTY
Time: Saturday, 2 a.m. ET
You're laying 2-1 on a map advantage spread here vs. a super-hyped Dynasty team, which is a lot, but it's for good reason. Seoul Dynasty started out 3-0, beating both LA teams and Hanzhou with a 9-0 map differential, three straight sweeps.
Then, they got exposed. Dynasty was swept for three straight weeks, including once by Shanghai and once by that same Spark team they swept three weeks earlier.
Meanwhile, Shanghai is unquestionably the best team in the league. They're 9-1 with a +21 round record at 27-6. Shanghai has a 3.27 SRS via OWLStats.net. The gap between them and second-place Excelsior in SRS is the same as the gap between Excelsior and 19th-ranked Justice.
They've annihilated everyone, including the Dynasty. The time to take Shanghai was two weeks ago in their first matchup here (which I did). But there's still value here, even at -190.
[Bet now at DraftKings. CO, NJ, PA, IN and WV only.]
---
HOUSTON OUTLAWS +1.5 (+120) OVER ATLANTA REIGN
Time: Saturday, 5 p.m. ET
Here's the Reign's usage map over the last four weeks of play: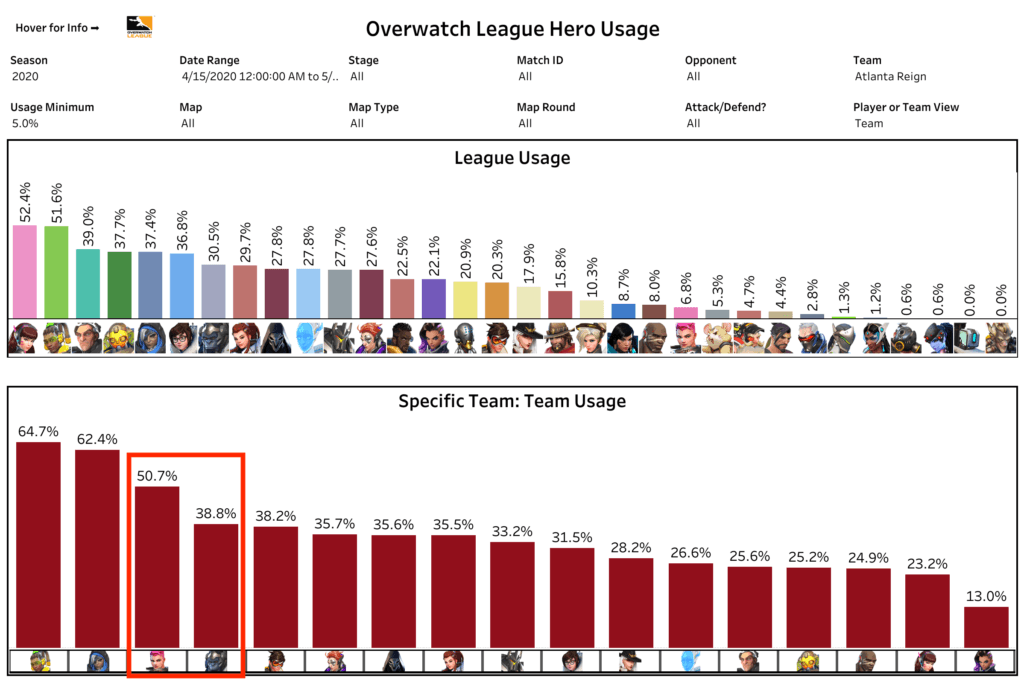 That's Zarya and Winston, two non-shields. They're not running them together; they only ran them vs. LA Valiant, though they did have success with them.
They've been running Zarya-Reinhardt (who is banned this week and Winston-D.Va. Using Zarya, the Reign are 26-of-79 in teamfights, and using Winston-D.Va in a dive combo, they've won just 9-of-29.
The Outlaws have generated way more eliminations with the banned Reinhardt (379) than the Reign have (181), but their success rate (38% on teamfights) is worse than the Reign's with Reinhardt (42.6%).
Meanwhile, this number was what swung me on this:
The Outlaws have won 7-of-7 teamfights using a D.Va-Winston dive comp against an Orisa, and 57% overall. They've also won 47.8% of dive comp teamfights vs. another D.Va-Winston combo.
The Reign will get wins here, their winrate with big horse tank Orisa is 57%. Without Reinhardt, there will be a lot of Orisa.
The Reign's +5 match rate has been boosted by beating up on the dregs, which is what the Outlaws seem like. They're third-worst in SRS and they lost to the Uprising, for crying out loud. But over the past five weeks they're 12-12 in round play, and that includes a 3-0 drubbing by the far superior Shock.
The Reign's best win of the season was against many weeks ago. They're a little inflated. I don't like the Outlaws to win, but I do like them to take two matches.
[Bet now at DraftKings. CO, NJ, PA, IN and WV only.]
---
SHANGHAI DRAGONS (-1.5, -250) OVER HANGZHOU SPARK
Time: Sunday, 2 a.m. ET
Every once in a while it's nice not to overthink things. The Dragons are by far the best team in the league and have already swept Hangzhou earlier this season.
Sombra's the key here. The hacker Sombra disrupts dive comps consistently. Both teams use Sombra heavily but against Sombra comps, Shanghai wins 62% of teamfights, compared to just 39% for Hangzhou. Shanghai is also off to a hot start with Echo, winning 55% of their matches, compared to 45% for Hanzhou.
Hangzhou just won't be able to handle the DPS damage and will be on their heels throughout the match. I'll lay the 1.5.
[Bet now at DraftKings. CO, NJ, PA, IN and WV only.]
---
DALLAS FUEL (+1.5, +120) OVER PHILADELPHIA FUSION 
Time: Sunday, 1 p.m. ET
There's a theme this week in the analysis: teams that have relied on Reinhardt but have excelled without him. The Fuel fit that profile to a tee. The Fuel have the fourth-highest percentage of eliminations this season from the heroes banned this week.
But the Fusion have a high mark as well.
Their reliance on Reinhardt stands most out, they have generated the most eliminations with Reinhardt of any team, nearly 10% of their total. The Fuel have a higher percentage with Reinhardt, but don't rely on the banned ghostly DPS Reaper as much; the Fusion have gotten another 9% of their total elims from Reaper.
With a dive comp of Winston and D.Va over the last four weeks, as that has become more and more in the meta, the Fuel have won 58% of teamfights with that comp.
Then there's the Fusion's overall profile: paper tiger.
The Fusion are 10-1, with a +19 map differential, the second-best in the league. But their strength of schedule sticks out like a sore thumb. The Fusion have the fourth-easiest strength of schedule of any team this season, which has helped them to a 9-1 record vs. the Washington Justice and Boston Uprising. They have quality wins, too, like a 3-1 surprise of Excelsior.
But the Fusion have also played the most games in the league, and have mixed results among the mid-tier teams like the Reign and Paris Eternal. The Fuel absolutely sit in that tier, having won four of their last five.
The Fusion have the most 3-2 matches in the league this season with five, the Fuel have three. The Fusion go long with teams, the Fuel hang around and are on a roll. I'm grabbing the +120.
[Bet now at DraftKings. CO, NJ, PA, IN and WV only.]
---
TREAD LIGHTLY
NEW YORK EXCELSIOR -1.5 (-230) OVER GUANGZHOU CHARGE 
Time: Saturday, 6 a.m. ET
Guangzhou is pretty good, and so I'm willing to think their 3-0 map, 9-0 round sweep by the Excelsior two weeks ago was a fluke. But follow my logic here with the hero bans.
German mech shield tank Reinhardt is banned this week, who Excelsior uses 59% of the time. The other tanks they use the most are Korean mech flyer D.Va, and giant monkey ("I'm not a monkey!") Winston. That inherently forms a dive composition, and with the addition of new DPS robot Echo, that capacity only increases.
Reinhardt wasn't banned the last time these two teams played, and Excelsior still won, and had a 59% teamfight win rate using Winston-D.Va.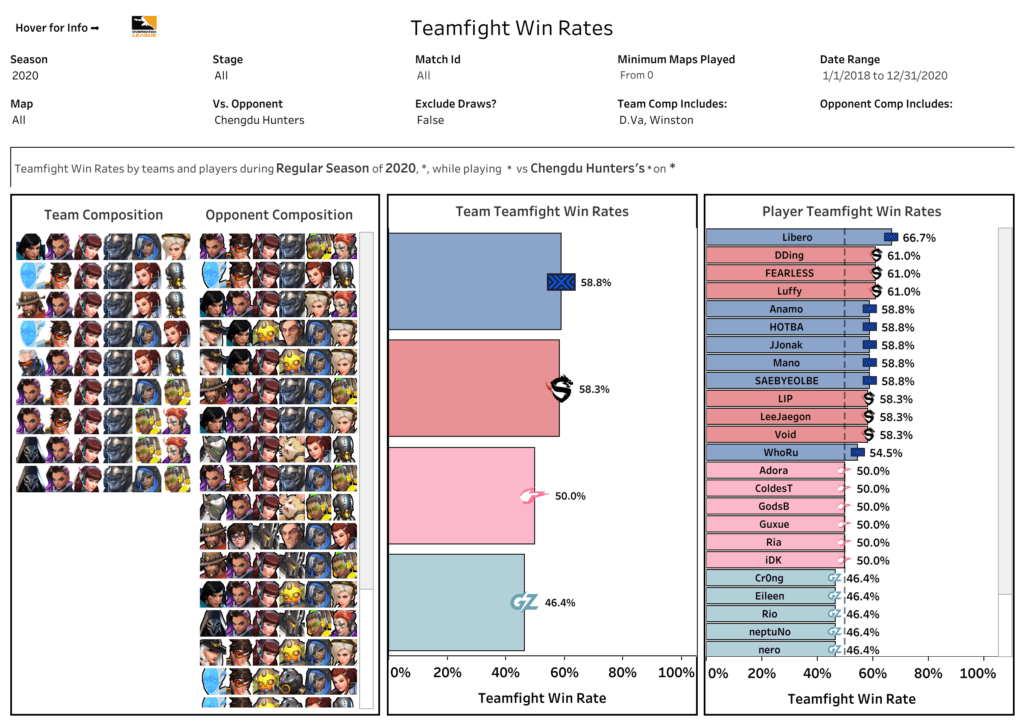 I can't see any way for Guangzhou to mount a defense on the assault and escort maps to get two wins with Libero and WhoRu for Excelsior applying pressure on the backline.
We need a 69.7% probability for EV on this bet, and I think Excelsior wins 3-1 or 3-1-1 (with a draw) 80% of the time.
CHENGDU HUNTERS -1.5 (+120) OVER LONDON SPITFIRE
Time: Saturday, 4 a.m. ET
London hasn't played since March 1, a full 10-week layoff due to COVID-19-related logistical issues.
I think Chengdu is underrated at a 3-8 record. They have the No. 1 strength of schedule via OWLStats.net. Their losses are to Guangzhou, Shanghai (twice), the Spark (twice), and Excelsior (twice). The Hunters are sixth in SRS on OWLStats.net, and all of their losses are to top-four teams.
There are also rumors that Spitfire were hesitant to return to league play. Does the long layoff inspire chemistry and sharp play? Does the layoff mean rust?
There's a lot here to be concerned with. I lean towards Chengdu, but I'm betting small on it.
[Bet now at DraftKings. CO, NJ, PA, IN and WV only.]
---
WHY AM I DOING THIS TO MYSELF
BOSTON UPRISING MAP 1 WINNER (+200) OVER LOS ANGELES VALIANT
Time: Saturday, 7 p.m. ET
I'm going to level with you. This is one of those things where I can't avoid my own critical thought. I cannot help myself.
The first map in Overwatch League this season is always a control map. Two teams start at the same time and fight over controlling an objective area until 100%. You have to eliminate all the enemies or get them off point to claim it. From there, as long as you have one person on, you're "contesting" until you hit 99% at which point you have to clear them off again to win.
The Boston Uprising are the worst team in the league, and I have made it a habit to bet against them, which I will be again this week in parlays.
However, there are three things of note in this match.
The Uprising have the third-lowest percentage of their total elims this season from the banned characters this week, the Valiant have the third most. The Uprising are equipped for a dive comp attack on control with Echo.
The Uprising have a higher win rate on control maps (4-9) than Valiant (3-9). It is the only map where the Uprising are not absolutely horrendous, just mostly horrendous. They also have gone 4-4 vs. teams under .500 on control maps.
That's a 31% win rate on control maps. At +200, we need just 33.333% for the bet to have EV on the bet.
So this becomes essentially a numbers play. I think there's a better than 34% chance that the Uprising win the first map. I will feel dumb later, because this is the Uprising.
[Bet now at DraftKings. CO, NJ, PA, IN and WV only.]
---
NOT BETTING
GUANGZHOU CHARGE -1.5 (-139) OVER LONDON SPITFIRE 
TIME: Sunday, 4 a.m. ET
I'll take a worse team with better numbers vs. an unknown variable in the Spitfire, but I won't take a better team with a worse number. I also don't want to wind up getting caught twice if Spitfire come out and play like they did to start the season.
TORONTO DEFIANT +1.5 (+175) OVER SAN FRANCISCO SHOCK
TIME: Sunday, 3 p.m. ET
This number is off. I want to bet the Defiant quite a bit here. The Shock are more reliant on the banned heroes this week than any other team. Defiant are .500 or better on three of the four map types and if the Fusion are paper tigers the Shock have been paper housecats.
Shock is much closer to the middle tier of the league than the top, and the Defiant are slightly closer to the middle than the absolute bottom. But over the last four weeks, the Shock have evolved towards a Sigma-Orisa combo.
The Shock have also won 65% of their teamfights with Echo. Defiant won just 12 of 37 teamfights vs. the Gladiators with Echo last week. The Defiant weren't able to do anything with Ashe comps vs. Echo, and their win rate with McCree comps only goes to 40%.
I like the Defiant number and circled it early as a number I wanted to bet but the deeper dive says I can't go near it.
How would you rate this article?