Overwatch League Week 15 Betting Odds and Picks: A Good Week to Bounce Back
Credit:
Hunter Martin/Getty Images. Pictured: Fans watch the opening entertainment of the Overwatch League.
Let's go over some basics for the uninitiated. The Overwatch League is an eSports league built around the Blizzard Entertainment (Starcraft, World of Warcraft) first-person shooter and strategy game, Overwatch. It's comprised of two teams of six players, with two players as tanks, two players as support (healers) and two players as DPS (Damage Per Second, or, attack).
You can bet on these games, now. Sportsbooks in Nevada and Colorado have started offering eSports betting, among other states. There are 20 teams in the league, with each match based on five sets of games across five maps. So it's a best-of-5 contest, essentially, which is how the lines below are represented. The match advantage of -1.5 means the favorite is favored to win 3-1, at least.
Each week in Overwatch League (and in the game across all platforms for all players), certain heroes are "banned" and unplayable. For Week 15, the annoying time-jumper Tracer, the cry-freezing scientist Mei (both of whom have been heavily used this season), the horse robot tank Orisa, and the androgynous Scottish evil scientist Moira are all out of rotation.
Let's talk a little bit about the impacts of those bans, because they factor in heavy to my analysis. Teams have been reliant on Mei and Tracer to a large degree this season, so these bans are likely to be more effective and increases the importance of flex DPS players. A full array of sharpshooters improves teams' chances against flyers Pharah and Echo, but the reintroduction of pocket healer Mercy will combat that as well.
I took a beating last week, no way to spin it. Favorites dominate in OWL because of the disparity between the best teams and everyone else. But favorites started last weekend 0-4 and I never saw it coming. The League's best team the Dragons dropped a shocker to Seoul Dynasty who had been exposed the two weeks prior. The Gladiators lost a shocker to the league's third-worst team in the Toronto Defiant.
As a result, I dropped to 8-10 after going 0-7 last week. We're back on the robot horse, though, and even with a tougher slate, I've learned some lessons I think will carry through, though I'm betting a smaller slate of games this week.
---
Odds as of Friday evening and via BetMGM. Get up to a $500 risk-free bet at BetMGM today or see more offers and reviews for the best online sportsbooks.
---
SHANGHAI DRAGONS -1.5 (-250 AT MGM) OVER  LONDON SPITFIRE
Time: Saturday, 6 a.m.
The Dragons have used Mei at a 58% rate over the past four weeks, which initially made me nervous. But overall for the season, the Dragons have a higher teamfight win rate (57%) without Mei than their overall teamfight win rate.
In that four-week window, they've still won 52% of their teamfights in non-Mei comps.
The Spitfire are now 4-3, but are underwater in map play; they've won 14 maps, lost 15 maps this season. The Dragons caught me completely off-guard by losing to Seoul Dynasty last week, but they remain by far the best team in the league by any measure or metric.
[Bet now at BetMGM. CO, NJ, IN and WV only.]
SAN FRANCISCO SHOCK -1.5 (-189 at MGM) OVER ATLANTA REIGN
Time: Saturday 9 p.m. 
I think the Reign are underrated, and so I targeted them in my first run-through, because the Shock are overrated by most of the advanced metrics. They're 7-2 and a +12 in map advantage, but are seventh in SRS and SAMP on OWLStats.net, which factor strength of schedule and map performance.
However, when I did a deeper examination, I went the other way.
For starters, despite those paltry advanced numbers, six of the Shock's 9 matches have gone 3-1 or 3-0. They went 3-2 just once this season. Their two losses came in Week 8 when DJ healer Lucio was banned. The Shock, without Lucio, have a 48.8% teamfight win rate, compared to 53.2% with Lucio in tow.
Now, let's talk about the Reign. They have the second-highest percentage of their eliminations this season from the four heroes banned this week. Here's a look at 2-week, 4-week, and season-long usage rates for the Reign, with the banned heroes in red.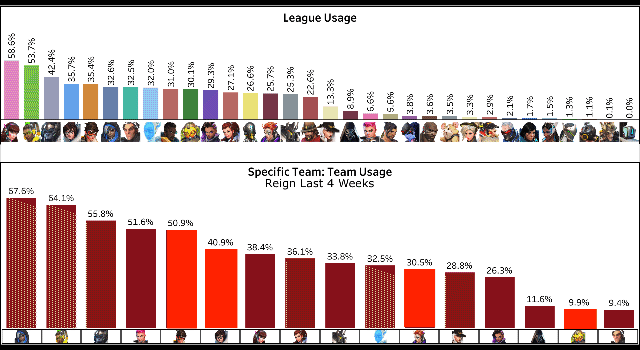 The past four weeks they haven't been as dependent on the four heroes, but they've been really dependent on Tracer.
So we've got a Shock team that I don't love but is in good position with the bans, facing a slightly-worse Reign team, and the -1.5 is below -200. I need 65.4% probability for EV, and I like that number given that the Shock have won 3-0 or 3-1 so frequently.
[Bet now at BetMGM. CO, NJ, IN and WV only.]
DALLAS FUEL +1.5 (-167) OR ML (+145) OVER PARIS ETERNAL
Time: Sunday 3 p.m.
I took the Fuel last week +1.5 vs. the much-better-than-Eternal Fusion squad. That match was close as all get out, with the Fuel losing by one point on the final two maps. The Fuel won 44% of their teamfights vs. the Fusion, the highest of any team this entire season.
The Eternal have the fourth-most eliminations by percentage banned this week, the Fuel are eighth. Without Mei, the Eternal have won just 44% of all teamfights this season. Based on OWLStats.net, this should be much closer to a pick 'em; the SAMP stat has this at just a .007 percentage difference, with both teams in a clump. The Fuel have played better over the past six weeks and at just -167, the +1.5 is safe, but I like the Fuel to win this straight up. It's rare to find real live dogs, so I'm on the Fuel in both capacities.
How would you rate this article?