Grading An Allen Robinson Trade Proposal, Starting Julio Jones vs. Jarvis Landry, More Fantasy Questions
Credit:
Getty Images. Pictured: Bears WR Allen Robinson, Titans WR Julio Jones, Browns WR Jarvis Landry
Want personalized lineup advice? Have start/sit questions? Want me to adjudicate dicey league disputes? Email mailbag@actionnetwork.com with your questions each week to be featured in this article and on Action's Fantasy Flex podcast every Thursday hosted by yours truly.
---
Fantasy Start-Sit Questions
Bears Backfield Problems
@PDXtroyboy writes: "Khalil Herbert or [Damien] Williams until [David Montgomery] is back? Enquiring minds want to know!"
Previte: It has to be Herbert for me.
Herbert saw 18 of the 21 running back carries for 100 yards last week against the NFL's best run defense while Williams saw only three carries for five yards. Herbert was also more involved in the passing game and caught 5-of-5 targets for 33 yards while Williams caught one target for three yards.
Herbert is matchup-proof and seems to be unhampered by the fact that the Bears scored only three points total in that game.
Herbert has done enough to establish somewhat of a role for himself in this offense, even once Montgomery returns — or at least enough to make Montgomery managers nervous — so Herbert is definitely worth hanging on to, even once the backfield is at full strength.
Ryan Tannehill Or Daniel Jones? 
@Joepeeps17 writes: "Who should I start this week? [Ryan] Tannehill or Daniel Jones."
Previte: It's really close but I would lean Jones.
Both have solid matchups this week, but Jones' is superior. The Chiefs defense has looked abysmal, giving up the seventh-most passing yards and second-most fantasy points to opposing quarterbacks. Jones is my top streamer of the week and should have some decent upside, especially given his rushing and if he gets some of his injured receiving corps back.
Tannehill did have his best game of the season against the Colts in Week 3 and scored 23 fantasy points. It was actually the only game in which he passed for multiple touchdowns, and he did it without Julio Jones and A.J. Brown.
Still, I like the game script in Giants-Chiefs more, but both should be good starts this week.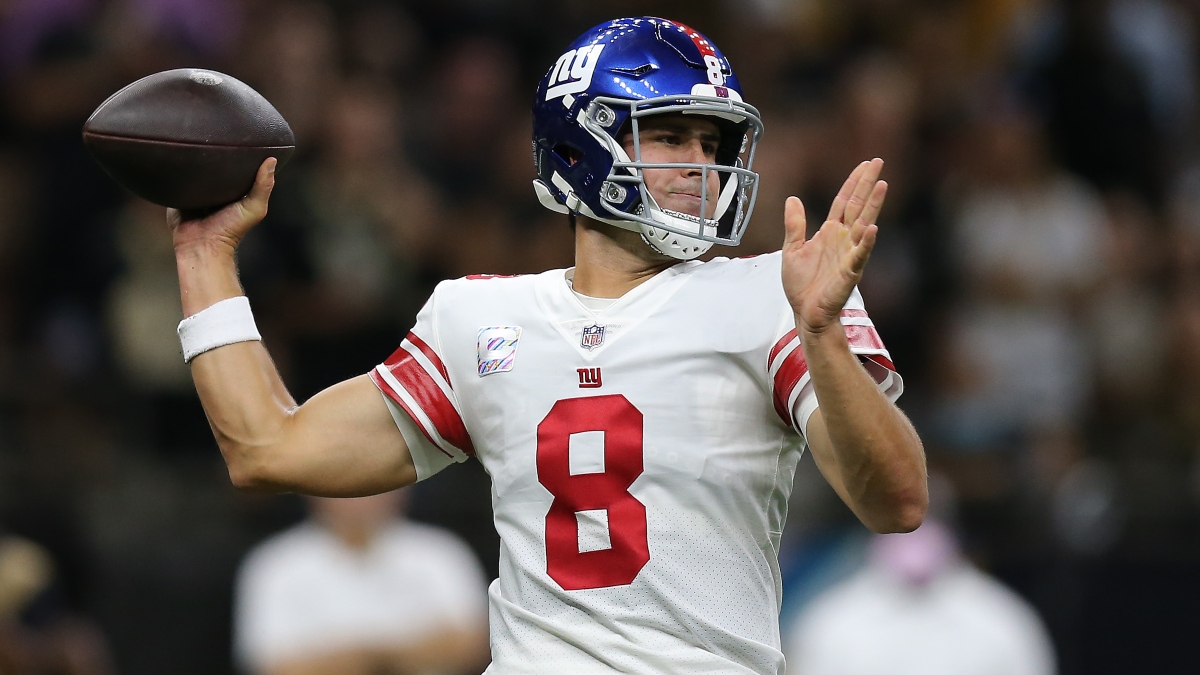 What To Do With Deshaun Watson
@GrahamTiedtkePO writes: "[Matthew] Stafford, [Joe] Burrow, [Russell] Wilson, [Deshaun] Watson…. Awful lot of quarterbacks. Do I hold onto Wilson/Watson and make a move at a later time?"
Previte: First, congrats on somehow having four good quarterbacks on your roster. I'm going to assume this is a two-quarterback league since rostering four QBs otherwise would be unwieldy.
Stafford and Burrow are studs and should be QB1s rest-of-season. Both also have good matchups this week against the Texans and Jets, respectively.
As for your other two quarterbacks, if you need the space, I'd advise dropping Watson. I'll preface this by saying that my mild Law And Order: SVU addiction is the extent of my legal prowess, so take all of this with a grain of salt, but I don't see Watson playing this season. And even if he does, there's absolutely no guarantee he'd be better than Stafford or Burrow — especially if Watson is traded to the Dolphins, who don't exactly have a star receiving corps.
I would hang onto Wilson simply due to upside. He could return very soon, though there is a risk that if the Seahawks lose this week to the Jaguars, they'll lose incentive to bring him back. The Seahawks are 2-5 and are in last place in the NFC West; they are unlikely to make a run for a playoff spot this season.
My one piece of advice would be that if it does look like Wilson is coming back, you could deal one of your three start-able quarterbacks in exchange for a skill position player.
---
Fantasy Trade Questions
Grade My Trade!
Ray writes: "Grade this trade: Send Damien Harris and Kadarius Toney for Myles Gaskin, Allen Robinson and Jared Cook."
Previte: I'm giving this trade a B-minus.
Honestly, I don't love it. First, I don't like being on the receiving end of more players than I'm giving, though we've talked about this ad nauseum.
Second, you are sending away the best player in this trade: Damien Harris. He's a locked-in RB2 rest-of-season and I tend to dislike trades where you're losing the best player in the deal.
I'd probably consider Robinson and Toney a wash at this point, which is quite the indictment on Robinson. Toney honestly has more upside than Robinson at this point, especially this week against the Chiefs if he is active for the game.
Therefore, the equation is now distilled to whether the delta between Harris and Gaskin is worth one Jared Cook, and to me, it's not.
Gaskin's production has been inconsistent, though he should — in theory — benefit from Malcolm Brown going on injured reserve this week. However, the team signed Duke Johnson, which signals to me that they're not ready to anoint Gaskin as the bell-cow back. I expect he will share some of his workload with Salvon Ahmed (and perhaps Johnson).
Cook is a waiver wire-caliber tight end who you could probably sub for a guy like C.J. Uzomah or Ricky Seals-Jones (without knowing the depth of your league). The Chargers play the Patriots, who are giving up the third-fewest fantasy points to tight ends this year, which makes Cook an unattractive start this week.
---
Julio Jones Questions
Which Jones For Week 8?
@Thumpa78 writes: "Which Jones is the better start for Week 8, Julio Jones or Marvin Jones Jr.?"
Previte: Assuming this is any kind of PPR format (half or full), I am going to go with Marvin Jones.
Typically I'd say start your studs, but this is a complex situation. Both matchups are solid: The Jaguars face the Seahawks, who are giving up the sixth-most passing yards this season. And the Titans face the Colts, who are allowing the eighth-most fantasy points to wide receivers.
Titans quarterback Ryan Tannehill has thrown multiple touchdowns in only one game this year, and that was against the Colts. Julio also has more upside than Marvin, but I think Marvin has more guaranteed targets, albeit in an offense that I trust significantly less than I trust the Titans.
Marvin has at least six catches in three of six games, which is huge for PPR, and he is coming off of his best game of the season in which he caught 100 yards and a touchdown. Julio has one game all year with six targets and the rest have been very unimpressive.
The Titans can also lean much more heavily on the run than the Jaguars can and have the third-most rushing yards this year. This, coupled with Julio's health, makes me nervous about starting him.
I like him as a buy low for the rest of the season, but perhaps not this week.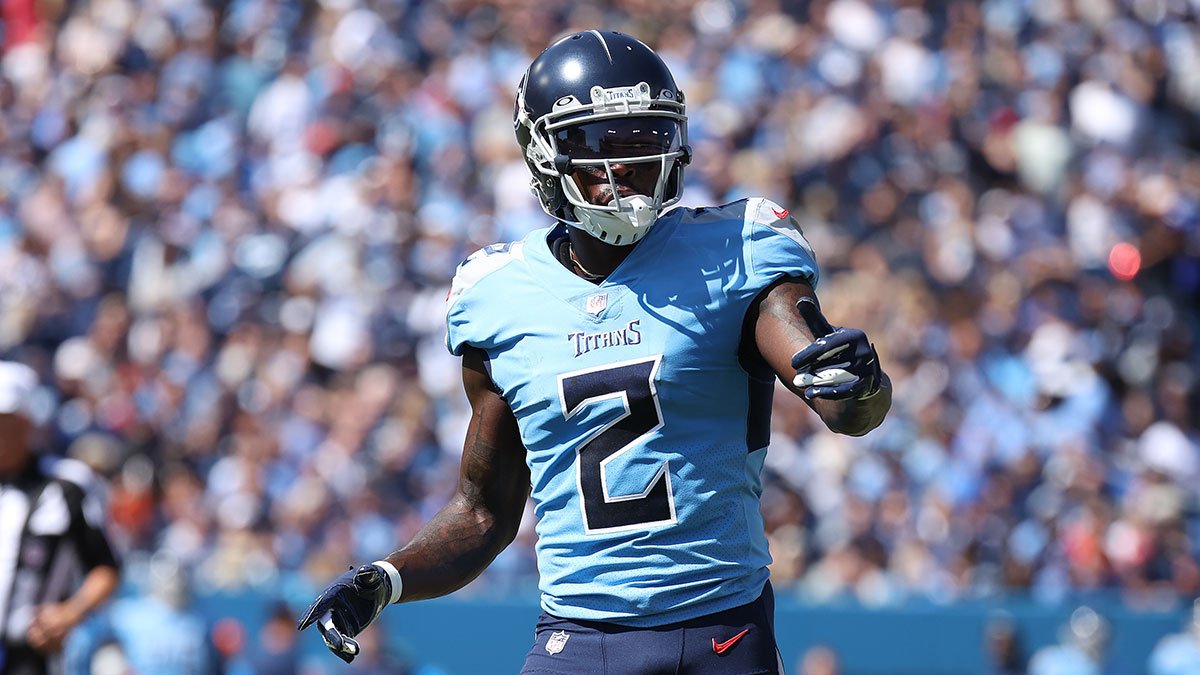 Julio Jones Or Jarvis Landry?
@urbanser97 writes: "Julio [Jones] is available in my league. Worth dropping [Jarvis] Landry for him? Neither would be starting right now but season long who is better?"
Previte: I would definitely scoop up Jones if he is available on your waiver wire. He's been a disappointment this season and has finished well outside of fantasy relevance in four of five games played this year.
That said, there's a pretty big difference in the type of bust he's been versus someone like Allen Robinson, who has basically given us no hope. Nothing about the Bears offense is functioning correctly. At least with Jones, you can point to the injury and some of Tannehill's struggles.
I'm not super high on Landry rest of season. The Browns are simply too run-heavy for me to trust any of their receivers right now, especially with Baker Mayfield's waning health. Landry feels like a low-ceiling WR4 whereas Jones could be much more than that if he can get healthy and the Titans' offense can get going.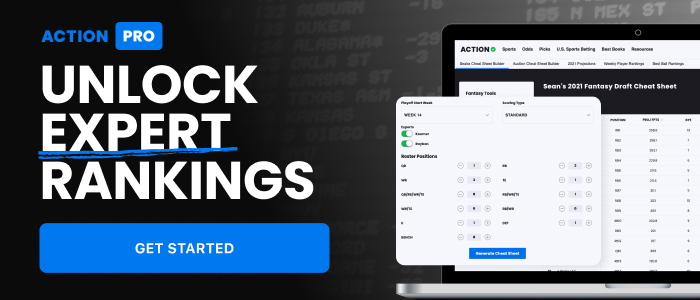 Candy Power Rankings
@jeremykasperson writes: "Please rank these 4 [Milk chocolate, Krackel, Mr. Goodbar, and Semisweet/Special Dark], and by that I mean tell people how Mr. Goodbar is superior."
Previte: I'll be honest, I had to Google what Mr. Goodbar is.
For me it's Krackel, Mr. Goodbar, then both plain chocolates (with a slight lean towards dark chocolate over milk chocolate). I like the texture of the Krackel, which is why it's the top one for me. This may be a #HalloweenHotTake, but I don't love chocolate as the main character in candy. It's much better as a supporting character, like in a Reeses or Snickers.
How would you rate this article?
This site contains commercial content. We may be compensated for the links provided on this page. The content on this page is for informational purposes only. Action Network makes no representation or warranty as to the accuracy of the information given or the outcome of any game or event.