Chiefs vs. Bills WR/CB Matchups: No Change for Stefon Diggs vs. Kansas City Corners
Credit:
Timothy T Ludwig/Getty Images. Pictured: Stefon Diggs.
Wide receiver-cornerback showdowns might be the most important individual matchups in football.
In this piece, I leverage snap data from Pro Football Focus (PFF) to project Conference Championship WR/CB matchups for the Chiefs-Bills game.
[Save $100 annually with the new PFF/Action PRO bundle]
For more, see the FantasyLabs Matchups page, where we provide basic and advanced data — including fantasy and red-zone performance — for each offensive skill-position player based on his matchup.
As we get more clarity during the week on the injury status of receivers and corners, I will update my WR/CB projections.
---
Odds as of Thursday evening and via DraftKings Sportsbook, where you can get up to a $1,000 sign-up bonus today.
---
Chiefs (-3) vs. Bills (54 Over/Under)
Kickoff: 6:40 p.m. ET on Sunday | TV: CBS
Chiefs Wide Receivers
UPDATE (Sat. 1/23): WR Sammy Watkins (calf) practiced every day this week and seems likely to play.
No. 1 wide receiver Tyreek Hill sat out the Chiefs' meaningless Week 17 game with a minor hamstring injury, but he returned last week and was a strong 8-110-0 receiving on 10 targets.
For the season, the three-time All-Pro is 95-1,386-15 receiving on 145 targets in 16 games (including postseason). He's in peak form.
With his speed and ability to line up on the perimeter and in the slot, Hill is an incredibly difficult player to scheme against for opposing defenses.
No. 2 receiver Sammy Watkins (calf) missed Week 17 and the Divisional Round, but I tentatively expect him to play on Sunday. In Week 17 and last week he did not practice at all, but this week he got in limited sessions on Wednesday and Thursday, so he's trending in the right direction.
Watkins has been frustratingly inconsistent in his three years with the Chiefs. In 34 games, he has achieved just 129-1,613-8 receiving during the regular season.
But in the postseason, he has been every bit Hill's equal.
Sammy Watkins (6 games): 24-464-1 receiving | 13.7 yards per target
Tyreek Hill (5 games): 34-437-2 receiving | 8.3 yards per target
The sample is small, but it highlights Watkins' talent. Even with his propensity to underwhelm in the regular season, he is an explosive receiver capable of big performances in any game.
After Hill and Watkins, Demarcus Robinson and Mecole Hardman play in a rotation, with the slight edge in playing time usually going to Robinson.
Despite playing regularly in three-wide sets, Robinson has done little of note over the past two seasons. In fact, despite playing ahead of Hardman, he has easily been outproduced by the speedy slot man.
Demarcus Robinson (36 games): 81-964-7 receiving | 7.8 yards per target
Mecole Hardman (36 games): 75-1,185-10 receiving | 10.5 yards per target
Last week, Hardman was 4-58-0 receiving on four targets; Robinson, 1-14-0 on three targets.
Even so, both Robinson and Hardman are deprioritized in the offense relative to Hill, Watkins and tight end Travis Kelce.
Even if Watkins misses this weekend and Robinson and Hardman both start, neither one will be a reliable option. They are both capable of having big performances, but they are supplementary receivers.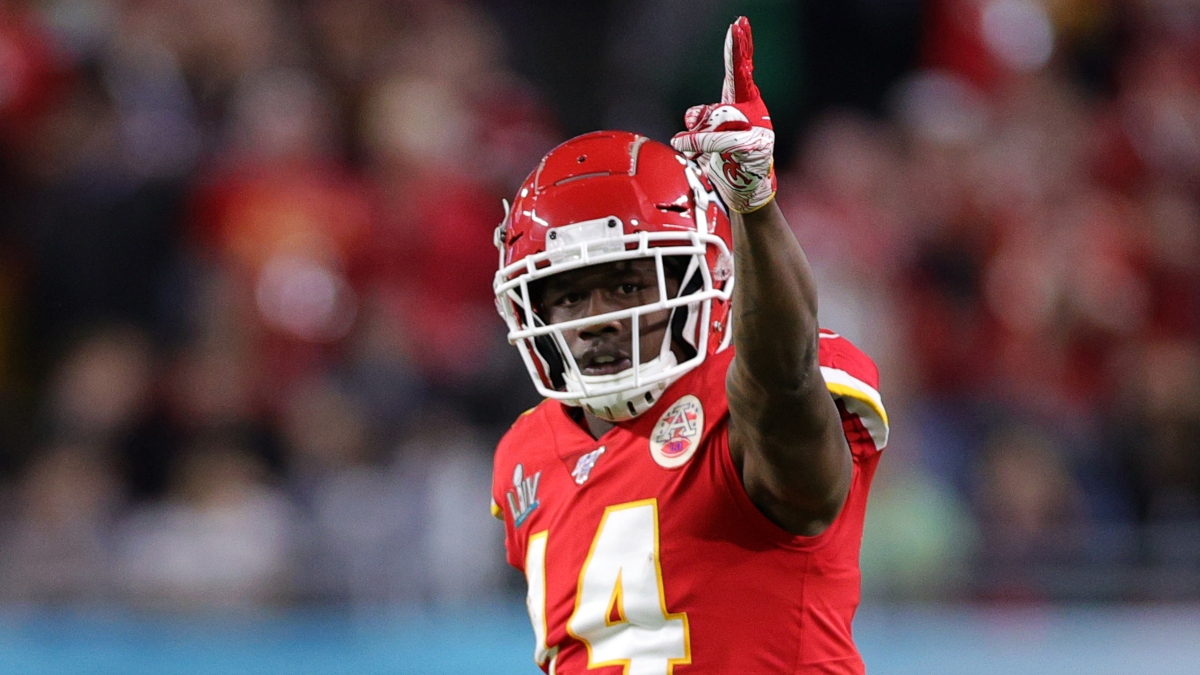 Bills Cornerbacks
No. 1 corner Tre'Davious White has been used in shadow coverage for much of the season, and although he typically matches up with bigger-bodied No. 1 receivers, he hasn't shied away from small and fast field-stretchers like Hill.
But, here's the problem for the Bills: Chiefs head coach Andy Reid moves all his receivers across the formation, and this year Hill has run the majority of his routes from the slot.
As good as White is, he almost never shadows into the slot. This year, just 2.5% of his snaps have been in the interior. And that means the Bills are unlikely to have White on Hill for most of the game.
Instead, they will probably have White shadow Watkins — as the Patriots have done the past few years with cornerback Stephon Gilmore — and then use bracket coverage on Hill.
White will be a challenge for Watkins.
A 2019 All-Pro defender, White has had an inconsistent season. On one hand, he has allowed a mediocre-at-best 8.7 yards per target. On the other hand, he has shadowed opposing No. 1 receivers almost every week and allowed only 4.2 targets in his coverage per game. His 74.9 PFF coverage grade this year speaks to his overall talent and play.
For his career, White has a 55.9% catch rate allowed.
With White on Watkins, we will likely see Levi Wallace on Robinson and Taron Johnson on Hill in the slot with safety help for most of the game.
Wallace is an above-average cover man, but Johnson is a liability in the slot. Since last year, he has allowed a 73.9% catch rate. Against the Chiefs in Week 6, Johnson allowed 4-61-0 receiving on four targets.
Hill won't run all his routes in the slot, and the Bills are sure to give Johnson safety help, but he will be a significant liability will matched up with Hill.
Bills Wide Receivers
UPDATE (Sat. 1/23): WR Gabriel Davis (ankle) practiced on a limited basis on Friday and is a questionable game-time decision.
In his first year with the Bills, Stefon Diggs finished the regular season as the league leader with 1,535 yards, 127 receptions and 166 targets.
And he has continued to crush in the postseason.
Wild Card Weekend: 6-128-1 receiving, 9 targets
Divisional Round: 8-106-1 receiving, 11 targets
I used to be a Diggs denier. I was wrong.
Opposite Diggs on the perimeter is John Brown, who had 11 targets last week. In his nine healthy games this year, Brown has cleared 60 yards six times, and since joining the Bills last year he has averaged 8.6 yards per target.
Although he is now the No. 2 receiver behind Diggs, Brown is still every bit the player who had a career-best 1.060 yards receiving in 2019.
In the slot is Cole Beasley, who hit career-high marks in the regular season with 107 targets, 82 receptions, 967 yards and 9.0 yards per target. He had only two targets last week, and in the playoffs he is just 7-57-0 receiving, but of all full-time slot receivers, Beasley is No. 1 with 2.15 yards per route this year.
When healthy, rookie dynamo Gabriel Davis has rotated in with the three starters. A 21-year-old upside fourth-rounder, Davis was monstrously undervalued as a prospect, and in the regular season he was 35-599-7 receiving on 62 targets.
But Davis (ankle) suffered an injury last week and missed practice on Wednesday and Thursday. At present, he seems unlikely to play.
Chiefs Cornerbacks
UPDATE (Sat. 1/23): CB Bashaud Breeland (concussion/shoulder) practiced every day this week and seems likely to play through his questionable tag.
The Chiefs rank No. 16 with a 6.7% pass-defense DVOA (per Football Outsiders). They don't have any truly dominant corners, and — at a glance — the Chiefs don't look like the type of team that would be tough on receivers.
But in the regular season they held wide receivers to the second-fewest receiving yards in the league with 2,159. What's going on here?
It's all about scheme.
The Chiefs' pass defense is built to limit big plays deep and on the perimeter, which means the ball tends to be funneled short and to the middle of the field. As a result, the Chiefs allowed the most receiving yards to running backs (846) and ranked fifth in yards allowed to tight ends (954) during the regular season — but their cornerbacks look good.
At right corner, Bashaud Breeland will likely match up with Brown most often, although he will see Diggs as well. Breeland missed the first four games of the season due to suspension, but since returning in Week 5 he has allowed just 6.5 yards per target with a 58.3% catch rate.
Breeland has also allowed five touchdowns this year and can be beaten deep on occasion, but the 2020 season has probably been his best in the NFL.
Brown was hampered by a knee injury when he played the Chiefs in Week 6, but even so it's notable that he was held catchless on four targets and a 96% snap rate. With his deep speed, Brown can go off in any game, but Breeland is a tough matchup.
Breeland (concussion/shoulder) exited last week early due to injury, but he practiced on a limited basis on Wednesday and Thursday. He seems likelier than not to play.
At left corner, Charvarius Ward has been an acceptable but unexceptional defender. An undrafted third-year veteran, Ward has allowed 7.7 yards per target in his two seasons as a starter for the Chiefs. If not for the scheme, Ward would probably be an utterly nondescript player.
Last week, he allowed 6-69-1 receiving on seven targets.
In Week 6, Diggs had one of his worst games of the season against the Chiefs with just six receptions and 46 yards on eight targets. He scored a touchdown, so his performance wasn't a complete bust, but the Chiefs neutralized him with a variety of defenders.
But I doubt we see Diggs diminished again. In a vacuum, Ward is not the type of defender to challenge a receiver of Diggs' caliber.
In the slot is fourth-round rookie L'Jarius Sneed, who has been a difference-making standout. In Weeks 1-3, Snead started on the perimeter in Breeland's absence. Then after missing Weeks 4-10 to injury, he shifted to the middle in Week 11 and has been the starter there ever since.
Despite his status as a mid-round first-year slot man, Sneed has allowed just 5.0 yards per target with a 1:3 TD:INT ratio and a 73.3 PFF coverage grade. With Sneed sidelined in Week 6, Beasley was 4-45-1 receiving on seven targets, but he will face a tougher matchup this week.
As much as any rookie can, Snead should challenge the veteran Beasley.
Wide Receiver Upgrades & Downgrades
Tyreek Hill: Moderate upgrade
Sammy Watkins: Large downgrade
Demarcus Robinson: Small downgrade
Stefon Diggs: No change
John Brown: Moderate downgrade
Cole Beasley: Moderate downgrade
Chiefs & Bills WR/CB Injuries
Chiefs WR Sammy Watkins (calf) is projected IN.
Bills WR Gabriel Davis (ankle) is tentatively projected IN.
Chiefs CB Bashaud Breeland (concussion/shoulder) is projected IN.
Chiefs-Bills WR/CB Matrix
Pos = left, right or slot WR or CB
Projected shadow matchups are CAPITALIZED
WR Exp = Wide Receiver Expectation: I rank from 3 to -3 how much I think we should adjust expectations for wide receivers based on matchups. 3: Large upgrade. 2: Medium upgrade. 1: Small upgrade. 0: No change. -1: Small downgrade. -2: Medium downgrade. -3: Large downgrade.
Thanks to Scott Barrett for providing me with some of PFF's historical data.
---
Matthew Freedman is 996-786-37 (55.9%) overall betting on the NFL. You can follow him in our free app.
How would you rate this article?