DeVonta Smith Dynasty Fantasy Outlook with Eagles
Credit:
Kevin C. Cox/Getty Images. Pictured: DeVonta Smith
DeVonta Smith Fantasy Profile
| | |
| --- | --- |
| Position | WR |
| School | Alabama |
| Height | 6'1″ |
| Weight | 170 |
| 40-Yard Dash | N/A |
| 2021 Age | 23 |
| Class | SR |
| Recruit. Stars | 3-4 |
| Projected Round | 1 |
DeVonta Smith Fantasy Fit with Eagles
Smith is in a great spot in Philadelphia. He reunites with former college quarterback Jalen Hurts — who was under-appreciated as a passer last year — and joins a team bereft of established pass catchers.
I expect Smith to do better this year with Hurts than his former teammate Jaylen Waddle will do with quarterback Tua Tagovailoa.
This offseason, the Eagles parted ways with veteran wide receivers Alshon Jeffery and DeSean Jackson, and tight end Zach Ertz could still be traded before the season starts, so Smith has a real chance to see 100-plus targets as the No. 1 receiver in the offense in 2021.
I'm a little skeptical about Smith: It's a red flag that he didn't break out until later in college and that he didn't enter the NFL until after his senior season. He might be more of a high-floor receiver than a high-ceiling playmaker.
But with the target volume he could see as a rookie, he could be a viable fantasy option right away — especially in point-per-reception leagues.
In dynasty, he's locked in as a Round 1 rookie pick.
Dynasty Fantasy Analysis
Note: The following was written before the NFL draft.
Smith is one of the most polarizing prospects of the 2021 class.
On the one hand, he is awesome at football. This past season, he outright dominated with a nation-best 117 receptions, 1,856 yards and 23 touchdowns in 13 games as a unanimous All-American and the winner of the Heisman Trophy and Biletnikoff Award.
And it's not as if Smith's 2020 production came out of nowhere. Despite playing with three first-round receivers in Jerry Jeudy, Henry Ruggs III and Waddle in 2019, Smith was still the top pass catcher for Alabama.
DeVonta Smith (13 games): 68-1,256-14 receiving
Jerry Jeudy (13 games): 77-1,163-10 receiving
Henry Ruggs (12 games): 40-746-7 receiving
Jaylen Waddle (13 games): 33-560-6 receiving
For two years, Smith has been the No. 1 receiver in one of college football's best offenses.
On the other hand, Smith looks entirely unlike any other receiving prospect who has gone on to have NFL success — and not in a good way. It's not as if he's a unicorn because he's so young, big and fast. His uniqueness derives from the fact that he's old, small and relatively un-athletic.
Let's start with the age concerns.
The issue isn't just that he's on the older side, although that's not great. The bigger issue is his breakout age and year. When a wide receiver breaks out, how old he is and what year he is matters a lot for his NFL projection. All else equal, a player who breaks out as an 18-year-old freshman is much likelier to have NFL success than one who emerges as a 21-year-old junior or senior.
And so it's problematic for Smith that in 2018 he was the No. 4 wide receiver after Jeudy, Ruggs and Waddle.
Jeudy (19-year-old sophomore): 68-1,315-14 receiving
Ruggs (19-year-old sophomore): 46-741-11 receiving
Waddle (20-year-old freshman): 45-848-7 receiving
Smith (20-year-old sophomore): 42-693-6 receiving
Waddle wasn't on the team in 2017, and No. 1 receiver Calvin Ridley relegated Jeudy, Ruggs and Smith to a forgotten rotational committee as freshmen. But the following year — with Ridley gone to the NFL — Smith had the opportunity to emerge within the offense, and everyone outplayed him even though they were either younger or had fewer years in college.
That's not good. In fact, that's bad. That's a massive crimson-colored flag.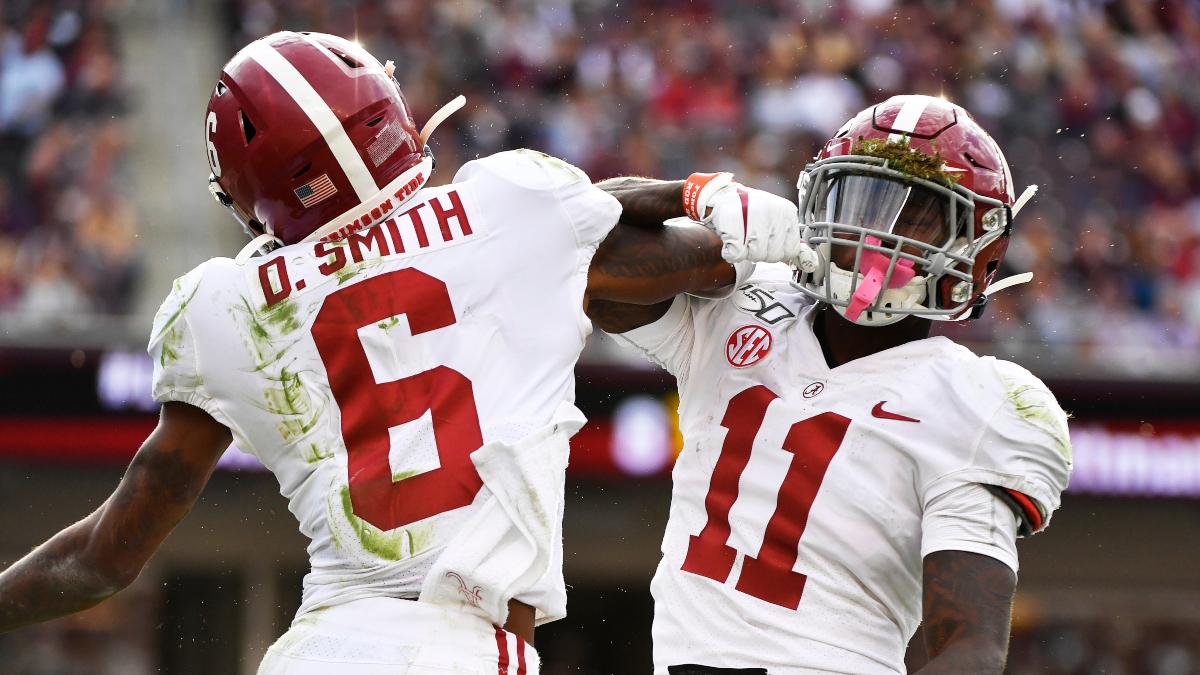 And correlated with his older age is his advanced experience. At receiver, the players who enter the league early markedly outperform those who spend four-plus years in college (including redshirt seasons).
Here are the first-round receivers with four-plus years in college to enter the NFL over the past decade.
Brandon Aiyuk (2020, 1.25): Promising so far, but let's wait and see.
Corey Davis (2017, 1.05): Are you excited yet?
Mike Williams (2017, 1.07): You can stop reading if you want.
John Ross (2017, 1.09): Seriously, for the sake of your eyeballs, stop reading.
Corey Coleman (2016, 1.15): Are you a masochist?
Josh Doctson (2016, 1.22): At this point, you're just punishing yourself.
Kevin White (2015, 1.07): Why? WHY???
DeVante Parker (2015, 1.14): It took only five years.
Phillip Dorsett (2015, 1.29): Hahahahaha, LOLz.
Tavon Austin (2013, 1.08): #JeffFisher, amirite?
Justin Blackmon (2012, 1.05): What could have been …
Michael Floyd (2012, 1.13): How much longer do I have to go?
Kendall Wright (2012, 1.20): How? HOW???
A.J. Jenkins (2012, 1.30): My fingers and brain are numb.
This might be the most disgusting list of first-round receivers I have ever typed — and Smith is squarely on this list. That's another massive flag.
And let's talk about his size: He's small, and he's small in a very particular way. It's not as if he's a short-and-small speedster. If he were, that wouldn't be much of a problem: We've seen guys like that have success — Tyreek Hill, T.Y. Hilton, Santonio Holmes, Steve Smith, etc.
The issue with Smith is that he's a tall-and-lean long strider, and there aren't many of those guys who have had success. Of course, there aren't many of those types of guys in general. Perhaps the preeminent "tall drink of water" receiver in the league right now is Robby Anderson, who was 6-foot-3 and 187 pounds at his 2016 pro day.
That Anderson is the guy who comes to mind suggests how rare this kind of receiver is, and that means that we've seen very few examples of such a receiver selected early in the draft.
If we stretch the criteria for "tall-and-lean receiver" to include all prospects at least 6 feet and no more than 190 pounds, and then we look at guys selected with top-40 picks since 1990, this is the list we get.
Calvin Ridley (2018, 1.26): 6'1″ and 189 pounds
Will Fuller (2016, 1.21): 6'0″ and 186 pounds
Todd Pinkston (2000, 2.36): 6'2″ and 169 pounds
Jerome Pathon (1998, 2.32): 6'0″ and 182 pounds
Marvin Harrison (1996, 1.19): 6'0″ and 185 pounds
Johnnie Morton (1994, 1.21): 6'0″ and 190 pounds
Isaac Bruce (1994, 2.33): 6'0″ and 188 pounds
This list is intriguing, especially since Chad Johnson — 2001, 2.36; 6'1″ and 192 pounds — almost was included, but this cohort collectively highlights the extent to which Smith is unlike other prospects, at least in the modern NFL.
This list is largely made up of guys who played in college in the 1990s. That should be revelatory, because it puts Smith in the proper perspective: He is basically a mid-90s receiver who has been transported to the 2020s.
His build and style of play are straight out of another era. He's a technician, not a specimen. He's a route runner, not a sprinter.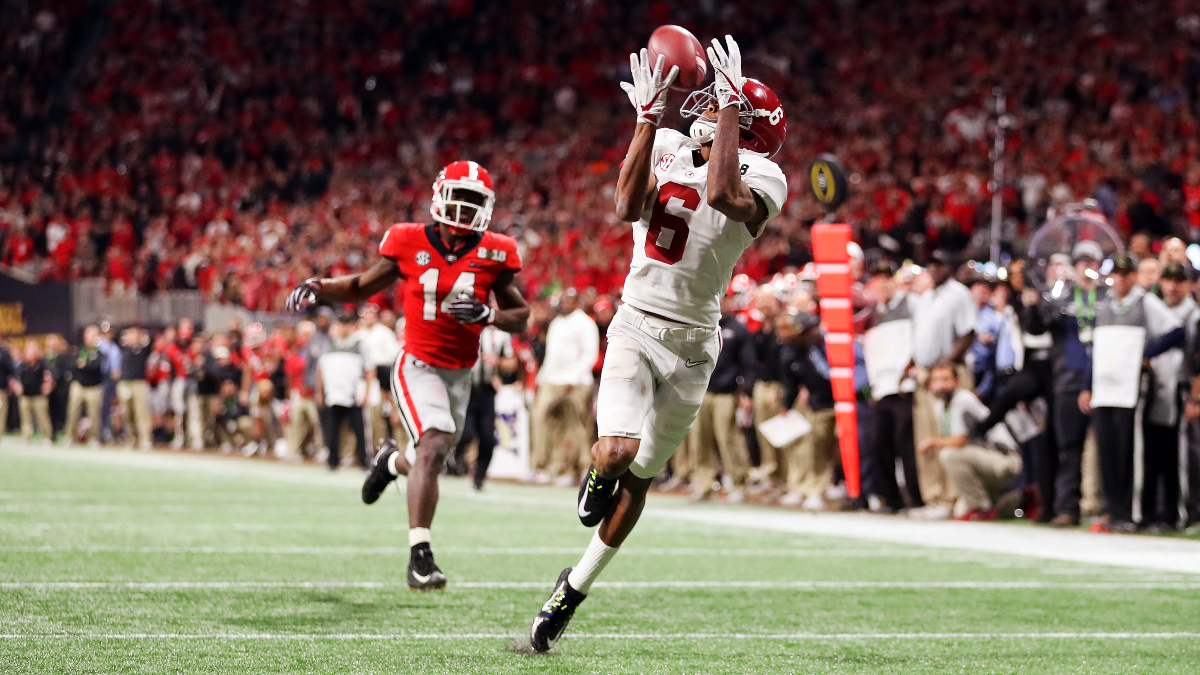 Smith is still significantly smaller than almost all the receivers on this list — and it's notable that his expected 40 time (4.45-4.55 seconds) is much slower than their assorted times (more on that later) — but this group … it's actually pretty good.
Harrison and Bruce were Hall-of-Famers. Morton had four 1,000-yard seasons. Pinkston and Pathon weren't stars, but they were steady — especially as second-rounders. And Ridley and Fuller are two of the most exciting receivers in the NFL today.
If these are Smith's true predecessors based on build and draft position, his future looks pretty good.
But, remember, all of these guys except for Pinkston are at least 10 pounds heavier than Smith's current self-reported weight of 170 (he didn't weigh in at either of the Alabama pro days).
And they are markedly faster.
Calvin Ridley: 4.43 seconds
Will Fuller: 4.32 seconds
Todd Pinkston: 4.45 seconds (unverified)
Jerome Pathon: No 40 time, but NFL deep threat
Marvin Harrison: 4.38 seconds (unverified)
Johnnie Morton: No 40 time, but NFL deep threat
Isaac Bruce: 4.53 seconds
Given how much bigger and more athletic Ridley and Fuller are, it's ultimately wrong to think of them as representative latter-day comps for Smith. The same goes for Anderson, who ran a 4.34-second 40-yard dash in his pre-draft workout. I also don't think Smith is all that comparable to Pinkston, Pathon, Harrison or Morton.
But Bruce and the aforementioned Johnson (4.57 seconds) warrant more consideration. Both were bigger than Smith, but neither won on the field because of their size. In build, they are more like Smith than other receivers in today's NFL.
Like Smith, they were unexceptional athletes — or at least they had uninspiring speed. They created separation on the field with their technique, and that's what Smith does: He already has a full command of the route tree and is probably the best, most nuanced route runner in the class.
And Bruce and Johnson also had four-plus years in college, and neither had a Division I breakout until his final season, as both enrolled at smaller colleges (including junior college) before respectively transferring to Memphis and Oregon State.
As weird as this sounds, the prospects to whom Smith is most comparable are two guys who entered the league 20-plus years ago.
And they just happen to be two of the best receivers of their generation.
It seems wrong to compare Smith to two NFL players as heralded as Bruce and Johnson — but maybe it's not, because we are talking about the first receiver to win the Heisman since 1991.
Regardless of his frame and relative lack of athleticism, Smith is a d–n-good receiver likely to be drafted in the first half of Round 1, and that alone makes him remarkable.
Despite everything negative I've written about Smith in this piece, it's not up for debate that he's good. The task we have as analysts and decision makers is to contextualize his production and ability so we have a better sense of whether his game will translate to the NFL.
But there's no doubt that Smith is a great player.
Over the past two decades, only five college receivers (if we include Smith) have had 3,000-plus yards receiving over a two-year span and were then drafted in Rounds 1-2.
DeVonta Smith (2019-20, 26 games): 3,112 yards
Davante Adams (2012-13, 26 games): 3,031 yards
Justin Blackmon (2010-11, 25 games): 3,304 yards
Michael Crabtree (2007-08, 26 games): 3,127 yards
Rashaun Woods (2002-03, 26 games): 3,062 yards
Woods was a bust, but Blackmon flashed a world of potential before his career was derailed by substance abuse, Crabtree had a solid 10-year stretch in the NFL and Adams is the best receiver in the league.
When combined with his expected draft position, what Smith accomplished in college puts him in an elite cohort of prospects.
And no one should seek to diminish just how strong Smith was in 2020. He dominates the receiver leaderboards in the 2021 Sports Info Solutions Football Rookie Handbook, ranking No. 1 with 2.8 yards per route run, a 36% target share and 9.4 total expected points added per game.
He's not big or fast, but Smith is complete. He lines up at all the receiver positions — even with Jeudy, Ruggs and Waddle in 2019, Smith most often played as the alpha X receiver — and he produces at all levels of the field.
Last year, he was No. 1 in the nation with 35 receptions and 304 yards on screens, but he was also No. 1 with 15 receptions and 589 yards on targets 20-plus yards downfield (per Pro Football Focus).
He can do it all — and he did it in the SEC against cornerbacks who will start in the NFL.
His slight build, average-at-best athleticism, delayed breakout, advanced age and extended time in college are all real issues that ought not to be ignored.
But on the basis of his draft position and elite production over the past two years, Smith looks like a prospect with a rather high ceiling/floor combination. A versatile and productive receiver selected with a premium pick: That sounds like a guy who will have NFL success.
I'm not yet settled on where Smith will rank for me relative to other non-Ja'Marr Chase receivers in this class, but I'm very much not "out" on him. If I get him in rookie drafts, I won't be disappointed.
NFL Prospect Comp: Isaac Bruce with more draft capital and production but also much less weight
---
Matthew Freedman is 1,018-828-37 (55.1%) overall betting on the NFL. You can follow him in our free app.
How would you rate this article?
This site contains commercial content. We may be compensated for the links provided on this page. The content on this page is for informational purposes only. Action Network makes no representation or warranty as to the accuracy of the information given or the outcome of any game or event.