Fantasy Buy Low, Sell High: Kadarius Toney, Mike Williams, Jerry Jeudy, More Trade Targets For Week 9
Credit:
Getty Images. Pictured: Kadarius Toney and Alvin Kamara
Who are the top buy-low, sell high candidates in fantasy football heading into Week 9?
Find out why Kadarius Toney, Mike Williams and Jerry Jeudy are among the top trade targets.
Week 8 was quite the head-scratcher.
The week kicked off with a Davante Adams-less and Allen Lazard-less Packers team handing the previously unbeaten Cardinals their first loss of the year.
The Sunday slate was disrupted with Jamaal Williams, Calvin Ridley and Dak Prescott all being last-minute scratches from their respective games. James Robinson appeared to have suffered a serious injury, though he is now considered week-to-week. Derrick Henry — who has been an absolute monster for fantasy — suffered a Jones fracture in his foot and will likely miss the remainder of the fantasy season. Jameis Winston suffered a torn ACL with MCL damage and will miss the rest of the year. And turnovers continue to plague Patrick Mahomes, who ultimately eked out a 20-17 win over the Giants on Monday night.
We also saw surprising performances from backup signal-callers Mike White, Geno Smith, Davis Mills and Cooper Rush — who all finished with more fantasy points than Justin Herbert, Aaron Rodgers, Mahomes, Kirk Cousins, Jalen Hurts and Kyler Murray (just as we all predicted).
The Jets pulled off a huge upset against the Bengals and the Lions remain winless through eight games.
Whether you're 8-0 or vying for the last playoff spot in your league, now is an excellent time to throw out some trade offers to level up your teams. As we approach Week 9, here are the trade targets who saw their value shift after the last eight weeks of games.
Buy-Low Week 9 Trad Targets
Below are 11 Week 8 underperformers, or players whose value may increase over the next few weeks whom you should target via trades.
Justin Herbert, QB, Chargers
It's been a couple of down weeks in a row for Herbert, who hasn't posted a top-12 finish since Week 5 against the Browns. Herbert lost his second matchup against the Patriots and completed just 18 of 35 attempts for 223 yards, two touchdowns and two interceptions. This offense has definitely cooled off after a fairly hot start, but all the pieces are there. Herbert is a trade target for me, especially with a soft playoff schedule: The Chargers play the Chiefs, Texans and Broncos in Weeks 15, 16 and 17.
Javonte Williams, RB, Broncos
Week 8 was yet another blow to the Javonte Williams truthers as the rookie saw just nine carries for 35 yards and caught two of four passes for 13 yards; Melvin Gordon saw 10 carries for 47 yards and two touchdowns and caught three of three targets for 15 yards. The pair has been splitting snaps 55% to 45% in favor of Gordon, which was the Broncos' plan all along. It makes sense to utilize Gordon for the remainder of his contract, which means we might have been a year too early for the Javonte breakout. That said, with the Broncos dealing Von Miller for draft capital this week and this season quickly slipping away, they may decide to showcase the rookie more for long-term investment purposes. He remains a buy-low trade target for me given his volume and upside.
Nick Chubb, RB, Browns
Chubb disappointed in his Week 8 return after missing Weeks 6 and 7 with a calf injury. He saw 16 carries for 61 yards and caught one target for eight yards, finishing as RB37 in half PPR. D'Ernest Johnson saw four carries for 22 yards and caught one of three targets for seven yards. Johnson also found the end zone. It appears he will be utilized as a change-of-pace back while Kareem Hunt is sidelined. Chubb is clearly still hampered by the calf injury, but remains one of, if not the best pure rushers in the NFL. This offense is too run-heavy (ranks No. 1 in the NFL in rushing yards) for Chubb to not put up production once he's healthy.
Justin Jefferson, WR, Vikings
Jefferson saw a season-low four targets in Week 8 and finished with two catches for 21 yards. It was his worst game to date this year and only game with fewer than double-digit fantasy points. He was banged up in the third quarter and was shadowed by one of the top cornerbacks in the NFL, Trevon Diggs. Jefferson returned to the game after a brief absence, which suggests the injury isn't serious. I expect him to bounce back this week against the Ravens, whose secondary has allowed the second-most passing yards per game this year (296.1).
D.J. Moore, WR, Panthers
Moore saw a team-high eight targets in Week 8, but was unable to do much with them in what should have been a plush matchup against the Falcons. He caught four passes for 59 yards and finished with single-digit fantasy points for the third time in four weeks. His struggles have been tied to Sam Darnold's ineffectiveness and Christian McCaffrey being sidelined. Moore is no stranger to subpar quarterback play and he should have better days ahead. McCaffrey may return as soon as this week, which would be a massive boost for Moore and the Carolina offense as a whole. He remains a low-end WR1 moving forward.
Antonio Brown, WR, Buccaneers
Brown had been on fire in Weeks 5 and 6, but missed Weeks 7 and 8 with an ankle injury. The Buccaneers have a Week 9 bye and he is expected to return in Week 10. I think he'll pick up exactly where he left off, especially against the Washington secondary, which has been extremely exploitable all year. He's an excellent buy-low candidate if you don't need to play him this week.
Mike Williams, WR, Chargers
Williams got off to a scorching start this season with six touchdowns in the first five games. He has definitely cooled off a bit, tallying just seven total points in half PPR over the last two games. His struggles have been correlated to Justin Herbert's, though Keenan Allen was able to reel in six of 11 targets for 77 yards and a touchdown in Week 8. Williams will look to bounce back against the Eagles this week.
Kadarius Toney, WR, Giants
Toney was banged up on Monday night with a thumb injury that is worth monitoring. He missed Week 7 with a hamstring issue and tallied just four catches on five targets for 26 yards in Week 8. That said, Sterling Shepard also went down in this game with an apparent re-injury of his hamstring. If Toney can stay healthy — and that is a massive "if" — he should be fairly unrivaled in an offense that will likely find itself in a lot of negative game scripts.
Jerry Jeudy, WR, Broncos
Jeudy stumbled out of the gate after returning from an ankle injury he suffered in Week 1. He caught all four of his passes for 39 yards and finished as WR57 in half PPR last week in a soft matchup. I think it's going to take him some time to get going and he could see an increased target share this week against the Cowboys. I anticipate Trevon Diggs — who may or may not play in this game after suffering an ankle injury in Week 8 — to shadow Courtland Sutton, which could leave Jeudy to feast on the rest of Dallas' exploitable secondary.
Pat Freiermuth, TE, Steelers
This may not seem like an obvious "buy-low" since Freiermuth is coming off of his best game of the season, but this also may be your last chance to buy in on this exciting rookie. He's a guy I've been perpetually hyping up as a sleeper, especially with JuJu Smith-Schuster out for the year. The rookie tight end has the build, athleticism and pedigree to become a star in this league. He caught four of seven targets for 44 yards and a touchdown in Week 8, which was his second week in a row with seven targets. His target share may drop if Eric Ebron plays moving forward, though it's clear that Freiermuth represents the future for the Steelers. If Ben Roethlisberger can stay healthy, he certainly has stud potential this season.
Zach Ertz, TE, Cardinals
Ertz had a quiet Week 8 against the Packers and caught four of four targets for 44 yards. The Cardinals offense struggled in this game, putting up just 21 points with zero passing touchdowns from Kyler Murray. One off game isn't concerning for me and I love Ertz's position in this high-volume offense. He should bounce back against the 49ers.
Week 9 Trade Targets To Sell High On
Below are eight Week 8 overperformers, or players whose values may decrease over the next few weeks whom you should try to offload via trades.
Ryan Tannehill, QB, Titans
This one may seem a bit counterintuitive given Derrick Henry is likely out for eight weeks, suggesting the team would have to turn to the passing game more. However, I think this narrative is one you can sell high on. Tannehill will likely get a boost, but what have we seen from him this season that would suggest he can be a reliable QB1 for fantasy? The team is also tied for the fifth-most sacks allowed per game (three) — something that has been a serious problem for their signal-caller. Tannehill is coming off of a strong-ish game in which he completed 23 of 33 attempts for 265 yards, three touchdowns and two interceptions, which is only his fourth multi-touchdown game this year. I expect him to struggle against the Rams and Saints in Weeks 9 and 10.
Alvin Kamara, RB, Saints
This one physically hurts me to write since Kamara is currently RB5 in half PPR on a per-game basis. His presence on this list stems from my concern about Taysom Hill taking over. Last year when Hill took over, Kamara's involvement in the passing game dwindled. He tallied just three catches in Hill's first three starts for seven total receiving yards. He failed to eclipse 100 scrimmage yards in any of Hill's starts. I think he'll be a fine RB1 rest-of-season, but I would temper expectations for his ceiling moving forward.
Tyler Lockett, WR, Seahawks
This one is also counterintuitive as Russell Wilson will likely make his return from injury after the Seahawks' Week 9 bye. I think this is your window to sell-high on Lockett on the heels of his third 100-yard game this year. He reeled in 12 of 13 targets for 142 yards and finished as WR7 in half PPR. However, his season has been hallmarked by inconsistency: He has three finishes inside the top 7 and five finishes outside of the top 36 at the position. He's extremely boom-or-bust and if you can sell him at a premium, now (or after the bye week) would be the time.
Chris Godwin, WR, Buccaneers
Godwin popped off in Week 8 and saw a team-high 12 targets. He caught eight passes and led the team in receiving with 140 yards and a touchdown. It's his second straight 100-yard campaign and second straight game with a touchdown. However, both of those games came with Antonio Brown sidelined with an ankle injury. I firmly believe Godwin will be a high-end WR2 rest-of-season, but his target share will be impacted once Brown returns, which is scheduled to happen after the Buccaneers' Week 9 bye.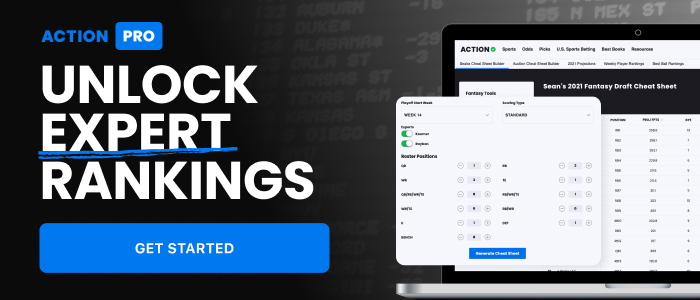 Tyler Boyd, WR, Bengals
Boyd finally found the end zone for the first time since Week 3 and tallied five catches on eight targets for 69 yards. Now would be the time to sell-high on him, however, after a streak of three bad games in Weeks 5 through 7. His previous success could be attributed to Tee Higgins being sidelined and I do not trust him as the No. 3 receiver in this offense to garner enough volume to be a dependable fantasy asset rest-of-season.
Boston Scott, RB, Eagles

When people ask me why I have trust issues, I'm going to point them to Nick Sirianni and the Eagles backfield. First, I wholeheartedly apologize for telling everyone to start Kenny Gainwell last week. The trio of Scott, Jordan Howard and Gainwell all split carries in the box score, though that does not tell the whole story. Gainwell saw just one touch in the first half of the game and took a backseat to Scott and Howard who both found the end zone — twice. Scott seems like the obvious "buy" at this time, but so was Gainwell last week. With Miles Sanders potentially returning as soon as this week, I really want nothing to do with this Philadelphia backfield — even in a plus matchup against the Chargers' run defense this week.
D'Ernest Johnson, RB, Browns
Johnson finished with the better stat line than Nick Chubb for fantasy in Week 8 after finding the end zone. Chubb remains the alpha in this offense with 56% of the snaps to Johnson's 31%. Johnson was deployed as a change-of-pace back with Kareem Hunt out. Hunt could return as soon as Week 10, meaning Johnson will likely become irrelevant past then.
Evan Engram, TE, Giants
Engram found the end zone for the first time all season this past week against the Chiefs' swiss cheese secondary. He caught three of four targets for 15 yards and finished as TE9 for the week in half PPR. Even with the touchdown, he has to eclipse double-digit fantasy points once this year. Coming off of a flukey touchdown would be the time to sell high on Engram.
How would you rate this article?
This site contains commercial content. We may be compensated for the links provided on this page. The content on this page is for informational purposes only. Action Network makes no representation or warranty as to the accuracy of the information given or the outcome of any game or event.