Ja'Marr Chase Dynasty Fantasy Fit with Bengals
Credit:
Jamie Schwaberow/Getty Images. Pictured: Ja'Marr Chase
Ja'Marr Chase Fantasy Profile
| | |
| --- | --- |
| Position | WR |
| School | LSU |
| Height | 6'1″ |
| Weight | 200 |
| 40-Yard Dash | N/A |
| 2021 Age | 21 |
| Class | RS-Sophomore |
| Recruit. Stars | 4 |
| Projected Round | 1 |
Ja'Marr Chase Fantasy Fit with Bengals
In theory, Chase lands in a good spot in Cincinnati. After all, he's with his college quarterback Joe Burrow, and we know how good they are together.
But I think some short-term skepticism is warranted. Let's remember that the Bengals are actually — how should I put this? — not a good football team. Plus, wide receivers Tee Higgins and Tyler Boyd are established. They will continue to be involved in the offense.
This isn't a situation in which Chase will come in and automatically start putting up 2019 LSU numbers.
Just want to make sure I'm not the only person alive who is thinking, "Cool, now La'Marr Chase gets to play in a bad offense and compete with two target hogs for opportunities."

— Matthew Freedman (@MattFtheOracle) April 30, 2021
This offense has potential — but every offense has potential at this time of year.
I still think of Chase as a desirable long-term investment in dynasty. In rookie drafts, he's a top-five pick, easily. But his immediate circumstances in Cincinnati might limit his upside in 2021.
---
Dynasty Fantasy Analysis
Note: The following analysis was written before the NFL Draft.
Chase is a locked-in top-three pick in my way-too-early rookie rankings, and for receiver-focused investors with the No. 1 overall selection, he will likely be the choice, not running backs Najee Harris and Travis Etienne.
Chase isn't the perfect prospect: He didn't break out as an 18-year-old freshman, for instance. And he did literally nothing in his nonexistent 2020 season because he opted out, which means that he has a smaller sample of college games to analyze.
In general, you would rather see a guy have two strong years of production instead of one strong year and then one year off, because that second season serves to confirm and strengthen your conviction in what you saw in the first season.
But those are relatively small complaints considering everything that Chase has going for him. In only one mock draft have I seen him fall outside of the top eight. Chase is almost certain to have significant draft capital invested in him, and as much fun as it is to focus on all the other details — production, physical profile, playing style, etc. — draft capital is what matters most.
On top of the draft capital is his youth. Chase is an early declarant who will be 21 for the entirety of his rookie campaign. The guys who tend to dominate and have long-lived careers are those who enter the league early at a young age.
His combination of draft capital and relative juvenility makes him highly likely to have NFL success. Over the past two decades, four 21-year-old rookie receivers have been selected with picks in the top eight.
Larry Fitzgerald (2004): 1.03 – Nine 1,000-yard seasons
Sammy Watkins (2014): 1.04 – One 1,000-yard season
Mike Evans (2014): 1.07 – Seven 1,000-yard seasons
Amari Cooper (2015): 1.04 – Five 1,000-yard seasons
In this small cohort we have one surefire Hall-of-Famer, two additional receivers on Hall-of-Fame trajectories and then Watkins, who was the first receiver selected in what might be the greatest receiver draft class of all time.
Using the simplest but most important factors, one can see that Chase looks like a receiver likely to have NFL success.
And his production speaks for itself. In 2018, Chase had a modest freshman campaign with just 23-313-3 receiving, but even with those numbers, he was the No. 2 wide receiver on the team and the primary starter opposite No. 1 option Justin Jefferson.
And then as a 19-year-old sophomore, Chase exploded with a nation-best 84-1,780-20 for the title-winning Tigers on his way to winning the Fred Biletnikoff Award as the top receiver in college football. His 2019 campaign was one of the best receiving seasons in FBS history.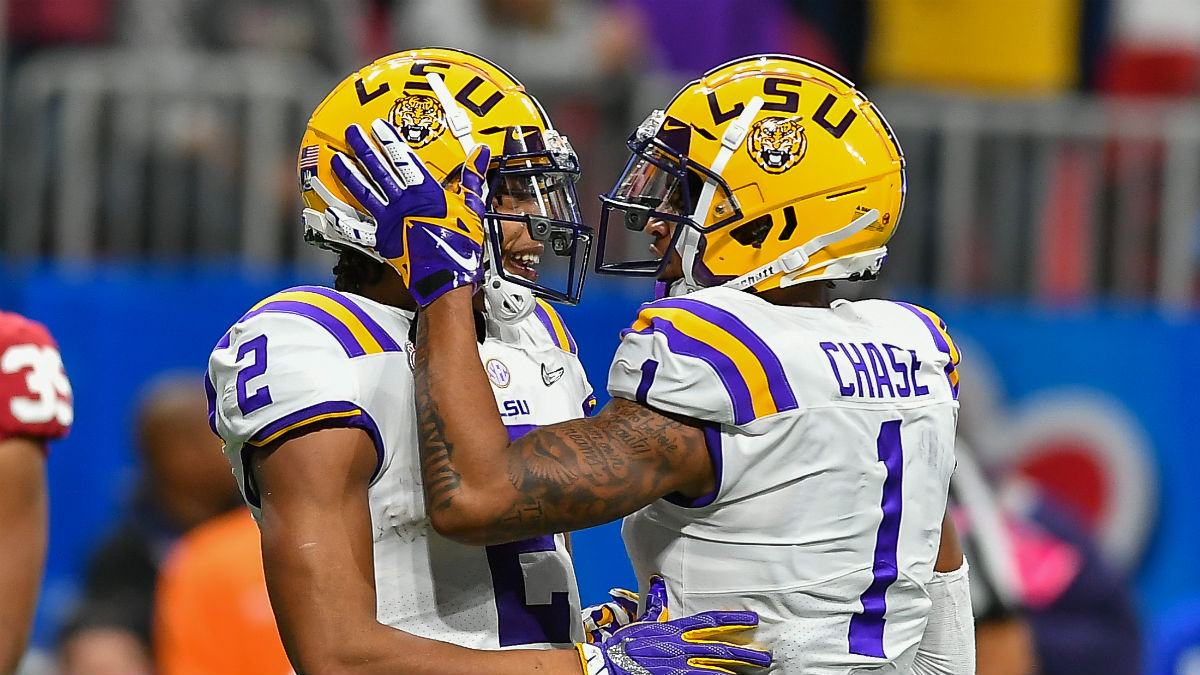 To put this in context: Jefferson in 2020 accumulated the most receiving yards in history for a rookie — and it's not as if these were cheap yards padded with tons of targets. His debut campaign is right up there with what we saw out of Randy Moss as a rookie.
Justin Jefferson (2020, 16 games): 1,400 yards, 125 targets
Randy Moss (1998, 16 games): 1,313 yards, 124 targets
And in 2019 it was Chase — not Jefferson — who led LSU in receiving yards and touchdowns, even though Jefferson was the more established player.
Given his youngish breakout profile and the magnitude of his breakout, Chase can be excused for opting out of the 2020 season.
Very few receivers have won the Biletnikoff at such a young age and so early in their college careers. Since the award was founded in 1994, here are the five most comparable Biletnikoff winners in age and experience:
Antonio Bryant (2000): 19-year-old sophomore
Larry Fitzgerald (2003): 20-year-old redshirt sophomore
Michael Crabtree (2007): 20-year-old redshirt freshman
Justin Blackmon (2010): 20-year-old redshirt sophomore
Jerry Jeudy (2018): 19-year-old sophomore
That's another impressive cohort. Fitzgerald is one of the best receivers ever, Bryant and Crabtree had multiple 1,000-yard seasons, Blackmon had more than 100 yards per game in his suspension-shortened second and final campaign, and Jeudy already looked like an expert route runner as a rookie.
Based on what Chase accomplished in college, he projects to be an above-average NFL receiver at worst.
Chase didn't have great size in college, but neither did DeAndre Hopkins, Cooper or Jefferson. Even so, all of them showed up at the combine 8-10 pounds heavier than their listed undergraduate weights. With a year off of football dedicated to training, Chase could easily enter the league at a Davante Adams-esque 212 pounds.
Chase isn't an athletic marvel, but his size is a nonissue. And as a former four-star recruit, he is likely athletic enough to produce in the NFL. Even if Chase underwhelms in his pre-draft workouts, I won't be too alarmed — timed athleticism with the pads off is fairly non-predictive at wide receiver, especially compared to measured game speed.
Far more predictive… college speed in pads by route. And best indicator of success was speed *post* catch. This is extremely useful when combined with factoring in direction of hips – so captures more than just raw "speed."

— cynthia frelund (@cfrelund) March 7, 2021
And Chase has sufficient game speed. Per the NFL Network's Cynthia Frelund:
In 2019, he was the most open receiver in college football (that is, when viewing the percentage of targets where he had at least 3 yards to work with) on passes intended to travel more than 10 air yards. His speed on yards after the catch featured the least erosion (which is a measurement of fatigue) between game start and game end in the SEC.
As Frelund mentions, what's notable about Chase is his ability to dominate downfield despite his elite size and speed. An assertive perimeter receiver, Chase has shown the capacity to win deep with a combination of catch-point aggressiveness and separation. With a nation-high 24 receptions of 20-plus yards in 2019, Chase is a bona fide playmaker.
He's also an after-the-catch producer. As a sophomore, Chase had 22 broken tackles and 8.1 yards after catch per reception (per Pro Football Focus). He's a downfield receiver, but that's not all Chase is.
With his size, there's a chance that his physical style of play won't translate to the NFL, but he's had success beating press coverage at the line of scrimmage and fighting for the ball at the catch point against future NFL cornerbacks in the SEC, such as Trevon Diggs and A.J. Terrell.
Again, I'm not worried about Chase's size or playing style. His draft capital, age and production profile augur professional preeminence.
Scarcity at running back will likely push Harris and Etienne ahead of Chase in many leagues, but fantasy players with premium picks and long-term investment horizons will likely prioritize Chase above all other players in 2021 rookie dynasty drafts.
NFL Prospect Comp: Justin Blackmon without the extra season of elite production but also younger and more of a downfield receiver
---
Matthew Freedman is 1,018-828-37 (55.1%) overall betting on the NFL. You can follow him in our free app.
How would you rate this article?
This site contains commercial content. We may be compensated for the links provided on this page. The content on this page is for informational purposes only. Action Network makes no representation or warranty as to the accuracy of the information given or the outcome of any game or event.