Justin Fields Fantasy Football & Dynasty Outlook: Bears Won't Elevate Him
Credit:
Ralph Freso/Getty Images. Pictured: Justin Fields.
Justin Fields landed with the Chicago Bears, who cap his fantasy football upside a bit in the short term.
If Fields does start right away, his dual-threat ability will give him a floor, and Matthew Freedman has Fields as his No. 3 rookie QB in dynasty formats.
Justin Fields Fantasy Profile
| | |
| --- | --- |
| Position | QB |
| School | Ohio State |
| Height | 6'3″ |
| Weight | 227 |
| 40-Yard Dash | 4.45 |
| 2021 Age | 22 |
| Class | Junior |
| Recruit. Stars | 5 |
| Projected Round | 1 |
Justin Fields Fantasy Fit with Bears
This is exciting, right? We're all excited about this? We're excited?
Fields is special enough on his own to be a fantasy producer regardless of the team he's on: His dual-threat ability is unrivaled in the 2021 quarterback class.
But I doubt the coaching staff and supporting players in Chicago will elevate Fields. The Bears have remarkably little after wide receiver Allen Robinson — have you seen tight end Jimmy Graham run? — and head coach Matt Nagy failed to get the most out of jettisoned former starter Mitchel Trubisky.
If Fields opens the season as the starter — and there's no guarantee that he will — Fields will be an intriguing fantasy QB2 with Konami Code league-winning upside in best-ball and seasonal leagues, but that will likely have more to do with him and less to do with his circumstances.
In dynasty rookie drafts, I still think he's a top-three quarterback — but he's less intriguing now than he was before the draft.
---
Dynasty Fantasy Analysis
Note: The following was written before the 2021 NFL Draft.
I want to be clear about where I stand on Fields in relation to the other quarterbacks in this class, especially as it pertains to fantasy.
I'm about 51% serious with that statement. Depending on where he lands — and maybe regardless of that — Fields warrants real consideration as the No. 1 fantasy quarterback in this class.
Think back to 2012 with quarterbacks Andrew Luck and Robert Griffin III. In most rookie drafts, Luck went ahead of Griffin and clearly had the superior career — but as a rookie, before his career-altering knee injury and before he was rashly rushed back to action in his second season before fully recovering — Griffin was the more productive player.
Griffin finished as the fantasy QB5 in 15 games; Luck, the QB10 in 16 games.
If we look at the efficiency with which Griffin and Luck produced fantasy points over expectation on a per-pass and -rush basis in 2012, they are not remotely close (per RotoViz Screener).
Passing Fantasy Points Over Expectation per Attempt
Robert Griffin III (2012): 0.13
Andrew Luck (2012): -0.02
Rushing Fantasy Points Over Expectation per Carry
Robert Griffin III (2012): 0.43
Andrew Luck (2012): 0.22
History has not been kind to Griffin, but if not for the athleticism-sapping injury at the end of his rookie season, he might have had a better NFL career than Luck, who in his own failed to live up to the expectations of dynasty investors.
If someone went with Fields instead of Lawrence in rookie dynasty drafts, I would not automatically think that person were wrong.
I might be that person by the time all my rookie drafts are through.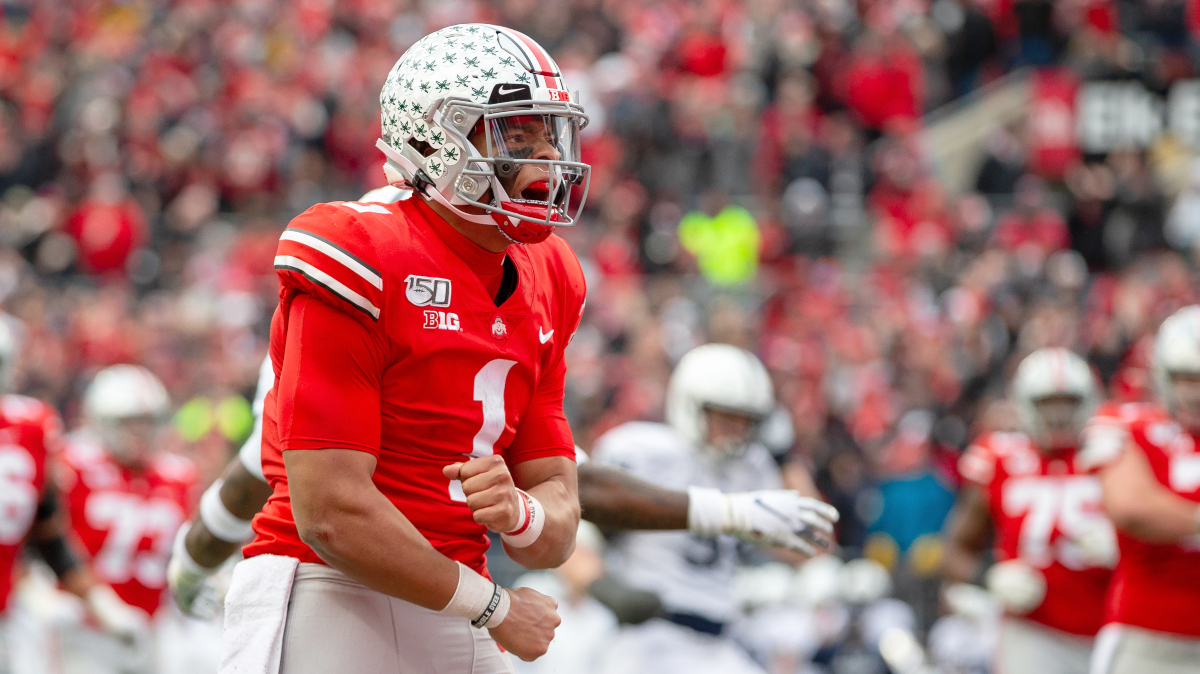 Fields has a real chance to have the best career of any quarterback in this class. And even if he doesn't, he still might be the best fantasy quarterback because of his Konami Code rushing ability.
A five-star recruit, Fields was the No. 1 dual-threat quarterback in the 2018 recruitment class, and some scouting services had him ranked No. 1 overall, just ahead of Lawrence. Even as a recruit, Fields had NFL size and athleticism, and he received offers from many major programs, including Alabama, LSU and USC. Ultimately, he decided to stay in his home state, enrolling at Georgia as perhaps the most anticipated signee in the program history.
And Fields lived up to the hype in college — but not at Georgia. As a freshman, Fields backed up Jake Fromm. Fields looked good in mop-up action with a 69.2% completion rate for 328-4-0 passing and 37-295-4 rushing  (excluding sacks, per 2021 Sports Info Solutions Football Rookie Handbook), but he saw very little playing time.
Frustrated to be sitting behind Fromm — and desirous to leave the school after a Georgia baseball player made "racially derogatory comments" to him during a football game — Fields transferred to Ohio State after the 2018 season.
Ordinarily, transfer students are required to redshirt for a year per NCAA rules, but Fields was granted an eligibility waiver (because of the racial incident at Georgia), so he was able to play immediately as a sophomore — and what a second season he had.
In 14 starts, Fields had a 67.2% completion rate for 3,273-41-3 passing and 106-689-10 rushing (excluding sacks) for the 13-1 Buckeyes on his way to a No. 3 finish in Heisman voting as the Big Ten Offensive Player of the Year before losing in the College Football Playoff semifinals to Clemson and Lawrence.
As a sophomore, Fields trailed only Joe Burrow and Jalen Hurts in the Power Five with his adjusted yards per attempt (AY/A).
Joe Burrow (LSU): 12.5
Jalen Hurts (Oklahoma): 12.2
Justin Fields (Ohio State): 11.2
Fields' 2019 season was one of the best dual-threat campaigns of the past decade — and it was just his first year as a starter.
Then 2020 wasn't quite as good for Fields: As a junior, he was 2,100-22-6 passing and 60-516-5 rushing in eight games, struggling at times with his ball security — but aside from that he arguably progressed as a passer (per SIS).
Completion Rate
On-Target Rate
Catchable Rate
Yards per Attempt
Even with his interceptions, Fields was still No. 12 in the nation with a 10.1 AY/A, and he was once again the Big Ten Offensive Player of the Year.
In the College Football Playoff semifinals, Fields played through a notable rib injury to drive the Buckeyes to an emphatic 49-28 win over Clemson, avenging the previous year's loss with 385-6-1 passing on a 78.6% completion rate.
In the national championship, the hampered Fields underwhelmed against Alabama in a 52-24 loss, but with his overall performance in the playoffs, he looked like a future top-10 pick.
It's worth nothing that Fields had an incredibly tough strength of schedule at Ohio State.
In fact, Fields in 2020 might have had the toughest schedule of any quarterback of the past decade.
Even so, Fields was able to put up an elite 10.8 AY/A across his two years at Ohio State, where he suffered just two losses in 22 starts.
Despite his dual-threat ability, Fields is more of a passer than a runner, and he's totally comfortable in the pocket. At times, he's too comfortable. In 2020, he was tied for No. 3 in average time to throw with 3.11 seconds (per Pro Football Focus). Fields invites pressure and takes needless sacks because his first instinct isn't to scramble — and that will need to be coached — but his pocket commitment is more of a virtue than a vice.
Although Fields isn't often spoken of as a passer with the likes of Lawrence, Wilson and Jones, Fields was one of the most accurate passers in college football last year, ranking No. 2 with an 80.8% adjusted completion rate.
As a passer, Fields lacks elite singular attributes: He doesn't throw with great anticipation. He doesn't have overwhelming arm strength or nuanced touch. He doesn't progress quickly through his reads. He doesn't read defenses particularly well, especially when it comes to blitzes. He doesn't lead his receivers with his deep passes. He doesn't look off defenders with his eyes.
But all of that misses the point of who Fields is: As a passer, he's elite at nothing, but strong at almost everything. He has a full skill set and can produce in and out of the pocket as a thrower.
And none of this takes into account his rushing ability. Fields isn't Lamar Jackson by any means, but Fields can produce with his legs. Designed runs. Scrambles. Read options. Quarterback draws. Whatever. Fields can run.
As a recruit, he led all quarterbacks in his class with an über-elite 4.51-second 40-yard dash at 221 pounds, and at the Ohio State pro day he was even faster and bigger, looking very much like … you know what? It feels wrong even to say it. I'll let a tweet speak for me.
What was perhaps most impressive about his 40 time is that he ran only once — usually prospects run twice and get the benefit of their best time — and he also stumbled a little coming out of his stance.
Think about that: Fields ran only once — and he had a highly imperfect dash — and he still finished with a 99th-percentile 40 time for the position (per RotoViz Workout Explorer).
With his athleticism, he easily has the highest rushing upside out of any quarterback in the class — and running quarterbacks can win fantasy championships.
In 2020, Fields was No. 1 on the SIS quarterback leaderboard with 2.8 rushing points per game, and in his college career he markedly outperformed all quarterbacks in this class with his rushing efficiency (excluding the FCS-competing Trey Lance, excluding sacks).
Yards per Attempt
Justin Fields (2018-20): 7.4
Trevor Lawrence (2018-20): 6.8
Zach Wilson (2018-20): 6.6
Mac Jones (2018-20): 3.7
Lawrence is great, but Fields might have the best combined passing and rushing ability in the 2021 class.
NFL Prospect Comp: Robert Griffin III with less speed but more recruitment status and passing ability and an earlier breakout
---
Matthew Freedman is 1,018-828-37 (55.1%) overall betting on the NFL. You can follow him in our free app.
How would you rate this article?
This site contains commercial content. We may be compensated for the links provided on this page. The content on this page is for informational purposes only. Action Network makes no representation or warranty as to the accuracy of the information given or the outcome of any game or event.