Mike Williams Is a Better Real-Life WR Than Keenan Allen (and Will Be a Better Fantasy WR)
Credit:
Harry How/Getty Images. Pictured: Mike Williams
Let's just get this out of the way so you know where I stand …
Mike Williams is the best wide receiver on the Chargers and has been for the past year, that's the tweet.

— Matthew Freedman (@MattFtheOracle) September 17, 2020
That's not a #hottaek. That's just the stone-cold truth.
Let's ignore what Williams did in 2017 when he lost much of his rookie campaign to a back injury. Let's look only at what he has done in the past two-plus seasons and compare that to Allen over the same time (per RotoViz Screener).
Mike Williams (34 games): 0.53 receiving success rate, 10.2 yards per target, 6.6% touchdown rate
Keenan Allen (34 games): 0.59 receiving success rate, 8.3 yards per target, 4.2% touchdown rate
Allen has the higher success rate, and that's indicative of his chain-moving role within the offense, but Williams is still way more efficient at turning his targets into yards and touchdowns.
The efficiency edge Williams has is reflected in RotoViz's reFPOEPA metric (receiving fantasy points over expectation per attempt). Adjusted for field position, Allen has a 0.14 reFPOEPA: On a per-target basis, he gets 0.14 fantasy points more than you'd expect a league-average wide receiver to get. That's not bad.
But Williams has a 0.32 reFPOEPA.

Last year, the difference between Allen and Williams was both minimal and obvious.
Keenan Allen (2019): 74.9 yards on 9.3 targets per game
Mike Williams (2019): 66.7 yards on 6.0 targets per game
Despite having 55% more targets than Williams, Allen had just 12.3% more receiving yardage. In a more rational world, some of Allen's targets would have been reallocated to Williams in 2019.
As it happens, that's what we saw in Week 1, when Williams had a team-high nine targets.
Keenan Allen: 7.7 DraftKings points | 4-37-0 receiving on eight targets
Mike Williams: 10.9 DraftKings points | 4-69-0 receiving on nine targets
It's not a surprise that Williams outperformed Allen last week, given that his skill set is probably a better match for quarterback Tyrod Taylor than Allen's is.
With Williams, Taylor can simply throw the ball deep and let his receiver make a play. To wit …
With Allen, Taylor needs to throw with anticipation and precision. As we saw on Sunday, that's not likely to happen often.
Last year, Williams was No. 2 among starting wide receivers with an 18.3-yard average depth of target (aDOT) and No. 3 with 11.8 yards per target (per Pro Football Focus).
He was basically a more downfield version of Kenny Golladay with fewer targets and bad touchdown luck.
Kenny Golladay (16 games): 113 targets, 16.1 aDOT, 10.5 yards per target, 14 end-zone targets
Mike Williams (15 games): 85 targets, 18.3 aDOT, 11.8 yards per target, 12 end-zone targets
Even though he missed Week 4 with an injury and was limited in the middle of the season with a lingering knee issue, Williams had 1,001 yards receiving for the year. If not for hilariously and randomly scoring just two touchdowns last season, Williams would have entered the season with 2019 Golladay-level hype.
Last year, Williams was No. 15 in the league with 120.9 air yards and yards after the catch (AirYAC) combined per game (per AirYards.com). Allen was No. 17 with 117.2. Insert shrug emoji.
Allen is almost certainly the more nuanced player: He's known for his precise route-running technique and ability to get open.
That might not matter.
Williams is more physically dominant, and I expect that lots of people — in a pre-Moneyball fashion — overvalue Allen and undervalue Williams for reasons that have more to do with aesthetics and less to do with statistics.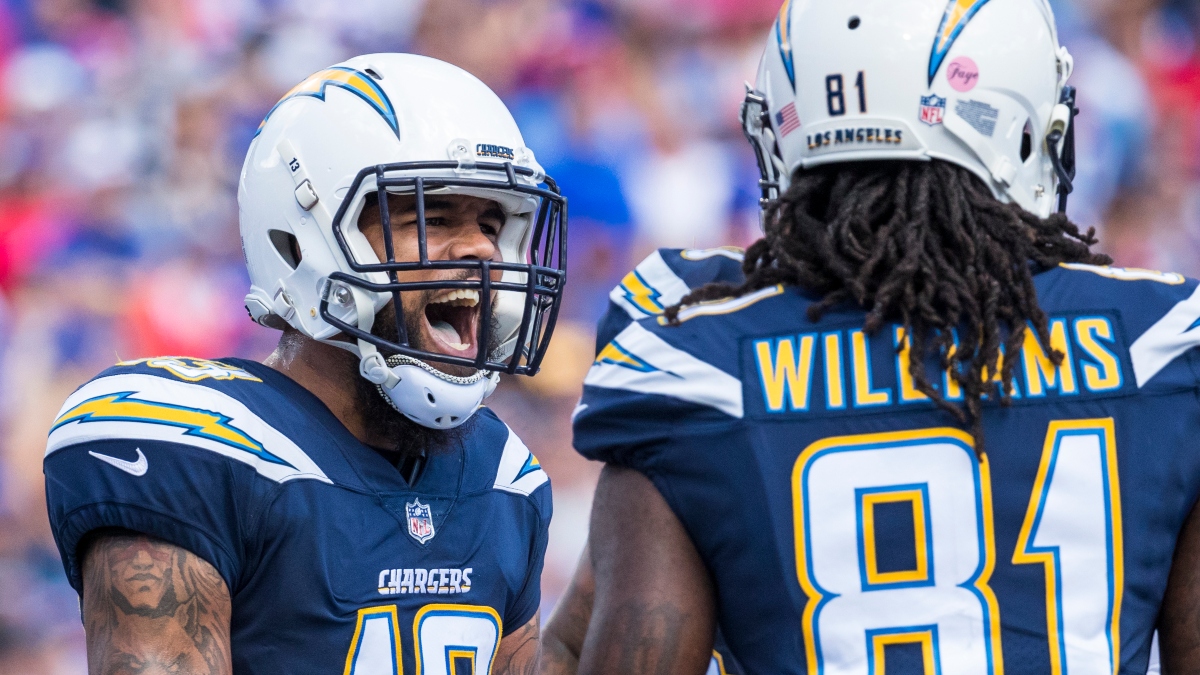 Williams was drafted No. 7 overall just three years ago. He has elite size (6-foot-4, 218 pounds). In just his second season, he had double-digit receiving touchdowns. Seven-plus years into his career, Allen has yet to hit that mark. In his most efficient campaign, Allen had 10.0 yards per target as a rookie. Williams has surpassed that mark twice with 10.1 in 2018 and 11.1 in 2019.
Williams missed Week 4 last year because of a knee injury, but since his return in Week 5, he has actually outproduced Allen (continuing into this season).
Mike Williams (13 games): 45-913-2 receiving on 84 targets
Keenan Allen (13 games): 74-784-3 receiving 110 targets
In this 13-game span, Allen has been the more desirable fantasy option in scoring formats that reward receptions — but Williams has been the superior (or at least the more efficient and productive) NFL player. Allen has the edge on Williams in routes (511 vs. 491) and snaps (768 vs. 748), but Williams has done more with his opportunities.
Mike Williams (13 games): 1.86 yards per route, 1.22 yards per snap
Keenan Allen (13 games): 1.53 yards per route, 1.02 yards per snap
At some point, there will be a reckoning. This year, I won't be surprised if Williams has more yards and touchdowns — and maybe even more targets — than Allen.
Williams has under-appreciated potential: Last week he was No. 9 in the league with 156 AirYAC (per RotoViz Statistical Summary). Given that usage, it's not a surprise that Williams is the No. 1 player in Josh Hermsmeyer's Week 2 Air Yards Buy Low Model.
Williams isn't just better than most people think, although that's the case. He's also better than his more-heralded three-time Pro-Bowl teammate, and he has been for almost a full season.
How would you rate this article?
This site contains commercial content. We may be compensated for the links provided on this page. The content on this page is for informational purposes only. Action Network makes no representation or warranty as to the accuracy of the information given or the outcome of any game or event.