Rashod Bateman 2021 Fantasy & Dynasty Outlook with Ravens
Credit:
Michael Hickey/Getty Images. Pictured: Rashod Bateman
Rashod Bateman Fantasy Profile
| | |
| --- | --- |
| Position | WR |
| School | Minnesota |
| Height | 6′ |
| Weight | 190 |
| 40-Yard Dash | 4.41 |
| 2021 Age | 22 |
| Class | JR |
| Recruit. Stars | 3-4 |
Rashod Bateman Fantasy Fit with Ravens
As I write this, I'm listening to some Marshall Tucker Band. I gotta get myself in the right headspace. There's nothing like a flute-laced country rock classic to help me tap into my inner pain.
This one hurts.
Bateman is a talented receiver with a well-rounded skill set, but I fear he will be wasted in Baltimore. He eventually could beat out wide receivers Marquise Brown and Sammy Watkins for targets, but they will at least open the season ahead of him, and tight end Mark Andrews will likely dominate as the No. 1 receiver in the offense.
On top of that, the Ravens are a run-committed team, so Bateman will likely see limited volume in a competitive target environment.
He will have some splash performances as a rookie: He's too talented not to. But his landing spot is a short- and long-term negative. For 2020, he's likely a speculative option in best ball. In dynasty rookie drafts, he's now at risk of falling out of Round 1 — which might make him intriguing as a value investment — but in Baltimore he's unlikely to enjoy the target volume of a true No. 1 receiver, at least within his first couple of season.
---
Dynasty Fantasy Analysis
Note: The following was written before the 2021 NFL Draft.
On the field, Bateman does nothing exceptionally well. He doesn't have a full route tree, and he's not a notably crisp route runner. He doesn't play with great speed, and doesn't play especially big, probably because he's not actually a big receiver.
But Bateman is an above-average receiver across the board, and that makes him a greater-than-the-sum-of-his-parts producer. With his limitations, he seems unlikely to be a true No. 1 option in the NFL, but he could be a very good No. 2 receiver with upside while playing multiple roles in a variety of schemes.
Bateman has many factors in his favor.
First of all, he is entering the NFL as an early declarant with just three seasons in college. That provides him with a massive edge, given all the work done in the past couple years to establish the supremacy of early-declaring receivers by analysts throughout the industry:
On top of that, Bateman produced right away as a true freshman.
While No. 1 receiver Tyler Johnson soaked up high-percentage targets in the slot, Bateman served as the top outside receiver for the Gophers, finishing No. 2 on the team with 51 receptions, 704 yards and six touchdowns receiving in 13 games.
And then as a sophomore, Bateman exploded with an undeniably great campaign. Although he still played behind Johnson, Bateman was one of the most impressive receivers in the nation.
Johnson (2019, 13 games): 86-1,318-13 receiving
Bateman (2019, 13 games): 60-1,219-11 receiving
With an early freshman breakout and a dominant sophomore season, Bateman (like Chase) probably could have sat out his junior year before declaring for the draft. But after the Big Ten decided to play football in 2020, Bateman returned for an abbreviated season.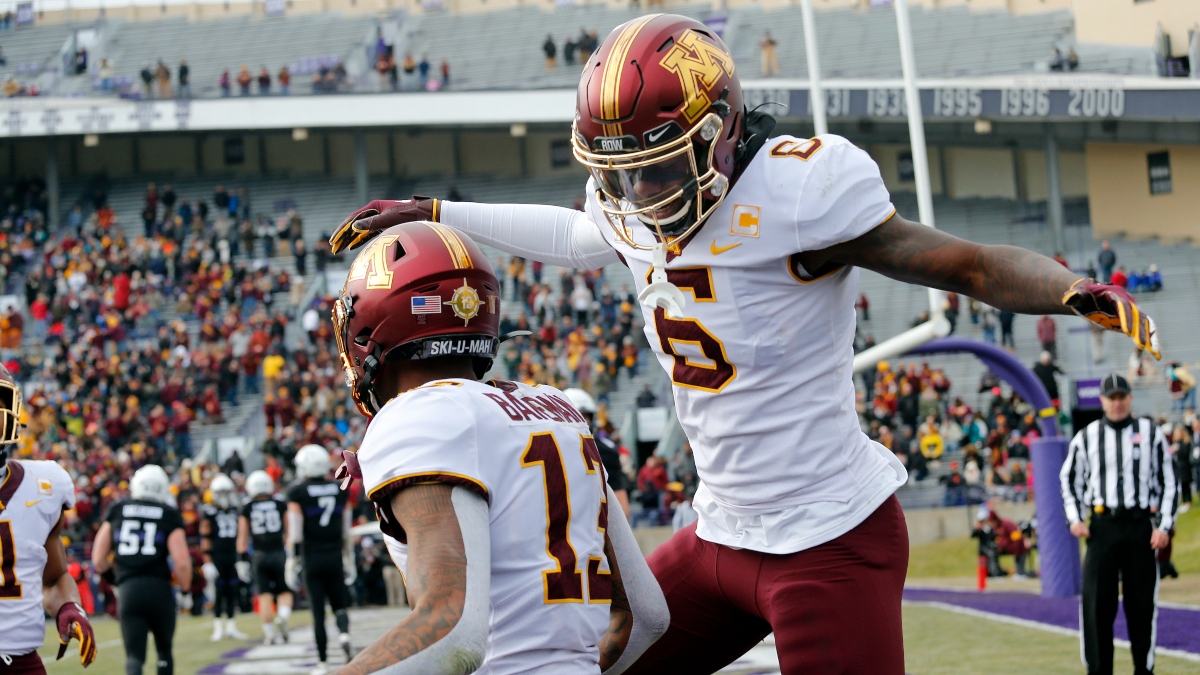 At a glance, Bateman's junior numbers don't look great: 36-472-2 receiving.
But they should be placed in context: He played just five games, which means that his per-game yardage production was almost identical.
2019 (13 games): 93.8 yards per game
2020 (5 games): 94.4 yards per game
Granted, his per-game touchdown production markedly declined in 2020, but that had more to do with the offense than with him: The team passed for only four touchdowns in his five games, which means that he had an elite market share of receiving touchdowns (MSTDs).
2019 (13 games): 0.85 TDs per game | 35.5% MSTDs
2020 (5 games): 0.4 TDs per game | 50% MSTDs
And the 2021 Sports Info Solutions Football Rookie Handbook (SIS) grades his 2019-20 campaigns similarly (and excellently) using the proprietary Total Points Rating (TPR, scaled 50-99).
2019: 99 TPR per route | 99 TPR per play
2020: 99 TPR per route | 99 TPR per play
It's worth noting that in every efficiency statistic, Bateman did regress in 2020 as the No. 1 receiver in the offense. Without Johnson to pull coverage, Bateman fell short of his strong 2019 numbers (per SIS).
Average Depth of Target
2019: 15.8 yards
2020: 9.8 yards
Yards per Target
Reception Rate on Catchable Targets
Yards After Catch per Reception
Receiver Rating
Yards per Route Run
But these numbers warrant some contextualization.
First, Bateman had the exact same positive play rate vs. man coverage (53%), so it's not as if he was incompetent as a receiver.
Second, Bateman in 2020 was No. 1 in the nation with 15.1 targets above expectation per 100 routes (SIS). Based on contextual factors — where he lined up, how the defense played him, etc. — Bateman was targeted at an obscene rate (because the offense had no one else to throw to), and given that the ball was being forced him, his efficiency was destined to drop.
Third, the coaching staff forced Bateman into the "Johnson role" in 2020. Whereas Bateman lined up primarily on the perimeter in 2018-19, as a junior he replaced Johnson in the slot, where Bateman played the supermajority of his snaps.
2018: 9% slot rate
2019: 15% slot rate
2020: 67% slot rate
With his move to the middle of the field, Bateman was bound to experience a decline in efficiency.
So I don't hold his third-year underperformance against him, especially since he had to deal with the aftereffects of COVID-19, including weight loss (more on that later).
If anything, Bateman's junior season serves to highlight his versatility and functionality: We know now that he can line up on the perimeter and also in the slot, and regardless of where he is in the formation, he can win at a similar rate against man coverage. That makes him a valuable prospect and worth a Round 2 pick at the very latest. I think he should go in Round 1.
But the hype for Bateman has recently gotten a little out of control. He has some great highlights.
When he scores touchdowns, Bateman looks like the best receiver in college football.
But he's not a walking highlight reel. His average is not him at his best.
Pro Football Focus graded Bateman as the top perimeter receiver in the Big Ten for the 2019-20 seasons.
That's kind of convenient, considering that he played most of his snaps last year in the slot, no?
I like Mina Kimes, so please don't take this as Mina slander, but when someone with her large audience and big influence turns stan for a player …
… that's probably a sign that his market is or will soon be inflated.
And that's especially the case after his pro day. The big headline from the event was that he ran an unofficial 4.39-second 40-yard dash.
My friends, I have some stuff to say.
I have watched way too many videos of combine and pro day 40-yard dashes in my life. To me, that's not what a 4.39-second 40 looks like.
While some scouts had Bateman's best time at 4.39 seconds, multiple scouts had him in the 4.4s.
A hand-timed pro day 40 time is about 0.03 seconds faster than the gold-standard combine 40, so within the context of most historical receiver prospects, Bateman is not a true 4.39-second 40 guy.
Even if we give Bateman the credit of his unofficial time — I'm personally going with 4.41 seconds — he doesn't play with that kind of athleticism on the field. He's more of a technician and physical imposer than a silky speedster, and that might be a problem for him in the NFL, because …
Bateman is much smaller than we expected him to be.
That should have been the headline from his pro day: SMALL.
In the big picture, it's not as if Bateman is egregiously small. He's much bigger than Smith (6-foot-1, 170 pounds), for instance. But Bateman entered evaluation season widely regarded as one of the few sizable receivers in the class, and his pro day measurements have forced draftniks to change their perceptions of him on the fly.
It's not that he can't be successful at his size in the NFL, but he has fewer outs.
Phrased differently: If a big receiver runs fast, he's special. If a smaller receiver runs fast, he's merely checking a box. At his size, Bateman is officially a smaller receiver, so what he did at his pro day was nothing special, but people are talking about his performance as if he proved himself to be some sort of athletic marvel. He didn't.
If we put Bateman's height, weight and 40 time into the RotoViz Freak Score Lab, he gets a freak score of 54 (scaled 0-100). And if we adjust his 40 time to the more modest 4.43 seconds that some scouts had for him, his freak score drops to 50, which makes him utterly average.
The 40 time is nice: Bateman's timed athleticism is better than I thought it would be. But I'd rather he were big and a little slower than small and supposedly fast — because, again, speed is not his game. He is not Stefon Diggs.
Bateman does not run away from defenders on the football field. He outmaneuvers them. He outfights them. He outcompetes them. But he doesn't often outrun them.
Without his listed size and absent truly game-changing speed, Bateman is likely to be less of a specialist and more of a generalist in the NFL.
With his college production, early declaration and expected draft capital, I still project Bateman for multiple 1,000-yard seasons. But I strongly doubt he will ever be one of the league's best receivers.
NFL Prospect Comp: Robert Woods but older, smaller, and faster
---
Matthew Freedman is 1,018-828-37 (55.1%) overall betting on the NFL. You can follow him in our free app.
How would you rate this article?
This site contains commercial content. We may be compensated for the links provided on this page. The content on this page is for informational purposes only. Action Network makes no representation or warranty as to the accuracy of the information given or the outcome of any game or event.