Week 2 Fantasy Advice: Answering Your Start/Sit Questions, Analyzing Ezekiel Elliot's Outlook, More
Credit:
George Walker/Icon Sportswire via Getty Images. Pictured: Ezekiel Elliott
Want personalized lineup advice? Have start/sit questions? Want me to adjudicate dicey league disputes? Email mailbag@actionnetwork.com with your questions each week to be featured in this article and on Action's Fantasy Flex podcast every Thursday hosted by yours truly.
---
Fantasy Stock Questions
Bullish or Bearish On Ezekiel Elliott?
Aaron writes: "Bull or bear on [Ezekiel Elliott] rest of season? [Elliott]/[Mike] Gesicki for [George] Kittle/[Josh] Jacobs? I have [Dalvin] Cook, [Kareem] Hunt, and Ty'son Williams at running back. Keep your tips up."
Previte: Love the ski reference, and I'm bullish on Elliott for the rest of season. The Cowboys running back put many fantasy managers in a hole after a Thursday night dud on national television. He saw 11 carries for 33 yards and caught two passes for six yards — good enough to finish as RB44 with 4.9 fantasy points. It's not the performance that managers hoped to see, but it should have been at least somewhat expected in a matchup opposite the Buccaneers' shutdown front seven.
But stat lines don't tell the whole story: Elliott was also deployed in a blocking role to protect quarterback Dak Prescott, who is returning from a major injury. His role should shift as the season progresses.
I'm not sure which side of this trade you are, but in a vacuum, it seems pretty even, so it's going to come down to your roster needs. The difference from Gesicki to Kittle is significant, but so is Elliott to Jacobs. Since you already have a top-tier RB1 on your roster, though, I would lean the Kittle side. I'm bullish on Elliott rest-of-season, but I think you have enough RB depth, and Kittle is going to be a monster this year if he can stay healthy.
Corey Davis' Longterm Outlook
Andrew writes: "What's your season-long outlook on [Corey] Davis? I drafted him in multiple leagues because I liked the value. Can he be a high-end WR3? Did Week 1 just confirm my priors because I was bullish? Appreciate any additional insight on him."
Previte: Davis looked sharp in his debut for Gang Green. He reeled in five catches on seven targets for 97 yards and two touchdowns from No. 2 overall pick Zach Wilson. He scored 24.2 fantasy points, finished as WR5 and was clearly Wilson's favorite target.
That said, I expect Davis to come back down to earth over the next two weeks. The Jets have a brutal Week 2 matchup against the Patriots, whose coach Bill Belichick, is notoriously adept at shutting down rookie quarterbacks. They face the Broncos on the road in Week 3. Season-long, I do expect him to be a high-end WR3, so congrats on drafting him at a value (and probably winning your Week 1 matchup).
Jamaal Williams vs. D'Andre Swift
Julie writes: "Who is the guy to roster between Jamaal Williams and D'Andre Swift? Or Both?"
Previte: Friends don't let friends think Williams is better than Swift. Even dealing with injuries, Swift saw 11 carries for 39 yards and caught eight of 11 passes for 65 yards and a touchdown. The Lions leaned heavily on the run game, and Williams saw nine carries for 54 yards and a touchdown and caught eight of nine passes for 56 yards — good enough for 21 fantasy points and an impressive RB4 finish, one spot ahead of Swift in half PPR.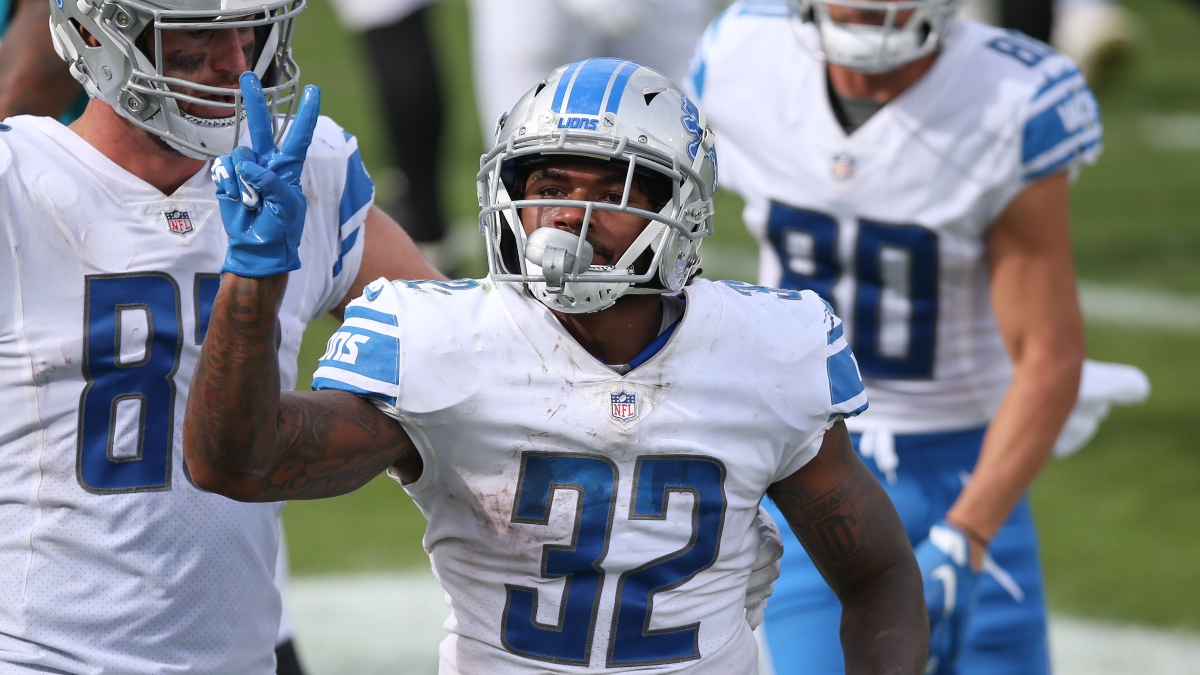 Swift is the main back in this offense, and I fully expect Williams to have a role, but take a backseat once Swift is fully healthy. I think both are valuable to have on your roster, but if you have to choose one, it's Swift for me.
Mike Davis Panic Button?
Fletcher writes: "Are we panicking on Mike Davis yet?"
Previte: There's simply no other way of putting it: The Falcons offense was mega-cringe last week. The team was molly whopped by the Eagles, who were dogs in this game, and was held to just six points. They couldn't seem to get much going on the ground or through the air.
Ryan was held to 164 yards and zero touchdowns, which is pretty surprising given Atlanta was trailing for most of this game. Davis posted 15 carries for 49 yards (3.27 yards per carry) and caught three of six passes for 23 yards. It's certainly not the worst showing, but it's not ideal. Meanwhile, Cordarrelle Patterson was more effective than Davis and posted seven carries for 54 yards and caught both of his targets for 13 yards.
Davis was falling super far in drafts, and I liked him at value. I remain fairly bullish on him based on situation alone, so I'm not ready to hit the panic button just yet. I would fade him this week against the Buccaneers on the road, though.
Melvin Gordon's Job Security
Mike writes: "Will Melvin Gordon be able to hold off Javonte Williams after his big first game?"
Previte: It depends what you mean by hold off. Gordon stole the show on the ground for the Broncos on Sunday due in large part to a 70-yard touchdown. Williams actually saw more touches in his rookie debut and posted 14 carries to Gordon's 11. He rushed for 45 yards and caught his one target for -4 yards, good enough for 4.6 fantasy points and a RB46 finish.
It's disappointing, given Williams was consensus drafted multiple spots ahead of Gordon, but this was the team's plan all along, according to Broncos insider Benjamin Allbright. He added that managers should expect a "60-40 [workload] split" between the pair moving forward.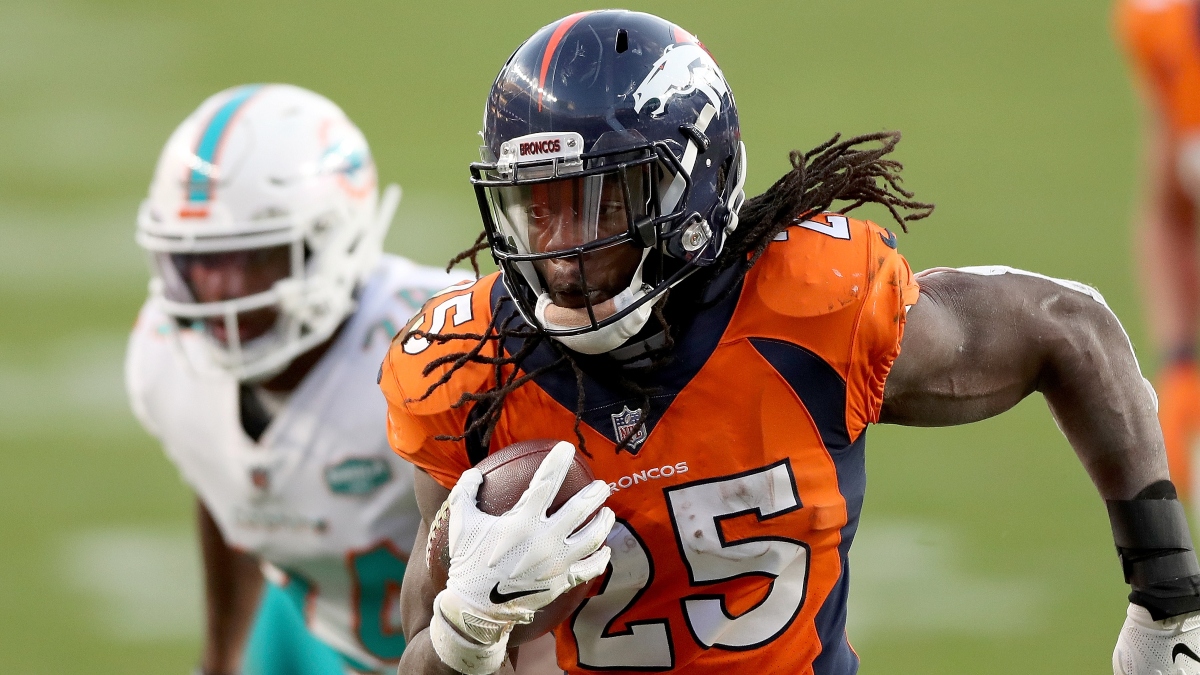 Gordon is in the second year of a two-year contract he signed in 2020. Williams is the future at running back, but they will lean on Gordon more — especially at the beginning of the year.
Outlook For 49ers' Backfield
Terry writes: "With the loss of Raheem Mostert for the year, how is the 49ers backfield going to pan out? Do we trust [Elijah] Mitchell or will [Trey] Sermon get a shot?"
Previte: Good question, let's consult the ouija board.
In all seriousness, I don't know how this 49ers backfield will sort itself out, and I would temper expectations for that whole committee since it's going to be a weekly dice roll trying to translate Kyle Shanahan's smokescreens into lineup decisions.
Mitchell was probably your league's most sought-after waiver add after last week's Shanahanigans and the news that Mostert will miss the rest of the year. He recorded 19 carries for 104 yards and a touchdown, and JaMycal Hasty rushed once for three yards and caught a pass for 15 yards. The team also added former Lions running back Kerryon Johnson after a short stint with the Eagles in the wake of Mostert's injury.
People are really quick to put Trey Sermon on the ice floe. He's eventually going to play a role in this offense — possibly as early as next week — and this backfield is crowded. TL;DR I don't trust any 49ers running back with Mostert out for the year and neither should you.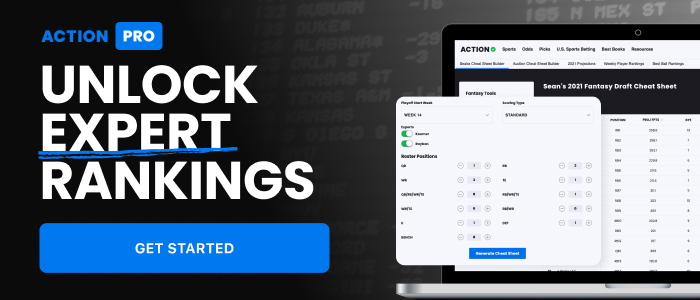 Terry McLaurin's Stock Without Ryan Fitzpatrick
Phil writes: "Can Taylor Heinickie be a real NFL quarterback or is it stock way down on Terry McLaurin?"
Previte: In my opinion, the Ryan Fitzpatrick injury hurts McLaurin the most, followed by Curtis Samuel (when he's healthy). In looking at the game log, it seems like Heinicke actually targeted Logan Thomas three times, so I think his value remains fairly neutral with the QB switch. Running backs Antonio Gibson and J.D. McKissic could see more work on the ground and in short-yardage situations as the Football Team moves toward a more pass-conservative offense with Heinicke.
That said, we've seen McLaurin perform with bad quarterback play for almost his entire career. In 2019, he caught passes from Case Keenum, Dwayne Haskins, and Colt McCoy, and in 2020, he caught passes from Alex Smith, Dwayne Haskins, Kyle Allen and Taylor Heinicke.
"If you want to be a top guy you got to go out there and make play. Doesn't matter if it's the fourth-string QB," McLaurin said on Tuesday, via JP Finlay of NBC Sports Washington.
So, he takes a bit of a hit in terms of ceiling, but he should be a very serviceable high-end WR2 at least while Fitzpatrick is out.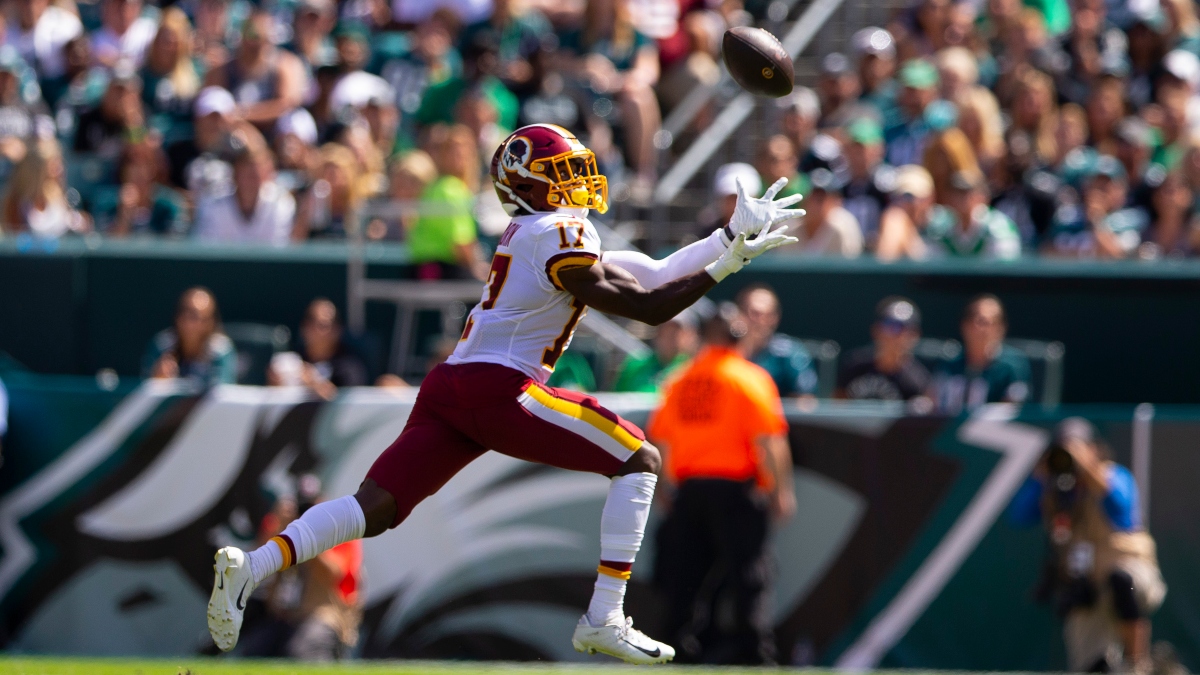 Josh Allen's & Jalen Hurts' Trade Value
@Keeney_Krushing writes: "I have Josh Allen and Jalen Hurts. Should I try to trade one of them for a running back? I currently have [Jamaal] Williams as a handcuff for [D'Andre] Swift and Latavius Murray as my only bench running backs. If so, what running backs are the right value for each quarterback?"
Previte: Assuming this is a one quarterback league (not specified), I would absolutely try to flip one of them for a running back, assuming that's your leanest position.
Comparing quarterback and running back values is super tough and varies with regard to positional scarcity in your league and managers' needs. However, some "buy-low" running backs I like this week are Clyde Edwards-Helaire, Ezekiel Elliott, Saquon Barkley, Aaron Jones and Najee Harris (read my full Buy-Low, Sell-High Week 2 article).
Allen will probably fetch more in terms of running back value, and I'm personally fine having either one as my lone quarterback, so I'd probably try to shop him, though you might be selling low on him at this point. Another obstacle in flipping one of your quarterbacks would be the dearth of injuries to any top QB in Week 1 (which is, of course, a good thing in the grand scheme of things). Perhaps you can pitch the Aaron Rodgers or Ryan Tannehill managers if they're panicking.
Week 2 Fantasy Start/Sit Questions
Dale writes: "Start one: [Jaylen] Waddle, [Tee] Higgins, [Brandin] Cooks, [Marvin] Jones full PPR."
Of those four, it's between Higgins and Cooks for me. Higgins has a slightly tougher matchup on the road against the Bears versus Cooks, who is on the road versus the Browns. Higgins also has more competition for targets from rookie Ja'Marr Chase and Tyler Boyd versus Cooks, who is competing with Pharaoh Brown, Danny Amendola and Chris Conley.
However, there is a stratospheric separation between the upside in the Bengals offense versus the Texans offense. The Texans did show they're not just going to be an automatic bye for opposing teams, but there's really no comparing Tyrod Taylor to Joe Burrow. I expect the Texans to lean much more on their crowded backfield and the Bengals to be very pass-heavy this year.
Start Higgins, and for what it's worth, I'd rank them as follows for this week in full PPR: Higgins > Cooks >>> Waddle > Jones.
Joel writes: "Week 2, I need 1 wide receiver: [Robby] Anderson, [Mike] Williams, [Courtland] Sutton."
Previte: I feel like it's a toss-up between these three, but I'm going with Sutton with the slight edge due to matchup. Sutton had the worst Week 1 of the three, so I understand the aversion. He caught just one of three passes for 14 yards and clearly lacked the chemistry with new quarterback Teddy Bridgewater that Jerry Jeudy demonstrated.
Jeudy is out for four to eight weeks with a high ankle sprain, meaning the other pass-catchers will have to step up. This, in theory, should result in more targets for Sutton, as well as Noah Fant, K.J. Hamler and Tim Patrick. I think the Broncos intended to ease Sutton, who is returning from a torn ACL, into play.
He's on the road this week against a Jaguars defense that allowed a Tyrod Taylor-led Texans team to throw all over the place. It should be a great bounce back spot for Sutton, who is just one year removed from a 1,112-receiving yard season and now has a clear path to reclaiming his WR1 status in this offense.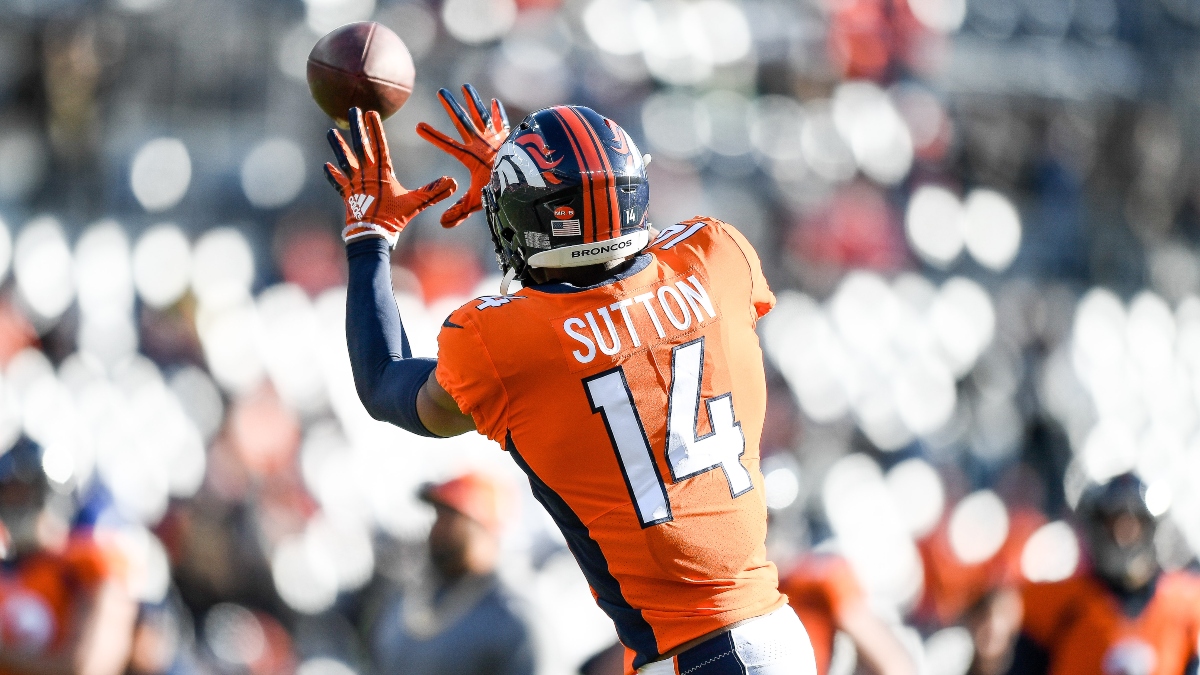 Anderson has the toughest matchup of the trio against the Saints at home. It's a little bit of recency bias, but New Orleans just held the Packers, who were one of the most fearsome offenses last season, to just three points. Davante Adams was held to just five catches for 56 yards in the effort, and Aaron Rodgers was intercepted twice by safety Marcus Williams and cornerback Paulson Adebo. Anderson's Week 1 was salvaged by one 57-yard touchdown on three targets and clearly took a backseat to D.J. Moore and Terrace Marshall Jr. from a target standpoint.
Williams is certainly interesting and had the best Week 1 of the group. He caught eight of 12 targets for 82 yards and a touchdown and faces a permeable Dallas secondary this week. The Chargers offense is also the most pass-heavy of the three, which should mean more opportunities, but Williams is still the clear No. 2 option behind Keenan Allen.
It's extremely close, but Sutton gets the edge. I would rank the three as follows for Week 2: Sutton > Williams >> Anderson.
@90Spacedad writes: "Flex help, full PPR league: Miles Sanders, Robby Anderson, Sterling Shepard?"
Previte: It has to be Sanders for me.
I get the temptation to lean receiver in your flex spot — especially in PPR formats — but Sanders gives you a relatively guaranteed floor over the other two. He was the feature back against Atlanta in Week 1 and saw 19 touches to Kenny Gainwell's 11. The team is going to use both backs, but it's Sanders' backfield for now. It's the Eagles' home opener this week against the 49ers, who looked very permeable to the run against the lowly Lions. He has the best matchup of the trio and I love his upside this week.
Anderson's Week 1 was saved by a 57-yard touchdown on three targets and was clearly not Sam Darnold's top option. He faces the Saints at home this week, whose defense looked stout and held the Packers to a field goal.
Shepard was a lone bright spot in the Giants' loss to the Broncos. He saw two more targets than anyone else on the team and caught seven of nine for 113 yards and a touchdown. Kenny Golladay caught four of six passes for 64 yards and Darius Slayton caught three of seven passes for 65 yards. I expect Golladay to be heavily targeted once he fully recovers from a preseason hamstring injury, which will hurt Shepard's target share. The Giants face Washington this week, whose secondary and pass rush will be a problem for Daniel Jones.
I would rank the three for Week 2 as follows: Sanders >> Anderson >>> Shepard.
@Fauci_is_G0d writes: "Antonio Brown or Elijah Mitchell?"
Previte: Mitchell has Kyle Shanahan's favor — for now — which probably means JaMycal Hasty is going to go off next week. In all seriousness, I would temper expectations for Mitchell or any 49ers running back since it's going to be a weekly dice roll trying to interpret Kyle Shanahan's smokescreens into lineup decisions. Sermon will eventually play a role in this offense — possibly as early as next week. TL;DR I don't trust any 49ers running back with Mostert out for the year and neither should you. He also has a significantly tougher matchup on the road against the Eagles who just boxed up Mike Davis last week.
Brown stole the show in the NFL opener against the Cowboys and looked like vintage Antonio Brown. He was the Buccaneers' top receiver and caught five of seven targets for 121 yards and a touchdown. Tampa's offense was firing on all cylinders in Week 1, and they get another cupcake matchup this week at home against the Falcons' bottom-of-the-barrel pass defense that just made Jalen Hurts look like Peyton Manning.
It's Brown for me by a small landslide.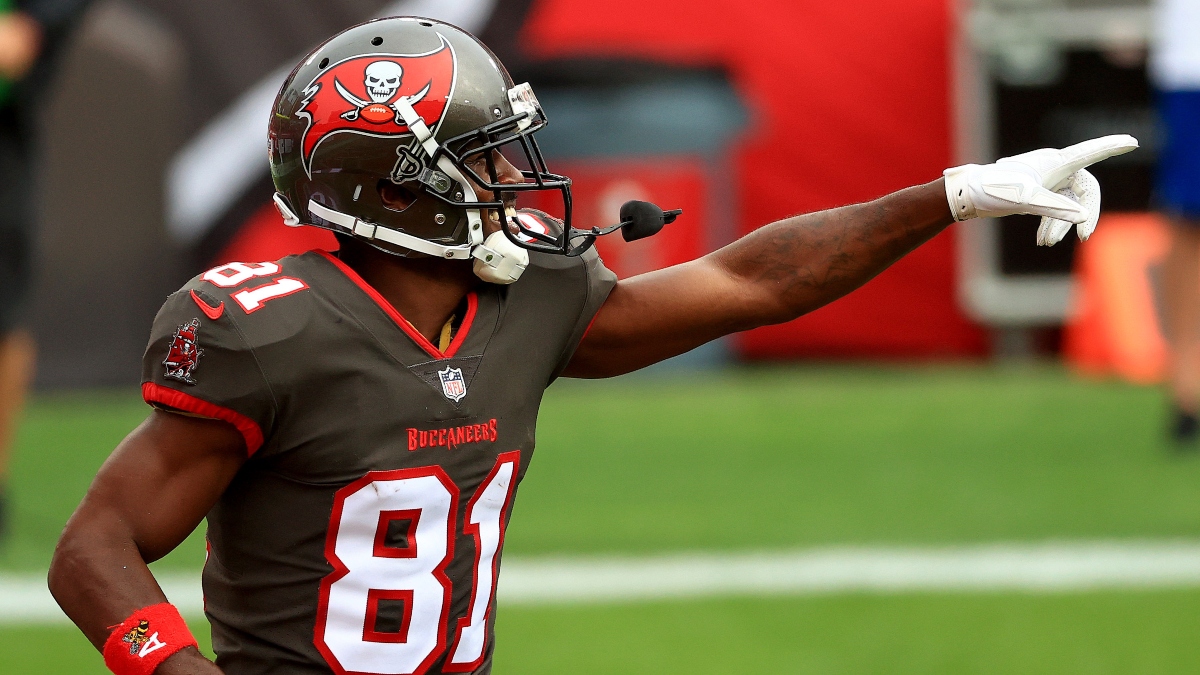 Maxwell writes: "Who would you rather start – Deebo Samuel or Mike Davis? 12-person league, PPR. Thank you!"
Samuel. Even though I think he's a sell-high at this point, he seems to be in Kyle Shanahan's good graces. He put up a monster game as the focal point of this offense in Week 1 against Detroit, catching nine of 12 targets for 189 yards and a touchdown. In contrast, Trent Sherfield caught two of three targets for 23 yards and a touchdown and Brandon Aiyuk saw zero targets all day. Samuel finished with 27.4 fantasy points — the third-best of the week among receivers.
I don't expect Kyle "Smokescreen" Shanahan to truly lean on any one receiver, especially with Aiyuk trending towards being healthy, but for now I trust Samuel over Davis, who has a brutal Week 2 matchup on the road against the Buccaneers.
How would you rate this article?
This site contains commercial content. We may be compensated for the links provided on this page. The content on this page is for informational purposes only. Action Network makes no representation or warranty as to the accuracy of the information given or the outcome of any game or event.