Week 5 WR/CB Matchups: Terry McLaurin vs. Jalen Ramsey, Shadow Grades & More
Credit:
Katelyn Mulcahy/Getty Images. Pictured: Jalen Ramsey.
Editor's note: The Broncos-Patriots game has been officially rescheduled for next week.
---
Wide receiver-cornerback showdowns might be the most important individual matchups in football.
In this piece, I leverage snap data from Pro Football Focus to project NFL Week 5 WR/CB matchups, especially shadow situations.
For more, see the FantasyLabs Matchups page, where we provide basic and advanced data — including fantasy and red-zone performance — for each offensive skill-position player based on his matchup.
As we get more clarity during the week on the injury status of receivers and corners, I will update my WR/CB projections.
Let's start with this week's featured matchup and then run through all the potential shadow matchups and most notable upgrades and downgrades.
UPDATE (Sat. 10/10): I have made updates based on injury reports for the week. Here are some changes and key situations to note.
Wide Receivers: OUT
Falcons WR Julio Jones (hamstring) is projected OUT.
Titans WRs Corey Davis (COVID-19), Adam Humphries (COVID-19) & Cameron Batson (COVID-19) are OUT.
Raiders WR Bryan Edwards (foot/ankle) is OUT.
Eagles WRs Alshon Jeffery (illness) & DeSean Jackson (hamstring) are OUT.
Football Team WR Steven Sims (toe, IR) is OUT.
Broncos WR K.J. Hamler (hamstring) is OUT.
Jets WR Breshad Perriman (hamstring) is projected OUT.
Wide Receivers: IN
Saints WR Michael Thomas (ankle) is projected IN.
Falcons WR Calvin Ridley (thigh/knee) is IN.
Titans WR A.J. Brown (knee) is projected IN.
Bills WR Cole Beasley (foot) is projected IN.
Raiders WR Henry Ruggs III (knee/hamstring) is projected IN.
Chargers WR Mike Williams (hamstring) is tentatively projected IN.
Jets WR Chris Hogan (ribs/knee) is projected IN.
Cornerbacks: OUT
Patriots CB Stephon Gilmore (COVID-19) is OUT.
Bills CBs Tre'Davious White (back) & Levi Wallace (ankle, IR) are respectively projected OUT & definitely OUT.
49ers CBs Richard Sherman (calf, IR), K'Waun Williams (knee/hip), Emmanuel Moseley (concussion) & Dontae Johnson (groin) are OUT.
Cowboys CBs Chidobe Awuzie (hamstring, IR) & Anthony Brown (ribs, IR) are OUT.
Saints CB Janoris Jenkins (shoulder) is projected OUT.
Browns CB Greedy Williams (shoulder) is OUT.
Bengals CB Mackensie Alexander (hamstring) is projected OUT.
Panthers CB Eli Apple (hamstring) is OUT.
Eagles CBs Avonte Maddox (ankle) & Trevor Williams (rib, IR) are OUT.
Jaguars CB D.J. Hayden (hamstring, IR) is OUT.
Panthers CB Holton Hill (foot) is projected OUT.
Cornerbacks: IN
Saints CB Marshon Lattimore (hamstring) is tentatively projected IN.
Chiefs CB Bashaud Breeland (suspension) is IN.
Dolphins CB Byron Jones (groin/Achilles) is IN.
Seahawks CB Quinton Dunbar (knee) is tentatively projected IN.
Jaguars CB C.J. Henderson (shoulder) is tentatively projected IN.
Jets CB Blessuan Austin (calf) is tentatively projected IN.
Falcons CB A.J. Terrell (COVID-19) is projected IN.
Titans CB Chris Jackson (hamstring) is IN.
49ers CB Ahkello Witherspoon (hamstring) is projected IN.
---
JUMP TO:
WR/CB Matchup Matrix
---
WR/CB Matchup of the Week
Washington Football Team WR Terry McLaurin vs. Rams CB Jalen Ramsey
Kickoff: 1 p.m. ET on Sunday | TV: FOX
Through four weeks, McLaurin is 26-387-1 receiving on 39 targets. Before the season, I bet on him at +6500 to lead the league in receiving, and that ticket looks very live right now.
Against the Ravens, who have one of the NFL's best secondaries, McLaurin last week put up 10-118-0 on 14 targets while playing through a thigh injury that caused him to miss Friday's practice.
Despite quarterback Dwayne Haskins' apparent lack of development, McLaurin is becoming a superstar.
And here's perhaps what's most impressive: McLaurin has produced at an elite level this year despite having the league's toughest schedule of opposing No. 1 cornerbacks.
Week 1: Darius Slay
Week 2: Patrick Peterson
Week 3: Denzel Ward
Week 4: Marcus Peters
And now he faces maybe the best cornerback in the league.
What a matchup.
Ramsey is one of just two corners in the league to shadow a receiver in each of his first four games this year, taking on Amari Cooper, Jalen Reagor, Stefon Diggs and Golden Tate.
Perimeter, slot, whatever.
Regardless of where he lines up, if a guy is his team's No. 1 receiver and he's playing the Rams, then Ramsey is going to be on him for most of the game.
A 2017 All-Pro pass defender, Ramsey has always been great, but he's really coming into his own this year.
Last week, he perhaps should have defended perimeter receiver Darius Slayton, who is younger and more explosive than Tate, but Ramsey — who rarely has shadowed into the slot before — wanted to face Tate and utterly shut him down, not because that's what would be best for the team but because he has a sincere and longstanding personal animus for the veteran, who is his ex-girlfriend's brother.
And, predictably, Ramsey did shut him down: Tate was just 4-20-0 on six targets, and he was on the receiving end of one of the hardest hits a cornerback has ever delivered.
Did these two guys fight on the field after the game? You bet they did!
Did Ramsey want to continue fighting Tate even after the field was cleared? You bet he did!
Ramsey is in peak "I'm Jalen Ramsey, and you're a punk" form right now.
For the year, Ramsey has allowed just 5.1 yards per target.
That number will almost certainly be higher after Ramsey's Week 5 matchup with McLaurin — but McLaurin's per-game yardage total will almost certainly be lower.
This is the hardest matchup of McLaurin's career to date.
Action: Large downgrade for McLaurin
Potential Week 5 Shadow Matchups
Here are the shadow matchups I'm projecting.
| WR | CB |
| --- | --- |
| Allen Robinson, Bears | Carlton Davis, Buccaneers |
| Amari Cooper, Cowboys | James Bradberry, Giants |
| D.J. Chark Jr., Jaguars | Bradley Roby, Texans |
| Terry McLaurin, Washington | Jalen Ramsey, Rams |
Bears WR Allen Robinson vs. Buccaneers CB Carlton Davis
Kickoff: 8:20 p.m. ET on Thursday | TV: FOX/NFL
The Bucs don't always use Davis in shadow coverage, but since Week 12 last year — when their pass defense really started to improve — they have strategically had him tail target-dominant big-bodied No. 1 receivers. Against the Bucs, these shadowed receivers haven't been their usual dominant selves (production vs. Davis in parentheses).
Julio Jones (Week 12, 2019): 5-68-0, 10 targets (4-58-0, six)
DeAndre Hopkins (Week 16, 2019): 5-23-0, nine targets (4-19-0, seven)
Julio Jones (Week 17, 2019): 7-78-0, 13 targets (4-58-0, six)
Michael Thomas (Week 1, 2020): 3-17-0, five targets (2-9-0, four)
Keenan Allen (Week 4, 2020): 8-62-0, 12 targets (1-9-0, three)
People don't talk about him yet, but Davis has arrived: He looks like a legitimate shutdown cornerback. He still battles inconsistency: After allowing seven touchdowns last year, he has already given up two in 2020. But he also has two interceptions this season and has allowed just 108 yards on 16 targets. Since last year, Davis has allowed just 6.3 yards per target on a 52.9% catch rate. And Robinson feels like the kind of receiver Davis would shadow. Robinson is building on last year's 98-1,147-7 receiving campaign with a 25-331-2 stat line in 2020. Over the past two games in particular, Robinson has flashed with quarterback Nick Foles (per RotoViz NFL Player Statistical Summary).
Week 4 (vs. IND): 7-101-1, 10 targets | 24% market share of targets
Week 3 (at ATL): 10-123-1, 13 targets | 27% market share of targets
In Week 2, though, against James Bradberry — who is physically and stylistically similar to Davis — Robinson was just 3-33-0 receiving on nine targets. Granted, that game was with quarterback Mitchell Trubisky, but Davis is probably better than any corner Robinson has faced to this point in the year. He's unlikely to shut Robinson down entirely, but Davis should slow him down.
Action: Medium downgrade for Robinson
Jaguars WR D.J. Chark Jr. vs. Texans CB Bradley Roby
Kickoff: 1 p.m. ET on Sunday | TV: CBS
Entering Week 4, many fantasy investors talked about Chark as if he were ded. That's right, "ded." And at the time it was right to be concerned. In Weeks 1-2 he had a target share of just 11%, and he missed Week 3 with a chest injury. But in Week 4 he broke out with an 8-95-2 receiving performance on nine targets, and for the year he has a 93.8% catch rate. The connection he displayed last year with quarterback Gardner Minshew on his way to a 73-1,008-8 campaign is still intact. And now he gets to face Roby.
Under the impression that Roby is a shutdown corner, the Texans have had him tail No. 1 receivers over the past five games (going back to the Divisional Round of the playoffs). It's true that the players he has faced for the most part haven't had big receiving performances (production vs. Roby in parentheses).
Tyreek Hill (Divisional Round): 3-41-0, four targets (all vs. Roby)
Tyreek Hill (Week 1): 5-46-1 , six targets (3-25-1, four targets)
Marquise Brown (Week 2): 5-42-0, six targets (3-40-0, three targets)
Diontae Johnson (Week 3): 0-0-0, two targets (all vs. Roby)
Adam Thielen (Week 4): 8-114-1, 10 targets (2-14-1, four)
But the Chiefs and Ravens racked up 51-31, 34-20 and 33-16 victories against the Texans and didn't need to throw the ball, and Johnson (concussion) played just 19 snaps last week before leaving early with an injury. And last week, Thielen was able to escape Roby often enough to compile a ton of yardage against linebackers and safeties in zone coverage — because even when Roby follows a receiver all across the field to line up opposite him, that doesn't mean he actually defends that guy throughout the entirety of his route.
In 2017, Roby had a career-high 77.5 PFF coverage grade with the Broncos and looked like a solidly above-average defender — but he was the No. 3 cornerback next to All-Pro shutdown men Aqib Talib and Chris Harris Jr. He benefited from silk-soft matchups. But since 2018, when Talib left the Broncos and Roby was elevated to the No. 2 role, he has allowed 8.7 yards per target first with the Broncos (2018) and now with the Texans (2019-20).
What Roby has done recently against No. 1 receivers — and what he's done across the span of his career, frankly — has been unremarkable. For the year, he has a 60.8 PFF coverage grade. Roby isn't a bad corner, but he's not someone a quarterback should avoid.
Action: No change for Chark

Cowboys WR Amari Cooper vs. Giants CB James Bradberry
Kickoff: 4:25 p.m. ET on Sunday | TV: CBS
A physical press-man defender, Bradberry has been used in shadow coverage over the past three weeks, and he has played well, allowing just 8-75-0 receiving and 4.7 yards per target while breaking up five passes and grabbing an interception.
In his first season with the Giants, he has been a lone bright spot for the defense, putting up an 84.3 PFF coverage grade. No other key contributor in the secondary has a mark higher than 61.6. Given how poorly the rest of the secondary is playing, it seems highly like that Bradberry will shadow Cooper, who leads the Cowboys with 51 targets, 37 receptions and 401 yards receiving.
The Cowboys are currently favored by nine points at DraftKings, and since joining Dallas in 2018, Cooper is the No. 1 receiver in the league as a home favorite with 25.8 DraftKings points per game (per our FantasyLabs Trends Tool). Cooper is almost an automatic play whenever he's laying points in Arlington. But this week it would be wise to keep expectations in check.
Action: Medium downgrade for Cooper
[Play NFL DFS? Access Our Industry-Leading Tools & Projections For Just $4.95]
Week 5 Shadow Borderline
These five matchups are on the shadow borderline. Although these cornerbacks shadow periodically, I cannot say with confidence that they will follow opposing No. 1 receivers across the formation this week.
Titans WR Corey Davis vs. Bills CB Tre'Davious White
Kickoff: 1 p.m. ET on Sunday | TV: CBS
We don't know for sure if this game will even play, but the indications right now are encouraging.
We also don't know for sure if No. 1 wide receiver A.J. Brown (knee) will be back for this game. But even if Brown plays, White might stick to the left side of the field, as he did in Weeks 1 and 3, and that would put him mostly on Davis.
Whoever White faces will be challenged. The All-Pro defender has allowed just 7.2 yards per target on a 54.9% catch rate for his career.
Action: Large downgrade for Davis
Steelers WR James Washington vs. Eagles CB Darius Slay
Kickoff: 1 p.m. ET on Sunday | TV: FOX
A lot is unknown with the Steelers right now. No. 1 wide receiver Diontae Johnson (concussion) seems likely to return to action, but that's not certain. Additionally, Washington has seen second-round rookie Chase Claypool play an increasing number of snaps each week (19, 24, 61).
It's possible that Slay will shadow Johnson, and it's also possible that Claypool will play ahead of Washington this week. But I think both of those are unlikely. Slay tailed Terry McLaurin and A.J. Green in Weeks 1 and 3, but he has yet to shadow a smaller, shiftier receiver since joining the Eagles. And Claypool received so much playing time in Week 3 primarily because Johnson was out.
I expect Slay will stick at left corner, where Washington will be the receiver he faces the most.In the middle of a bounceback campaign, Slay has allowed only 7.0 yards per target this year and is yet to forfeit a touchdown.
Action: Medium downgrade for Washington
49ers WR Brandon Aiyuk vs. Dolphins CB Xavien Howard
Kickoff: 4:05 p.m. ET on Sunday | TV: FOX
Howard shadowed in Weeks 2 and 4, but in Weeks 1 and 3, he stuck to a side. Given that he was absolutely annihilated last week while tailing D.K. Metcalf, allowing 6-133-0 receiving on seven targets, Howard might be relegated to stationary status in Week 5 at right corner. And that means he'll likely face Aiyuk, who has looked fantastic over the past two weeks with 7-88-0 receiving and 4-69-1 rushing.
Given that Deebo Samuel (foot) played a part-time role in Week 4 as he works his way back from injury, I expect Aiyuk to continue to operate as the go-to wide receiver in the 49ers offense. For his career, Howard has held opposing receivers to a 56.3% catch rate.
Action: Small downgrade for Aiyuk
Broncos WR Tim Patrick vs. Patriots CB Stephon Gilmore
Kickoff: 4:25 p.m. ET on Sunday | TV: CBS
Perimeter wide receivers Courtland Sutton (knee, IR) and K.J. Hamler (hamstring) are injured, so Patrick is locked into a full-time role.
Over the past two weeks, he is 10-156-2 receiving on 11 targets. But Patrick isn't a true No. 1 receiver, so the Patriots might choose to use Gilmore only at left corner, as they did in Week 3. And if that happens, then Patrick will likely avoid Gilmore for the supermajority of his snaps.
But even then he'd still be running routes against J.C. Jackson.
Action: Medium-to-large downgrade for Patrick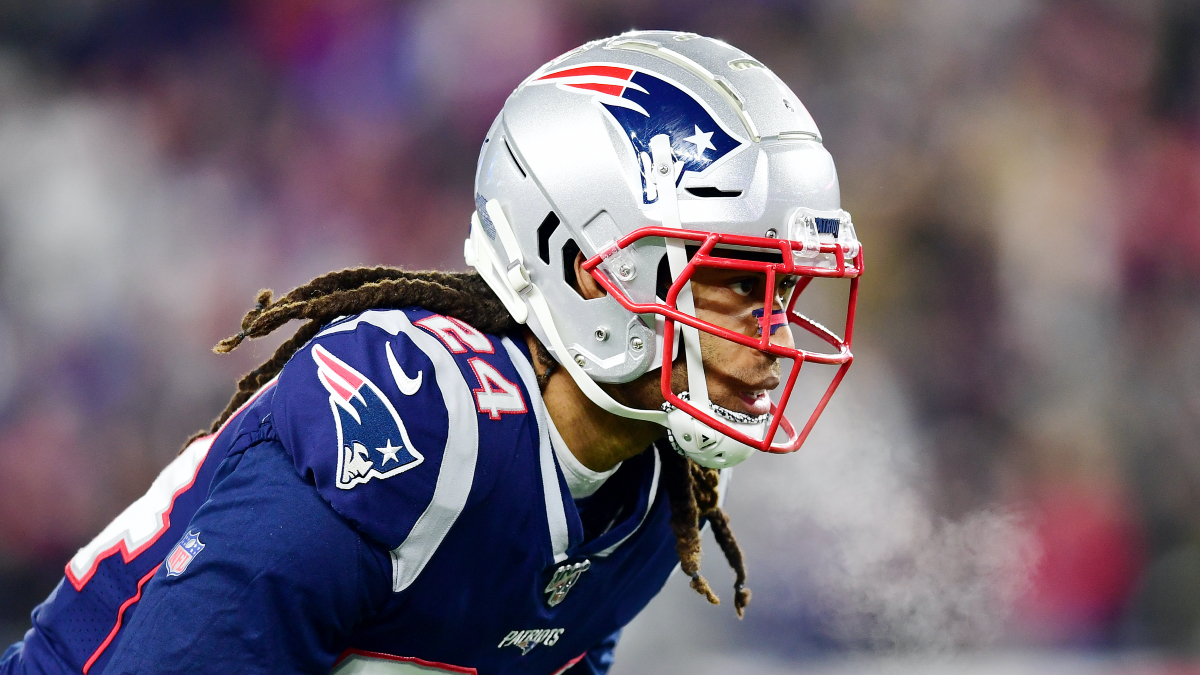 Saints WR Tre'Quan Smith vs. Chargers CB Casey Hayward Jr.
Kickoff: 8:15 p.m. ET on Monday | TV: ESPN
I'm tentatively projecting No. 1 wide receiver Michael Thomas (ankle) to return, but I'm also assuming that Hayward will stick at left corner and not shadow him. Although Hayward has historically tailed dominant big-bodied receivers, this year the Chargers have opted mostly to play him on just one side of the field.
Instead of tailing A.J. Green in Week 1, D.J. Moore in Week 3 and Mike Evans in Week 4, he played left corner. And that means I expect him to match up most with Smith this week.
Last year and in Week 1, Smith played primarily in the slot, but in Thomas' absence he has shifted to the perimeter, and last week the Saints used the older Emmanuel Sanders in the slot, which probably suits his skill set best at this point in his career.
Smith disappointed last year, but he flashed as a rookie with two 100-yard games with a touchdown, and in his three Thomas-less games this year, he is 13-182-2 receiving on 17 targets.
Smith has potential — but the matchup is tough. Hayward entered the season as PFF's No. 3 cornerback, and since joining the Chargers in 2016, he has allowed a catch rate of just 53.2%. And if Smith by chance moves back into the slot for this game, he'll face 2018 All-Pro slot defender Desmond King, and that also won't be an easy matchup.
Action: Medium-to-large downgrade for Smith
Notable Wide Receiver Upgrades
Here are a couple of advantageous matchups that must not be ignored.
Cardinals WR DeAndre Hopkins vs. Jets CB Lamar Jackson
Kickoff: 1 p.m. ET on Sunday | TV: FOX
A three-time All-Pro receiver, Hopkins has an NFL-high 39 receptions to go along with his 397 yards receiving on 46 targets in his first year with the Cardinals. An undrafted rookie who replaced injured starter Blessuan Austin (calf) last week, Jackson is "The Other Lamar Jackson."
Action: Large upgrade for Hopkins
Ravens WR Marquise Brown vs. Bengals CB LeShaun Sims
Kickoff: 1 p.m. ET on Sunday | TV: CBS
Brown is 16-242-0 receiving with a 35% share of team air yards, and he has had some oh-so-close performances this year.
Sims is an injury fill-in for slot cornerback Mackensie Alexander (ribs/hamstring), who seems likely to miss Week 5. Because Sims has slot experience, I assumed that's where he'd play last week, and I identified him as someone to target — but that didn't exactly work out.
As expected, Sims was absolutely horrible, allowing 8-107-1 on 10 targets — but he played on the perimeter, not in the slot. If Sims plays on the perimeter again this week, Hollywood will make him almost infamous.
Action: Large upgrade for Brown
[Get Real-Time Week 5 Fantasy Rankings Until Kickoff]
Notable Wide Receiver Downgrades
Here are a couple of disadvantageous matchups to keep in mind.
Broncos WR Jerry Jeudy vs. Patriots CB Jonathan Jones
Kickoff: 4:25 p.m. ET on Sunday | TV: CBS
Given that wide receivers Courtland Sutton (knee, IR) and K.J. Hamler (hamstring) and tight end Noah Fant (ankle) are injured, Jeudy is the No. 1 receiving option for the Broncos.
For the year, the first-round rookie is 15-234-1 receiving on 28 targets. But Jones is one of the league's best slot defenders, and for the year, he has allowed just 6.4 yards per target.
Action: Large downgrade for Jeudy
Bengals WRs Tyler Boyd & Tee Higgins vs. Ravens CBs Marlon Humphrey & Marcus Peters
Kickoff: 1 p.m. ET on Sunday | TV: CBS
Over the past two weeks, No. 1 receiver A.J. Green has played behind Boyd and Higgins.
Tyler Boyd (Weeks 3-4): 17-215-0, 21 targets | 27% target share
Tee Higgins (Weeks 3-4): 9-117-2, 16 targets | 21% target share
A.J. Green (Weeks 3-4): 6-39-0, 11 targets | 14% target share
I just spent the past five minutes trying to work in a Captain Phillips "I'm the captain now" quotation, but it didn't flow … so instead I wrote this sentence.
Humphrey and Peters are both top-10 Pro Football Focus cornerbacks, and last year, they formed a rare All-Pro tandem.
Since 2019, Humphrey has allowed just 6.2 yards per target; Peters, 6.7 since joining the Ravens in the middle of last year.
Action: Large downgrades for Boyd & Higgins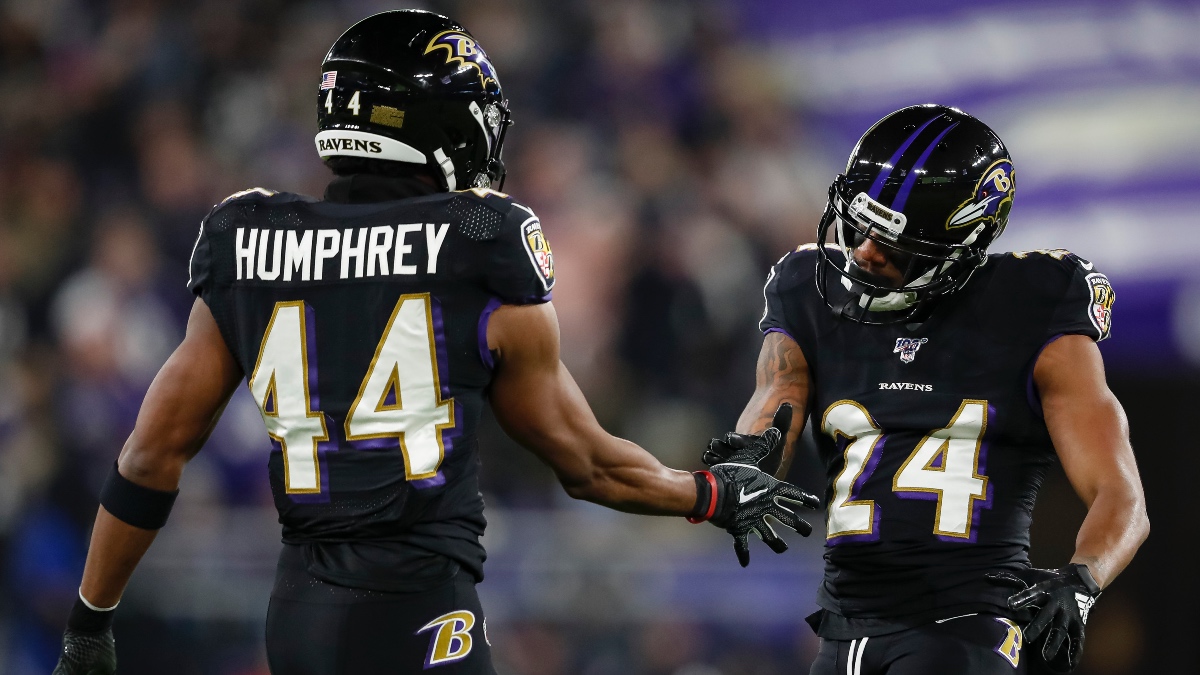 NFL Week 5 WR/CB Matrix
I take a cautious approach to injured players who I expect to be questionable or out. If by the weekend it seems likely that they will play, I will include them in my updates.
Pos = left, right or slot WR or CB
Projected shadow matchups are CAPITALIZED
WR Exp = Wide Receiver Expectation: I rank from 3 to -3 how much I think we should adjust expectations for wide receivers based on matchups. 3: Large upgrade. 2: Medium upgrade. 1: Small upgrade. 0: No change. -1: Small downgrade. -2: Medium downgrade. -3: Large downgrade.
Thanks to Scott Barrett for providing me with some of PFF's historical data.
Matthew Freedman is 640-516-26 (55.4%) overall betting on the NFL. You can follow him in our free app. He's the Editor-in-Chief of FantasyLabs. He has a dog and sometimes a British accent. In Rosemount, Minnesota, he's known only as The Labyrinthian.
How would you rate this article?