Week 6 WR/CB Matchups: Davante Adams vs. Carlton Davis, Shadow Grades & More
Credit:
Cliff Welch/Icon Sportswire via Getty Images. Pictured: Carlton Davis (24) of the Buccaneers.
Wide receiver-cornerback showdowns might be the most important individual matchups in football.
In this piece, I leverage snap data from Pro Football Focus to project NFL Week 6 WR/CB matchups, especially shadow situations.
For more, see the FantasyLabs Matchups page, where we provide basic and advanced data — including fantasy and red-zone performance — for each offensive skill-position player based on his matchup.
As we get more clarity during the week on the injury status of receivers and corners, I will update my WR/CB projections.
Let's start with this week's featured matchup and then run through all the potential shadow matchups and most notable upgrades and downgrades.
UPDATE (Sun. 10/18): I have made updates based on injury reports for the week. Here are some changes and key situations to note.
Wide Receivers: OUT
Panthers WR Curtis Samuel (knee) is OUT.
Steelers WR Diontae Johnson (back) is OUT.
Titans WR Corey Davis (COVID-19) is OUT.
Broncos WR K.J. Hamler (hamstring) is OUT.
Eagles WRs Alshon Jeffery (illness) & DeSean Jackson (hamstring) are OUT.
Jets WR Chris Hogan (ankle, IR) is OUT.
Chiefs WR Sammy Watkins (hamstring) is OUT.
Bengals WR Auden Tate (shoulder) is OUT.
Wide Receivers: IN
Falcons WR Julio Jones (hamstring) is IN.
Packers WR Davante Adams (hamstring) is IN.
Titans WR Adam Humphries (COVID-19) is IN.
Bengals WR A.J. Green (hamstring) is IN.
Jaguars WR D.J. Chark Jr. (ankle) is projected IN.
Buccaneers WRs Chris Godwin (hamstring) & Scotty Miller (hip/groin) are IN.
Browns WRs Odell Beckham Jr. (illness) & Jarvis Landry (hips/ribs) are projected IN.
Jets WR Breshad Perriman (hamstring) is projected IN.
Bills WR John Brown (knee) is projected IN.
Cornerbacks: OUT
Browns CB Greedy Williams (shoulder, IR) is OUT.
Lions CB Desmond Trufant (hamstring) is OUT.
Jets CB Blessuan Austin (calf) is tentatively projected OUT.
49ers CBs Richard Sherman (calf, IR), K'Waun Williams (knee/hip, IR) & Dontae Johnson (groin) are OUT.
Bills CB Levi Wallace (ankle, IR) is OUT.
Cowboys CBs Chidobe Awuzie (hamstring, IR) & Anthony Brown (ribs, IR) are OUT.
Cornerbacks: IN
Buccaneers CB Carlton Davis (abdomen) is tentatively projected IN.
Patriots CB Stephon Gilmore (COVID-19) is IN.
Bills CB Tre'Davious White (back) is projected IN.
Eagles CB Darius Slay (concussion) is projected IN.
Packers CB Kevin King (quadricep) is tentatively projected IN.
Jaguars CB C.J. Henderson (shoulder) is IN.
Bengals CB Mackensie Alexander (hamstring) is projected IN.
Panthers CBs Donte Jackson (toe) & Eli Apple (hamstring) are projected IN.
49ers CB Emmanuel Moseley (concussion) is projected IN.
---
JUMP TO:
WR/CB Matchup Matrix
---
WR/CB Matchup of the Week
Packers WR Davante Adams vs. Buccaneers CB Carlton Davis
Kickoff: 4:25 p.m. ET on Sunday | TV: FOX
The Bucs don't always use Davis in shadow coverage, but since Week 12 last year — when their pass defense started to improve dramatically — they have strategically had him to tail target-dominant big-bodied No. 1 receivers.
Against the Bucs, these shadowed receivers haven't been their usual dominant selves
Julio Jones (Week 12, 2019): 5-68-0, 10 targets
DeAndre Hopkins (Week 16, 2019): 5-23-0, nine targets
Julio Jones (Week 17, 2019): 7-78-0, 13 targets
Michael Thomas (Week 1, 2020): 3-17-0, five targets
Keenan Allen (Week 4, 2020): 8-62-0, 12 targets
Allen Robinson (Week 5, 2020):  10-90-0, 16 targets
And their production directly against Davis has been minimal.
People don't talk about him yet, but Davis has arrived: He looks like a legitimate shutdown cornerback.
He still battles inconsistency: After allowing seven touchdowns last year, he has already given up two in 2020. But he also has three interceptions this season and has allowed just 171 yards on 27 targets.
For over a year, Davis has been a consistent and high-end defender.
2020 (four games): 6.3 yards per target | 59.3% catch rate
2019 (14 games): 6.3 yards per target | 52.4% catch rate
Carlton might already be a top-five cornerback. His work against top receivers has been elite.
Adams feels like the kind of receiver Carlton would shadow. There's a case to be made that Adams is the NFL's best wide receiver.
In the post-Jordy Nelson era, Adams has been exceptional: Since 2018, he has been the NFL's most productive wide receiver on a per-game basis (including postseason).
Fantasy Production: 21.0 PPR points (1st) |  13.6 standard points (1st)
Football Production: 92.7 yards (3rd) | 0.71 touchdowns (1st) | 7.4 receptions (2nd)
Over the past two-plus seasons, Adams is No. 1 with 10.9 targets per game.
On a per-snap basis, he has been a top-five producer (including postseason).
2020 (two games): 0.45 PPR points (1st) | 0.29 standard points (2nd)
2019 (14 games): 0.34 PPR points (2nd) | 0.21 standard points (5th)
2018 (15 games): 0.34 PPR points (3rd) | 0.23 standard points (4th)
This year he is No. 3 with 3.00 yards per route. Last year, he was No. 2 with 2.61.
Adams (hamstring) exited Week 2 early with a soft-tissue injury that caused him to miss Weeks 3-4, but he should be rested and ready to play after the Week 5 bye.
I would never recommend benching Adams in fantasy. Even with the tough matchup, he should still be ranked as a top-eight receiver.
But over the past year Davis has made a habit of turning the league's best receivers into mediocre producers.
Our expectations for Adams should be adjusted.
Action: Large downgrade for Adams
Potential Week 6 Shadow Matchups
Here are the shadow matchups I'm projecting.
| WR | CB |
| --- | --- |
| Terry McLaurin, Washington | James Bradberry, Giants |
| A.J. Brown, Titans | Bradley Roby, Texans |
| Marquise Brown, Ravens | Darius Slay, Eagles |
| Deebo Samuel, 49ers | Jalen Ramsey, Rams |
Washington WR Terry McLaurin vs. Giants CB James Bradberry
Kickoff: 1 p.m. ET on Sunday | TV: FOX
A physical press-man defender, Bradberry has been used in shadow coverage over the past four weeks, and he has played well, allowing just 11-110-0 receiving and 5.2 yards per target while breaking up six passes and grabbing an interception.
In his first season with the Giants, he has been a lone bright spot for the defense, putting up an 87.3 PFF coverage grade. No other key contributor in the secondary has a mark of even 60. Given how poorly the rest of the secondary is playing, it seems highly like that Bradberry will shadow McLaurin.
To open the year, McLaurin has faced an all-time brutal schedule of opposing No. 1 cornerbacks.
Week 1: Darius Slay
Week 2: Patrick Peterson
Week 3: Denzel Ward
Week 4: Marcus Peters
Week 5: Jalen Ramsey
It's not as if McLaurin has run all of his routes against only these five defenders (more on the non-showdown between McLaurin and Ramsey later), but the point stands that McLaurin has had it worse than any other wide receiver to start the year.
And yet McLaurin is still No. 4 with 704 AirYAC and No. 8 with 413 yards receiving. He has true top-tier potential at the position.
AirYAC (air yards plus yards after the catch) is a leading and simple-to-understand indicator of fantasy output.
But McLaurin was just 3-26-0 receiving on seven targets last week, and the quarterback combination of Kyle Allen and Alex Smith isn't ideal.
In Week 5, Amari Cooper was just 2-23-0 on four targets while spending most of the game in Bradberry's shadow. Against Bradberry specifically, Cooper had eight yards on three targets.
Bradberry will present a significant challenge to McLaurin.
Action: Medium downgrade for McLaurin
Titans WR A.J. Brown vs. Texans CB Bradley Roby
Kickoff: 1 p.m. ET on Sunday | TV: CBS
Because of the Titans' COVID-19 situation, there's no guarantee this game will play. (In a sign of extreme optimism, I'm actually writing this blurb before their Week 5 Tuesday Night Football game with the Bills.)
But let's assume this game proceeds as scheduled and Brown (knee) suits up. (He's technically questionable vs. the Bills but expected to play.)
In that instance, there's roughly a 99% chance that Roby shadows Brown.
Under the impression that Roby is a shutdown corner, the Texans have had him tail No. 1 receivers over the past six games (going back to the Divisional Round of the playoffs).
I must admit: His individual numbers look good. This year, he has allowed just 6.0 yards per target in his coverage.
"In his coverage" is the key phrase there.
In Week 4, Adam Thielen went off for 8-114-1 receiving on 10 targets with Roby as the primary corner on him, but against Roby specifically he was just 2-14-1 on four targets. How is that possible?
Thielen was able to escape Roby often enough to compile a ton of yardage against linebackers and safeties in zone coverage — because even when Roby follows a receiver all across the field to line up opposite him, that doesn't mean he actually defends that guy throughout the entirety of his route.
In other words, even though Roby has good numbers when targeted, that doesn't mean the receivers he shadows can't have big games.
And I'm a little dubious of Roby's production to begin with.
In Weeks 1-2, the Chiefs and Ravens racked up 34-20 and 33-16 victories against the Texans. They didn't need to throw the ball, and when they did throw, they didn't need to throw downfield.
In Week 3, Roby benefitted from injury luck against wide receiver Diontae Johnson, who left early in the second quarter with a concussion.
And then in Week 5 he faced the inconsistent Jaguars, who saw No. 1 wide receiver D.J. Chark exit in the fourth quarter with an ankle injury.
I doubt that Roby is actually as good as his numbers suggest.
In 2017, Roby had a career-high 77.5 PFF coverage grade with the Broncos and looked like a solidly above-average defender — but he was the No. 3 cornerback next to All-Pro shutdown men Aqib Talib and Chris Harris Jr. He benefited from silk-soft matchups. But since 2018, when Talib left the Broncos and Roby was elevated to the No. 2 role, he has allowed 8.5 yards per target first with the Broncos (2018) and now with the Texans (2019-20).
What Roby has done recently against No. 1 receivers — and what he's done across his career — has been solidly unremarkable. For the year, he has a mediocre 68.2 PFF coverage grade.
Roby isn't a bad corner, but he's not someone a quarterback should avoid.
As for Brown, he was 52-1,051-8 receiving on 84 targets last year as a rookie. With starting receivers Corey Davis (COVID-19) and Adam Humphries (COVID-19) likely to be out, he could have extraordinary target volume against Roby.
Action: No change for Brown
Week 6 Shadow Borderline
As of writing, Stephon Gilmore (COVID-19) and Tre'Davious White (back) are uncertain for Week 6. If they play, they could be used in shadow coverage for the Patriots and Bills.
Aside from Gilmore and White, there are two cornerbacks with matchups on the shadow borderline. Although these cornerbacks shadow periodically, I cannot say with confidence that they will follow opposing No. 1 receivers across the formation this week.
Ravens WR Marquise Brown vs. Eagles CB Darius Slay
Kickoff: 1 p.m. ET on Sunday | TV: CBS
Last week Brown was 6-77-1 receiving on 10 targets, and for the year he has a 43% market share of team air yards.
He's already pacing for a 1,000-yard season, and it feels like he's just rounding into form.
But he has a tough matchup against Slay. While I doubt that Slay will actually shadow him — he has tailed only larger receivers since joining the Eagles — Slay will likely line up at left corner, and that will pit him against Brown for most of the game.
In the middle of a bounceback campaign, Slay has allowed only 6.7 yards per target this year and is yet to forfeit a touchdown.
Action: Medium downgrade for Brown
49ers WR Deebo Samuel vs. Rams CB Jalen Ramsey
Kickoff: 8:20 p.m. ET on Sunday | TV: NBC
A story in two tweets.
A 2017 All-Pro pass defender, Ramsey has always been great, but this year he has really come into his own. He seems to attack each play with the mindset that he's the best cornerback in the NFL — and he's probably not wrong.
For the year, Ramsey has allowed just 4.7 yards per target and only 4.6 targets per game.
But something weird is going on with him …
In Weeks 1-3, Ramsey shadowed Amari Cooper, Jalen Reagor and Stefon Diggs. Totally normal.
In Week 4, he seemed to shadow Golden Tate, who plays almost exclusively in the slot. Given the personal history between them and the fact that the Giants were without No. 1 perimeter receiver Sterling Shepard, it could be justified. At a minimum, it was explainable.
And it was cool to see Ramsey take up the challenge of playing in the slot, as if to say, "No matter where you line up, if you're your team's No. 1 receiver, I'm gonna be on you."
But then in Week 5 was saw something especially strange: While he could have shadowed No. 1 receiver Terry McLaurin on the perimeter, Ramsey instead played once again in the slot, facing off with … checks notes … undrafted rookie Isaiah Wright.
Sure, Wright had just three yards on one target, so Ramsey did his job — but what were the Rams doing?
Ramsey vs. typical slot receivers is like prime Shaquille O'Neal vs. high-school benchwarmers. It's overkill.
Maybe the Rams played Ramsey in the slot because of the weather and the matchup with quarterbacks Kyle Allen and Alex Smith: In the rain, maybe the Rams wanted to take away the short passing game and force Allen and Smith to throw downfield to the perimeter.
Regardless, I'm deciding not to read too much into a two-game slot-heavy sample.
Right now, I'm tentatively projecting Ramsey to defend Samuel on the perimeter — but he could also go against Brandon Aiyuk.
If we see Ramsey play as a slot corner in Week 6, then we'll need to adjust our assumptions about his usage.
Action: Large downgrade for Samuel
Notable Wide Receiver Upgrades
Here are a couple of advantageous matchups that must not be ignored.
Bears WR Allen Robinson vs. Panthers CB Troy Pride Jr.
Kickoff: 1 p.m. ET on Sunday | TV: FOX
With quarterback Nick Foles, Robinson is No. 1 in the league with 314 yards receiving, 467 AirYAC and 39 targets over the past three weeks.
Pride is a fourth-round rookie backup who with a 43.7 PFF coverage grade and 12.7 yards per target allowed.
Action: Large upgrade for Robinson
Jets WR Jamison Crowder vs. Dolphins CB Nik Needham
Kickoff: 4:05 p.m. ET on Sunday | TV: CBS
Crowder has 100-plus yards and 10-plus targets in his three games this year, and since joining the Jets, he has had notable splits with a real quarterback (in other words, without someone like Luke Falk, per RotoViz Game Splits App).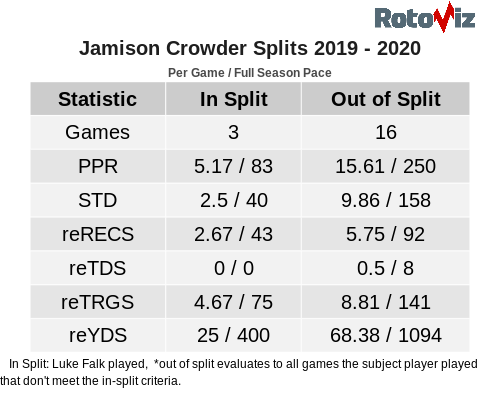 Needham is an undrafted second-year backup who has allowed 785 yards and nine touchdowns on 87 targets and limited action in his career.
Action: Large upgrade for Crowder
Notable Wide Receiver Downgrades
Here are a couple of disadvantageous matchups to keep in mind.
Broncos WR Jerry Jeudy vs. Patriots CB Jonathan Jones
Kickoff: 1 p.m. ET on Sunday | TV: CBS
Given that wide receivers Courtland Sutton (knee, IR) and K.J. Hamler (hamstring) and tight end Noah Fant (ankle) are injured, Jeudy is the No. 1 receiving option for the Broncos. The first-round rookie is 15-234-1 receiving on 28 targets.
But Jones is one of the league's best slot defenders, and for the year, he has allowed just 6.4 yards per target.
Action: Large downgrade for Jeudy
Eagles WR Travis Fulgham vs. Ravens CB Marcus Peters
Kickoff: 1 p.m. ET on Sunday | TV: CBS
With injuries to wide receivers Alshon Jeffery (illness/foot), DeSean Jackson (hamstring) and Jalen Reagor (thumb, IR) and tight end Dallas Goedert (ankle, IR), Fulgham has started over the past two weeks and flashed with 12-209-2 receiving on 16 targets.
It's not hard to imagine desperate fantasy investors starting him this week.
But he has a tough matchup against Peters, who has two All-Pro campaigns to his name.
Since joining the Ravens in the middle of last season, Peters has allowed only 6.8 yards per target.

Action: Large downgrade for Fulgham
NFL Week 6 WR/CB Matrix
I take a cautious approach to injured players who I expect to be questionable or out. If by the weekend it seems likely that they will play, I will include them in my updates.
Pos = left, right or slot WR or CB
Projected shadow matchups are CAPITALIZED
WR Exp = Wide Receiver Expectation: I rank from 3 to -3 how much I think we should adjust expectations for wide receivers based on matchups. 3: Large upgrade. 2: Medium upgrade. 1: Small upgrade. 0: No change. -1: Small downgrade. -2: Medium downgrade. -3: Large downgrade.
Thanks to Scott Barrett for providing me with some of PFF's historical data.
Matthew Freedman is 656-529-27 (55.4%) overall betting on the NFL. You can follow him in our free app.
He's the Editor-in-Chief of FantasyLabs. He has a dog and sometimes a British accent. In Rosemount, Minnesota, he's known only as The Labyrinthian.
How would you rate this article?