Thursday's Key Betting Trends to Know for Every Sport
Credit:
Mark D. Smith-USA TODAY Sports
You may have heard: We have a lot of fancy tools here at The Action Network. Chief among them is our software that gathers real-time betting data on every game played in every major sport.
You can see that data in its full glory here, but the point of this story is to weed through the sea of games and percentages and tell you the real story behind the numbers.
All info as of Thursday afternoon at 3:05 p.m. ET.
Lopsided Ticket Count
What we're looking at here is the percentage of total bets. So, for example, if there have been 1,000 wagers on a game, and 800 of them have taken the favorite, then that team's ticket percentage is 80%.
Why's this important? A really high ticket percentage is usually a clear indicator of who public bettors (aka the guys who don't do this for a living) are taking. And breaking news: The majority of public bettors aren't successful over the long haul.
NBA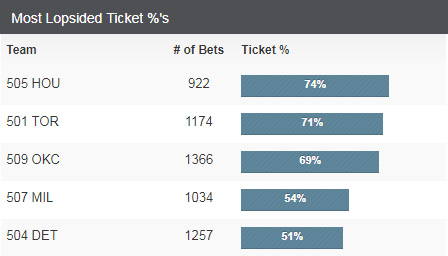 Rockets (-1.5) at Spurs: The Rockets are the most popular public NBA side of the day, helping the line move from a pick'em at open to the current number of Houston -1.5.
College Basketball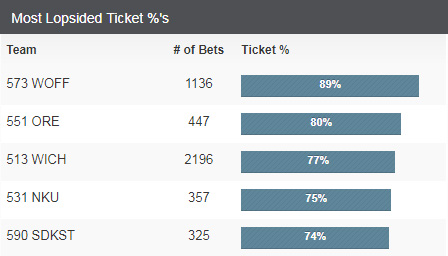 Wichita State (-7.5) at Temple: This should generate the largest college basketball handle tonight with one-sided action moving the line from an opener of Wichita State -6 up to -7.5 across the market.
NHL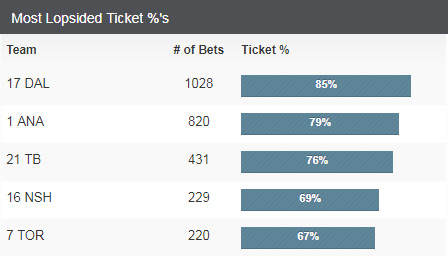 Stars (-150) at Coyotes: Not only are the Stars getting pounded by public bettors, this is also the most-heavily bet NHL game of the day. While recreational players are loading up on Dallas, the line has actually dropped a bit at Pinnacle, signaling sharp action on the underdog.
Lopsided Money
This is the same idea as above, except the data centers entirely around the percentage of total money bet. So, for example, if $10,000 in total has been wagered on a game, and $8,000 of that is backing the favorite, then that team's money percentage is 80%.
Why's this important? Generally speaking, professional bettors will wager more money on a given game than your regular Joe. So this metric can be very useful in figuring out who the wiseguys are betting, especially when you factor in the ticket percentages above and any changes to the spread.
NBA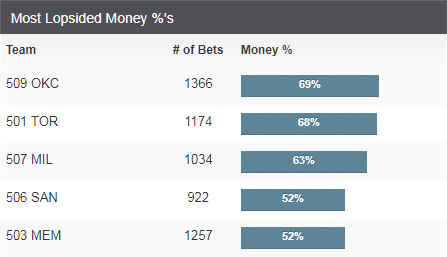 Thunder (-1.5) at Nuggets: The combination of number of bets and money percentages indicate that the Thunder will end up being the most-heavily bet NBA team tonight, especially with a 10:30 p.m. ET tip.
College Basketball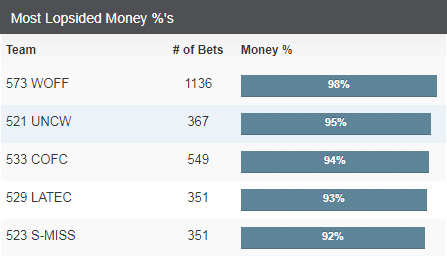 Wofford (-8) at The Citadel: Ninety-eight percent of dollars wagered on this game have taken Wofford, which isn't unheard of this early in the day. However, the fact that this matchup is currently the second-most heavily bet game of a monster slate makes that money statistic much more significant.
NHL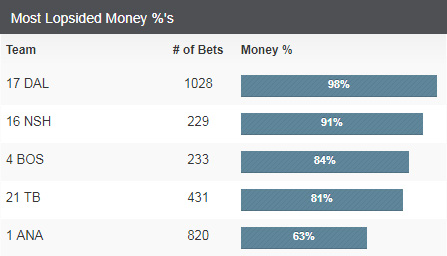 Ducks (-160) at Senators: Tickets and money are favoring Anaheim, yet our Bet Signals have triggered Steam Moves on both sides of this game. (A Steam Move is defined as sudden, drastic, and uniform line movement across the entire sports betting marketplace.) Not every game has a clearly defined "sharp side," and this matchup illustrates a textbook example of that.
Photo via Mark D. Smith-USA TODAY Sports
How would you rate this article?