September Football Madness Betting Contest: Semifinal Selections
Here's the latest update in our September Football Madness Betting Contest, with quarterfinal results and official semifinal bets.
The four semifinalists will make three weekend picks (sides or totals), including at least one from the NFL and NCAA.
And then there were four.
The quarterfinals of our inaugural monthly Football Madness contest saw two relatively easy victories in the top half for Geoff Schwartz and PJ Walsh, while I edged out Peter Jennings in the bottom half to set up a meeting with my podcast partner, Collin Wilson, who advanced via the net margin of a cover tiebreaker over Sean Koerner.
Collin has vultured his way into the semifinals, having yet to post a winning week — but that doesn't matter in a bracket contest. Survive and advance, baby!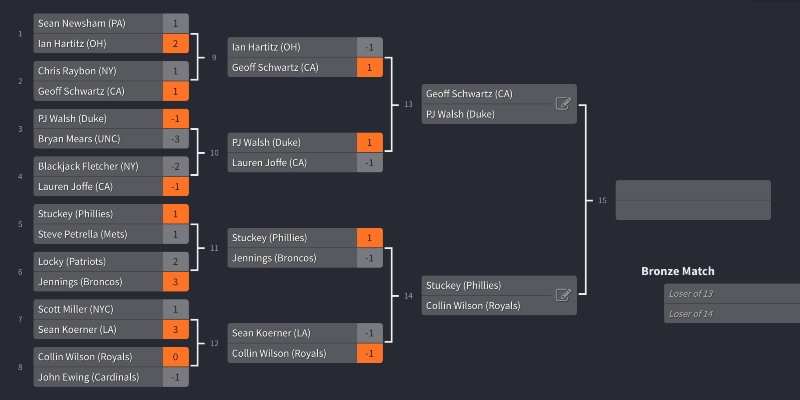 Here are the rules of the competition in case you need a refresher:
RULES
Each person submits three weekend bets by Friday each week.
They can only be sides or totals — based on lines locked in on Wednesday.
There must be at least one NFL and one NCAA pick; the third can be either.
Wins are worth 1, losses -1 and pushes 0.
H2H winners advance to the next weekend.
In the event of a tie, the person with the greatest margin of cover advances.
Now, let's take a look at which three wagers the final four are rolling with this weekend.
---
SEMIFINALS
---
The Carolina Connection.
Schwartz (4-2): Oregon +2; Bengals +3; Dolphins -3
PJ Walsh (3-3): Miss State-Kentucky Under 56; Saints +3; Redskins +3
Schwartz now resides in North Carolina, which is PJ's old stomping grounds. I make Geoff a favorite for two reasons:
He played in the NFL.
PJ is a Duke fan.
Podcast bragging rights.
Stuckey (4-2): Florida State -10; Steelers -1.5; Chargers +7
Wilson (2-3-1): Arkansas +30; Navy-SMU Under 62.5; Redskins +3
Well, Collin said on our podcast that his favorite NFL bet of the weekend was the 49ers, but he submitted the Saints, which I said was my favorite. Hmm.
However, starting in the semis, any duplicate picks must be reselected, which is how Collin and I ended up with the Redskins and Chargers, respectively.