September Football Madness Betting Contest: Round Two Selections
Taking a look at the results of the first round of the 2018 September Football Madness Betting Bracket Contest
Three picks (sides or totals) are required each weekend, including at least one from the NFL and NCAA.
The first round of our inaugural monthly Football Madness contest is now officially in the books. And like most bracket competitions, the results can be cruel. Locky was eliminated despite a 2-0-1 weekend, while two participants advanced with a 1-2 record.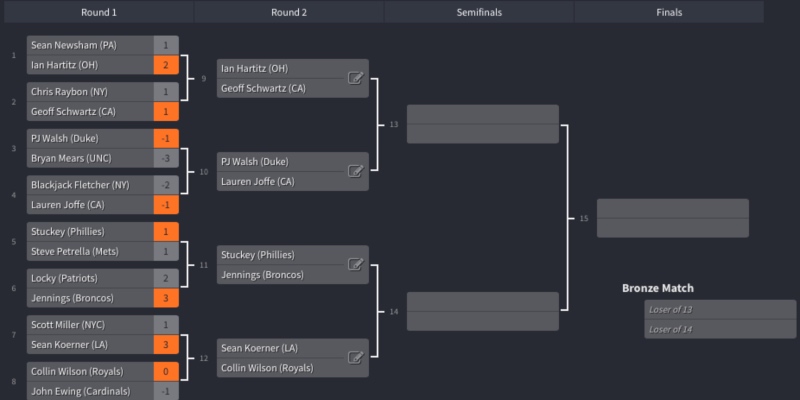 Here are the rules of the competition in case you need a refresher:
RULES
Each person submits three weekend bets by Friday each week.
They can only be sides or totals — based on lines locked in on Wednesday.
There must be at least one NFL and one NCAA pick; the third can be either.
Wins are worth 1, losses -1 and pushes 0.
H2H winners advance to the next weekend.
In the event of a tie, the person with the greatest margin of cover advances.
Now, let's take a look at which three wagers the remaining eight picked for the second round.
---
TOP HALF
---
Ian Hartitz (Ohio) vs. Geoff Schwartz (Calif.)
Two true football guys.
Hartitz (2-0-1): Virginia -3.5, Ohio State -13, Broncos -6,
Schwartz (2-1): Missouri -6, Washington/Utah Under 47.5, Cowboys/Giants Under 42
Not surprisingly, ex-NFL offensive lineman Geoff Schwartz went with what he knows best (check out his weekly Trench Report if you don't already) in addition to two college plays. Ian, meanwhile, is rolling with three favorites. This looks like a toss up to me.
PJ Walsh (Duke) vs. Lauren Joffe (Arizona)
2001 NCAAB National Championship Rematch (Arizona won)
Walsh (1-2): UTEP +30.5, Patriots -1, Raiders +6
Joffe (1-2): Panthers +6, Arizona State -5, Army -6.5
Despite finishing with 1-2 records last weekend, both PJ and Lauren advanced to the second weekend. That's the beauty of the bracket. I have to make Joffe the favorite, mainly because PJ used UTEP as one of his picks.
---
BOTTOM HALF
---
Stuckey (Ravens) vs. Jennings (Broncos)
Rahim Moore. Never ever forget, Jennings.
Stuckey (2-1): ASU/SDSU Over 45.5, Jags/Pats Under 45, Cardinals/Rams Under 45
Jennings (3-0): Massachusetts +4, Bears -3.5, Panthers +6
Jennings will attempt to keep his perfect streak alive with three sides, while I'm rolling with three totals. I have a feeling this one could come down to Monday Night Football.
Sean Koerner (NFL) vs. Collin Wilson (NCAAF)
Epic battle of The Action Network power ratings specialists.
Koerner (3-0): Ball State/IU Over 56.5, ASU/SDSU Over 45.5, Colts/Skins Over 46.5
Wilson (1-1-1): Auburn -10, Steelers -4, Falcons -6
A week after sweeping the board with three totals, Koerner goes right back to the well, while Collin is rolling with all chalk. Much to my surprise, Collin went with two NFL plays and Sean went with two college football. All six selections look pretty sharp.