Hot Dog Contest Betting Odds and Preview: Will Joey Chestnut Eat Over 72.5 Hot Dogs?
Credit:
Photo by Eduardo Munoz Alvarez/Getty Images. Pictured: Joey Chestnut.
For the first time ever, bettors can legally bet on the Nathan's Hot Dog Eating Contest.
Joey Chestnut is a massive -1000 favorite over the field to win the contest, but there's more palatable odds on the Over/Under which is set at 72.5 hot dogs.
Mark Gallant offers his thoughts on whether or not Chestnut will go over 72.5 hot dogs on Saturday afternoon.
"I wish I had a million dollars — hot dog!" – George Bailey
It's official, folks. It is now legal to bet on the Nathan's Famous Hot Dog Eating Contest. The nationally televised 4th of July contest has become quite popular in the 21st century thanks to the likes of Joey Chestnut and his predecessor, Takeru Kobayashi.
It's only natural that we now have the right to bet on this holiday tradition.
That said, it will have a different look this year that could impact how many HDBs (hot dogs and buns, to the layperson) are chowed: It's indoors! There's no Coney Island crowd due to COVID-19, but also no Coney Island heat and humidity.
How will that impact the inaugural betting card? Full hardcore hot dog analysis below…
<Hot Dog Eating Contest Odds Boost: Bet Joey Chestnut at +200 Odds to Break the World Record!>
Nathan's Famous Hot Dog Contest Odds
Moneyline Odds: Joey Chestnut -1000, Field +550
Joey Chestnut Over/Under #1: Over 72.5 (-182), under 72.5 (+140)
Joey Chestnut Over/Under #2: Over 74.5 (+125), under 74.5 (-162)
---
Odds as of Friday morning and via DraftKings. Get up to a $1,000 sign-up bonus at DraftKings today or see more offers and reviews for the best online sportsbooks.
---
Let's start with the moneyline. In the 2010s, Joey Chestnut was more dominant in his sport than any athlete in any other sport in history. Though he lost once (2015 to Matt Stonie) and appeared to have an up-and-comer who could rival him just a couple years ago in Carmen Cincotti (who has since retired), his path towards another Mustard Belt in 2020 is an easy one.
Matt "Megatoad" Stonie's frankfurter feasting faculty has faltered ever since his win, which saw him slurp down 62 wiens. He's posted sub-50 marks in back-to-back years, not even coming close to the man he once beat.
Stonie is probably the most successful of the bunch, though, as his YouTube channel, which features videos of himself eating 350 packs of Pop Rocks, over 100 yards worth of Fruit by the Foot and 1,620 McDonald's fries, has nearly 12 million subscribers and 2.2 billion lifetime views. Holy diabetes!
Chestnut's biggest concern may be Darron Breeden, who came in second place last year with 50 mutts. Breeden just posted a video of himself eating 52 dogs in a practice run but admits he's not as prepared as he should be because he only found out the competition was still happening just two weeks ago.
Long story short — it's rather unlikely that any of Chestnut's competitors can eclipse 60 HDBs, let alone reach the upper 60s or potentially 70-plus that Chestnut can chow. If taking -1000 moneylines is your thing, go for it. I personally like one of Chestnut's over/unders.
With over 72.5 juiced up to -182 and under 74.5 at -162, Chestnut has a tight little window where he's expected to finish. He has posted consistent results in the past four years, hitting totals of 71, 74, 72 and 70.
For those of you who aren't in the industry, I will tell you the narrative that's making the rounds: it's indoors, bet the over. Over 72.5 was at +100 just a couple of days ago, meaning there's been an implied odds shift of nearly 15% in 48 hours — hot dog steam, if you will.
The fact that the eaters will be shielded from the heat they typically experience is leading many to believe that we'll see rare "optimal eating conditions," whatever that means. In fact, DraftKings Sportsbook Director Johnny Avello said he factored that into the over/under.
I'm fading that narrative.
Below are the temperatures for each contest in the past decade, as well as Chestnut's HDB total.
Hmm… so he's eaten at least 68 HDBs every year since 2012 — except for the two that were room temperature! This guy is like the Heat Miser! It's not like he can eat 80 HDBs in the comfort of his house and it's just the heat that's been holding him back.
And guess what? He's going to be hot regardless because this controlled air conditioned environment is not going to stop the uncontrollable meat sweats he experiences.
Whilst breaking down film, I've noticed that he does not appear to be in peak condition. Shocking what over a decade of extreme junk food binge-eating can do to the body…
Perhaps taking a play out of Stonie's book, Chestnut has recently put more effort into his YouTube channel, which had been pretty quiet for years. There's not any recent hot dog videos, but let's watch him eat 32 Big Macs, shall we?
After just a couple of minutes, he's sweating like a slice of cheese left out at a BBQ. By the five-minute mark, his whole head is covered in a thick lacquer of sweat. And note his pace; this is not a speed run, in fact far from it. He's fast for a normal person but nowhere near his blistering pace out of the gates at Coney Island.
He essentially keeps the same pace the entire video, averaging a minute and change per Big Mac. Since the hot dog contest lasts only 10 minutes, it's not super relevant, but I'd like to point out that he is dripping sweat towards the end of the video, so much so that he has to towel off on multiple occasions.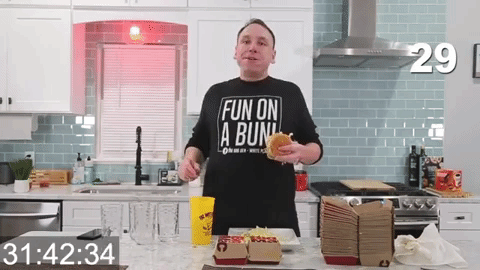 Dear lord almighty, the man's falling apart. And this is at night, in his kitchen, in March. Probably not super hot in there.
Two weeks ago, in his most recent video, he was still unsure at the time about whether the contest was happening or not. He said he was planning on doing a hot dog practice "in case they decide to do it (the contest)," but ate 100 Pop-Tarts instead because the grocery store didn't have Nathan's hot dogs. We've all been there.
That was also a long-duration meal, but we did get to see some faster competitive-style eating in the MLE's quarantine challenge via webcam.
He won the bracket style tournament but wasn't wiping the floor with the competition. Here were his results:
2 pounds of bologna: 55 seconds (second-fastest out of 8 competitors)
Family pack of Oreos and half gallon of milk: 3:36 (6th out of 8)
10 pounds of baked beans: 2:03 (2nd out of 4)
10 cups of ramen: 1:55 (1st out of 4)
At some point in the near future (or perhaps in the past), Chestnut will reach his peak. At age 36, you have to realize that, just like other athletes, he's going to slow down.
A couple of other elements I think will hurt his chances at 73-plus are the lack of fanfare and lack of a true threat.
Jaws loves the Coney Island 4th of July fanfare. Eats it up. Pumps him up. If he's not feeling absolutely 100%, there's less motivation for him to cram more dogs down his neck than necessary.
That goes hand in hand with the lack of competition. There are good eaters in this field, but no true hot dog specialists to give him the extra push — and he knows it.
Chestnut has gone over 72.5 before, and given his legendary status I won't be shocked if he does again, but I am finding way more reasons to back the under than the over.
And at +140? Hot dog!
Pick: Chestnut Under 72.5 hot dogs (+140)
How would you rate this article?