How do Bettors Value Each Position in the NFL?
The NFL season is here, and with this comes many topics relating to this upcoming season. The news cycle covered almost everything imaginable, but one topic got us thinking. How valuable is each skill position in the NFL to their team's success?
Running Backs Take a Stand
A handful of top-tier running backs held out on their contracts this offseason, hoping to force their teams to offer them a higher salary. While many players saw this as a fair request, generally, GMs and owners were not willing to dish out more money for what they view as a highly volatile position. Many of these decision-makers acknowledge that the lifespan of an NFL running back is much shorter than other positions, and tailor their offers accordingly.
If running backs are seen as a lower value investment for teams, then how should the position be incentivized? 
Determining Positional Value Across the NFL
The debate raged across social media and news outlets throughout the course of the offseason about the value of running backs. Notable running backs like Josh Jacobs did not return to his team until just last week, holding out for a better deal. Jonathan Taylor of the Indianapolis Colts has gone as far as to demand a trade. Running backs continue to express concern about their future value in the league. Is there any way to truly determine their worth to the league? Are they any more or less valuable than wide receivers or defensive players?
Action Network looked to assess this question from a statistical standpoint, using the expected points added metric. In addition, we reviewed Action App betting data to determine how bettors value various positions subjectively when placing player prop wagers.
What Action Bettors Think
With access to users betting data, we can see how the Action App users are betting season-long prop totals for defensive backs, quarterbacks, wide receivers, and running backs. These props include:
Receptions

Receiving Yards

Receiving Touchdowns

Rushing Yards

Rushing Touchdowns

Passing Yards

Passing Touchdowns

Sacks
As a whole, nearly 70% of season-long props across all positions are on the over. Bettors have a lot of faith that players will overperform. However, when we look at running backs, only 52% of season-long player prop picks are on the over. Why is this?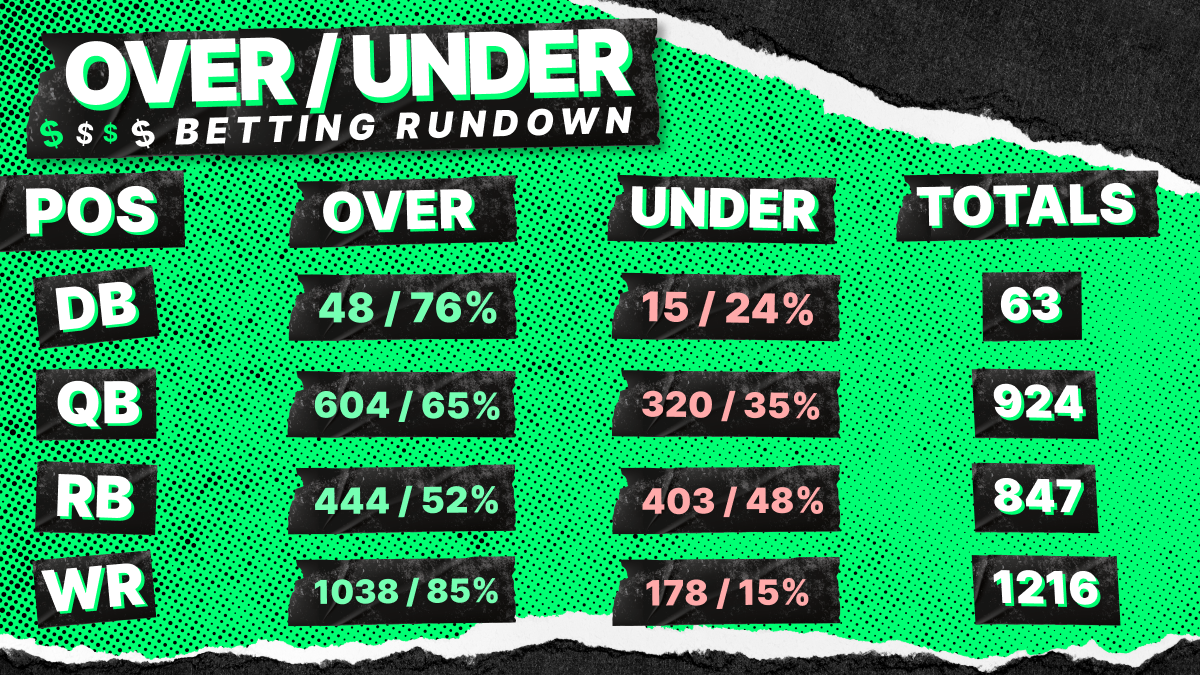 It is reasonable to assume that normal wear and tear on a running back can lead to injuries and missed time. Running backs have almost no plays off, and when they aren't being handed the ball, it is likely that they are putting their bodies at risk blocking for the quarterback on a given play. These are risks that wide receivers don't have to assume as frequently, or harshly, as running backs. For that reason, it may make sense to see that bettors are more likely to bet the Under on running back season-long props.
How Many Points are Running Backs Adding?
Expected Points Added is a metric used to determine how much value a certain play has in any given football game. From 2018-2022, we can see that pass plays have a much greater total EPA, and there are a few reasons for this. 
Expected points added is a metric used to explain how many expected points are added (or lost if negative) by a given play. We can see from the chart below that passing plays are expected to add more points than rushing plays. From this metric, we can get a rough idea about the value of a running backs' workload compared to other players.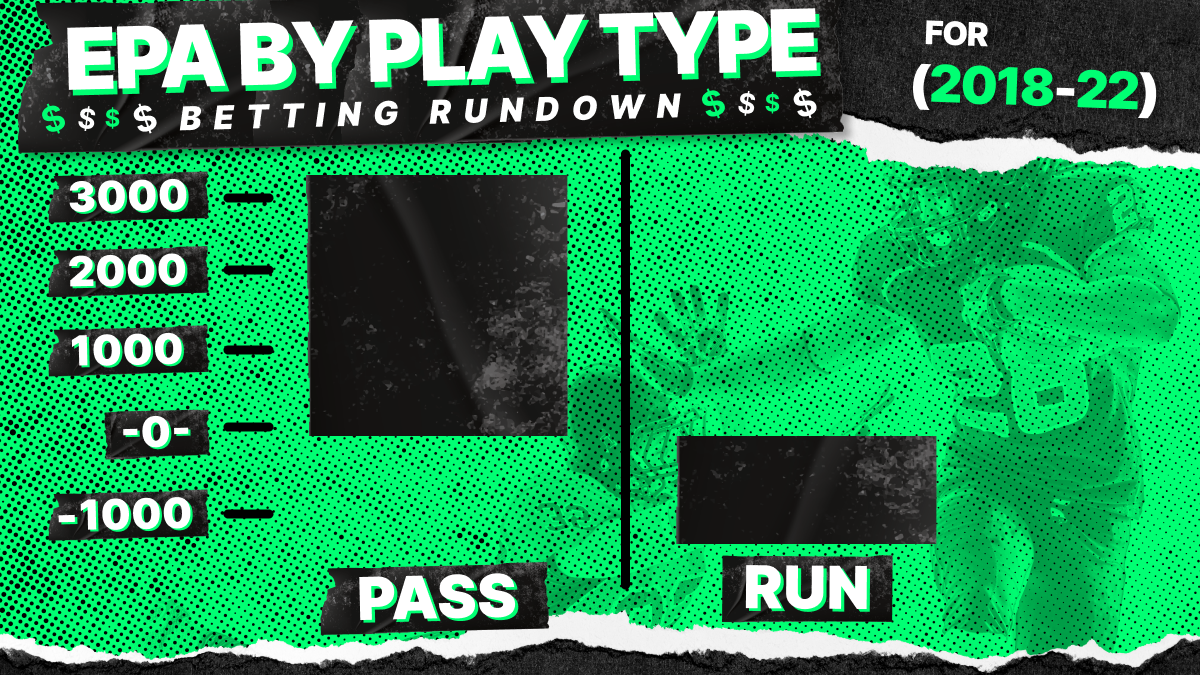 Not including QB kneels, there have been a total of 322,006 rush yards in the NFL from 2018-2022. When you compare this to the 637,198 pass yards, you can see that the explosiveness of the passing game puts receivers and quarterbacks in a much better position to positively impact the game. 
The run game is much less flashy in terms of stats, but a good rushing attack opens up a team's ability to pass effectively. Since 2018 there have been 101,321 pass attempts, and 3,004 turnovers lost. When you compare that to the 70,920 rush attempts and 452 fumbles lost you can see that rushing is a way to chip away at yardage while taking care of the ball. 
Think about it, when you pass the ball it can either be intercepted, or if the pass is complete, it can be fumbled. When you run, you're only bringing a fumble in play. It is common knowledge that passing the football is more beneficial than running. The ceiling is raised immensely when you pass the ball. This leads us to ask, what is the positional value between a top-tier running back and a mid-tier back?
The topic of run vs. pass has been an ongoing debate, and when you talk to a different person, you are likely to get a different answer. The same occurs when you mention the value of the running back position. What do you think, are running backs undervalued? 
If you are looking to get in on the action, check out our collection of sportsbook bonuses, including our BetMGM sportsbook bonus, bet365 sportsbook review, and FanDuel sportsbook review.
How would you rate this article?
This site contains commercial content. We may be compensated for the links provided on this page. The content on this page is for informational purposes only. Action Network makes no representation or warranty as to the accuracy of the information given or the outcome of any game or event.