Inaugural The Action Network Football Madness Betting Contest
Introducing the first of many internal monthly football betting contests.
Sixteen will start off in the bracket, but only one will be left standing at the end of each month.
Three picks (sides or totals) are required each weekend, including at least one from NFL and NCAA.
Looking to create a contest for The Action Network employees to increase the smack talk (and side action) while allowing our audience to follow along and see just how good we are, I created a monthly bracket-style betting contest — The Action Network Football Madness Betting Contest.
And in the coming months, we may have some of our subscribers put their betting chops on the line, as well.
Beginning this weekend, 16 participants will compete in a head-to-head (single-elimination) format to see which guy or gal is left standing at the end of each month.
The first weekend of each month, we will have a new mix of contributors (perhaps with some subscribers mixed in) making up the 16-person field — but the previous month's champion will always return to defend their title.
RULES
Each person must submit three weekend picks by Friday each week.
They can only be sides or totals — based on the lines set each Wednesday.
One pick must be from the NFL, one from NCAA and the third from either.
Each head-to-head winner advances to the next weekend.
In the event of a tie, the person with the greatest margin of cover advances.
Side action is encouraged.
After I had 16 confirmations for the September contest, I paired first-round opponents based on either hometowns, place of birth or favorite sports teams.
Like I said, I wanted some smack talk, which will be even more obvious when you see the matchups. I then assigned numbers and used the random number generator function in Microsoft Excel to create the bracket order.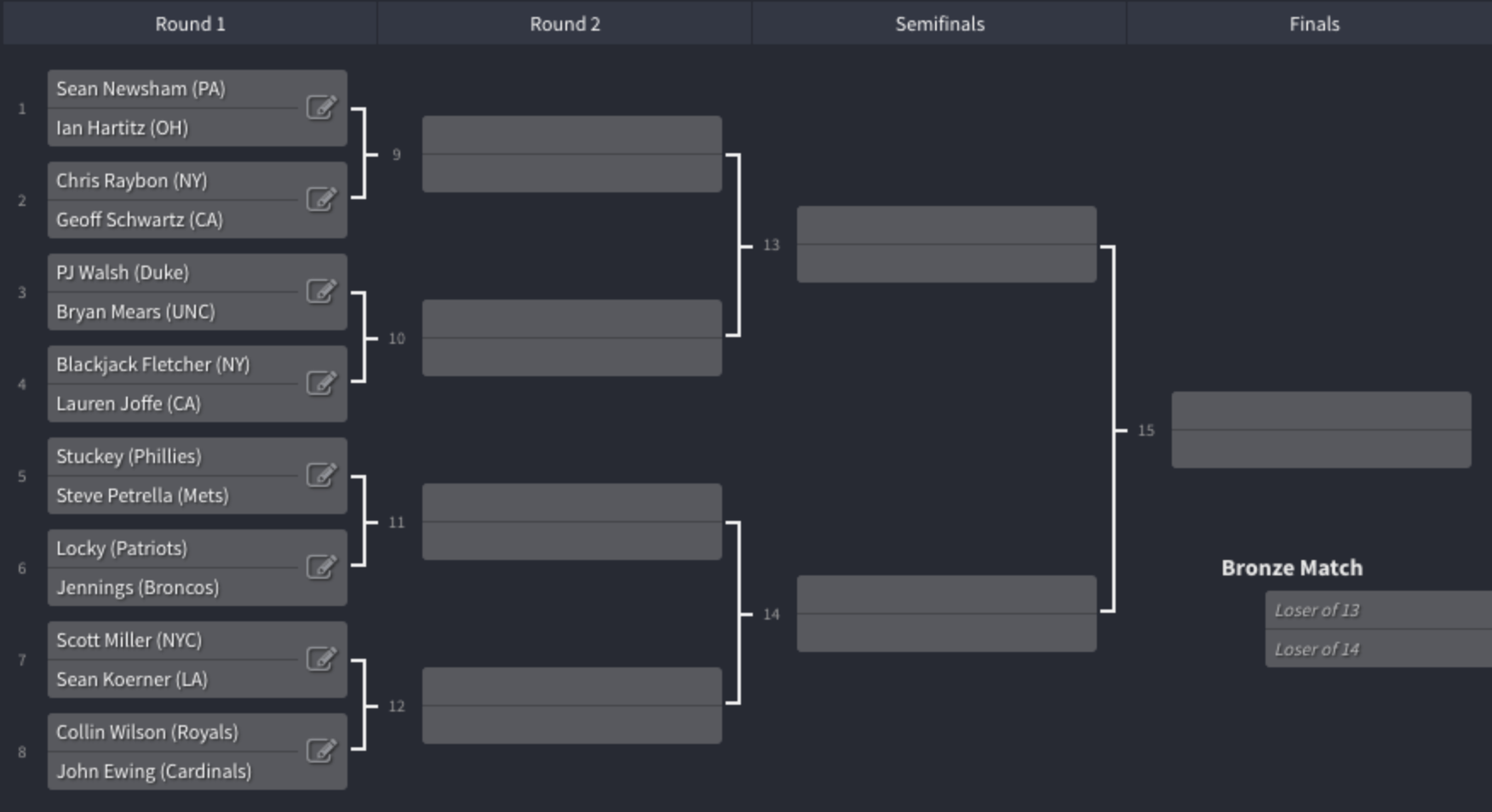 Now, let's take a look at the matchups and picks for the first round.
---
TOP HALF
---
Sean Newsham (Penn.) vs. Ian Hartitz (Ohio)
It's not a real football contest without a Pennsylvania vs. Ohio battle.
Newsham: PSU/Pitt Over 56, Arkansas/CSU Over 70, Ravens -7.5
Hartitz: Ohio State -35, Cowboys/Panthers Under 43, Broncos -3
Chris Raybon (N.Y.) vs. Geoff Schwartz (Calif.)
Born on opposite coasts, these two have gone at it regularly on I'll Take That Bet.
Raybon: PSU/Pitt Under 56, Bengals +2.5, Chiefs +3.5
Schwartz: Oklahoma -30, Boise -31, Cowboys/Panthers Under 43
PJ Walsh (Duke) vs. Bryan Mears (UNC)
The classic rivalry. We're all rooting for you, Bryan.
Walsh: Maryland-BG under 65.5, Cowboys/Panthers Under 43, Titans -1
Mears: Liberty +9.5, UConn +31, Titans -1
Walsh and Mears really only have two picks because — despite saying they would play the Blue Devils and Tar Heels — they both somehow decided on the Titans. Remember that any tie comes down to margin of cover.
BlackJack Fletcher (East) vs. Lauren Joffe (West)
BlackJack has guaranteed victory … for the entire tournament.
BlackJack: U of Arizona +4, Broncos -3, Titans -1
Joffe: Redskins +1, Mich. St.-ASU Over 54, Titans -1
Amazingly, BlackJack and Joffe also both picked the Titans, so they have a two-team contest this weekend, as well. And in a next-level troll move, BlackJack uses Joffe's Arizona squad as one of his picks.
---
BOTTOM HALF
---
Stuckey (Phillies) vs. Steve Petrella (Mets)
2007. Best year ever. Never forget, Stevie. Free deGrom.
Stuckey: Duke +3, Dolphins +1, Giants +3
Petrella: CMU/Kansas Under 51.5, ECU/UNC Over 60, Broncos -3
Locky (Patriots) vs. Peter Jennings (Broncos)
Time to finally settle the Brady vs. Peyton debate.
Locky: Miss. St. -9.5, Broncos -3 Bengals +2.5
Jennings: Colorado +4, Browns +4, Bengals +2.5
Locky and Jennings each had the Bengals, making this the third two-team contest.
Scott Miller (NYC) vs. Sean Koerner (L.A.)
Scott's response after seeing his R1 matchup: "RIP Me"
Miller: Liberty +9.5, Duke +3, Seahawks/Broncos Over 42.5
Koerner: Steelers/Browns Under 44.5, FAU/Air Force Under 69, Colorado/Nebraska under 65
Collin Wilson (Royals) vs. John Ewing (Cardinals)
A Midwest battle that should feature the most side action.
Wilson: Duke +3, Kansas State +9.5, Broncos -3
Ewing: Arkansas State +36.5, Titans -1, Panthers -3