Sonny Vaccaro Selling Coveted Michael Jordan Shoes From 1991 NBA Finals
Credit:
Andrew D. Bernstein/NBAE via Getty Images. Pictured: Michael Jordan during the 1991 NBA Finals.
There have been many reasons over time why people who hold memorabilia ultimately sell it, but longtime shoe executive Sonny Vaccaro has a unique one.
He wants to expose the whitewashing of his history with Michael Jordan and Nike.
"'The Last Dance' was my last dance," the 81-year-old Vaccaro said on a call Tuesday with reporters to discuss his auctioning of dual-signed shoes that Michael Jordan used in Game 4 in the 1991 NBA Finals. Vaccaro was not featured in the final cut of ESPN's acclaimed series.
"This a lie," Vaccaro said. "They are too big to lie. They are too powerful to lie. Not until you prove the lie to be the lie. The shoes hurt because it was the last real testament of Sonny, Michael and Nike."
Jordan, when reached through an intermediary, said he doesn't remember giving away those specific shoes because he has "given away so many through the years."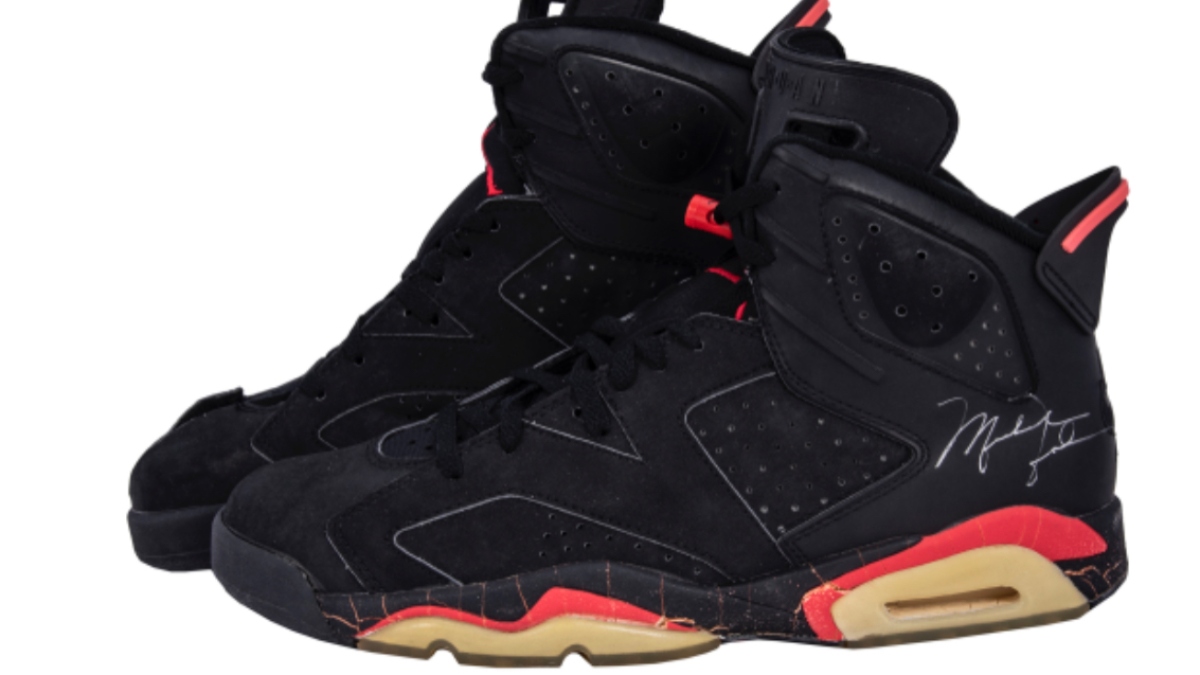 The shoes are up for sale at Goldin Auctions and carry an estimate of $500,000 to $750,000. The shoes are the first Air Jordan shoes ever brought to auction that were used in an NBA Finals game that Jordan played in.
"This didn't have to happen," Vaccaro said, talking more about the cathartic act of ridding himself of the shoes that had been wrapped up in his closet for all of these years.
Vaccaro said he couldn't make Game 4 of the NBA Finals in Los Angeles, having already booked a trip with his wife to Palm Springs. Vaccaro said Jordan left the pair of shoes for him to show his appreciation for their relationship. Over the years, Vaccaro said he had received private offers to sell the shoes but never considered it.
"I never thought I'd see the day," said Vaccaro, reminiscing a time in 1996 when he went into his house to rescue the shoes while being evacuated for fires that had been raging in the area. "But that show was the straw that broke the camel's back."
Vaccaro said he wants Nike and Jordan to say the shoe isn't real because if it is, it shows the truth.
Goldin Auctions have photomatched the pair to Game 4 of the 1991 NBA Finals against the Lakers, perhaps made more easier because Jordan cut a hole in the toe box to relieve pressure. Sideline reporter and one of MJ's closest confidants, Ahmad Rashad mentioned this in his sideline report on the NBC broadcast.
Vaccaro has long insisted that it was he who convinced Nike co-founder Phil Knight to spend money to score Michael Jordan, but as he has told that story, other insiders have gone out of their way to deny that. Knight said Sonny was hardly the MVP of the signing. In 2016, Jordan said that George Raveling, the assistant coach of the 1984 USA Basketball Team, deserved more credit than Sonny in getting him to sign with Nike.
Jordan used and signed shoes have sold for a pretty penny since "The Last Dance." Two pairs of game-used shoes sold for more than $500,000, while a signed and used pair in a recent Goldin Auction sold for $365,000.
How would you rate this article?