A Guide to Navigating the World Series of Poker
The Highlights
There are 78 official WSOP bracelet events this summer, with buy-ins ranging from $365 to $1 million.
The $1 million tournament — called the "Big One for One Drop" — will feature 48 players.
The WSOP and the Rio are the center of the poker world, but other casinos — Aria, Binion's, Golden Nugget, Orleans, Planet Hollywood, Venetian and Wynn — all are offering tournaments that overlap with the WSOP.
---
Sports bettors are poker players, and poker players are sports bettors.
There's a reason most casino sportsbooks are close to the poker room. If you sit at a poker table for any length of time, you'll inevitably hear from the guy sweating his three-teamer or the old-timer who likes a horse, and god forbid if the poker room manager doesn't get the TVs turned to the right channel in time for tip-off.
There's a reason the clientele overlaps. Every wayward youth who has investigated gambling learns that sports betting and poker are two games that are beatable (although they will remain unbeatable for 90 to 95% of people who try). Some gamblers might spend 90% of their time with sports betting, and others might spend 90% of their time with poker. But I'd wager every person who has participated in one has participated in both, at least a little.
And if you've ever played poker, you've probably thought about taking a shot at the World Series of Poker. This year's 49th annual WSOP starts Wednesday at the Rio in Las Vegas. Here are a few things to know about the WSOP for people dreaming about making a big score this summer (or just being part of the spectacle):
1. The World Series of Poker is more than the Main Event
Everyone who watches ESPN has stumbled across some WSOP broadcasts, likely starting with the aptly named Chris Moneymaker's improbable run to the WSOP title and $2.5 million in 2003. That annual tournament is known as the WSOP Main Event, the $10,000 buy-in no-limit Texas Hold 'em world championship. This year's Main Event starts July 2 and runs until a winner is crowned live (well, almost live) on ESPN on July 14. (A 30-minute tape delay is required by gaming officials.)
No doubt, the Main Event deserves its name. It is the Big One, the greatest poker tournament in the world. Last year's winner, Scott Blumstein, won $8.15 million, besting a field of 7,221. However, the World Series of Poker encapsulates much more than just the Main Event, and much more than just no-limit Hold 'em.
There are 78 official WSOP bracelet events this summer, with buy-ins ranging from $365 to $1 million. (Yes, one million American dollars.) No-limit Hold 'em is by far the most popular game, but there are tournaments for limit Hold 'em, pot-limit Omaha, Omaha high-low, pot-limit Omaha high-low, seven-card stud, seven-card stud high-low, razz, 2-7 triple-draw lowball and no-limit 2-7 lowball. There are also a variety of tournaments that require you to play multiple games, including dealer's choice, in which one player chooses what game to play each round from a list of 20. (Ever heard of badacy or Big O?) There are also four online events played on wsop.com.
For older players who think these young idiots raise too much, there are the $1,000 buy-in seniors tournament for players 50 and over, and the $1,000 buy-in super seniors event for players 60 and over. For women who think these idiot men are full of themselves, there's the $1,000 buy-in ladies championship. (For years, the WSOP had to deal with the occasional man who wanted to make a spectacle of himself by entering the women's event. Organizers finally found the solution: They could not legally bar men from entering, but they could give women a discount. So the event is officially a $10,000 buy-in, with women allowed to buy in for a discount rate of $1,000. Voila, no more men.)
See the full schedule here.
2. The $1 million buy-in tournament
The $1 million buy-in Big One for One Drop returns to the WSOP after a three-year absence.
The event is limited to 48 players, and 8% of the prize pool goes to the One Drop nonprofit organization, which seeks to increase access to safe drinking water around the world.
The tournament attracts a mix of multi-millionaire businessmen putting up their own money and poker pros who are partially — and in most cases — heavily staked by wealthy investors.
Poker pros won the previous two Big Ones for One Drop. Antonio Esfandiari won $18,346,673 in 2012 (48 entries), and Daniel Colman won $15,306,668 in 2014 (42 entries).
The tournament starts July 15, the day after the Main Event ends, and will also be televised on ESPN.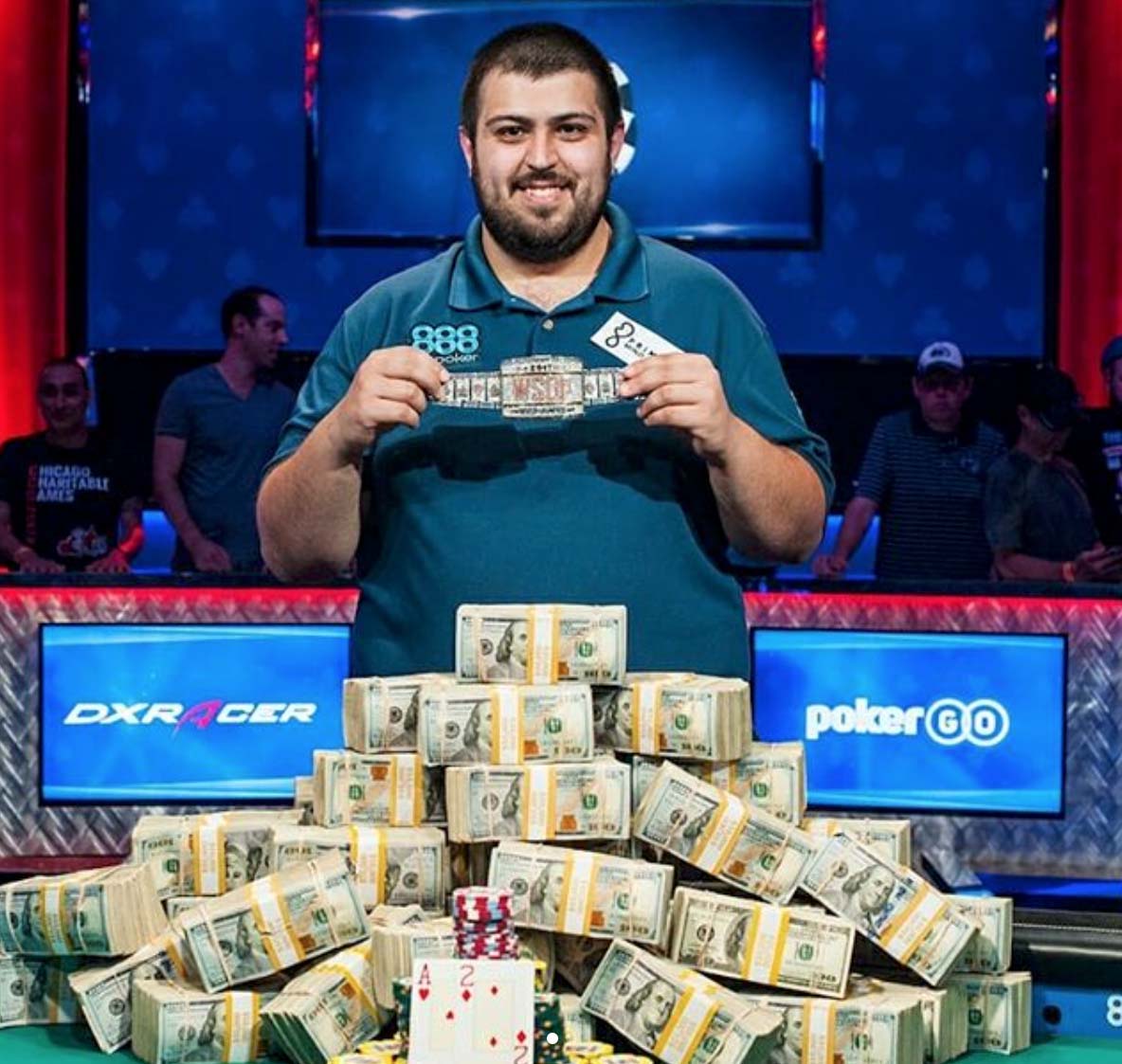 Pictured: Joe Giron. Credit: Instagram/wsop
3. You can bet on the Main Event winner (when the time comes)
Picking the winner of the Main Event is like finding the proverbial needle in a haystack. Even the best players in the world are astronomical underdogs to come through a field of more than 7,000 players. I couldn't find any site offering Main Event futures, and if you can, don't bet them, unless you can get 7,000-1 or so.
Finding the needle is a little easier once the tournament reaches the final table of nine. Sportsbooks have posted odds on the Main Event winner in the past few years when the tournament is down to the final table. Any betting edge there is probably small, but it will be worth handicapping which players might be inclined to go for it and play all out for the win vs. those trying to hang on and move up the money ladder. We can take a look at those odds when it's time.
4. You get what you pay for
The balance of skill and luck in any poker tournament is based on the structure of the tournament, meaning how many chips you start with, and how quickly the blinds and antes rise. At the WSOP, bigger buy-in events have better structures. If you want to take a shot at the few bracelet events with entry fees under $1,000, make sure you know what you're getting into. Patience might not be a virtue.
For most WSOP events with buy-ins of $1,000 or more, players start with five times as many chips as the buy-in (7,500 for a $1,500 event, etc.), and the blinds go up every hour. In the $10,000 Main Event, players start with 50,000 in chips, and the blinds go up every two hours. (It is the best-structured tournament in the world.)
In the $365 Giant, players start with 25,000 in chips, but the blinds go up every 20 minutes on Day 1. In the very popular $565 Colossus, players start with only 5,000 in chips, and the blinds go up every 30 minutes on Day 1. One bad hand, and you could easily be out in the first hour. These lower-priced tournaments allow regular Joe poker players (people such as myself, by the way) to be able to say they played in a World Series of Poker event without crushing their bank accounts, but these tournaments are designed to churn players quickly (and possibly get them to re-enter for another $365 or $565).
Don't be surprised by the structure. Make sure to check the structure sheets available on wsop.com or at the Rio before you buy in.
5. Weekend no-limit Hold 'em events offer the best value
If you can only play one WSOP event, play the Main Event (or win your way in). Barring that, the large-field weekend no-limit Hold 'em events offer the best opportunity to get a real WSOP experience while having a shot at a six- or even seven-figure score.
The $1,500 Millionaire Maker (starting June 9), $1,000 Double Stack (June 16) and $1,500 Monster Stack (June 23) give players between 7,500 and 15,000 starting chips, but more importantly, they all have one-hour blind levels. You can't splash around, but you can play real poker in these events. And the payouts are enormous. Last year's Millionaire Maker had 7,761 entries, and the winner got more than $1.2 million. Last year's Monster Stack had 6,716 entries, and the winner got almost $1.1 million. The Double Stack is a new event but should attract similar numbers.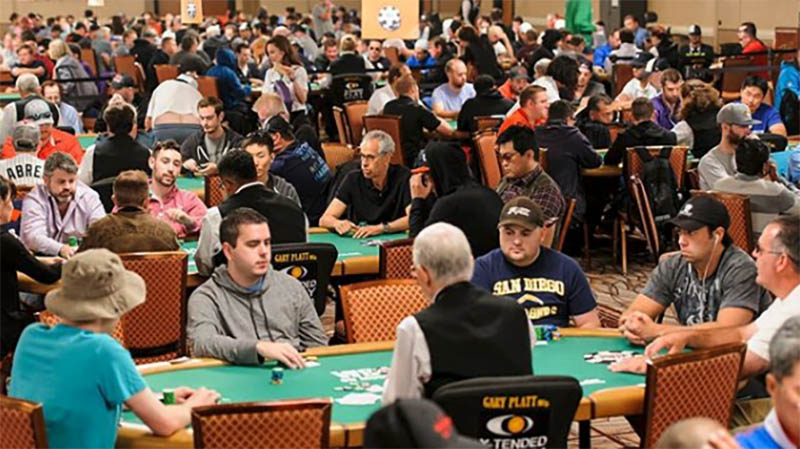 Instagram/wsop
6. You can be Chris Moneymaker, too (but probably not)
Moneymaker famously parlayed a $39 online satellite into a $10,000 Main Event seat and eventually into first place and $2.5 million. The Rio doesn't offer satellites that are quite that cheap, but they're a good option for someone with a modest bankroll wanting to take a shot.
Single-table satellites run around the clock during the WSOP. Buy-ins range from $125 to $1,030 and start as soon as a table of 10 is full. They are winner-take-all, although frequently the last two players will make some sort of deal.
Winners are paid in tournament "lammers," which can only be used to buy into other tournaments. However, players can sell these lammers to other players for cash. (Tip: You can almost always sell your lammer for face value. If you're having trouble finding a buyer, offer a small discount, like, say, selling a $500 lammer for $480. You will always find a taker willing to get a free $20. No need to go any lower.)
Mega satellites offer another way to win your way into a bigger event. In these satellites, multiple tables are in play, and entry fees are combined to make the most buy-ins for the bigger event as possible. For example, in a $500 (plus juice) mega satellite for the Main Event, one $10,000 seat is created for every 20 players who enter. If 400 players enter, there are 20 $10,000 seats available, and the mega satellite ends when 20 players are left.
Navigating these satellites isn't easy, but it can be done. Last year, I took money won in a $125 single-table satellite, entered a $575 mega satellite and won a $10,000 Main Event seat.
What happened in the Main Event? Well, let's just say, I'm no Chris Moneymaker.
7. There are many places to play besides the Rio
The WSOP is the center of the poker world during the summer, but other casinos aren't fools. They know players are pouring into town, and they're offering lucrative alternatives for players who aren't prepared to plunk down $1,500 or more for one tournament.
Aria, Binion's, Golden Nugget, Orleans, Planet Hollywood, Venetian and Wynn all are offering tournament series that overlap with the WSOP, with the vast majority of buy-ins under $500 and many under $200. Many players play all over town, choosing the right event for them on a given day. You don't have to camp out at the Rio.
8. You don't have to play tournaments to get in on the action
Most poker players define themselves as either "cash game" players or tournament players. Few are great at both.
Even the most rigid cash game players will take a shot at a few tournaments during the WSOP, but they don't have to get out of their comfort zone. There's never a better time for cash games than during the WSOP. Hardened Las Vegas professionals love to see "home game heroes" from across the country pour into the city during the WSOP. The Rio will host a variety of cash games, from low stakes to sky high, but just as in tournaments, you don't have to play there. Bellagio, Aria, Venetian, Wynn and many other casinos will be humming with cash game action.
9. Know where the bathrooms are
Thousands of people are playing at the Rio on a given day during the WSOP. Players typically get a 20-minute break after two hours of play and a longer dinner break later in the day (again, check your structure sheet). In larger tournaments, the line for the bathroom gets long fast. Make sure you know where the closest bathroom is, or you'll spend the whole break waiting in line. Some people try to duck out a hand or two before the break to get a jump on the line.
10. Know your limits, and have fun
Have fun and play within your means. Simple advice, but essential. If you're coming out for one weekend, target one tournament and play cash games or maybe a smaller side event if you bust. If you're in Vegas for most of the summer, take the same advice and stretch it out so you stay in action. Make sure you save money to at least catch a flight or bus ticket out of town if the poker gods turn against you. Maybe you'll be the next poker millionaire.
Good luck.