Wilson: 3 MLB Win Totals I'm Betting in 2019
Credit:
Douglas DeFelice-USA TODAY Sports. Pictured: Vladimir Guerrero Jr.
On the first Monday of 2019, I found myself in Las Vegas working on a final list of props for the national title game between Clemson and Alabama.
Around the same time The Action Network's Chalk Talk was filmed from the Westgate SuperBook, I received an email from a software recruiter with the subject line "Short-term contract in Camelback Ranch."
As a baseball junkie, my fate was sealed in weekly business trips to Phoenix, debugging code from the bleachers of Surprise, Mesa and Scottsdale for Spring Training.
While college football has been my gambling forte for over a decade, MLB has my full attention through the spring and summer. I was raised on a heavy dose Ric Flair and Braves baseball on WTBS while scampering the steps of Kauffman Stadium for the Royals 1980 World Series run.
I had success betting MLB last season, thanks in large part to the Action Network App, and generally MLB win totals have treated me well. 
I consider a number of different factors before getting down on a win total, starting with a team's Pythagorean Win Total, which is a calculation that ueses total runs scored versus runs against to give you an idea of a team's under-or-over-achievement from the year before.
I also consider Stanley Rothman's Win Percentage, which is based on a slope that may give you nightmares about ninth-grade Algebra, but it does have functionality for betting.
Lastly, it is important to know the team's direction, based on the commentary from management.
Below are three teams that fit the profile for 2019.
Chicago Cubs 
2018 Record: 95-68 (+2.3 units), 81-82 ATS (+1.1 units)
Over/Under Record: 73-88-2
World Series Odds: 12-1
Win Total: 88.5
The Northsiders fell off the table offensively post All-Star break in 2018, allowing the Milwaukee Brewers to take possession of the Central Division in a tie-breaking 163rd final game of the season.
Offseason rumors included the departure of Joe Maddon, Kris Bryant turning down a reported $200 million dollar deal, while chairman Tom Ricketts said the Cubs were out of money.
The Cubs pythagorean number is one win shy of their total wins over the past two seasons, but it is the PECOTA projection that spells doom for the 2019 season.
Joe Maddon's response to PECOTA projections that predict #Cubs will finish last in NL Central with 80-82 record: "Who knows why or how they arrive at that stuff? It really means nothing. You got to go out and play the game. You got to compete. I have zero interest in (that)."

— Patrick Mooney (@PJ_Mooney) February 14, 2019
Personally, I fall in the same boat as Joe Maddon on PECOTA projections.
My 2015 Kansas City Royals were projected for 72 wins before a 95-67 record en route to their second World Series. Still, it is worth noting what the other teams in the NL Central have added. The entire division has added more WAR with offseason acquisitions than the Cubs.
Yasiel Puig and Paul Goldschmidt will have plenty of September battles against a Chicago bullpen that ranked 25th in strikeout to walk ratio (2.07) in 2018.
If the Cubs are truly strapped for cash, a depleted farm system could prevent Chicago from adding the pieces needed to win the division.
Pick:  Under 88.5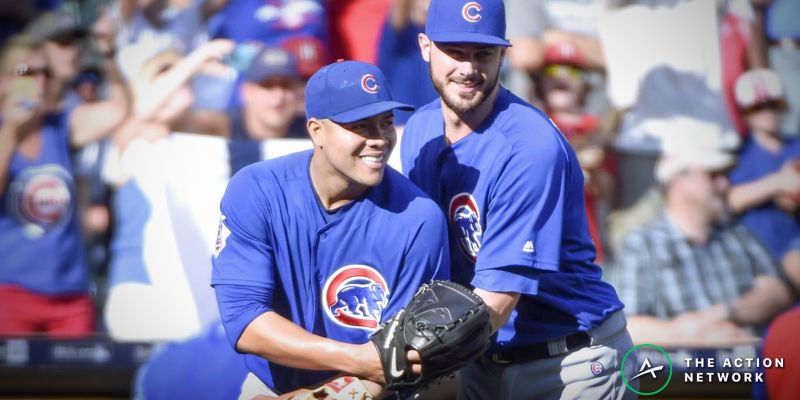 Toronto Blue Jays 
2018 Record: 73-89 (-10.2 units), 73-89 ATS (-21.3 units)
Over/Under Record: 81-73-8 (Highest in MLB)
World Series Odds: 300-1
Win Total: 74.5
In a division that saw the Tampa Bay Rays finish third with 90 wins, there is no margin for error in the AL East.
The biggest question within the Blue Jays organization isn't if they contend, it's when will they contend. Over the past couple of months, the indication is that 2019 is a hard pass while the diamonds in the farm system get closer to major-league ready.
Laughably, Blue Jays GM Ross Atkins does not see Vladimir Guerrero Jr. ready to break spring training with the team, citing his age (20) as being too young (the same age as Nationals' outfielder Juan Soto).
There will be no snoozing while attending future Blue Jays games, as Vlad Jr.'s swing sounds like a gun shot.
Toronto boasts a top-10 farm system loaded with pitching and second-generation players such as Guerrero Jr., Bo Bichette and Cavan Biggio.
A look at the Blue Jays pythagorean winning percentage shows win totals that overachieved by five games in 2017 and 2018, indicating they were a bit lucky  to reach 76 and 73 games respectively.
The pitching staff contains just one player with a WAR over 1.3 in Marcus Stroman. The remaining rotation has plenty of holes the rest of the division can exploit.
Bottom line, the Blue Jays have zero intention of contending in 2019. They plan to extend minor league time to prospects while potentially selling off any veterans at the break that may have value, such as Justin Smoak and Kevin Pillar.
Pick:  Under 74.5
Seattle Mariners 
2018 Record: 89-73 (+14.1 units),78-84 ATS (-15.4 units)
Over/Under Record: 78-82-2
World Series Odds: 500-1
Win Total: 71.5
The Mariners farm system is still weak, so this season will be what College Football people call a "Year Zero."
Seattle is actively shopping anything of value on its roster as Robinson Cano, Nelson Cruz, Edwin Diaz and James Paxton have all left town.
From a pythagorean context, the Mariners 89 wins was an overachievement, as they averaged 4.18 runs per game in contrast to 4.39 runs against per contest.
The Mariners had a strong bullpen last season and that explains the success they had in one-run games, but the 'pen has been gutted this winter.
GM Jerry Dipoto has made it clear 2019 is about stripping the team as much as possible and focusing on getting younger. The Mariners have an expectation to contend in 2021, but until then head to Safeco Field T-Mobile Park for roasted grasshoppers and some fine Rainier beer.
Pick:  Under 71.5
All odds via Westgate SuperBook as of Feb. 28
Advanced data via Fangraphs.com, prospect ratings via MLB.com, prospects in prospect watch expected to be MLB-ready in 2019
How would you rate this article?