2021 College World Series: Super Regionals Odds, Projections & Betting Picks for Every Series
Credit:
Wesley Hitt/Getty Images. Pictured: Casey Optiz.
Four Super Regionals series begin on Friday, June 11: Vanderbilt vs. East Carolina, Texas Tech vs. Stanford, NC State vs. Arkansas and Ole Miss vs. Arizona.
College baseball betting analyst Collin Wilson has broken down every Super Regionals series, included his projections for all probable starting pitching matchups throughout the weekend.
Below, find Wilson's full College World Series Super Regionals betting preview, including the series picks to make for all eight super regionals on the Road to Omaha.
The field of 64 has been shaved down to just 16 teams after a weekend of bombing in regionals.
With over 240 home runs throughout the weekend, 2021 may best be defined as the year of the record-breaking aluminum bat. College baseball went to a less-springy BBCOR bat in 2011, but the results from this postseason may require additional changes by the NCAA.
The lack of aces combined with the hot bats provided a beating to under bettors at the window. Both Southern Miss and Notre Dame scored over 20 runs on Saturday, while Samford and Campbell combined for 29.
Four of the top-10 teams in home runs per game advanced to the Super Regionals in Arkansas, NC State, Texas Tech, and Dallas Baptist.
The super-regional bracket is now set, and it plays much differently than regionals.
The "Supers" consist of a best-two-out-of-three format at a host site. Teams that earned a top-eight seed will play host, while teams that won a regional as a non-top seed will return to their host site for additional play.
Before looking at individual super regionals, here are current futures odds provided by WynnBET.
---
College Baseball Super Regionals Odds & Projections
The handicapping becomes a bit easier from this point forward because of the ability to project pitchers.
This column will look at each individual Super Regional with projected lines determined by head-to-head starters. Starters were determined by the order in which they pitched during Regional play and are subject to change.
No matter the order of the starters, the projected series prices should remain constant.
---
---
All photos are via Getty Images unless otherwise noted.
---
NC State vs. Arkansas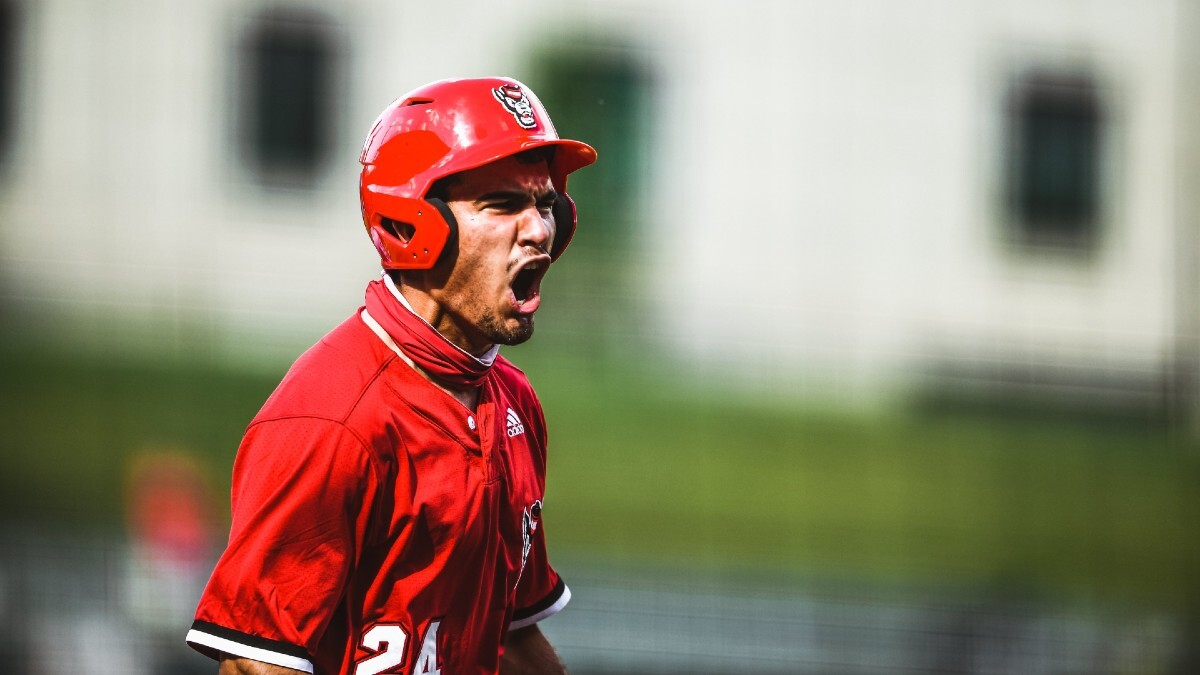 Fayetteville Regional
June 11-13*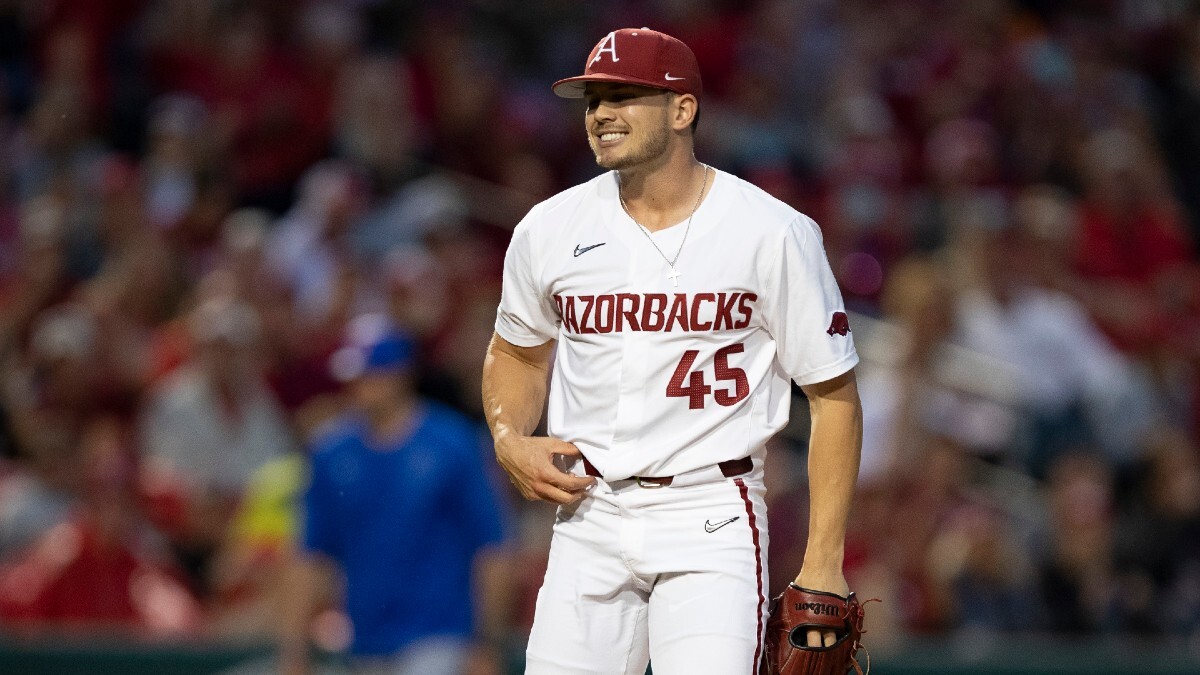 | | | | |
| --- | --- | --- | --- |
| Game | NC State | Arkansas | Proj. |
| 1 | Reid Johnston | Caleb Bolden | ARK -180 |
| 2 | Sam Highfill | Patrick Wicklander | ARK -220 |
| 3* | Matt Willadsen | Lael Lockhart | ARK -210 |
Arkansas entered the Fayetteville regional not just as the SEC champions, but as a club that has not lost a weekend series the entire season.
Big Ten champ Nebraska pushed the Razorbacks to the brink, almost defeating the No. 1 overall seed in Baum-Walker Stadium. The Razorbacks' season may have been over by now if not for the heroics of National Player of the Year Kevin Kopps.
The Arkansas closer boasts some unbelievable statistics, posting 120 strikeouts against 15 walks and six earned runs in 79.2 innings of work, per NCAA Stats.
Head coach Dave Van Horn has completely modeled the pitching staff after the Tampa Bay Rays, allowing starters to go just a few innings. When the starting staff gets in trouble, Van Horn is quick to "call the Kopps." NC State's ability to get a lead and keep Kopps out of the game is crucial.
The Wolfpack are known for their offense, owning a top-10 rank in home runs per game and slugging. NC State has now won 21-of-25 after sweeping the Ruston region with a combined score of 30-11 in three games. The Wolfpack are the hottest hitting team heading into the super regionals.
The handicap in Fayetteville depends on whether or not the NC State pitching staff can shut down the Razorback bats.
Starter Reid Johnston has pitched into the seventh inning for the Wolfpack in each of his last 10 outings. Southpaw closer Evan Justice has earned 10 saves but has allowed 25 earned runs through 50 innings pitched.
When it comes to defensive efficiency, these are two of the best teams in the nation with NC State ranking fifth in Division I.
This is the first matchup between Elliott Avent and Van Horn, who rank sixth and seventh, respectively, in wins for active head coaches.
The Fayetteville region will be the hottest site for home runs and brilliant flashes of leather. These two teams are identical in rankings when it comes to home runs per game, slugging and fielding percentage.
The handicap comes down to the best player at the collegiate level in Kopps.
Because of the anchor in the Razorbacks' bullpen, the buy point for Arkansas is -300 for the series. There is, however, inflation in the market, as has been the case with Arkansas prices all season.
These teams are truly a coin flip from an offensive and starting staff perspective. Kopps is not worth the -900 on the market as of this writing, making NC State a buy down to +280.
Pick: NC State +500 (down to +280)
---
Wolfpack photo via NC State Athletics.
---
»» Return to the table of contents ««
---
Stanford vs. Texas Tech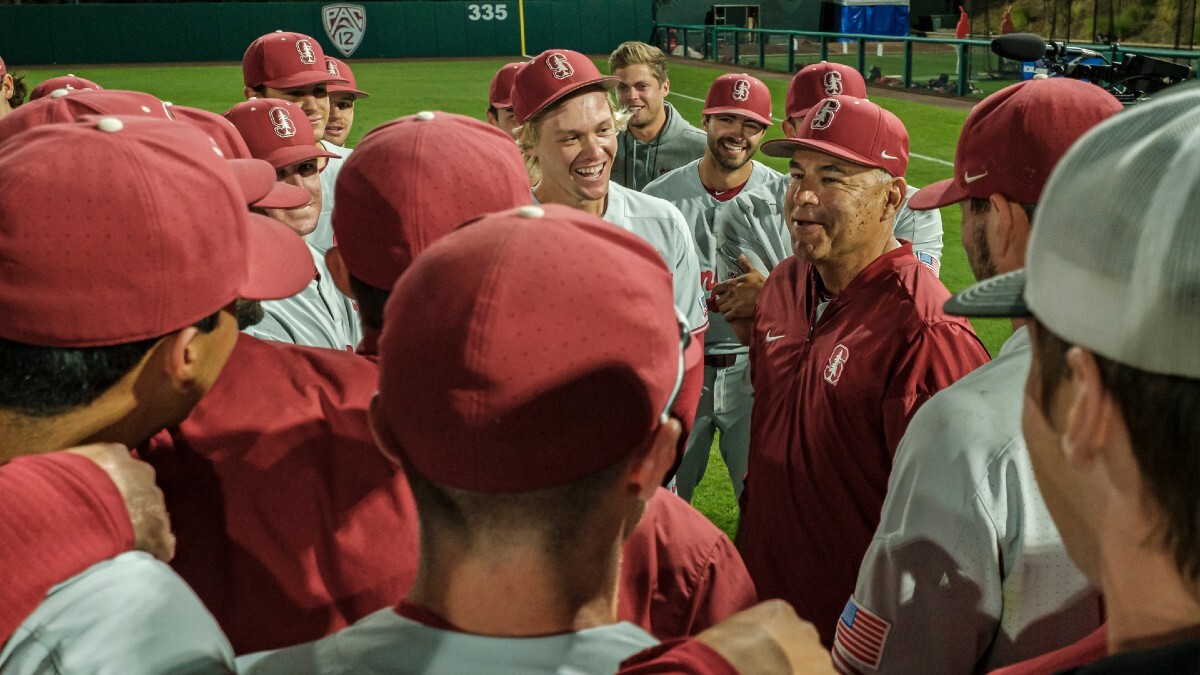 Lubbock Regional
June 11-13*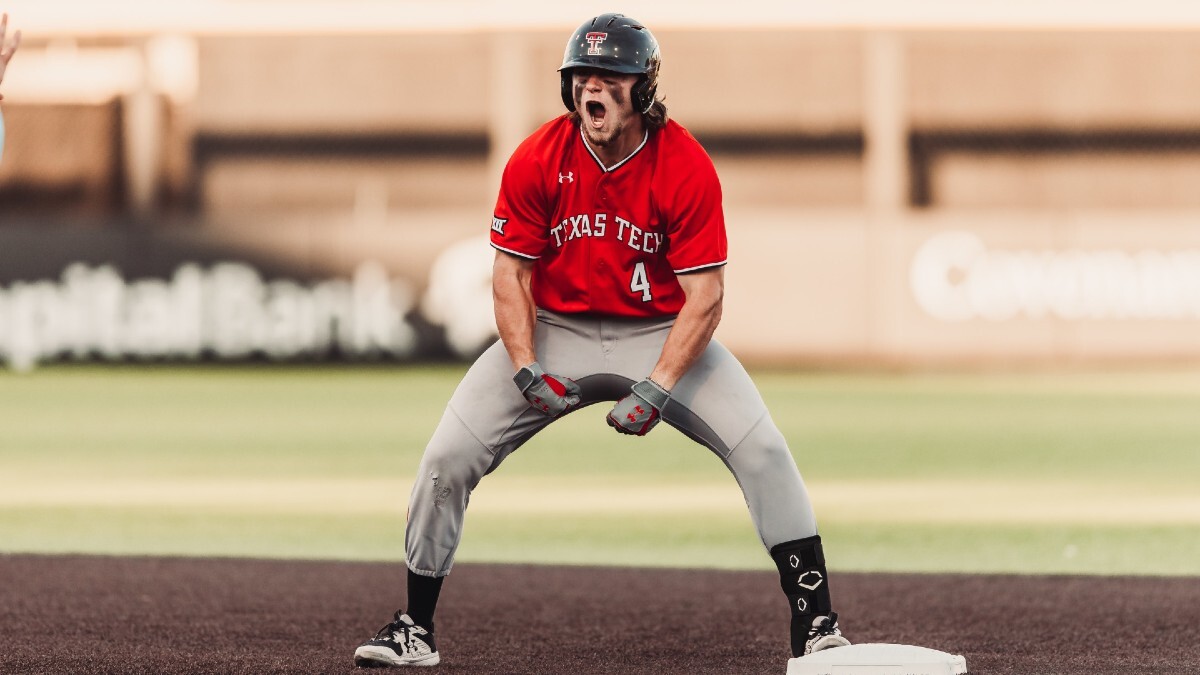 | | | | |
| --- | --- | --- | --- |
| Game | Stanford | Texas Tech | Proj. |
| 1 | Alex Williams | Chase Hampton | TTU -160 |
| 2 | Brendan Beck | Patrick Monteverde | TTU -140 |
| 3* | Quinn Mathews | Mason Montgomery | TTU -185 |
Stanford didn't break a sweat hosting a regional, capturing victories over North Dakota State and UC Irvine in the first two games, bashing runs for a combined score of 21-5.
The Cardinal took a loss to the Anteaters in Sunday's game after a disastrous eighth inning from pitchers Joey Dixon and Jacob Palisch, who combined for six earned runs. Both pitchers returned in the regional final on Monday to close out an 11-8 victory to move onto Lubbock.
Stanford does have holes in its season-long statistics — mainly its rank of 140th in strikeout-to-walk ratio and its mark of 73rd in slugging percentage.
To win in Lubbock, the Trees must amp up the long-ball, an area in which Stanford ranks 26th in home runs per game.
Texas Tech is one of the best hitting teams in the country, a perfect fit for Jones AT&T Stadium. Lubbock has the highest rating in Park Factors for runs and home runs through all the remaining super regionals.
Where the Red Raiders get in trouble is pitching, as they own a rank of 46th in ERA and 121st in walks allowed per nine innings. None of the three starters in the regional round eclipsed 90 pitches in an outing.
Where Stanford has the biggest advantage is fielding percentage, as it sits 13th in the nation compared to Texas Tech at 84th. The issue with that stat is the ability to keep the ball in the yard against the Red Raiders, especially Jace Jung and Cal Conley, who combined for 36 homers on the season.
The starting pitching projections and bullpen FIP dictate a series price of Texas Tech -230.
The current listing of Texas Tech -134 is a value against a Stanford team that consistently walks opponents and does not possess near the firepower from an offensive perspective.
Pick: Texas Tech -134 (up to -230)
---
Red Raiders photo via Texas Tech Athletics.
---
---
»» Return to the table of contents ««
---
Ole Miss vs. Arizona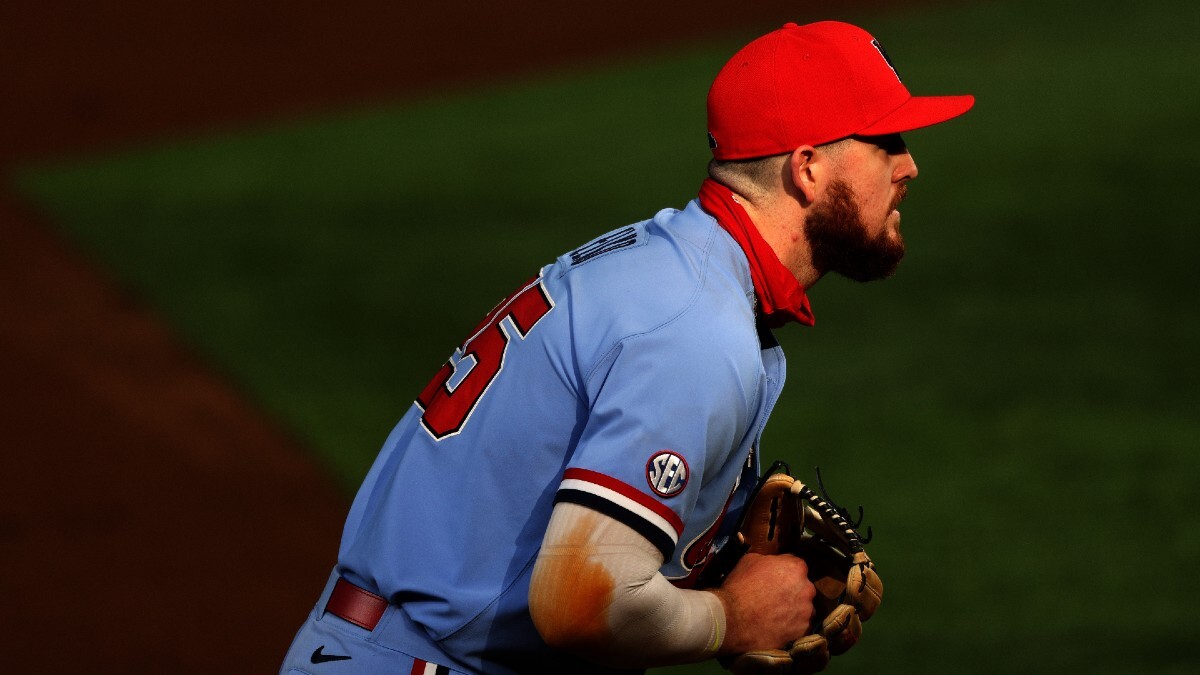 Tucson Regional
June 11-13*
| | | | |
| --- | --- | --- | --- |
| Game | Ole Miss | Arizona | Proj. |
| 1 | Derek Diamond | Chase Silseth | ARI -140 |
| 2 | Doug Nikhazy | Garrett Irvin | ARI -105 |
| 3* | Tyler Myers | Chandler Murphy | ARI -140 |
As I often state on social media, "Happy Doug Nikhazy Day." The Rebels pitcher has notched 11 wins in 15 appearances and has 132 strikeouts in 86.2 innings pitched, making him an auto-play when head coach Mike Bianco gives him the nod.
The opening starter may be Derek Diamond, who threw 4.1 innings and didn't allow an earned run to Southern Miss in the Oxford regional. That one-two pitching combination may be enough for a patient Rebels offense to strike.
The Ole Miss pitching is backed by an offense that ranks 37th in home runs per game and fifth in strikeout-to-walk ratio.
Arizona started off on the right foot, overcoming Grand Canyon ace Pierson Ohl. The Wildcats swept the remainder of the region by a combined score of 9-2 over UC Santa Barbara.
Neither of their opponents could expose Arizona's season-long issues of fielding and strikeout-to-walk ratio. The Wildcats are outside the top 70 in home runs per game, strikeout-to-walk ratio and walks allowed per nine. The most glaring stat is defensive efficiency, as Arizona is the worst-ranked team remaining with a rank of 189th in fielding percentage.
The true odds for Arizona based on staff FIP and starting pitchers is -170, but this is a series that is almost guaranteed to go three games when Doug Nikhazy takes the mound for Ole Miss.
In lieu of a series bet, earmark the Nikhazy start for investment, as it should come as an Ole Miss pick'em.
Pick: Single Game — Ole Miss -120 or better when Doug Nikhazy starts
---
Wildcats photo via Arizona Athletics.
---
»» Return to the table of contents ««
---
East Carolina vs. Vanderbilt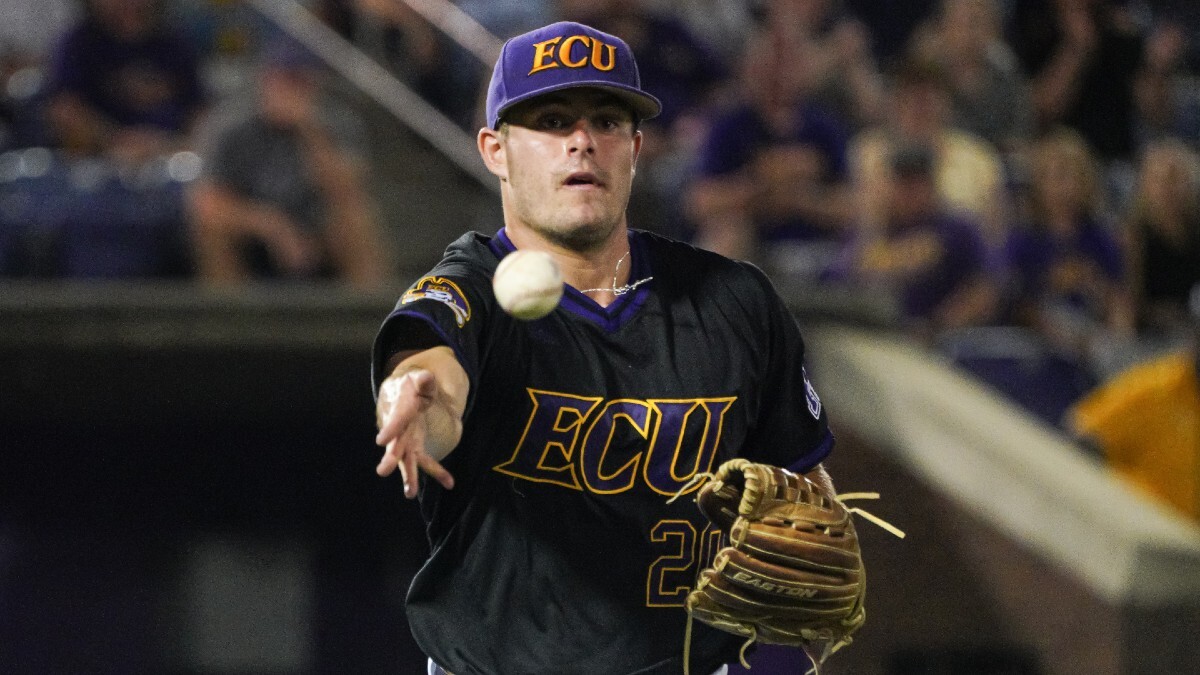 Nashville Regional
June 11-13*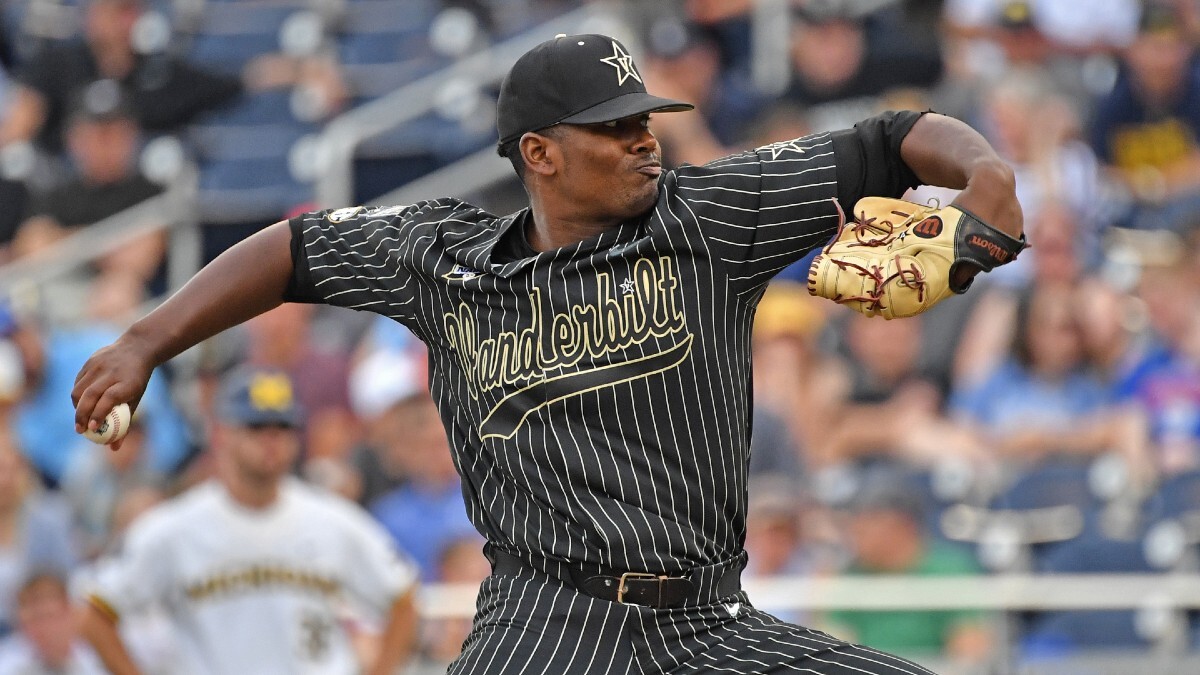 | | | | |
| --- | --- | --- | --- |
| Game | East Carolina | Vanderbilt | Proj. |
| 1 | Carson Whisenhunt | Kumar Rocker | VAN -190 |
| 2 | Gavin Williams | Jack Leiter | VAN -160 |
| 3* | Jake Kuchmaner | Patrick Reilly | VAN -130 |
Is it time for East Carolina to make the College World Series?
The Pirates have lost five super regionals despite making the postseason 16 times since 1999. Head Coach Cliff Godwin has steady stats through AAC play, ranking top-40 in home runs per game, on-base percentage and strikeout-to-walk ratio.
Sweeping the Greenville regional was not easy, as the Pirates allowed each opponent to score at least five runs.
For Vanderbilt, a sweep of the Nashville region did not come without a sweat in the Sunday finale.
Winning by a combined score of 14-3 over Presbyterian and Georgia Tech through June 5, the Yellow Jackets took the Commodores to the 11th inning in a final score that totaled 25 runs. If there's a takeaway from the close call on Sunday, it's that Kumar Rocker and Jack Leiter did not pitch. The two aces have been the anchor of this team the entire season.
The series price should be -310 when you consider the entire pitching staff and starters for Vanderbilt. The fact of the matter is that Rocker and Leiter could close this series out without a third game.
Similar to Kopps for Arkansas, Vanderbilt has pitching to mask the rest of the staff's deficiencies.
Also, prayers are in order for ECU catcher Seth Caddell. Vanderbilt center fielder Enrique Bradfield Jr. is now up to 46 stolen bases on the season. Expect plenty of highlights from Bradfield here and in Omaha.
---
»» Return to the table of contents ««
---
South Florida vs. Texas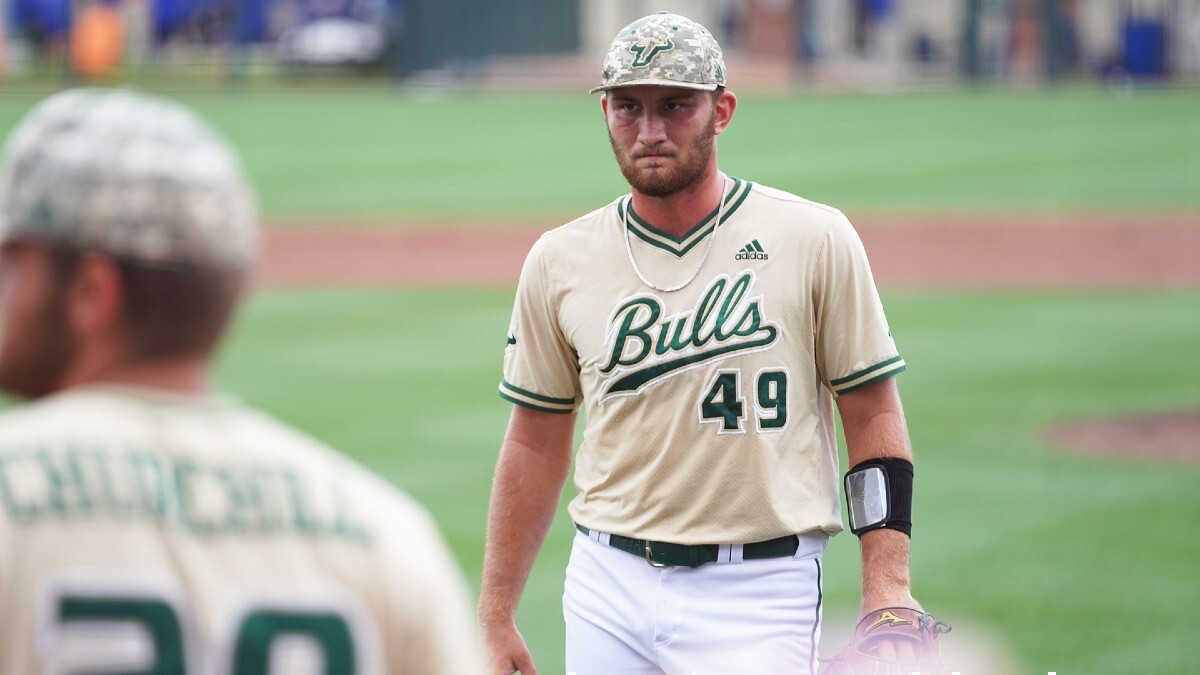 Austin Regional
June 12-14*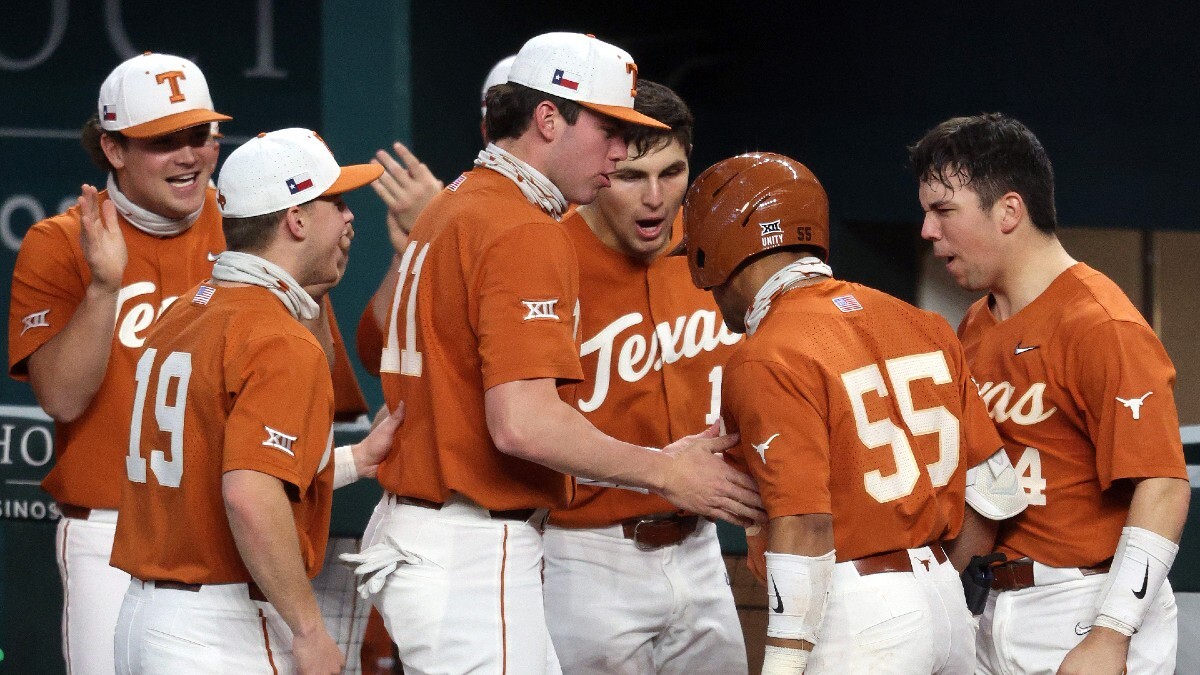 | | | | |
| --- | --- | --- | --- |
| Game | South Florida | Texas | Proj. |
| 1 | Jack Jasiak | Tristan Stevens | TEX -250 |
| 2 | Collin Sullivan | Ty Madden | TEX -260 |
| 3* | Brad Lord | Pete Hansen | TEX -300 |
Easily the most lopsided "Super" on the board, the question remains whether or not South Florida can bottle up its winning ways and continue in Austin.
Heading into the regionals, the Bulls ranked outside the top 100 in home runs per game, slugging and fielding percentage.
Winners of nine of its last 11, South Florida beat a Florida team that made the semifinals of the SEC Tournament before routing Miami.
After trading games with South Alabama, South Florida will bring just one top-25 stat to Texas: sacrifice flies.
Why is Texas fetching numbers so high in the regional market? Starting pitchers Tristan Stevens and Ty Madden have been nothing but electric.
Unlike South Florida, there are not many categories in which the Longhorns fall out of the top 100. Texas is top-25 in fielding percentage, on-base percentage and stolen bases. This is the top pitching staff in the nation, ranking first in earned run average.
The series price should mathematically fetch -900, but a better bet may be a future.
The Longhorns would enter Omaha on the other side of the bracket of Arkansas and Vanderbilt, giving their odds value considering the small hurdle of South Florida.
Pick: Texas -2000 | Championship Future +800
---
Bulls photo via South Florida Athletics.
---
»» Return to the table of contents ««
---
Notre Dame vs. Mississippi State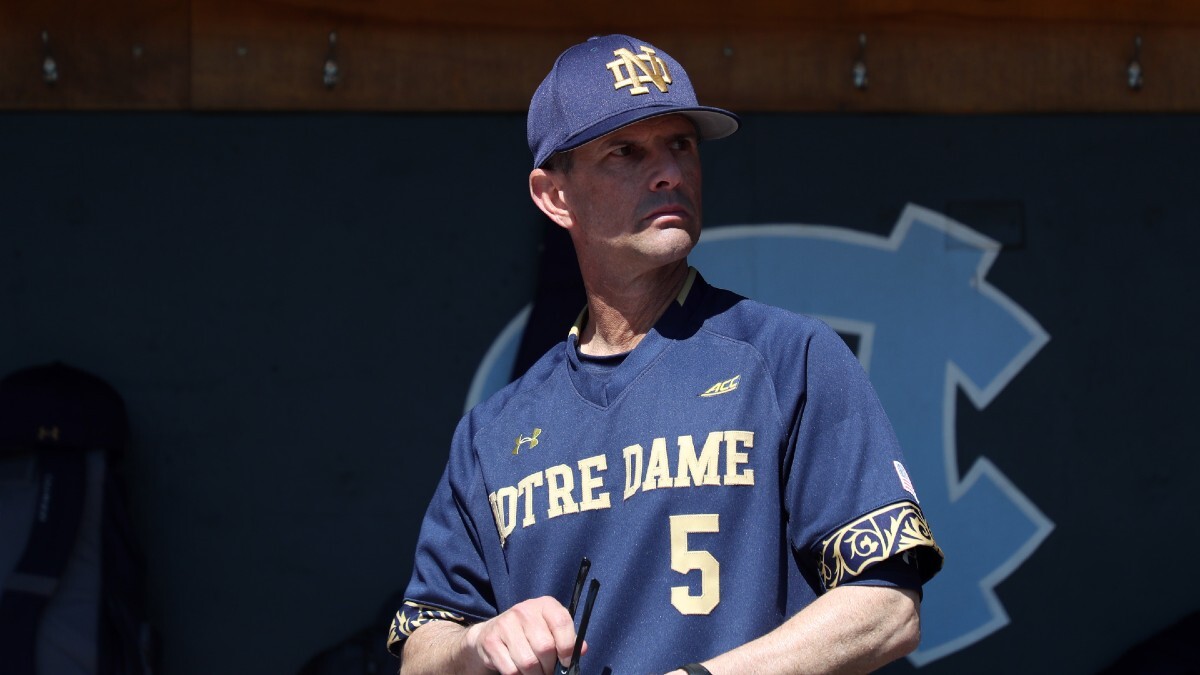 Starkville Regional
June 12-14*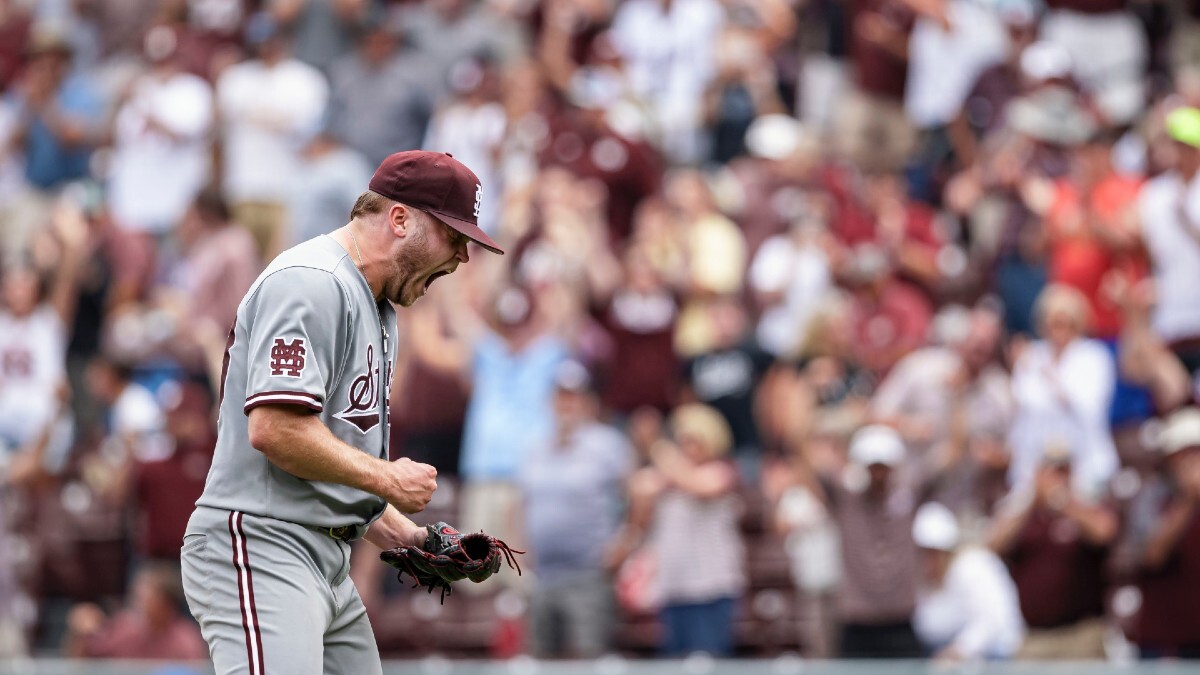 | | | | |
| --- | --- | --- | --- |
| Game | Notre Dame | Mississippi State | Proj. |
| 1 | John Michael Bertrand | Will Bednar | MSST -190 |
| 2 | Tanner Kohlhepp | Christian MacLeod | MSST -150 |
| 3* | Aidan Tyrell | Houston Harding | MSST -200 |
Just a reminder that if there is a factor of home-field advantage, then there are two stadiums of note: Baum in Fayetteville and Dudy Noble in Starkville.
Outside of Lubbock, Dudy Noble has the highest Park Factors rating when it comes to runs scored. This regional figures to be a barn-burner between an SEC stronghold and a Notre Dame team playing with a chip on its shoulder for not being a top-eight seed.
The placement of the Irish was a clear reflection of their RPI, a rank that was affected by non-conference COVID-19 cancellations.
Notre Dame swept the South Bend regional with a combined score of 50-5.
John Michael Bertrand threw a complete-game five-hitter against Central Michigan, while the offense put up six home runs in a rout of UConn.
The Bulldog pitching duo of Will Bednar and Christian MacLeod will presumably put up more of a challenge than the pitching staff of UConn and Central Michigan. Both starters have combined for 215 strikeouts through 146.2 innings on the season.
Landon Sims has been the anchor for the bullpen and may be the second-best closer in the nation. The sophomore has logged 74 strikeouts against 13 walks and six earned runs through 37.1 innings. Mississippi State tops the nation in strikeouts per nine innings.
If there's an issue for Notre Dame at the plate, look no farther than scoring runs. The Irish rank 69th in on-base percentage and 139th in walks with a schedule against ACC pitching.
As Mississippi State dominates with the strikeout, the Notre Dame pitching staff does the opposite, ranking just 190th per nine innings.
The price for this series based on rotations and bullpens is Mississippi State -175.
If we take a trip down narrative street, it may be tough to find a Notre Dame series played in humid weather. Starkville is looking at 90 degrees with max humidity for the series, a stark contrast for the Irish, who had road series at Boston College and Pittsburgh in the month of April.
Pick: Mississippi State -175
---
Bulldogs photo via Mississippi State Athletics.
---
---
»» Return to the table of contents ««
---
Dallas Baptist vs. Virginia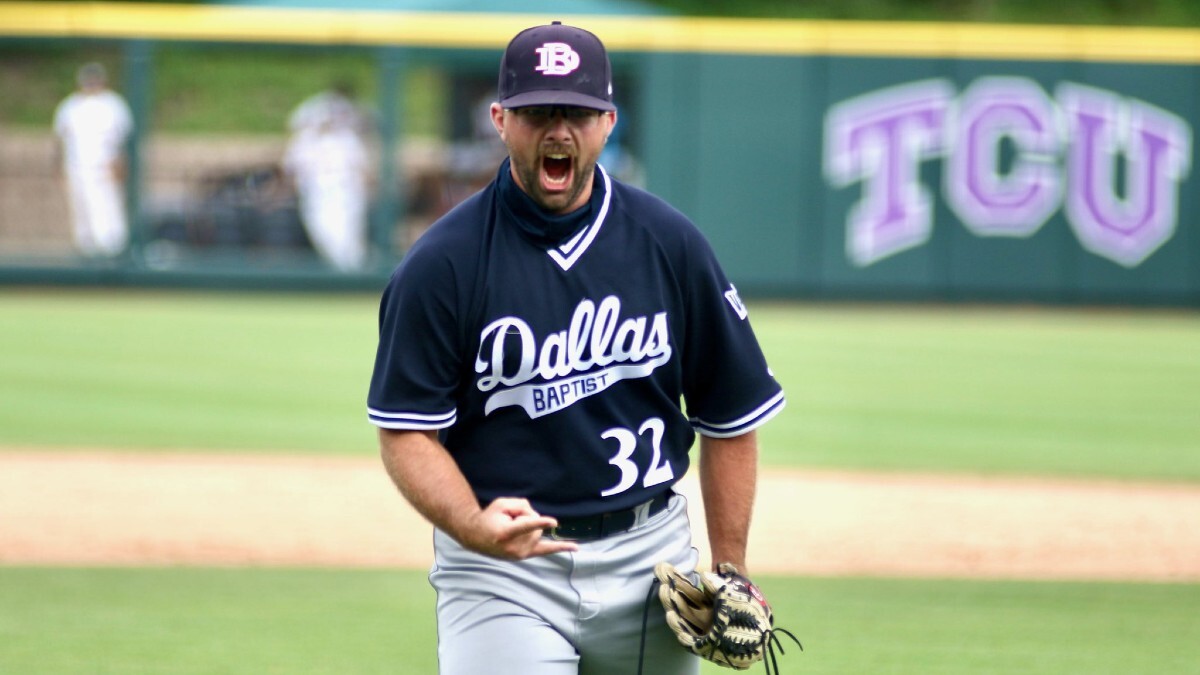 Columbia Regional
June 12-14*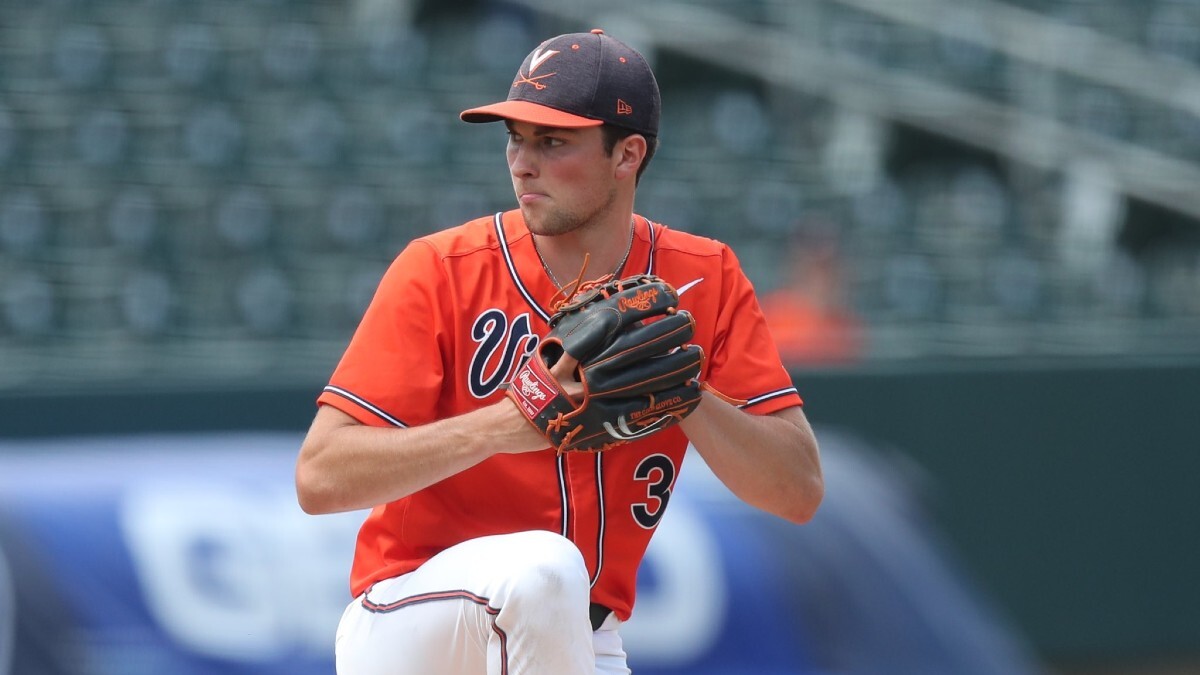 | | | | |
| --- | --- | --- | --- |
| Game | Dallas Baptist | Virginia | Proj. |
| 1 | Dominic Hamel | Andrew Abbott | UVA -110 |
| 2 | Rhett Kouba | Mike Vasil | DBU -130 |
| 3* | Luke Eldred | Matt Wyatt | UVA -105 |
Virginia is sneaking through most brackets undetected thanks to an opening loss to South Carolina in the Columbia regional.
Weather extended the Columbia finale to Tuesday morning, when the Cavaliers executed a comeback in the eighth inning that resulted in a 10th-inning regional clincher.
Be aware of Cavalier Devin Ortiz, who pitched the first four innings before homering in extras.
What the Hoos lack in hitting, they more than make up for in pitching. Virginia ranks 15th in ERA and eighth in strikeouts per nine, compensating for an offense that has been anemic most of the season.
Starter Andrew Abbott is second nationally in strikeouts, while closer Stephen Schoch has 52 punchouts over 35.2 innings. The Virginia pitchers will look to avoid a roster full of bombers in Dallas Baptist as much as possible.
DBU second baseman Jackson Glenn has 19 home runs on the season, leading the Pats to a rank of fourth in home runs per game and fifth in slugging percentage.
Dallas Baptist does have a good one-two punch on the starting staff, but ace Dominic Hamel was shredded by Oregon State in the Fort Worth opener. Hamel allowed five earned runs in 6.1 innings while totaling 95 pitches. The staff ace has exceeded seven innings pitched in an outing just once the entire season.
Abbott should outduel Hamel in the opener, where Virginia is technically the host.
The Cavaliers are finding ways to win ball games late, a characteristic that always fits an underdog's profile on the journey to Omaha.
Virginia is a team I would take a longshot flier on to win the whole championship. The winner of this super regional avoids the Arkansas-Vanderbilt side of the bracket and gets Texas in its respective bracket final.
---
Patriots photo via Dallas Baptist Athletics. Cavaliers photo via Virginia Athletics.
---
»» Return to the table of contents ««
---
LSU vs. Tennessee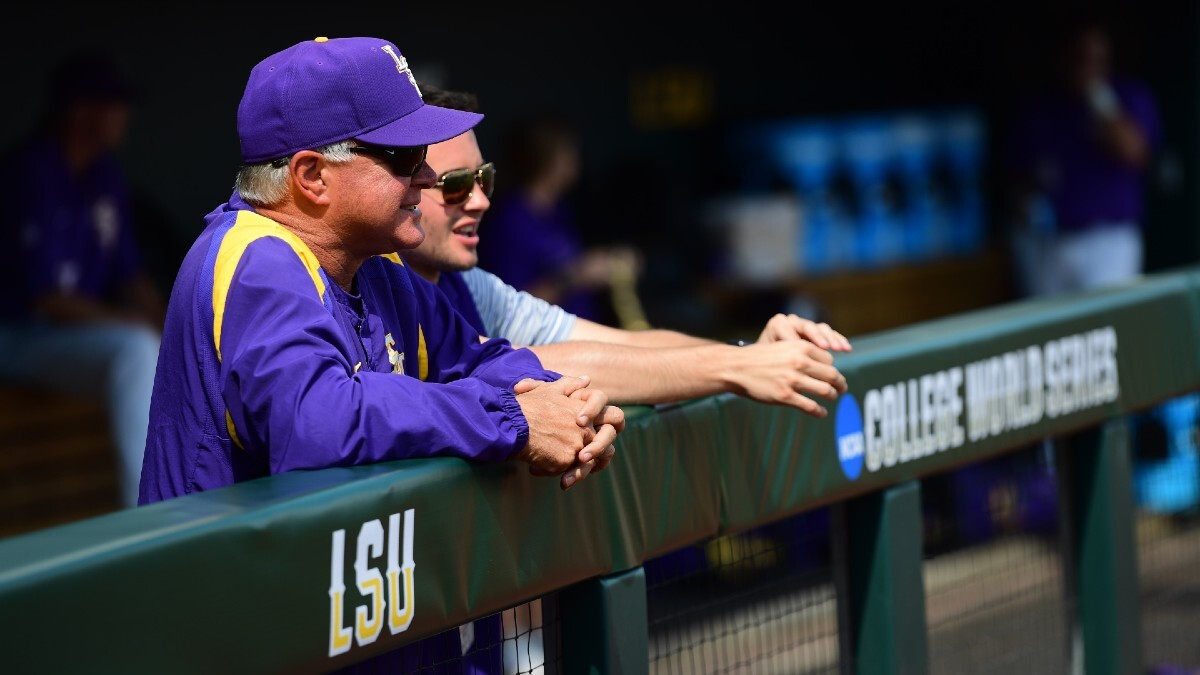 Knoxville Regional
June 12-14*
| | | | |
| --- | --- | --- | --- |
| Game | LSU | Tennessee | Proj. |
| 1 | Landon Marceaux | Chad Dallas | TENN -130 |
| 2 | AJ Labas | Blade Tidwell | TENN -170 |
| 3* | Ma'Khail Hilliard | Will Heflin | TENN -140 |
The easiest handicap on the board may be the two SEC teams that played a conference series in late March.
Tennessee ultimately swept in Knoxville, but the combined margin of victory was four runs. LSU twice had late leads, and Mother Nature played a large factor in the delay of Game 2.
The starting pitchers for Games 1 and 3 of the Knoxville series are expected to be the same as those taking the bump in Games 1 and 2 of this super regional, so there are plenty of analytics to pull from the series. 
During the March 26 series, LSU outhit Tennessee in every box score, while Tennessee's pitching staff dominated Tiger hitters from a strikeout perspective.
The Volunteers boast a top-five rank nationally in strikeout-to-walk ratio. Blade Tidwell has been the iron man of the group, consistently going over 100 pitches in each outing. The pitching staff is backed by an offense that has walk-off home runs against Arkansas and Wright State.
LSU gave Tennessee all it could handle earlier in the season on this same turf.
There's still not much separating these two clubs from an analytics perspective, but because of starters and bullpen FIP, the true odds of the series are closer to Tennessee -225.
That creates massive value in the current market that lists LSU at +325. This series is expected to go three games and be a nail-biter through every pitch.
Buy the Tigers down to the appropriate price of +175.
Pick: LSU +325 (down to +175)
---
Volunteers photo via Tennessee Athletics.
---
»» Return to the table of contents ««
---
How would you rate this article?
This site contains commercial content. We may be compensated for the links provided on this page. The content on this page is for informational purposes only. Action Network makes no representation or warranty as to the accuracy of the information given or the outcome of any game or event.