Betting on NBA Summer League Only Expected to Grow
Credit:
Stephen R. Sylvanie-USA TODAY Sports. Pictured: Josh Hart
For the first time this year, the Orleans Sportsbook had spreads and over/unders on every NBA Summer League game.
The overall Summer League handle at the Westgate SuperBook was comparable to last year, which saw a big spike with the popularity of Lonzo Ball.
More Summer League props, such as win totals and/or futures, could be coming next year.
The NBA's Las Vegas Summer League hasn't just become a destination for league officials, coaches and scouts. Local oddsmakers say they too have seen a spike in interest from bettors looking for a change of pace from baseball and, this year, the World Cup.
This year's offerings have been the second phase in a multiyear rollout plan to introduce bettors to the NBA's summer showcase, which has grown in popularity and media coverage in recent years, Orleans bookmaker Bob Scucci said.
A few years ago, many local books began increasing Summer League betting options, but numbers jumped last year with the arrival of Lonzo Ball in Los Angeles, and then Las Vegas, where he was named MVP.
This was the first year the Orleans sportsbook offered lines and totals on every game, and Tuesday's championship matchup between the Los Angeles Lakers and Portland Trail Blazers is expected to draw heavy action.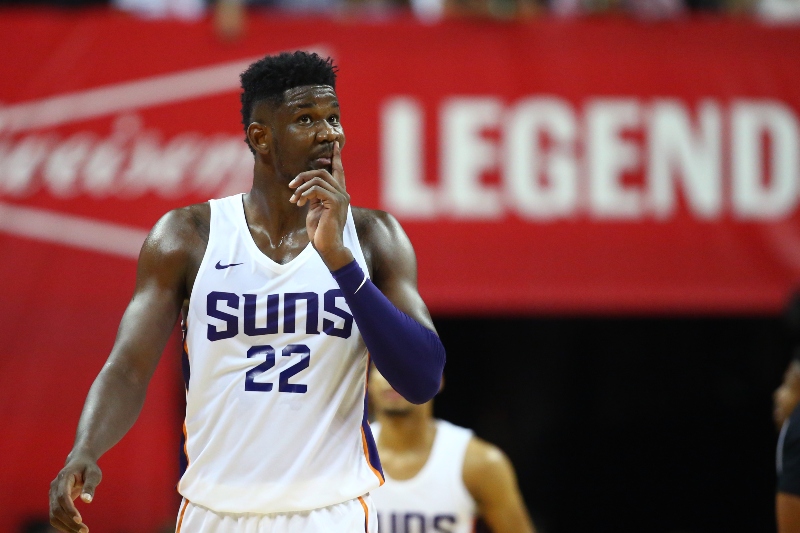 Mark J. Rebilas-USA TODAY Sports. Pictured: DeAndre Ayton.
"We did a lot last year, but not with a total on every game, and the year before, we did only games we thought would be big draws, or higher profile," Scucci said. "In full force, this was the year, and once it gets funneled down, there's usually more action. Any kind of tournament format is a big draw for the bettors."
This year, the big draw was Phoenix's DeAndre Ayton, the No. 1 pick out of Arizona, although the Lakers' Josh Hart (Villanova) and Knicks' Kevin Knox (Kentucky) stole the show.
There was no Lonzo-like prospect this season, although the surprise arrival of LeBron James turned some heads. That excitement didn't translate to increased betting, however, as the Westgate SuperBook's Jeff Sherman said the per-game betting handle was down while the overall handle was comparable to 2017, and far surpassed the years prior to that. With the Lakers back in the finals, Sherman said the handle should be strong.
"Last year did have a large jump from 2016, with Lonzo Ball and the Lakers winning the tournament, as the Lakers always attract interest in the Vegas market," Sherman said.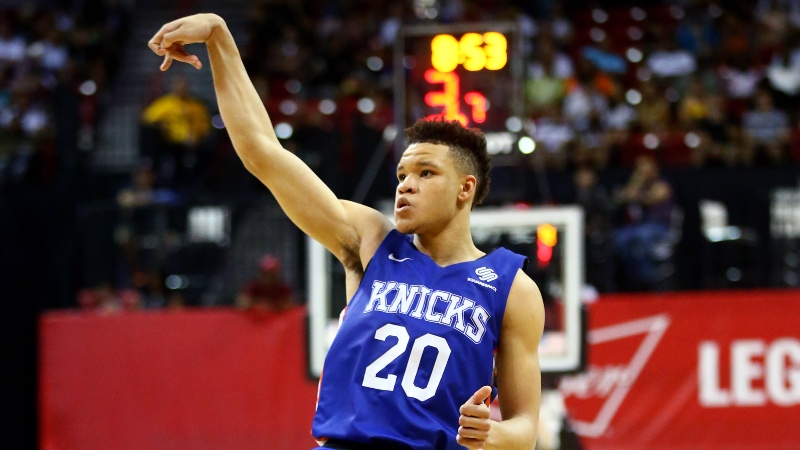 Mark J. Rebilas-USA TODAY Sports. Pictured: New York Knicks forward Kevin Knox
With the information about players and teams still pretty limited, the sharps have largely stayed away from Summer League. But Scucci expects that to change next year.
"We're not seeing a lot of professional play on it, to be honest," Scucci said. "We're seeing more professional play on the WNBA than the Summer League. They have a better beat on it. (The WNBA) has been around so long, and they've got plenty of data on players and rosters. The fact the Summer League is so new makes it just as tough for pro bettors as oddsmakers to get a real hold on consistency and personnel. But as you see each year getting bigger and bigger, it will make sense for pros to spend a lot of time handicapping it."
While the Orleans expanded its offerings to all games and totals this year, Scucci could see more props being introduced next year.
"We didn't book futures or win totals, but if there is a demand for that next year, I can see this growing more and more," he said. "It's another event that people can parlay baseball with. You get to the All-Star break, and after the NBA Finals are over, folks are just clamoring for something new."
How would you rate this article?