2022 Senate Election Betting Odds: Tracker for Which Party Will Win, Closest Races, Where to Bet, Senate Explainers & More
Credit:
Photo courtesy of Getty Images. Pictured: Chuck Schumer.
2022 Senate Election Betting Odds
The Democrats have become the odds-on favorite to retain the Senate majority after making a heavy move last week.
It's the first time in the last three months that the center-left party has been in the lead, according to PredictIt, a non-profit political betting operator and the only way to legally wager on elections in the U.S.
(The Democrats are currently priced at 58¢, or roughly -138 odds in traditional American odds. New to PredictIt? Read further under the subheadline "Where Can You Bet On U.S. Elections?" for a primer on what it is and how to use it.)
The change in marketplace sentiments came as voters in Kansas overwhelmingly voted to protect their right to an abortion last Tuesday, rejecting a ballot that would have given the Republican-controlled legislature the power to ban the practice.
Former president Donald Trump had won Kansas in the 2020 presidential election by 15 points. The state reliably votes for Republican politicians — and their social policies.
The Kansas ballot measure had been the first vote on abortion in the U.S. since Roe vs. Wade was overturned by the Supreme Court in June.
A number of nontraditional voters turned out in Kansas to vote against the ballot initiative, including conservatives, libertarians and moderate independents. The law was rejected by a margin of more than 20 percentage points.
The momentum from the race has Democratic prognosticators excited, with many now optimistic about voter turnout among those angered by the Supreme Court's June decision.
FiveThirtyEight, for instance, gives the Democrats a 60% chance to win 50 or more seats, amounting to odds of about -150.
Whether enough Democrat voters head to the polls in November will be elemental in determining which party wins the Senate and House.
Four key battleground states will decide the fate of the Senate: Arizona, Nevada, Pennsylvania and Georgia.
Effectively, the Democrats will need to win at least three of those four tossup states in order to maintain their majority.
Races in New Hampshire, Wisconsin, Ohio and North Carolina may also prove tricky for each party that's favored. No other race is considered much of a competition, though.
As it stands, the Democratic Party holds de facto control of the Senate with 48 members, two independent members that caucus with the Democrats and Vice President Kamala Harris' tie-breaking 51st vote.
William Hill in the United Kingdom is the book that's the most bullish on the Republicans to take back the Senate. They lays the odds at Republicans -105 as of Tuesday morning. That means you'd have to wager $105 on the GOP to win to profit $100 and your money back.
They're still the underdog relative to the Democrats, though, with the party given -120 odds at the sportsbook to retain their majority.
PaddyPower, another UK sportsbook, slates these odds at Democrats -188 and Republicans +110.
While European sportsbooks aren't available in America, visitors there could have gleaned value had they gotten in last week. The UK books were slow to react to market sentiments before correcting themselves earlier this week.
The Democrats were as long as +225 to win the majority in the Senate before the start of the weekend.
But perhaps it'll revert to that mark soon — if history is any indication.
President's Party Typically Does Poorly During Midterms
While this phenomenon is more universally true in House elections — which we examine in a different story — the Senate hasn't moved in lockstep with the executive branch all that often.
Since the end of World War II, 19 midterm elections have taken place. Only four of those saw the party of the incumbent president gain Senate seats.
One of them — in 2002 — was the only time the incumbent's president's party won a new house of Congress during a midterm. The election was the first held nationally after the September 11th attacks.
And since 1986, only six of 18 elections have seen the president's party gain seats in the Senate.
This phenomenon can be attributed to several factors, of which political scientists differ as to the magnitude of each cause.
The first theory is that voters are motivated by hate — and are generally complacent during times when their candidate or party is in office.
The theory goes that the president's detractors have historically shown up in droves to vote against him. Meanwhile, the president's supporters may be demotivated — perhaps the new executive hasn't performed up to their standards. Or, the stakes for turning up to vote are much lower because the president is assured power.
Midterms do dependently have far, far lower voter turnout relative to presidential elections, according to federal data.
Another hypothesis links the president's approval rating to how well his party will do in the midterms.
The 2002 midterms is a good example of this phenomenon. This election had been just the third midterm since 1945 to have an incumbent pick up seats in the Senate. President George W. Bush's approval rating was through the roof at roughly 75% from 2001 to 2002.
That's the highest average approval rating through the sixth quarter of any president since World War II.
The other two times a president's party has done so? Bill Clinton averaged a 63% approval rating. John F. Kennedy, the only other, averaged an 71% approval rating.
To the contrary, Joe Biden has had the lowest sixth-quarter average approval rating in history at 40%, partly due to party polarization, the coronavirus and troubles with the overall economy.
That last factor is especially prevalent as we approach November with a roughly 9% inflation rate, a mixed stock market and gas prices that are still at record highs.
Jimmy Carter and Donald Trump only had slightly better (42%) approval ratings at this point in their presidencies, according to Gallup.
Carter lost three seats in the Senate and 15 in the House during his midterm elections.
Meanwhile, Trump won two seats in the Senate but lost 42 seats in the House, getting demolished in the popular vote for each race.
Barack Obama, Ronald Reagan and Bill Clinton also had below majority approval after their sixth quarter in office. Obama lost six members in the Senate and 63 members of the House in his first midterm.
Reagan lost no seats in the Senate but 26 in the House. And Clinton lost eight seats in the Senate and 54 seats in the House.
A third theory as to why a president's party does poorly in midterm elections posits that voters change their mind and actively vote against the executive branch's party.
That could be because of slights both real and perceived. Perhaps a Democratic president has implemented policies that Republican and moderate voters find too far-reaching (e.g. the Affordable Care Act under Obama).
Or, maybe voters think the country has gone too far to the right or left, just by virtue of the president having been elected Republican or Democrat.
A variety of studies have found evidence for this phenomenon — called balancing — in a variety of different state, local and federal elections.
Where Can You Bet on U.S. Elections?
Wagering on U.S. elections is not permitted at legal American sportsbooks, although a trader at BetMGM has said he expects the practice to be legal by the 2028 presidential election.
In the meantime, there is no actionable way to place traditional wagers on this year's midterms unless you travel to Europe, where sportsbooks readily post these sorts of odds.
There are some alternatives for American handicappers, however.
PredictIt allows users to wager on election outcomes, but the manner in which you'd do so is more akin to trading on the stock market.
Bettors can "invest" money in a variety of races, including several of November's individual Senate races.
How you'd invest is simple: After depositing money into your account, there are a number of marketplaces available, including individual Senate races and the odds on which party controls the Senate after November, among dozens of others.
The cents provided are how much each market costs. For instance, the odds on the Senate Democrats to win the majority is 56¢ as of Tuesday morning.
Buying 10 shares at 56¢ would mean a total cost of $5.60. If the Democrats end up winning, those shares would settle at $10, netting a profit of $4.40.
Along the way, owners of shares can sell at any point. Often, this creates situations where dozens of shares are being moved within seconds as polls — and rumors — are being finalized on election day.
In lieu of vig — which sportsbooks use to make money — PredictIt utilizes post-trading fees. PredictIt takes 10% in earnings out of every transaction that makes a profit and 5% on withdrawals. Sportsbooks usually take roughly 10% of vigorish out of every transaction, no matter if a bettor wins or loses.
Sales that result in a loss or break even won't be charged with a fee. Withdrawals cannot be done until 30 days after an initial deposit.
PredictIt is legitimate, and is regulated by the federal government's compliance agency that focuses on derivatives and options trading. Under this agreement, PredictIt is required to limit each question to 5,000 total traders and each individual's investment to $850. Traders must also be at least 18 years of age.
Unfortunately, it appears this may be the last time to utilize the service.
On Thursday, the aforementioned federal regulatory body on derivatives and options trading pulled the plug on the website, effective on Feb. 15, 2023. PredictIt said in a statement that it intended to hold all marketplaces until that date.
Bloomberg reported that Commodity Futures Trading Commission staff "determined it had allowed PredictIt to stray too far from the original remit of being a small-scale market designed to facilitate academic research," according to the publication's sources.
Americans can also engage in prize pools operated by sportsbooks such as DraftKings and FanDuel.
For instance, for the 2020 presidential election, bettors could make a set of specific predictions about how the election would go, and the participants with the highest scores could earn prizes up to $100,000.
These prize pools, however, are typically only operated for presidential elections, and the odds of actually winning money are extraordinarily low.
It's currently unclear whether the sportsbooks will launch a similar service for the 2022 midterms, which ordinarily garner far less attention among average citizens.
2022 Arizona Senate Betting Odds
Sen. Mark Kelly, the incumbent, will face off against venture capitalist Blake Masters, who won the Republican primary earlier this week.
Kelly had won his Senate special election in 2019 by just under three points in Arizona, which has turned into a vital battleground state for both local and national elections. In the 2020 presidential election, Biden beat Trump in this state by just over 10,000 votes.
Kelly is the husband of Gabrielle Giffords, the congresswoman who was the victim of an assassination attempt in 2011.
Kelly is reliably center-left, advocating for tight border security measures — not with Trump-era policies — but supporting a path to citizenship for DACA recipients. He's generally pro gun control, pro-choice and pro climate reform.
Read more about how this senator has voted throughout his term here.
Masters is heavily tied with Peter Thiel, the controversial businessman who donates heavily to conservative and libertarian causes. The 35-year-old Masters resigned from his positions at Thiel's foundation and hedge fund in order to run.
Subsequently, Thiel has donated about $15 million to the Masters campaign.
He has espoused conspiratorial views throughout his campaign, including the citing of convicted Nazi war criminal Hermann Goring and the idea that the 2020 presidential election was stolen. He has also said that gun violence should be blamed on "Black people, frankly."
On the fundraising front, Kelly has Masters dominated perhaps more than Jack Nicklaus did. While the former U.S. Navy captain has raised almost $53 million through Q2, Masters only has $4.5 million set up. That's not counting the money Thiel has given his former protege, though.
Kelly has led every poll in this race since the beginning of the calendar year. An investment of $163 on Kelly with PredictIt would net $100. Meanwhile, a $100 bet on Masters would net $163.
2022 Georgia Senate Race Betting Odds
Herschel Walker, a former Georgia and NFL running back, will face off against the incumbent Democrat Sen. Raphael Warnock, who was elected in a special election less than two years ago.
This second battleground state saw two Democratic senators win office in two separate special elections held after the 2020 presidential election.
Warnock's win over former Sen. Kelly Loeffler (R) and Sen. Jon Ossoff's (D) victory over incumbent Sen. David Perdue (R) gave the Democrats the majority in both houses of Congress.
Biden beat Trump in this state by just over 11,000 votes, the first time Georgia had voted for a Democrat since Bill Clinton in 1992.
Walker is endorsed by Donald Trump and has walked in lockstep with the former president on just about every social and cultural policy — namely, immigration and criminal justice.
Beyond that, the former football player has run into trouble with hard to discern and meandering answers to policy questions.
Walker has also been accused of domestic violence by his ex-wife and other partners. He attributes his behavior to dissociative identity disorder, which he was diagnosed with in 2001.
Still, he's still very much in this race, leading polling averages from March until June. Since then, Warnock has taken the slight lead in those data points.
Warnock is a former pastor who, like Walker, had held no political position before running for his current seat. Warnock largely follows center-left policies on climate, immigration, criminal justice reform, medical insurance and education.
He's introduced a bill capping the price of insulin and another one that provides tax credits to incentivize solar energy usage.
Read more about how this senator has voted throughout his term here.
Warnock has run into personal issues of his own, most notably for a 2002 arrest in which he was accused of interfering with a police investigation of abuse claims at a summer camp he was working at. The charges were later dropped.
Warnock is the sturdy favorite across the betting market, in conjunction with his polling data. His odds at PredictIt indicate a $156 bet would net $100.
Those odds had been as low as +163 as recently as May (bet $100, win $163).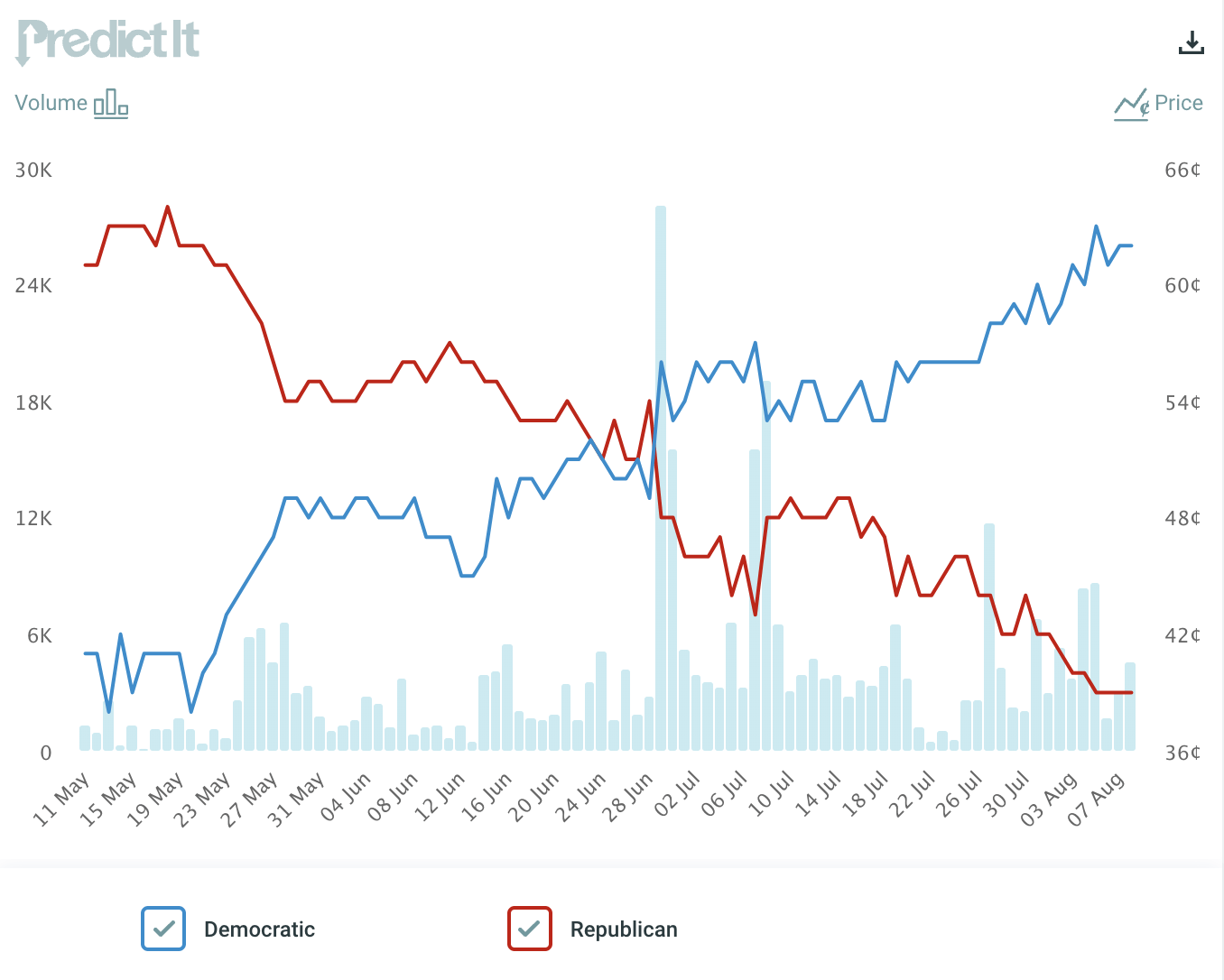 With fundraising, Warnock is running laps around the running back. In the second quarter, the former pastor raised over $17.2 million. Compare that Walker's measly $6.2 million.
2022 Nevada Senate Race Betting Odds
In yet another tossup state, one more Democratic incumbent is facing a Republican challenger.
Like in Georgia and Arizona, the Democratic incumbent is leading in every recent poll. But, in this race, the incumbent is considered the underdog in the American betting markets.
Despite leading all major, credible polls conducted since May, Sen. Catherine Cortez Masto is a +104 underdog at PredictIt as of Thursday morning.
Curiously, Cortez Masto had been trailing in the race all year before experiencing a sudden increase in volume late last week. She's since become the underdog once more.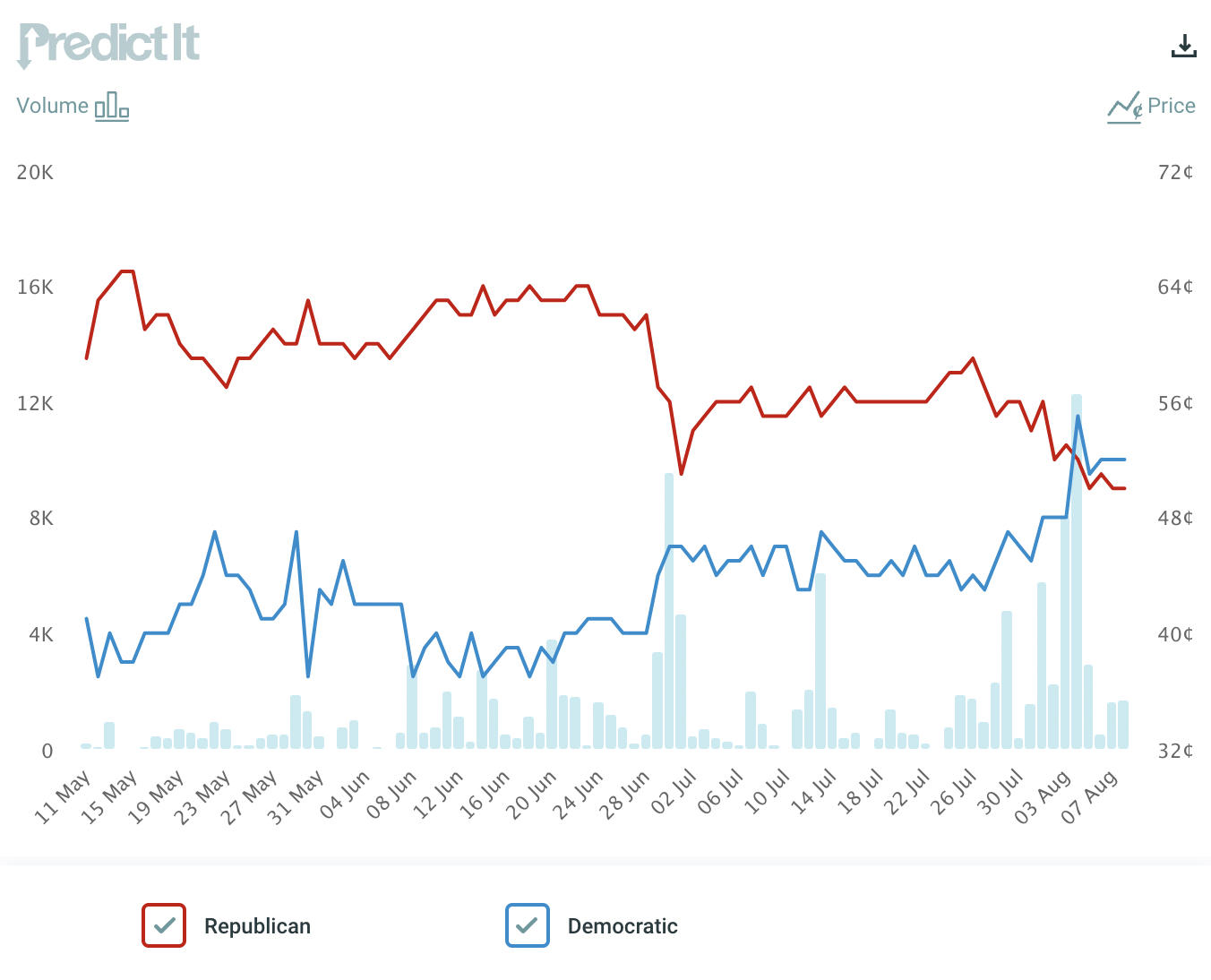 Biden also won this battleground state with razor thin margins in 2020, winning by just over 30,000 votes.
Adam Laxalt is the Trump-backed grandson of a Nevada senator. Laxalt is generally in lockstep with Trump on immigration and social policy, and spent his four years as attorney general of Nevada fighting back against climate reform and supporting anti-abortion legal advocates.
Cortez Masto has voted generally center-left in the Senate, with her most consequential legislative introductions regarding climate reform and women's reproductive rights. She's also a former attorney general of Nevada.
Read more about her legislative history in the Senate here.
By the way, if we're following the money here, Cortez Masto has out-fundraised Laxalt by an almost 3:1 ratio, according to data released for the second quarter of 2022.
2022 Pennsylvania Senate Race Betting Odds
This race involves another celebrity backed by former President Trump — Mehmet Oz, who is facing an uphill battle in this battleground state.
While Oz had been in the lead in the betting markets as recently as June 14, the odds have swung against him — and heavily.
Oz has fallen from as high as a -127 favorite at PredictIt to as low as a +284 underdog.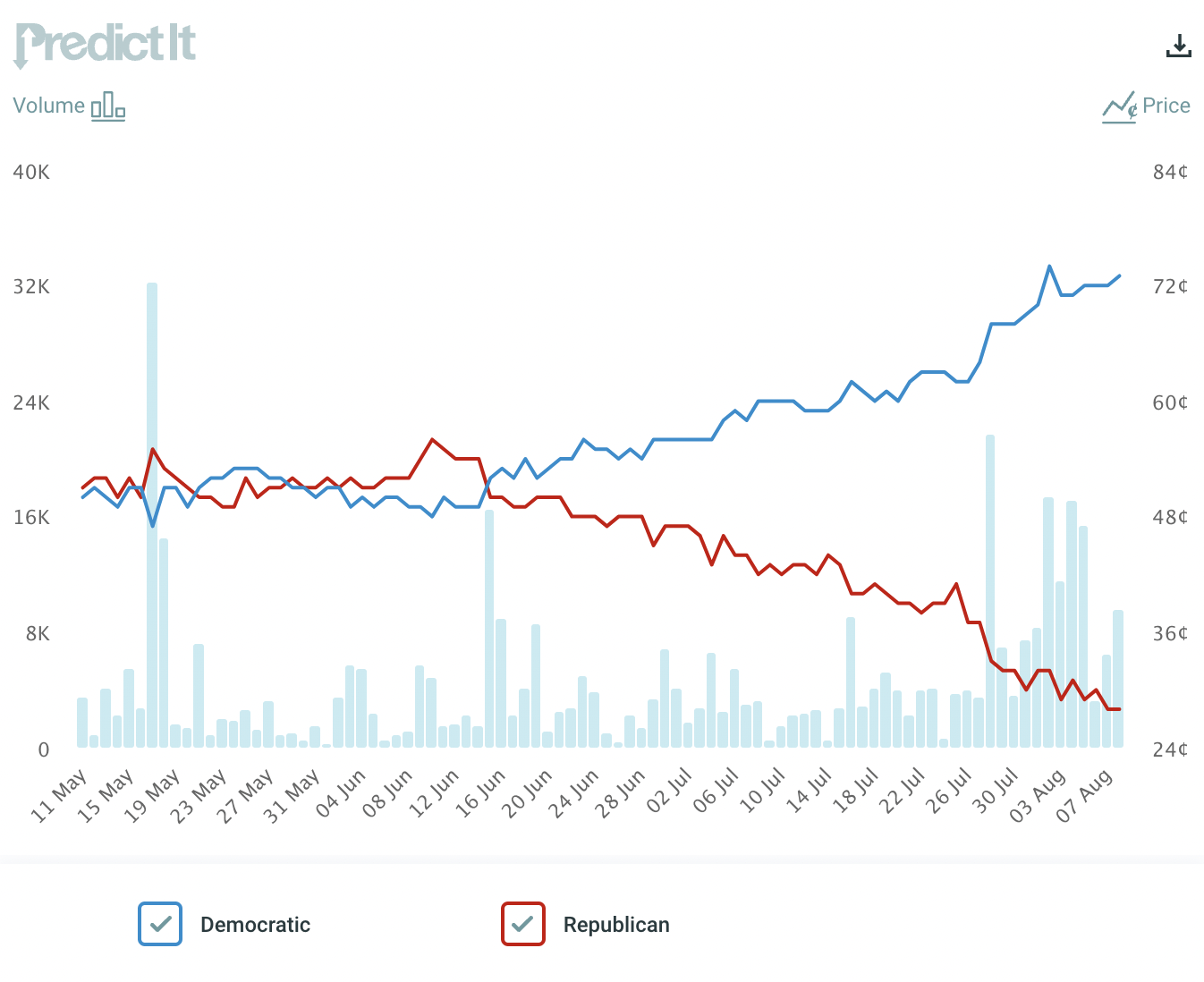 The betting markets have marched in tandem with the polls, which show that Oz's opponent, former Lieutenant Governor John Fetterman, has considerably widened his lead in this race.
That's more on account of Oz's foibles than any other singular factor.
Fetterman has led every poll since the start of the year, including a recent Fox News survey that has him up 11 points in the race.
Fetterman is a true progressive, one who wants America to institute a universal healthcare system — something none of the other aforementioned Democratic candidates have publicly advocated for.
The former lieutenant governor is also to the left of his potential Senate colleagues on criminal justice reform and wealth redistribution.
Meanwhile, Dr. Oz has also claimed to be in lockstep with Trump's immigration and social policy, like Trump's other endorsees. But Oz has shown a propensity to waffle on his policy initiatives, often going out of his way to denigrate a measure that he had been previously on the record supporting.
For instance, Oz had issued plaudits toward the federal government's response to the pandemic, and namely Dr. Anthony Fauci's work, who he called a "pro."
Once Oz ran for Senate, he changed his tone, calling Fauci a "tyrant." These examples pile up across policy initiatives.
As a result of these inconsistencies — and other personal factors — Oz has consistently polled poorly with independent and Republican voters alike.
Fetterman, for what it's worth, has also been raising far more money than the former TV show host has.
What Has This Senate Passed?
This Senate and the overall 117th Congress, fully sworn in on January 20, 2021, has passed several substantial pieces of legislation since the session began.
Among the major ones include a coronavirus relief plan that provided $1.9 trillion to citizens and businesses throughout the country. This was passed under budget reconciliation — so it did not need support from any Republican Senators.
Typically, because of the filibuster rule, bills outside of the purview of budget reconciliation and other a few other procedural exceptions cannot make it out of the Senate. This phenomenon will be examined in the next subheadline.
Another major bill the Senate signed was a $1.2 trillion infrastructure plan that had bipartisan support from 69 senators.
A third major law facilitated by the Senate enhances background checks for gun purchasers below 21 years old, incentivizes states to temporarily confiscated firearms from people considered dangerous and provide a nine-figure sum for mental health and school safety initiatives.
That bill, too, was passed with bipartisan support, including Republican Sen. Minority Leader Mitch McConnell, who was among 13 other Senate Republicans to sign off on the legislation.
This Congress also made Juneteenth a national holiday and implemented two massive spending packages to aid Ukraine after the country was invaded by Russian forces.
Why Are Midterm Elections Important?
Control of the Senate and House can often make or break a presidency. Without control of both chambers of Congress, passing wide-sweeping legislation is virtually impossible.
And even with a simple majority in the Senate, it's nearly impossible, too. That's because of the filibuster, which allows the minority party to delay debate on a proposed piece of legislation until it's effectively doomed.
Without a supermajority of at least 60 senators, the filibuster can be invoked on any proposed legislation. There are some exceptions that can be rammed through — most notably, bills regarding budget reconciliation — but the filibuster as a constraint is the reason Congress has passed record-low legislation since the middle of the 20th century.
For instance, from 1957 to 1959, over a quarter of all bills introduced in the Senate eventually became law. By 2019, that number had reduced to about 4%.
This Congress passed the coronavirus relief bill by means of budget reconciliation. No Republican senator or congressperson voted in favor of the legislation.
Biden's infrastructure bill, too, only passed after invoking budget reconciliation, with House and Senate Democrats being forced to make concessions to their Republican colleagues due to the filibuster.
And the gun bill introduced by Sen. Chris Murphy (D) was done so with bipartisan support only in the aftermath of the shooting at an elementary school in Uvalde, Texas.
Several pieces of wide-ranging legislation that otherwise would have passed through a majority of the Senate have been shut down over the last 30 years because of the filibuster.
During Bill Clinton's presidency, a universal healthcare plan proposed by then-First Lady Hillary Clinton failed to get off the ground despite the Democrats' control of Congress and the presidency. The party failed to garner the 60 votes needed to push past the filibuster in the Senate despite having a 57-43 majority.
The filibuster also allowed Senate Democrats during the Bush administration to limit his tax cut plans to 10 years, with Republicans in Congress forced to set a time limit as a result of the filibuster. Eventually, some elements of the tax cuts were codified during the Obama administration, but not all.
During Obama's presidency, the filibuster restricted the scope of the Affordable Care Act, preventing it from including a public option for healthcare akin to a system used in Germany or Australia.
And the filibuster effectively allowed the ACA to stay intact in the end. The Trump administration and Republican officials attempted to repeal the ACA during his term but were unsuccessful without a 60 person majority in the Senate.
This story will be updated with further odds as polling and data changes.
How would you rate this article?
This site contains commercial content. We may be compensated for the links provided on this page. The content on this page is for informational purposes only. Action Network makes no representation or warranty as to the accuracy of the information given or the outcome of any game or event.