Donald Trump State of the Union Prop Bets
Credit:
© Pool Photo-USA TODAY Sports
Bettors bet. It's what we do. Whether it's a hot dog eating contest, the Little League World Series, or a dilly-dilly Super Bowl prop, we never pass up a valuable opportunity to pad our bankroll.
So while the gambling world remains laser focused on Patriots/Eagles, I'll be getting down on an under-the-radar event taking place Tuesday night at 9 PM ET in our nation's capital.
That's right, I'm talking about President Trump's first State of the Union address (yes, you can bet on it).
Trump's speech comes at a pivotal time in his presidency. His approval rating sits at 38.4%, the lowest rating of any first-year president since Gallup began tracking in 1945. Meanwhile, Democrats and Republicans remain bitterly divided (just look at the recent Government Shutdown), and much to Trump's chagrin, the Mueller Investigation continues.
However, it's not all bad news for Trump. He signed into law the biggest tax cut in over 30 years. The economy is booming and unemployment is falling. He's slashed thousands of regulations, appointed a record-number of appellate judges and, most importantly, added Republican Neil Gorsuch to the Supreme Court.
In front of his biggest audience of the year, with the 2018 Midterms just around the corner, will Trump reach across the aisle and act "presidential"? Or will he focus on his base and stick to the polarizing style of politics that won him the presidency in the first place?
If you think you know the answer to that question, you could make some money Tuesday night.
-First two words of speech are "Thank You": Yes -400, No +300
-Who does he mention first? North Korea +130, Mexico +175, China +200, Russia +450
-Does he mention CNN? Yes +275, No -375
-Does he mention ISIS? Yes -800, No +500
-Does he mention NAFTA? Yes -155, No +125
-Does he mention Tax Cuts? Yes -600, No +400 (Now Off The Board)
-Does he mention Unemployment? Yes -800, No +500 (Now Off The Board)
-Total number of times Trump says "jobs": Over 7.5  -160, Under 7.5  +130
-Total number of Trump tweets on January 30th: Over 3.5  -160, Under 3.5  +130 (Now Off The Board)
-Length of Trump's Speech: Over 60.5 minutes +110, Under 60.5 minutes -140
-What color tie will Trump wear? Red -250, Blue +190. Other +500 (Now Off The Board)
-Ivanka's dress color: Black +225, Blue +225, White +400, Red +450, Other +400 (Now Off The Board)
-Average viewership: Over 42.5 Million -115, Under 42.5 Million -115
-Will Trump mention "Fake News"? Yes +250, No -325
-Will Trump mention "Amnesty"? Yes +190. No -230
-Will Trump mention "Chuck Schumer"? Yes +280, No -360
-Will Trump mention "ISIS"? Yes -1000, No +600 (Now Off the Board)
-Will Trump mention "Justice Gorsuch"? Yes -250, No +195
-Will Trump mention "North Korea"? Yes -1200, No +650 (Now Off The Board)
-Will Trump mention "Obama"? Yes +200, No -260
-Will Trump say "Make America Great Again"? Yes -500, No +350
SOTU Prop picks
Over 7.5 mentions of "Jobs" -145: I'm surprised the over is so cheap. This should be -500 or more. With the economy booming, it's a good bet Trump will brag about the strong labor force. He also might unveil a new infrastructure plan, touting the countless jobs it would create. You should get three "jobs" right off the bat: "jobs, jobs jobs." Now we only need 5 more the rest of the way. (Update: Jobs Over now -160)
Tremendous investment by companies from all over the world being made in America. There has never been anything like it. Now Disney, J.P. Morgan Chase and many others. Massive Regulation Reduction and Tax Cuts are making us a powerhouse again. Long way to go! Jobs, Jobs, Jobs!

— Donald J. Trump (@realDonaldTrump) January 24, 2018
Mentions Tax Cuts -600, Unemployment -800, and ISIS -500
: I hate laying such a huge number on any kind of prop, especially when the limits are low to begin with. But despite a small payout, I love free money more. There's no such thing as a "lock" in betting, until now. Grab these props asap before the prices rise. If only we could parlay them together. Thank Jay-Z for the timely motivation. (Update: Tax Cuts and Unemployment now off the board, ISIS now -800)
Unprecedented success for our Country, in so many ways, since the Election. Record Stock Market, Strong on Military, Crime, Borders, & ISIS, Judicial Strength & Numbers, Lowest Unemployment for Women & ALL, Massive Tax Cuts, end of Individual Mandate – and so much more. Big 2018!

— Donald J. Trump (@realDonaldTrump) January 20, 2018
ISIS is in retreat, our economy is booming, investments and jobs are pouring back into the country, and so much more! Together there is nothing we can't overcome–even a very biased media. We ARE Making America Great Again!

— Donald J. Trump (@realDonaldTrump) January 18, 2018
Somebody please inform Jay-Z that because of my policies, Black Unemployment has just been reported to be at the LOWEST RATE EVER RECORDED!

— Donald J. Trump (@realDonaldTrump) January 28, 2018
Mentions NAFTA +115: Trade is expected to be a big part of Trump's speech. During the campaign, Trump railed against NAFTA and "unfair deals" negotiated by "stupid" politicians. Plus, Trump just got back from from the Davos World Economic Forum so the topic of trade will be on his mind. I'll take a shot on the plus money payout. (Update: NAFTA now -155 favorite)
Mentions North Korea first +175, before Mexico, China and Russia: Trump can take a victory lap. His tough stance has led North Korea to the negotiating table with South Korea. Plus no Nuclear War, yet. Most of all, you know he's dying to taunt Rocket Man one last time on the world's biggest stage. (Update: North Korea now +130 favorite)
Mentions Chuck Schumer +280: With the immigration debate raging on Capitol Hill, you know the topic of DACA will come up. I expect Trump to reiterate his love for the wall and blame Schumer, the Democratic leader, for the lack of an immigration agreement.
DACA has been made increasingly difficult by the fact that Cryin' Chuck Schumer took such a beating over the shutdown that he is unable to act on immigration!

— Donald J. Trump (@realDonaldTrump) January 26, 2018
Mentions Justice Gorsuch -155: Aside from Tax Reform, getting Gorsuch onto the Supreme Court has been arguably Trump's biggest accomplishment thus far. Gorsuch will be seated in the front row during Trump's speech. I'll lay -155 and see you at the window. (Update: Gorsuch now -250 favorite)
Ready for 2020?
Trump as a +300 favorite to win re-election in 2020. His closest competitors? Elizabeth Warren (+800), Bernie Sanders (+1000) and Oprah (+1000).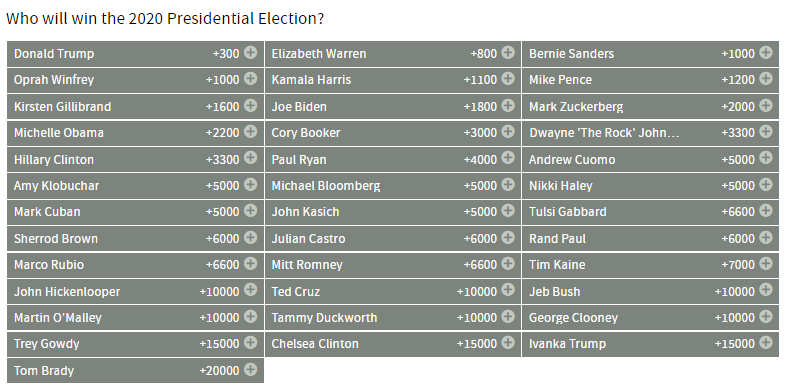 Will Trump complete his first term? At the Irish sportsbook Paddy Power, "No" is the favorite at -137 (Yes +100).

While Trump isn't expected to resign (No -333, Yes +240), his odds of being impeached are perilously close to 50/50 (Yes +100, No -137).


If you think Trump won't make it, is offering a handful of juicy one-way doomsday props.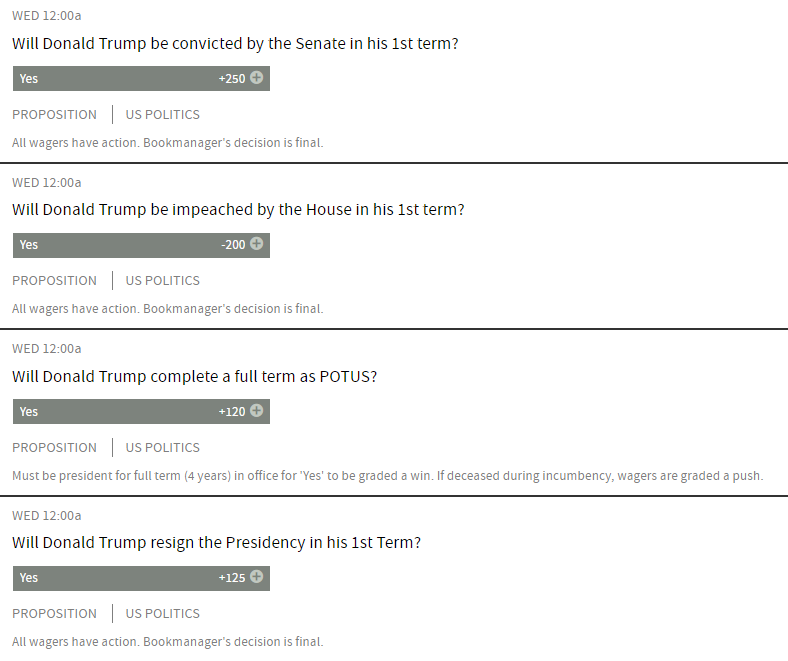 What do you think?
Will you be watching the State of the Union address? Do you see any prop bets offering value?
More broadly, are you betting on Trump to win re-election in 2020? Should Trump be worried about the Mueller Investigation? Or is it all Fake News?
Cover photo by Jim Lo Scalzo-Pool Photo via USA TODAY Sports
How would you rate this article?