Trump Impeachment Odds Reach All-Time High Following BuzzFeed's Cohen Report
Credit:
President Donald Trump. Credit: Brad Mills-USA TODAY Sports
Donald Trump impeachment odds have spiked following the BuzzFeed report that Trump directed Michael Cohen to lie to Congress.
Trump is now close to 60% to be impeached at PredictIt, an all-time high
Trump is almost at even money (+120) to be impeached at one offshore sportsbook
Late Thursday night, BuzzFeed dropped a major bombshell that has caused Donald Trump impeachment odds to rise.
According to multiple sources, Trump told his former personal attorney Michael Cohen to lie to congress about the Trump Tower Moscow project and also set up a meeting in Russia with Vladimir Putin during the 2016 presidential campaign.
Rep. Adam Schiff (D-California), who chairs the House Intelligence committee, called the report "the most serious to date."
That's an important quote, as Democrats now control the House of Representatives, which would have to initiate the drafting of Articles of Impeachment.
The shifting of power in the House, combined this BuzzFeed report, caused Trump's impeachment odds to spike on Friday.
At PredictIt, the chances of Trump being impeached in his first term have increased from 47% to 57% over the past 48 hours
This represents an all-time high.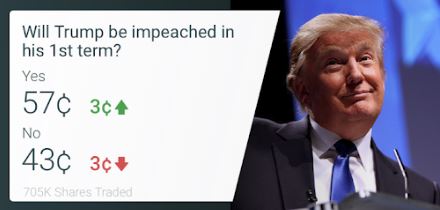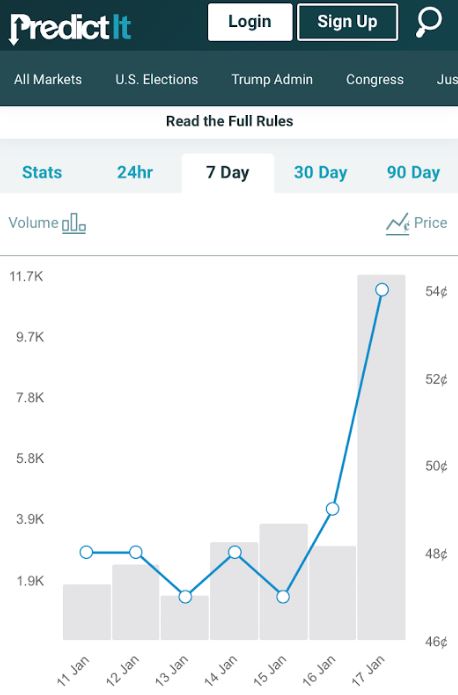 "Prediction markets on President Trump's job tenure responded quickly to the BuzzFeed article, with his 2019 impeachment odds shooting up 15 percent, to 50 percent, in the last 24 hours, and similarly, his first term impeachment odds almost cracking the 60 percent mark," PredictIt spokeperson Will Jennings told The Action Network.
"Compared to most investigation developments, this narrative may have some real staying power in the markets. As we await Cohen's Congressional hearing in early February, we'll be watching to see if it's a blip or the real thing. Both markets have been in our top-traded yesterday and today."
The odds of Trump being impeached have moved from +140 to +120 over the past 24 hours. This translates from a 41.7% chance to a 45.5% chance.
Another way to interpret these odds: the likelihood of Trump being impeached is now almost an even odds, or a 50/50 coin flip, according to one betting market.