Watch 'I'll Take That Bet' — Episode 113: NFL Conference Championships, Championship Weekend Props, National Anthem Prop
Episode 113 of our sports betting show "I'll Take That Bet" is live, covering every angle of the NFL Conference Championship games, including some exotic props covering all four teams, debating the Super Bowl national anthem, and so much more!
Watch the full episode on ESPN+ here.
If you missed the last episode, here's the gist of the show: Two analysts — in today's case, Geoff Schwartz and Chris Raybon — draft their favorite picks of the day from a board of 10 bets. These are real wagers you can make across the gambling universe.
Here's Friday's board: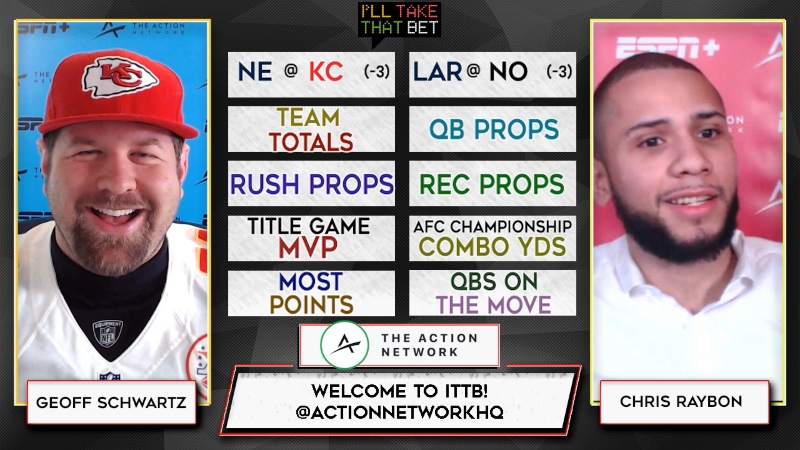 Here's how the picks played out in the show. You'll want to stick around to the end to see the guys bet on the color of Gladys Knight's outfit when she sings the national anthem. You can watch the full episode exclusively on ESPN+.
PICK NO. 1 (CHRIS): Kansas City Chiefs (-3) over New England Patriots (-110)
PICK NO. 2 (GEOFF): Kansas City Chiefs Team Total Over 29.5 against the New England Patriots (-110)
PICK NO. 3 (CHRIS): Kansas City Chiefs point guard Patrick Mahomes to throw for the most passing yards (+225)
PICK NO. 4 (GEOFF): Kansas City Chiefs wide receiver Tyreek Hill Over 80.5 receiving yards (-110)
PICK NO. 5 (CHRIS): New England Patriots running back Sony Michel Under 75.5 rushing yards (-110)
PICK NO. 6 (GEOFF): New Orleans Saints (-3) over Los Angeles Rams (-110)
PICK NO. 7 (CHRIS): Kansas City Chiefs quarterback Patrick Mahomes to win Super Bowl MVP (+300)
PICK NO. 8 (GEOFF): New Orleans Saints to score the most points over Championship Weekend (+175)
PICK NO. 9 (CHRIS): Kansas City Chiefs duo Patrick Mahomes and Damien Williams to have more combined yards than New England Patriots duo Tom Brady and Sony Michel (-150)
PICK NO. 10 (GEOFF): Philadelphia Eagles quarterback Nick Foles to play for the Jacksonville Jaguars on Week 1 of 2019 (+350)