Watch 'I'll Take That Bet' — Episode 135: NBA on ESPN, March Madness Props, Next Coach Fired
Episode 135 of our sports betting show "I'll Take That Bet" is live, breaking down the evening in the NBA, hitting on some March Madness props, wagering on the next NBA coach to be fired, and so much more!
Watch the full episode on ESPN+ here.
If you missed the last episode, here's the gist of the show: Two analysts — in today's case, Matt Moore and Evan Abrams  — draft their favorite picks of the day from a board of 10 bets. These are real wagers you can make across the gambling universe.
Here's Wednesday's board: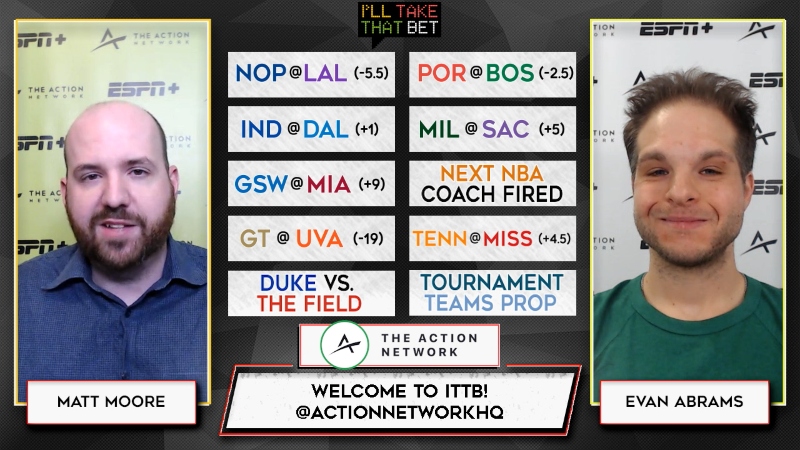 Here's how the picks played out in the show. You can watch the full episode exclusively on ESPN+.
PICK NO. 1 (EVAN): Over 6.5 teams from the Big 12 will make the 2019 NCAA Basketball Tournament (-120)
PICK NO. 2 (MATT): Los Angeles Lakers head coach Luke Walton to be the next NBA head coach fired (+400)
PICK NO. 3 (EVAN): Duke Blue Devils will not win the 2019 NCAA Basketball Tournament (-257)
PICK NO. 4 (MATT): Boston Celtics (-2.5) over Portland Trail Blazers (-110)
PICK NO. 5 (EVAN): Under 119 between Georgia Tech Yellow Jackets and Virginia Cavaliers (-110)
PICK NO. 6 (MATT): Golden State Warriors (-9) over Miami Heat (-110)
PICK NO. 7 (EVAN): Mississippi Rebels (+4.5) over Tennessee Volunteers (-110)
PICK NO. 8 (MATT): Indiana Pacers (-1) over Dallas Mavericks (-110)
PICK NO. 9 (EVAN): Under 238.5 between New Orleans Pelicans and Los Angeles Lakers (-110)
PICK NO. 10 (MATT): Milwaukee Bucks (-5) over Sacramento Kings (-110)