Watch "I'll Take That Bet" – Episode 53: College Football Week 5
Episode 53 of our sports betting show "I'll Take That Bet" is live discussing the College Football Week 5 Preview Show, talking Ohio State-Penn State, Stanford-Notre Dame, West Virginia-Texas Tech, as well as many others from this weekend.
Watch the full episode on ESPN+ here.
If you missed the last episode, here's the gist of the show: Two analysts — in today's case, Dan Rubenstein and Paul Lo Duca — draft their favorite picks of the day from a board of 10 bets, plus a bonus side action bet. These are real wagers you can make across the gambling universe.
Here's tonight's board: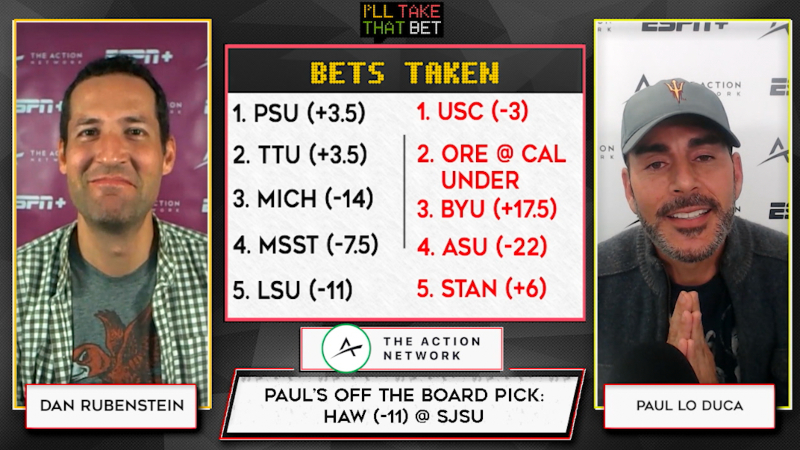 Here's how the picks played out in today's show. You can watch the full episode exclusively on ESPN+ . You'll want to stick around to the end for Paul's "Off The Board" pick of the week on the Hawaii-San Jose State college football game Saturday night.
PICK NO. 1 (PAUL): USC Trojans (-3) over Arizona Wildcats (-110)
PICK NO. 2 (DAN): Penn State Nittany Lions (+4) over Ohio State Buckeyes (-110)
PICK NO. 3 (PAUL): Oregon Ducks-Cal Bears Under 59 (-110)
PICK NO. 4 (DAN): Texas Tech Red Raiders (+4) over West Virginia Mountaineers (-110)
PICK NO. 5 (PAUL): BYU Cougars (+17.5) over Washington Huskies (-110)
PICK NO. 6 (DAN): Michigan Wolverines (-14) over Northwestern Wildcats (-110)
PICK NO. 7 (PAUL): Arizona State Sun Devils (-22) over Oregon State Beavers (-110)
PICK NO. 8 (DAN): Mississippi State Bulldogs (-7) over Florida Gators (-110)
PICK NO. 9 (PAUL): Stanford Cardinal (+6) over Notre Dame Fighting Irish (-110)
PICK NO. 10 (DAN): LSU Tigers (-13.5) over Mississippi Rebels (-110)
How would you rate this article?