Watch 'I'll Take That Bet' — Episode 63: Monday Night Football, NBA Tipoff, MLB Playoffs
Episode 63 of our sports betting show "I'll Take That Bet" is live, discussing Monday Night Football, Tuesday's NBA season opening games, the MLB Playoffs and so much more!
Watch the full episode on ESPN+ here.
If you missed the last episode, here's the gist of the show: Two analysts — in today's case, Blackjack Fletcher and Geoff Schwartz — draft their favorite picks of the day from a board of 10 bets, plus a bonus bet. These are real wagers you can make across the gambling universe.
Here's Monday's board: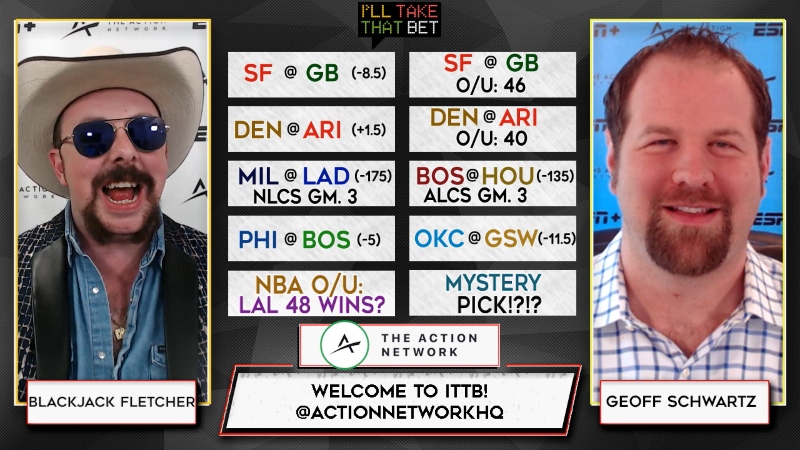 Here's how the picks played out in the show. You can watch the full episode exclusively on ESPN+. You'll want to stick around to the end for Blackjack and Geoff's bonus bet on where Eli Manning ends up working next year.
PICK NO. 1 (GEOFF): Green Bay Packers Team Total Over 27.5 (-110)
PICK NO. 2 (BLACKJACK): San Francisco 49ers (+8.5) over Green Bay Packers (-110)
PICK NO. 3 (GEOFF): Over 46 between San Francisco 49ers and Green Bay Packers (-110)
PICK NO. 4 (BLACKJACK): Boston Celtics (-5) over Philadelphia 76ers (-110)
PICK NO. 5 (GEOFF): Los Angeles Lakers Over 48 Wins in the 2018/19 season (-110)
PICK NO. 6 (BLACKJACK): Los Angeles Dodgers Money Line over Milwaukee Brewers (-175)
PICK NO. 7 (GEOFF): Over 223.5 between Oklahoma City Thunder and Golden State Warriors (-110)
PICK NO. 8 (BLACKJACK): Arizona Cardinals (+1.5) over Denver Broncos (-110)
PICK NO. 9 (GEOFF): Over 40 between Denver Broncos and Arizona Cardinals (-110)
PICK NO. 10 (BLACKJACK): Houston Astros Money Line over Boston Red Sox (-135)