WNBA Championship Picks: Why The Storm & Sky Are Our Favorite Title Bets
Credit:
Michael Gonzales/NBAE via Getty Images. Pictured: Allie Quigley, Gabby Williams, Diamond DeShields
WNBA Championship Odds & Picks
---
Odds as of July 25 and via FanDuel. If you're new to betting, +450 odds mean a $100 bet would net $450 with a win. The above implied probabilities are vig-free, so they do not include the cut the sportsbook is taking.
---
The WNBA tips off its 2020 campaign from its bubble — or the "Wubble" — at IMG Academy in Florida on Saturday.
In anticipation of the shortened 22-game season, our staff breaks down their favorite title bets, featuring one favorite and a longshot.
Let me take you back to a better, simpler time.
It was 2018 and the Seattle Storm finished the season with the WNBA's best record, 26-8. They finished with the second-best offense — 108.5 points per 100 possession, just .1 points per 100 possessions behind the No.1 offense in Connecticut. They finished with the third-best defense. And they beat opponents by 9.2 points per 100 possessions. That's an absolute beatdown.
Some of this is just the simple math aspect. The 2018 Storm had the second-highest 3-point rate in league history. They bomb 3s. Their offense is hyper-optimized.
Then in 2019, the Storm lost both Sue Bird and Breanna Stewart to injuries.
Stewie in particular suffered a devastating injury — a ruptured Achilles tendon. That's usually a death knell to basketball careers. But we simply don't have enough evidence within the WNBA to make that assertion, and there's anecdotal evidence that WNBA players may fare better than their NBA counterparts in this regard.
Bird, meanwhile, is near the end of her career but remains very much capable of schooling everyone.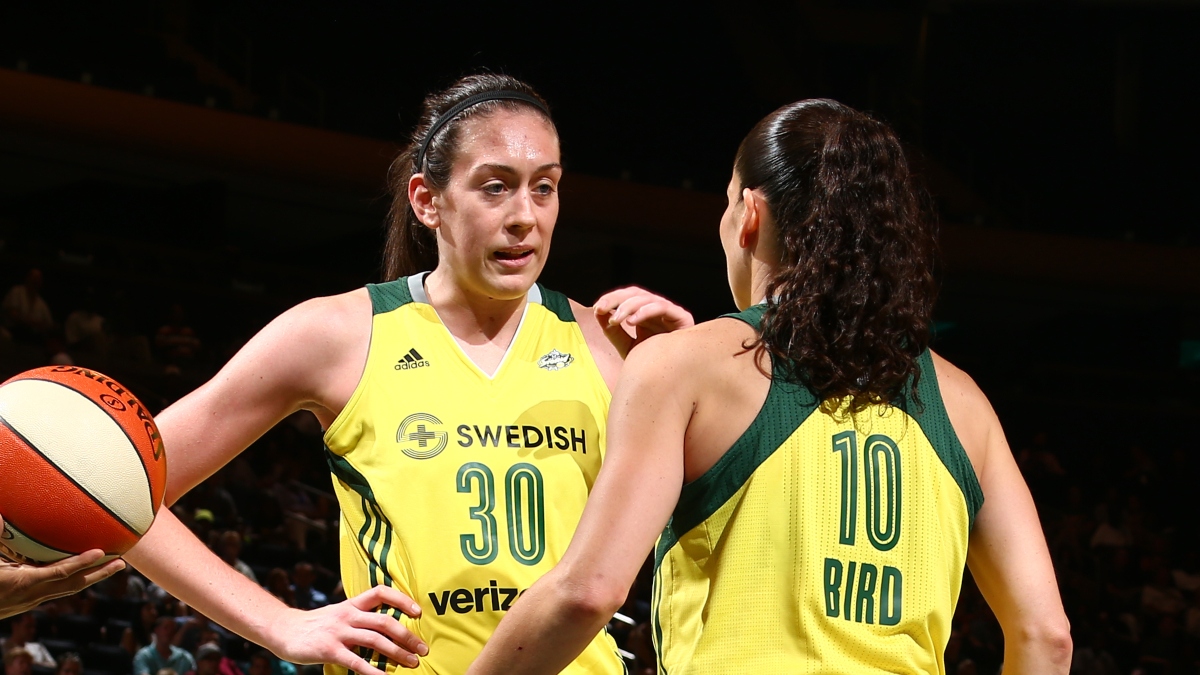 The Storm, it turns out, are actually one of the more complete teams in the Wubble.
The Mystics are without Elena Delle Donne, LaToya Sanders and Natasha Cloud, and lost Kristi Toliver in free agency to the Sparks.
Oh, but look at that — Toliver is sitting out, too, along with Chiney Ogwumike.
The Aces, the favorite at some books, lost Liz Cambage. That's a huge blow for a team that runs everything inside in an archaic offense.
Then there's the Sun, last year's runner-up, who went through a total team roster change. And their returning star Jonquel Jones … is sitting out.
This is a battle of attrition and the Storm, ironically, are best suited to survive it — not only because of their players at the top, but their championship pedigree and efficient play-style.
The Storm are without coach Dan Hughes due to COVID-19 concerns, but Gary Kloppenburg takes over after coaching the star-less Storm last season to 18-16 and an advancement to the second round. There's continuity and Hughes can provide feedback during the process — I'm evaluating this situation much like when Luke Walton took over for the juggernaut Warriors. The system drives itself.
I'm getting +450 on the team that's the defending team when their stars are healthy. They return those two stars to a team that leads the league in returning players' minutes from last year. They are deep, they are talented, they are modern, they are well coached, they have experience and they are hungry.
I hear lightning.
[Bet now at FanDuel. NJ, PA, IN and WV only.]
In a normal year, we might say the Sky are another season away from true title contention. But as we all know, 2020 is anything but a normal year. To that point, consider that each of last year's top-four teams will be playing without one — and in some cases, multiple — All-Star caliber players.
Although we've known for some time now that players like EDD, Tina Charles, Cambage and Jones will be sitting out, Washington, Connecticut and Las Vegas remain comfortably ahead of Chicago on the oddsboard.
Given that the Sky had the fifth-best record in 2019 and they'll be closer to full strength than the four teams that finished ahead of them, they're already a value at +1300 to win the championship.
To put Chicago's title odds into perspective, at +1300, the Sky are tied with the Liberty — who head to Bradenton with seven (SEVEN!) rookies on their roster and are coming off a 10-24 finish in 2019 — as the seventh-likeliest team to win the title.
The Sky are simply not getting the respect they deserve.
As for Chicago's on-court product, we can expect buckets, and lots of them. With the Mystics looking highly unlikely to repeat last season's success, the Sky should be considered the favorites to lead the WNBA in scoring after finishing second in points per game last season, especially if Diamond DeShields is able to make the Year 3 leap that many are projecting.
In the backcourt, sharpshooter Allie Quigley and floor general Courtney Vandersloot have shown no signs of slowing down, while Azura Stevens should be able to replicate Jantel Lavender's (foot) range in the frontcourt.
Defense will remain an issue for Chicago in 2020, but it's hard to envision many teams matching the Sky's offensive firepower inside the Wubble.
How would you rate this article?