FanDuel Can't Verify Your Location? 8 Troubleshooting Steps
Credit:
Pavlo Gonchar/SOPA Images/LightRocket via Getty Images. Pictured: A FanDuel photo illustration.
FanDuel Sportsbook is one of the most popular online sportsbooks on the market. But with any sportsbook, there can be issues verifying your location. And that can be frustrating if you're quickly trying to place a bet.
This happens far more often on computers, in which users need a third-party plugin to verify their identity. On iPhones, users will should be automatically detected by the phone's location services.
What's the best course of action for detecting your location at FanDuel? Take a look at the steps below to ensure your location is accurate.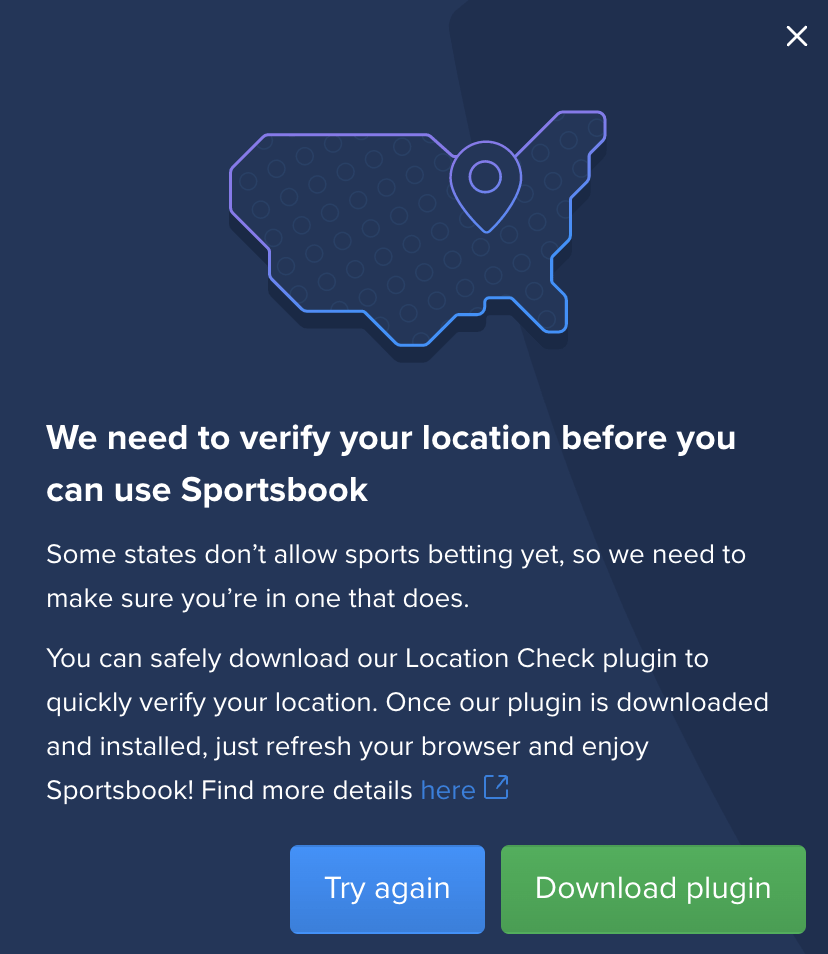 1. Try Again
This may seem like a simple term, but it's the easiest way for FanDuel to detect your location. Simply hit the "try again" button after you receive the error message from FanDuel.
This prompts FanDuel to retest your location. Speaking from personal experience, you may have to do this two or three times before it confirms your location.
Thankfully, it typically works after a few tries. It's simple enough to click the button and generally takes less than a few minutes.
2. Download the GeoComply Plugin
Online sports betting sites must locate you before allowing you to place bets. Sportsbooks can't let you wager if you're in a state that doesn't allow sports betting.
GeoComply is a location plugin that you install on your computer. FanDuel and all other sportsbooks use this technology to pinpoint your exact location. They're required to do so.
Once you download the plugin, it shouldn't take long for FanDuel to verify your location. If you're still having trouble, check out our GeoComply troubleshooting tips.
3. Make Sure Location Services are Enabled
I'm sure everyone is well aware of location services when using an iOS or Android device. When using a mobile app, they often see a prompt asking about location services. Well, this should always be on when using FanDuel.
It's impossible for FanDuel to detect your location if the location services are turned off. If that's the case, you won't be betting.
Users need location services enabled, whether it's the app or desktop site. It can vary by device, but you can typically find this feature in your settings.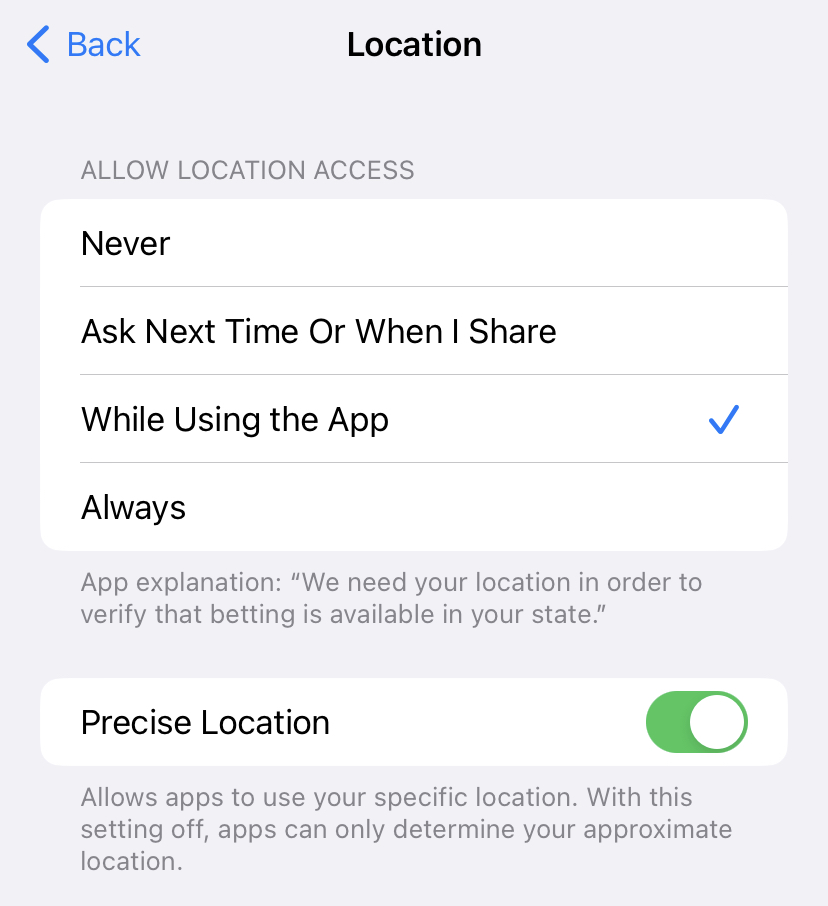 4. Close and Reopen the Browser/App
This may seem like a simple term that can apply to anything on your phone or computer. However, this can often be a quick fix that people don't realize.
It could be a variety of reasons that FanDuel isn't detecting your location. Perhaps there's something wrong with your browser that just needs a quick restart. Closing and reopening could do the trick.
It serves the same purpose when you close the FanDuel Sportsbook app on your phone. This can reset the location services and allow you to place your bets.
5. Turn Off Any VPNs
A VPN can alter your location, making your computer show you are in a different location than you actually are. This may not be bad for most services, but it's a no-go for betting sites.
Sportsbooks can detect when you're using a VPN. It'll cause trouble in finding your location, making it impossible to bet at FanDuel.
You don't need to remove the VPN to access FanDuel, but it needs to be turned off. If not, you won't be able to bet on FanDuel or any other online sportsbook.
6. Reset Your WiFi
Sometimes, your computer or phone won't connect to the internet. This could be for various reasons, but it typically causes issues with your location.
You may just need to reset your WiFi to fix your location issues. Once the WiFi is back online, FanDuel should have a much easier time detecting your location.
There are a few different ways to reset your WiFi. You can turn it on and off from your computer or phone. Perhaps the more effective way is to unplug your router.
7. Use a Different Device
If you've tried all the troubleshooting steps and FanDuel still can't detect your location, it may be time to try a different device.
If you're used to using FanDuel on your computer, it may be time to try the mobile app. Mobile users may have to fire up their computer to use the popular betting site.
Ultimately, the issue may have nothing to do with FanDuel. Instead, it could be something wrong with your computer that affects everything. If possible, you should bet on a different device.
8. Make Sure You're Not in a 'Dead Zone'
The sportsbook location services aren't perfect, and sometimes get confused when you're close to a state border — even if both states have legal sports betting.
For example, within about a mile of the PA/New Jersey border, we've had trouble placing bets because it can't figure out what state you're in. Same thing for New Jersey/New York, and I imagine other places.
There's not really a way around this, other than driving further into one state or the other.
How would you rate this article?
This site contains commercial content. We may be compensated for the links provided on this page. The content on this page is for informational purposes only. Action Network makes no representation or warranty as to the accuracy of the information given or the outcome of any game or event.