The Most Valuable Commodity in Sports Betting, DFS Is (Fast) Information
Credit:
Photo credit: Nelson Chenault-USA TODAY Sports. Pictured: Kyle Lowry
There are many ways to create edges in the betting and DFS markets, including models, historical trends and proprietary data.
But perhaps the most important commodity in the betting world is quick information. Following and setting alerts for news feeds can provide bettors with a huge edge at times.
The Action Network is a sports media company, but I like to think of us as a sports information company, too. Sure, we have analysis from writers, but we also have a vast array of tools with loads of invaluable data.
In our tools across our various sites, you can see …
And, honestly, that's like 1% of the information we have. Our goal is, if you want to gamble on sports via betting or DFS, to provide you with all the data and information you need to make the most +EV bets.
The third bullet point above is one I specifically want to highlight, as it was a point our own Adam Levitan made on his podcast recently — that fast information is the most valuable commodity in the betting/DFS market.
You can use our betting/DFS trends tools to build models to identify value for a bet or DFS player, but those edges will be small. The market for those things are quite efficient, and it's why even having a 56% win rate on a historical trend is valuable. Those small edges matter.
But that way of betting or DFS playing requires really grinding over time to feel that edge. Take an underdog moneyline trend, for example: Underdogs lose more often than not, so even if they're undervalued over time by the betting market, it will take volume to realize that edge.
The value of the underdog for one individual game will be 0% or 100% — you win or lose the bet. But over time — and only over time — will that X% expected ROI be realized.
But having incredibly quick information is an edge that won't be seen by betting or DFS systems. The best way to measure a system or trend is to measure them against the closing line — but, as you know, you don't have to bet against the closing line. You can bet a line anytime it's up.
Here's an example from Sunday's NBA slate.
At 2:59 p.m. ET, we tweeted out that Kyle Lowry and Pascal Siakam were ruled out against the Denver Nuggets. Backup PG Fred VanVleet was listed as doubtful, and the Raptors were already down another rotation piece in center Jonas Valanciunas.
The consensus spread for that game at 2:59 p.m. ET was Nuggets +3.5. According to Sports Insights, the consensus line was updated at 3:08 p.m., in which it moved to Nuggets +3. Three minutes later it jumped in a big way to Nuggets +1.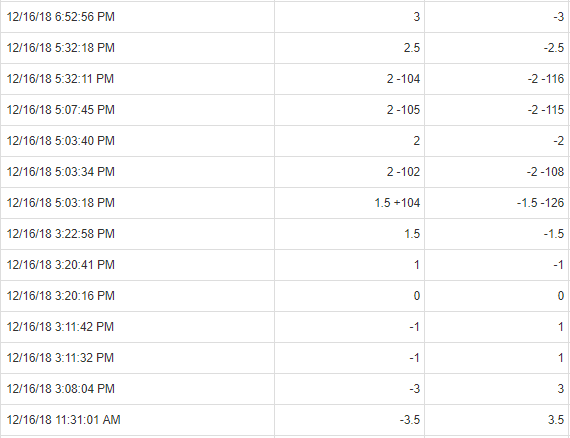 The stats this year show that those players for the Raptors are incredibly valuable to the team. Per Cleaning the Glass, the Raps have been 13.7 points per 100 possessions better with Lowry on the court vs. off — the 95th percentile of all players this season. They've been 17.3 points/100 better with Siakam on vs. off — the 97th percentile.
The line on this game eventually closed at Nuggets -3.5, highlighting the importance of those players. But it took awhile for the market to adjust, leaving time for bettors to take advantage of the quick injury news before the rest of the market realized the opportunity.
The same edge exists in DFS: You can debate whether Joel Embiid should be projected for 50 FanDuel points or 53 — but that's mostly splitting hairs, and that difference may not end up mattering for a slate.
But what will matter is if Embiid is ruled out 10 minutes before lock and he's still owned in 10% of lineups that are now dead — and the DFS market doesn't adjust to the increased opportunities for Ben Simmons and Jimmy Butler.
Now, it's important to remember that most players aren't worth anything to the spread, so it's not like there will be incredible edges every single day for either the betting or DFS market. But they do exist — and making sure you're getting the fastest information possible is the way to capitalize on them.
That's what I mean by "the most valuable commodity in betting and DFS is (fast) information." Yes, look up historical trends and build systems. Yes, grind stats and learn who the most valuable players are. Yes, identify if a team has an edge on its opponent that's not reflected in the market.
Those are all good exercises and will lead to long-term value.
But make sure you're subscribing to our news feeds. Make sure you have alerts set for them, and set alerts on when lines move if you'd like. It might be the most valuable way to become a profitable bettor.
How would you rate this article?
This site contains commercial content. We may be compensated for the links provided on this page. The content on this page is for informational purposes only. Action Network makes no representation or warranty as to the accuracy of the information given or the outcome of any game or event.