Sharp Money 101: How to Track Professional Betting Action
Credit:
Matthew O'Haren-USA TODAY Sports. Pictured: NASCAR fans review their sports bets
The Action Network's Josh Appelbaum and Danny Donahue discuss the tools and strategies they use to identify and track sharp money.
Some of those strategies include utilizing Sports Insights' Bet Signals, identifying reverse line movement and comparing bet and dollar percentages.
If you're a frequent reader of The Action Network, you've probably crossed paths with our "Sharp Reports" on a few occasions (or more, hopefully).
Assuming so, you're aware that sharps are bettors with long track records of success, and our reports are meant to encompass the picks that have generated the most action from those bettors on a given slate of games.
We do our best to briefly explain each play, but at the end of the day we understand most bettors are really there to simply access the plays, which is fine. For that reason we try to keep the details short and sweet.
Still, one of the most common questions we get is: "How do you guys pick which plays go into a Sharp Report?" And while Twitter is great for interaction, it's tough to explain the whole process in 280 characters.
With that in mind, The Action Network's Josh Appelbaum and Danny Donahue have detailed the process below, each explaining the tools and strategies they find the most useful in determining the sharpest plays.
Sharp Money 101: Bet Signals
Donahue: "Much of the information that we use can be found with an Action Network Edge subscription — and of course the Sharp Reports themselves are posted on the site and app — but some, like the Bet Signals, are only available at SportsInsights.com.
Bet Signals are my starting point when running through a slate of games.
A signal gets triggered every time sharp action results in the entire market suddenly shifting a betting line, so simply counting the number of Bet Signals on a play is an easy and effective way to identify sharp action."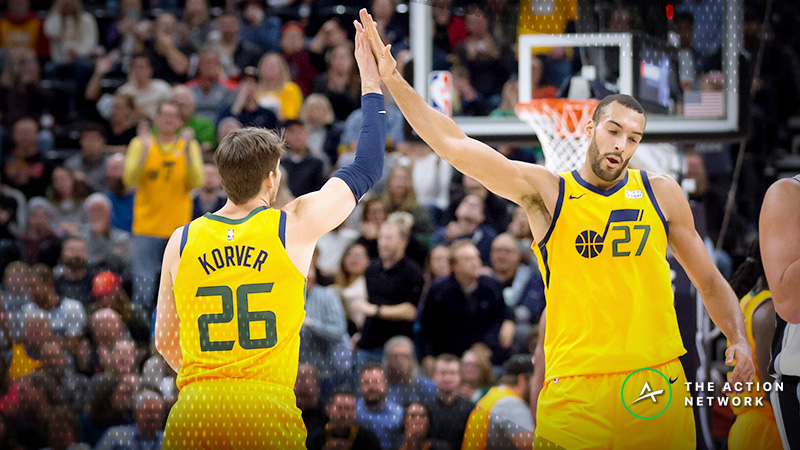 Appelbaum: "In my opinion, Bet Signals are the most important tool for identifying sharp action.
If I see conflicting signals on both sides of a game, I lay off. This means that wiseguys have differing opinions and there is no clear consensus. The goal is to look for games where multiple Bet Signals have been triggered all on the same side at various different books.
This means that sharps are united. In a perfect world, the signals come from market-setting books that have high limits and cater to professional bettors.
Also, timing is everything. For this reason, I love it when signals get triggered later in the day, closer to game time. Why? Because early on the limits are low. Once limits are raised later in the day, that's when the big guys get down.
I also love when Bet Signals continue to get triggered on the same side even when the number gets worse. This signals wiseguy confidence."
Donahue: "As Josh alluded to, the Bet Signals show the number that got hit by sharp action. That can be an extremely useful feature, especially in football (because of key numbers).
If a team has four signals at +3 and is currently listed at +2.5, I'll be waiting for either another signal to come inside the key number — I have no problem taking a +2 if sharps liked a line at +2.5 — or a line move, perhaps caused by public action, sending the line back to 3, where sharps will likely pounce again."
Sharp Money: Betting Data, Percentages and Market Movement
Donahue: "As far as dead giveaways go, reverse line movement (RLM) is about as close as there is to one on sharp action. RLM occurs when the line moves away from the popular side (the one with the higher bet percentage).
The easiest way to identify RLM is to compare opening and current lines of bets with less than 50% of tickets. If the current line is worse than the opener for the contrarian side (i.e. moving from +7 to +6), you've got a clear case of RLM. Sometimes, though, that comparison doesn't tell the whole story.
It's certainly possible that an opening line can offer no value in the eyes of sharps. But that doesn't mean public bettors won't hammer a side they like and potentially move a line.
If that happens, sharp bettors are essentially given a new opening number to take advantage of if they see value.
For that reason, it's important to look at the full line history of a game before ruling out line movement caused by sharp action."
Appelbaum: "Ideally, the team or side is getting less than 40% or 30% of bets. That means it's contrarian and you can capitalize on public bias. Remember: Average Joes don't look at betting data — they bet based on bias and gut instinct.
They overvalue recent performance, love home teams, favorites, overs and bet teams and players, not numbers and value. It's a misconception that sharps are always against the public. While it's relatively rare, it does happen.
However, by being on the contrarian side it gives me more confidence in the play, knowing that I'm on the side of the house.
Next, I compare the percentage of bets to dollars. The goal is to look for a positive bets vs. dollar discrepancy where a team or side is getting a much higher share of money compared to bets. Sharps bet large amounts on games, much more than recreational bettors who bet for fun.
So if a team is getting 35% of bets but 50% of dollars, that's a clear indication that they're receiving big, sharp wagers."
Donahue: "To get a little picky, though, I try to focus on games where the dollar percentage is still around 50% or less. For example, a team seeing 30% of bets accounting for 80% of dollars is clearly a sharp play, but it sets up a situation where sharps and sportsbooks are pitted against one another.
Ideally, I'd like to be on the same side as both sharps and sportsbooks. That means looking for spots where a team is getting, say, 25% of bets and 45% of dollars."
Appelbaum: "Once I've checked off the betting percentages and ticket count boxes, I focus on line movement. Nine times out of 10, the movement (or lack thereof) will tell you all you need to know.
I also love a line freeze. This is when a team or side is getting heavy public support, yet the line doesn't move (80% of bets on Warriors -10, yet the line stays frozen at -10). Normally, a team in that spot would move from -10 to -11. So if it doesn't, that means the books have liability on the opponent and don't want to hand out extra points to sharps on the other side."
Historical Betting Trends (Bet Labs)
Appelbaum: "Those who fail to learn from the past are doomed to repeat it. Overall, I want the sharp play to also be on the right side of history. In order to make sure of this, I consult our Bet Labs data analysis software. Ideally, I want the game to have at least one Bet Labs PRO system match.
For example, maybe the Utah Jazz have tons of Bet Signals, great bets vs. dollars, sharp reverse line movement — but also fit a profitable Bet Labs system. This is the cherry on top because it means that teams in this situation have been a profitable bet historically."
Donahue: "Couldn't agree more. Another way I love to use Bet Labs is to create the situation I'm seeing in a specific game on the board. Maybe a game has an exceptionally low total and I want to know how those totals perform based on the number of bets I'm seeing on that game. It might turn into a profitable betting system that I didn't know existed.
Or, maybe a line has moved by a substantial amount as a result of the sharp action that's hit it. Since Bet Labs' records are all based on closing lines, I can see if there's still been value in riding a play like that historically."
Other Sharp Money Indicators
Donahue: "While the Sharp Report is really just a summary report of sharp action, we still ultimately would like these plays to win. So there are a few more things I take into consideration when deciding between plays.
Power ratings are a big one. I think our Action Network college football power ratings post by Collin Wilson might be my most visited page over the past couple months. My goal there is to see if Collin's ratings still show value at the current line I'm writing about, which is often not the best number because it has already been hit by sharps."
Appelbaum:  "The other two factors I also look at are weather and officials. If the sharp play is an MLB Over, I want the wind to be blowing out with an 'over' umpire. If the sharp play is an NFL or NCAAF Under, I want heavy crosswinds."
A Word of Caution
Appelbaum: "One thing Danny and I always try to stress to readers of the Sharp Report is that they aren't 'picks.' They are market reports intended to inform and educate our members as to where sharp action has already occurred.
If you are betting the Sharp Report plays based on the current number listed, you're rooting for the same team as sharps, but there's a good chance you're betting a bad number with little to no value.
For example, if we list the Broncos as a sharp report play and explain that they have fallen from +3.5 to +2.5, we don't intend that you immediately bet Broncos +2.5. If the Broncos lose by three, many people think (understandably) that the sharps on the Broncos lost. However, that isn't the case.
In fact, the sharps won because they hit Broncos at +3.5. This always causes confusion on whether or not a Sharp Report play won or lost. In the end, it's all about timing and getting the best of the number.
Secondly, sharp action isn't set in stone. A team or side could have heavy sharp action throughout the morning and afternoon, but late buyback or conflicting sharp action could come in late, closer to game time. The betting market is fluid and constantly changing.
For Danny and myself, our #1 goal with Sharp Reports is teaching the methodology and the boxes you need to check to identify sharp action. We aren't giving you fish so you can eat for a day, we're teaching you how to fish so you can eat for a lifetime."
How would you rate this article?
This site contains commercial content. We may be compensated for the links provided on this page. The content on this page is for informational purposes only. Action Network makes no representation or warranty as to the accuracy of the information given or the outcome of any game or event.