LOL Betting Odds & eSports Preview: League of Legends LCK Picks (March 25-27)
Credit:
Christoph Soeder/picture alliance via Getty Images. Pictured: Damwon Gaming
On March 6th, LOL Champions Korea (LCK) finished the first half of its double round robin regular season schedule for the spring and went on an indefinite hiatus over concerns about the COVID-19 virus.
Up to that point the entire season was played to an empty studio audience, but the league feared for the safety of the players, coaches and staff, so a break was necessary to prevent the spread of the virus.
The LCK will return on Wednesday morning via a remote online format. Under normal circumstances the LCK hosts two matches per day, but they will be moving to a more condensed schedule featuring three matches per day, just like the LOL Pro League in China. This means there will be matches fives days per week.
With 45 best-of-three series completed, the pecking order has been established in the LCK. Gen.G, DragonX and T1 are at the top of the table and each boast a winning percentage of at least 70% and a series record of 7-2 or better.
Afreeca Freecs are next in line with a 58% game win rate and a 6-3 series record.
The remaining six teams are all within two match wins of one another and have game win percentages below 50%.
The three-week break for the LCK is a longer hiatus than the Western Regions of Europe and North America took, but also a significantly shorter pause than the six-week postponement that China took.
We only can use a small sample size, but let's take a look at how the break and a move to a remote format affected the other regions.
In Europe's LEC, favorites went 8-2 upon their return. Both underdog wins came against the same team, Misfits. For the most part, things didn't change as the favorites remained sharp.
North America's LCS did not look drastically different at 7-3 for the favorites, but upon viewing the games, it was obvious that the top teams weren't nearly as sharp as usual.
China's LPL saw nine outright underdog winners in the 20 matches held on the first week after a break. In that time underdogs covered the +1.5 map spread 11 times and swept the favorites 2-0 on six different occasions.
Given these results and the parity in the middle of the table in Korea, it's fair to expect a number of upsets to occur especially from teams in the middle and bottom of the standings.
With that in mind, let's take a look at a few matchups I really like on the LCK slate in the first week back.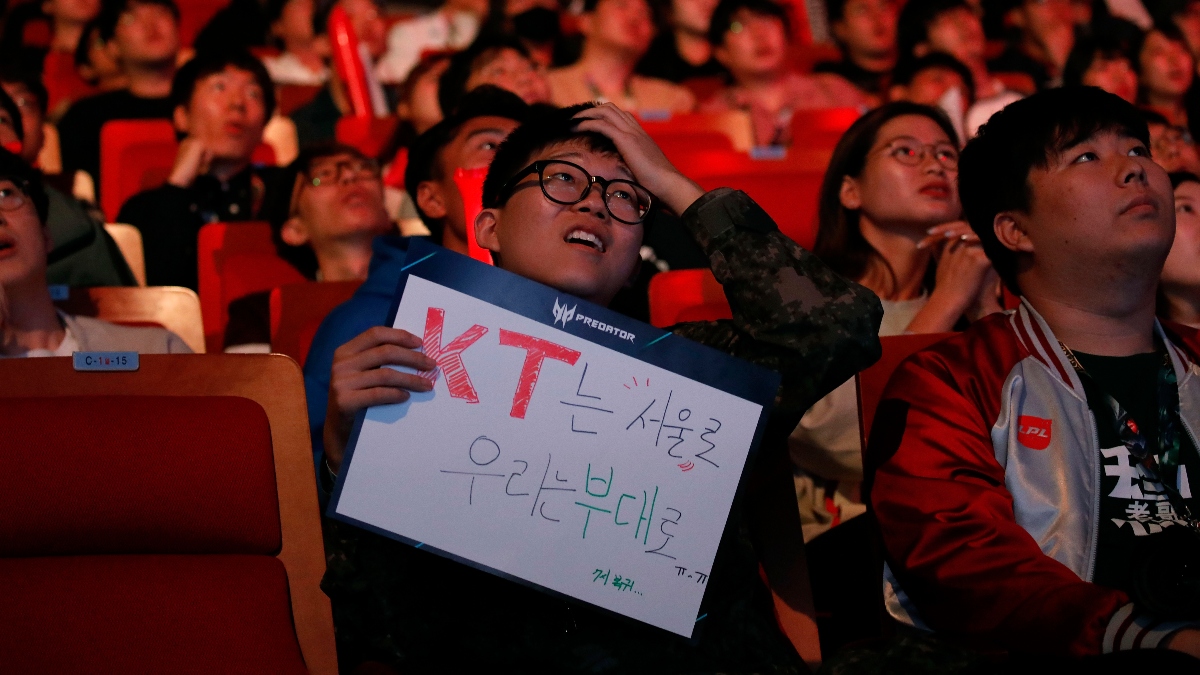 LOL Betting Picks
KT Rolster (+138) vs. DAMWON Gaming (-169)
Map Spread: DAMWON -1.5 maps (+194)
Kill Spread: DAMWON -2.5 (-107)
Kill Total: 21.5
Time: Wednesday, 5 a.m. ET
KT Rolster had the unenviable task of facing the top three in their first three matches of the season. As expected, they had a brutal start to the campaign and lost their first five matches. They have turned things around since then, however, and entered the hiatus on a four-match win streak.
DAMWON, fresh off of their World Championship quarterfinals appearance, chose to bring back the same successful roster in hopes of another run but have struggled to find consistency in the current iteration of the game given their play style. DAMWON lost three of their past four matches and currently sit in fifth-place at 4-5.
Prior to the break, I would have told you that KT Rolster look like a significantly better team. They draft coherent strategies, understand their win conditions, and play to them. KT are an up-tempo team, meaning that they draft team compositions built to get ahead early and close the game out quickly.
These strategies carry the risk of being on a sort of time limit before the other team out-scales you. Typically when KT loses it's because they've been out-scaled, not because of critical mistakes. Understandably they have the fastest average game time in the LCK at 32:40.
DAMWON, on the other hand, have looked lost in their drafts and lack direction lately. The strategies and tactics that brought them much of their success in 2019 are not only weaker in the current iteration of League of Legends, but developed a lot of bad habits.
DAMWON play a fight-first-and-think-afterwards style and that's currently a poor way to play as one mistake can harm you much more than it would last year. DAMWON didn't make any adjustments in the first round robin and don't appear to be in the business of changing their style of play.
This is a great matchup for KT Rolster both strategically and stylistically. In fact, based on what we've seen this season, they should be favored.
Additionally, we KT Rolster has the break working in their favor. In League of Legends, just like most sports, it takes time for the cream to rise to the top. Underdogs have been a great play in returning weeks in LOL, especially in the Eastern regions.
Take a stake of the KT Rolster map spread to cover your cost on a moneyline wager.
Pick(s): KT Rolster +1.5 maps; KT Rolster +138
---
SANDBOX Gaming (-139) vs. Griffin (+115)
Map Spread: SANDBOX -1.5 (+216)
Kill Spread: SANDBOX -2.5 (-104)
Kill Total: 21.5
Time: Friday, 2 a.m. ET
Both of these teams sit at the bottom of the table, along with newcomers APK Prince, at 2-7. Considering their meteoric rise up the standings in 2019, both Griffin and SANDBOX have had incredibly disappointing starts to their 2020 season.
Griffin are coming off of a five-match losing streak in which they only managed to take three individual games. SANDBOX have lost four of their past five with their only victory coming against the struggling DAMWON Gaming.
Griffin won the first meeting between these two in a slugfest, coming back after a game one loss to win, 2-1.
On film, Griffin have looked like a worse team this season. They went from one of the best coaches in the world, Kim "cvMax" Dae-ho, to Han "H Dragon" Sang-yong, who is considered one of the weakest coaches in the circuit after putting up two of the worst seasons in the history of the LCK with Jin Air in 2019.
The coaching downgrade has had a clear and obvious impact as this form of Griffin are struggling from many of the same problems that Jin Air did last year. The difference is that this Griffin roster is tremendously talented.
SANDBOX have been constantly shuffling their roster around with different substitutions to find just the right combination that works but they have yet to succeed in their quest. This team is similarly talented but has just struggled to piece everything together. Similar to DAMWON, their style of fight first and think later has not been an optimal approach to the game in 2020 and they've struggled to adjust.
The break couldn't have come at a better time for both of these teams. Given the talent level, I'd expect both squads to look significantly improved with the extra time to work out their problems.
I think this is a great spot for Griffin. With extra time to prepare, unlike in other sports, the effect of good coaching is dampened in League of Legends because it's more challenging to adapt to what you see and apply a specific plan compared to preparing that plan itself.
In the seven matches that have had a small favorite (-154 or less), the underdog has covered the spread all seven times and won outright once. All seven contests lasted three games. For the season, 23 out of 45 matches have gone to a Game 3. I expect this match to be close especially coming off of extended time off.
Pick: Over 2.5 maps (-105)
---
LOL DFS Picks and Preview
The LCK, like the LPL, is a best-of-three region but the two are drastically different. Korea tends to play a very disciplined and controlling style which results in low kill totals.
With sites like DraftKings offering new six-game, dual LCK and LPL slates you'll want to side with the LPL players more often than not as higher combined kills per game will result in higher fantasy output. It's absolutely critical that you're on the teams that are likely going to notch a 2-0 sweep when playing the LCK.
The good news is that that happens much more often with heavy favorites in the LCK when compared to the LPL due to the lower-variance style that the LCK prefers to play. On these six-game slates, LCK favorites in the team slot are likely to be a good play as they'll typically have very "complete" victories with a lot of objectives taken, again due to the systematic approach of the LCK style.
As more and more new people dive into professional League of Legends, try to keep your eye out for the different characteristics of each region as you watch. They play a vital role in how you approach betting or building lineups.
How would you rate this article?