Overwatch League Week 12 Odds, Betting Picks: Fading the Horse-Heavy Squads
Credit:
Photo by Hunter Martin/Getty Images. Pictured: Two Philadelphia Fusion fans pose for a photo
Let's go over some basics for the uninitiated. The Overwatch League is an eSports league built around the Blizzard Entertainment (Starcraft, World of Warcraft) first-person shooter and strategy game, Overwatch. It's comprised of two teams of six players, with two players as tanks, two players as support (healers) and two players as DPS (Damage Per Second, or, attack).
You can bet on these games, now. Sportsbooks in Nevada have started offering eSports betting, among other states. There are 20 teams in the league, with each match based on five sets of games across five maps. So it's a best-of-five contest, essentially, which is how the lines below are represented. The match advantage of -1.5 means the favorite is favored to win 3-1, at least.
Each week in Overwatch League (and in the game across all platforms for all players), certain heroes are "banned" and unplayable. For Week 12, those heroes are the gigantic horse shield tank Orisa, the pain-in-the-backside time-dashing Tracer, and Moira, who has an unlockable skin based on David Bowie, which is just awesome.
This week there are two favorites getting plus-money on a 1.5-match advantage, and one underdog I have my eye on.
Last week:
Mayhem +1.5 over Eternal (✅)
Fuel +1.5 over Shock (✅)
Defiant -1.5 over Uprising (✅)
This week's games:
Philadelphia Fusion (-1.5) over Atlanta Reign
April 25 | 4 p.m. ET
This is billed as a titanic battle, a rematch of a close match from two weeks ago. In Week 10, the Fusion got off to a 2-0 lead in the best of five, only for the Reign to storm back and tie it 2-2, before Fusion took the final game.
As such, given the Reign's impressive performance in their wins, there's a presumption this will be tight. The Reign swept in all four of their wins this season.
However, not only have the Fusion been better overall this season, but the context of that first matchup and the hero bans in play suggest otherwise.
In the first matchup, Ana and DVa were both banned, which matters more for the Fusion than the Reign. The Fusion lead the league in time playing Rein and Ana combinations.
Meanwhile, the Reign are the No. 1 team in usage of Orisa, who is banned this week. They also have a higher usage rate of Moira and Tracer (both banned) than the Fusion. Tracer, in particular, is a high-usage hero by the Reign. Atlanta leads the league in Tracer eliminations per match and is third in total Tracer elims. The Fusion, conversely, are below average in both categories.
Based on average play, it's likely the Reign will counter with Mei play from Edison. Here's a look at how Mei compositions have done vs. the Fusion this season: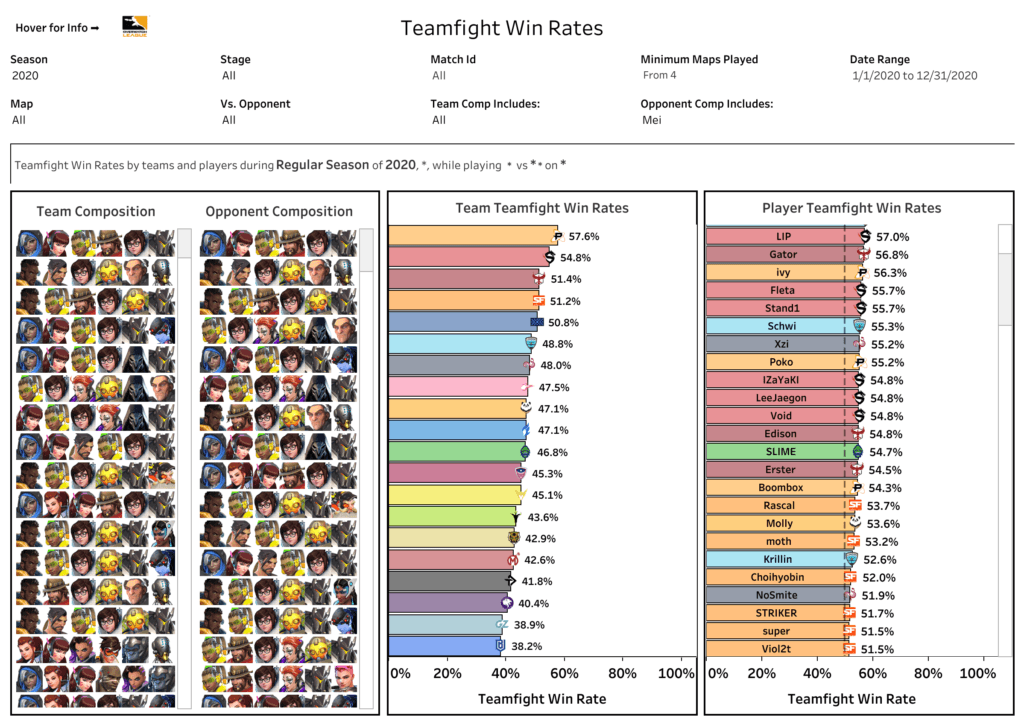 That's a 57% win rate for Fusion vs. Mei comps.
So we've got a superior team with a tactical advantage based on the bans, and a -1.5-line, which at a few places lays at +100. Best bet of the week.
New York Excelsior (-1.5) over Chengdu Hunters
April 25 | 8 a.m. ET
Excelsior has a higher teamfight win rate, a much better record and match differential. They're also primed for this set of bans, with the second-lowest Orisa usage rate. Chengdu's relatively low as well, but its bigger issue is the absence of Tracer. Tracer comprises 30% of Chengdu's usage this season.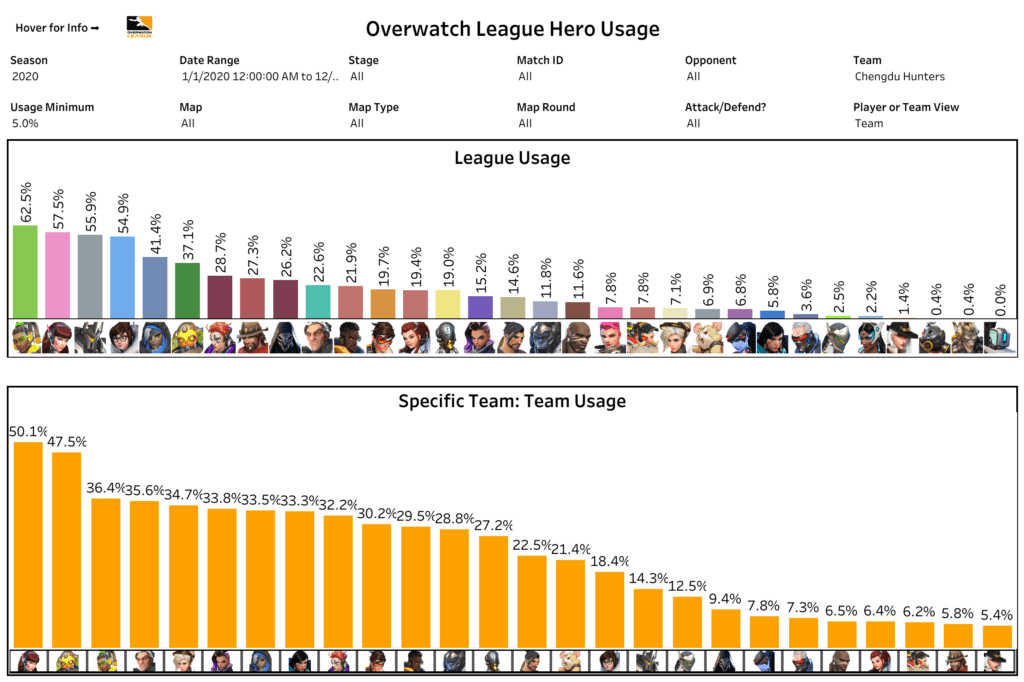 That's 10% higher than the league rate, which is fine, you can argue, because of how good Chengdu DPS player JinMu is at Pharah (227 elims, 3.24 elims per life).
But then I wanted to see how Excelsior has fared vs. Pharah compositions. They are 1-0 this season, and across the last three seasons, Excelsior has the No. 1 team fight win rate (52%) vs. Pharah compositions. Excelsior DPS SAEBYEOLBE himself has a 56% win rate vs. Pharah compositions over the past three seasons. Even with his preferred choice of Tracer unavailable, his McCree is good enough to counter what Chengdu brings to the table.
The other key here is the map win rates. Of the four map types (Assault, Control, Hybrid and Payload), Excelsior are 13-2 on Assault, Hybrid and Payload maps. Their weakness has been on Control maps, where they are 3-3 this season. But on Control, Chengdu has gone 3-7. So New York is better on all the map types than Chengdu, including Excelsior's one weak point.
Excelsior is laying 1.5 in map advantage at around -150 at most books. If you want more assurance, I feel comfortable laying the -350 on the moneyline for the match.
UPSET PICK: Hangzhou Spark (+1.5) over Seoul Dynasty
April 25 | 4 a.m. ET
Seoul brings a lot of hype and is 2-0 in play. But there are a number of issues here which makes me like Hangzhou at +1.5.
Seoul is the No. 3 team in Orisa time played, and No. 1 in Orisa eliminations per match this season. (It has played only two matches, notably, one without Reinhardt in rotation.)
Seoul's strength is with Mei played by Profit (177 elims, 4.2 elims-to-death ratio). But with McCree open this week, GodsB for Hangzhou has a chance to even the field. On top of that, I looked at this season, with opponents playing a Mei composition, vs. McCree comps. In those situations, the Spark lead the league in teamfight win percentage at 76.5%.
Seoul will be out of its comfort zone, and Hangzhou is better positioned to sneak up on it. I'm not so bold as to want the +275 to win the match outright, but I'll grab plus-money at most books on the +1.5. I think this goes to a fifth match.
How would you rate this article?