Call of Duty League: Best Bets for Chicago Home Series (April 24-26)
Credit:
Hannah Foslien/Getty Images. Pictured: Atlanta FaZe
The gambling world has turned upside down in the shadows of COVID-19. While the sporting calendar is shaping up for a heavy fall, the Nevada Gaming Commission recently approved four different esports series.
Call of Duty League was the latest to join Overwatch and League of Legends as a platform ready for wagering.
The Call of Duty Championship has been played since 2013. Players, managers and analyst tend to change each passing year.
And everything changed in 2020, as Activision decided to franchise 12 different teams with millions in sponsorship money. Some of the best teams in the landscape, such as eUnited and 100 Thieves, were split in the new Call of Duty World.
Play consists of a 5-on-5 best of five format with the order of game type being Hardpoint, Search and Destroy, Domination, Hardpoint and Search and Destroy.
When placing a wager on match play it is imperative to back the better Hardpoint and Search and Destroy teams. Having a team player that is a Search and Destroy ace can bring your bet home. Just ask Frosty of the Florida Mutineers.
As we get into the April 24 weekend hosted by the Chicago Huntsmen, here are the updated Action Network Call of Duty Power Ratings.
Full Match Odds provides BT Circa Sports

London Royal Ravens +395 vs. Atlanta FaZe -500
Atlanta FaZe has played just three events this season, resulting in complete supremacy over the competition. Its talented roster is the reason for domination, as aBeZy and Simp are holdovers from 2019 eUnited championship team.
The biggest free agent pickup may have been Priestahh off the 100 Thieves team that finished runner-up in 2019. Atlanta will be the odds on favorite from here on out, which is completely justified based upon game type point differentials.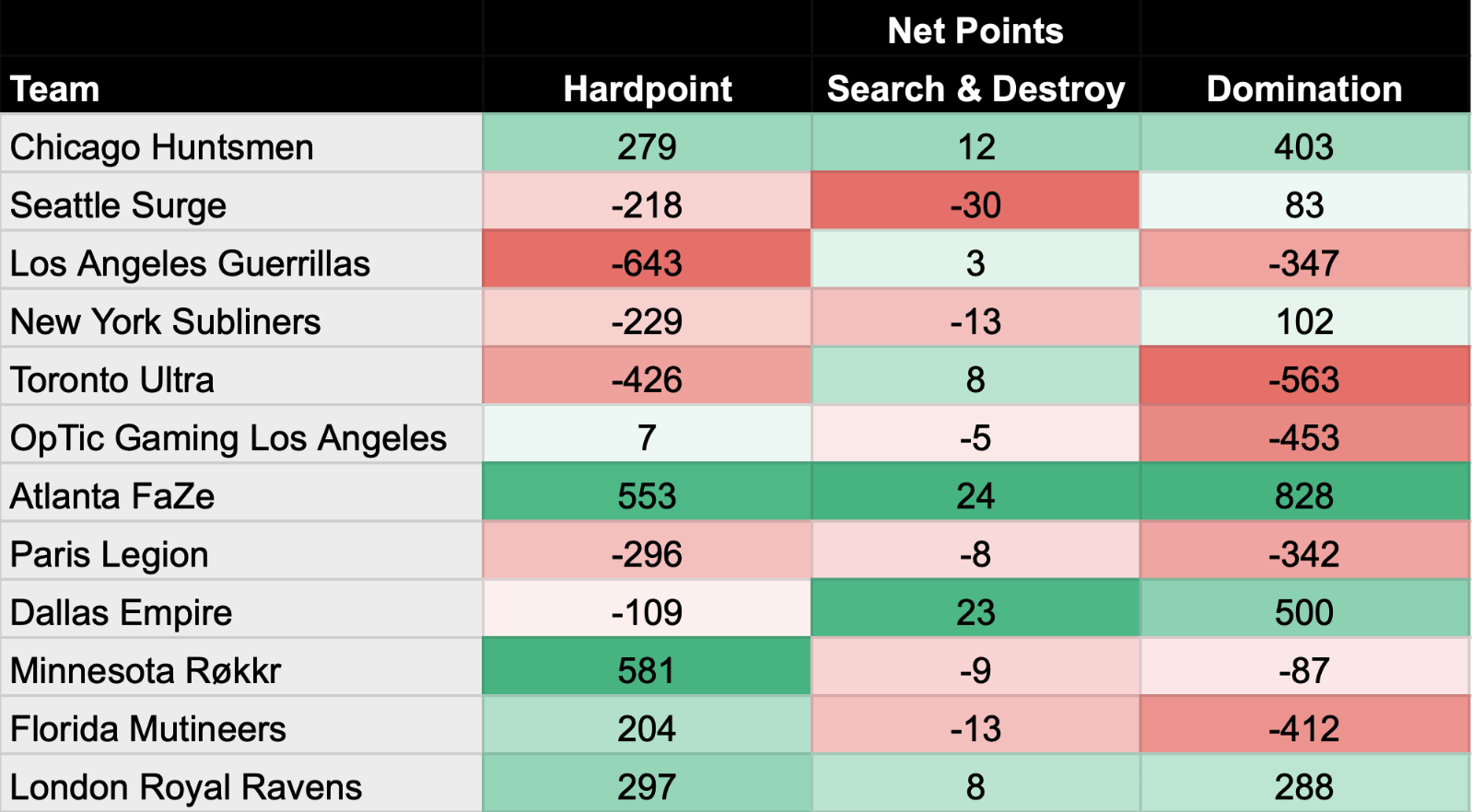 As mentioned above, having the best Hardpoint and Search and Destroy player is crucial to winning matches. Simp is considered the best Search and Destroy player in the entire league.
Considering that game type is played in Map 2 and Map 5, there are not may teams that can hang with the FaZe.
Alas, if you look at Atlanta's game record there are a seven losses. One loss came to the London Royal Ravens, who are the opening opponent in the Chicago event.
The 44 minute mark shows the Royal Ravens Domination victory over FaZe.
There may be a two different psychological aspects to Atlanta losing on Map 3 in Domination.
During Launch Weekend, the FaZe lost Map 3 to the New York Subliners who are possibly the worst team in CDL. In both cases, Atlanta jumped out to a 2-0 lead against London and New York before falling.
Although it looks as if Atlanta is trying to win the map, there have been questions about leadership on this squad. MajorManiak was brought in as a team captain, which is more important in a Domination three-flag format over a Search and Destroy map that is simply seek and shoot.
The Action Network's resident oddsmaker Sean Koerner makes this game Atlanta FaZe -341, making Circa Sports line of -500 inflated.
While Atlanta has Simp, London has Wuskin, who is considered a top 5 player in the league. London should be able to steal a game once again from Atlanta, particularly Map 3 Domination if the FaZe head in with a 2-0 lead, so I'm looking for an exact score prop.
Atlanta's only loss came to Minnesota, who is on a bye week for this event. FaZe should win the weekend, but look for live betting spots against them in non-Search and Destroy maps.
Pick: Atlanta to win event (up to -140), Atlanta over London 3-1 +200
Seattle Surge -135 vs. Los Angeles Guerrillas +115
Roster turnover and inconsistency has led to a dreadful 2020 season for the Los Angeles Guerrillas. After beating the Florida Mutineers 3-2 during the Launch Weekend in late January, the Guerrillas have lost six consecutive matches and 18 of their past 24 games. One of those losses came in a sweep by the Seattle Surge.
The Surge have been improving since an abysmal start, but they still have issues with Search and Destroy maps. Losing three of four S&D maps in the most recent event to Paris and Minnesota, Seattle has remained consistent in Hardpoint and Domination thanks only to 3-time champion Karma.
At a -30 point differential, Seattle is the worst team in the league at Search and Destroy.
The Guerrillas are a tough wager, but considering Map 2 Search and Destroy odds at -200 or better, there is some value in Los Angeles.
Koerner sets the line for the match at Los Angeles -111, giving us our "hold your nose" play of the weekend.
Pick: Los Angeles Guerrillas +115 for match (to -110), Los Angeles Guerrillas -195 Map 2
Dallas Empire -180 vs. Optic Gaming Los Angeles +155
Optic Gaming has been around the Call of Duty World League for quite some time, finishing top 3 in four instances, including a 2017 championship. The loss of Karma has this roster in flux moving players from LMG, SMG and AR spots in the rotation.
They have had encouraging results, sweeping Minnesota before falling in a narrow loss to Dallas.
Led by Clayster, the Empire have been one of the top teams in the league.
The issue with the Empire is Map 1 and 4, Hardpoint. This was evident in a recent finals loss to Minnesota, where the Hardpoint differential was -82 to the Rokkr.
Dallas has the goods to make if far in the 2020 championship round, but improvement in Hardpoint is needed. Koerner sets this line at Dallas -165, but an improving Optic is prime to steal a few games in this match.
Pick: OpTic Gaming Los Angeles +1.5 -130, OpTic Gaming Los Angeles Map 1 +130
Chicago Huntsmen -290 vs. New York Subliners +245
The legacy of eUnited lives on through Arcitys, who led the Chicago Huntsman to a Week 2 tournament victory over the Dallas Empire.
The Call of Duty audience awaits a head-to-head between Chicago and Atlanta, and this weekend may be the first time. The Huntsman have beaten every team in the league besides the Florida Mutineers, with losses on on Feb. 23 and April 12.
In the case of the New York Subliners, it is tough to find anything good about the squad. Losses have racked up while team chemistry has been an public issue. New York has not covered a +1.5 game spread since Feb. 8, while Chicago is considered a top three team in the league.
New York has been particularly terrible at Hardpoint while having the fifth-best point differential in Domination. Chicago straight up and against the spread is the way to go.
Specifically, Maps 1 and 4 represent New York's toughest game type in Hardpoint. With a projection of Chicago -590, this is the biggest play of the weekend according to oddsmaker Sean Koerner.
Pick: Chicago Huntsmen -290 (to -550), Chicago -1.5 -145 (to -225), Chicago Map 1 -195
How would you rate this article?