Can Derrick Henry Sustain His Fantasy Dominance? The Case For Fading the NFL's Back-to-Back Rushing Champion
Credit:
Wesley Hitt/Getty Images. Pictured: Derrick Henry
Derrick Henry is only the eighth NFL running back to rush for 2,000 yards -- but he's at risk of joining an even more exclusive club.
NFL analyst Raheem Palmer explains why he's fading the Titans running back heading into the 2021 season.
Derrick Henry's 2020 season placed him in unique company as he became only the eighth running back to rush for 2,000 yards in an NFL season, joining the likes of O.J. Simpson, Eric Dickerson, Barry Sanders, Terrell Davis, Jamal Lewis, Adrian Peterson and former Titan Chris Johnson.
With 2,027 yards on the ground, Henry ran for the fifth-most yards in league history on his way to winning his second straight rushing title. Leading all NFL backs in Next Gen Stats' Expected Rushing Yards (+412), Henry also set career-highs in carries (378) and rushing touchdowns (17).
All that said, it's no surprise that Henry is top four in FantasyPros' Average Draft Position (ADP) across every fantasy football format while also sporting the best odds of any non-quarterback to win the NFL's MVP Award at +5000 (DraftKings). Unfortunately for Henry, though, history suggests it's unlikely we'll see him repeat his former dominance.
As more teams adopt a running-back-by-committee approach in a pass-happy league, Henry's workhorse dominance is a throwback to the 1980s and 1990s, when teams had one primary ball-carrier soaking up the majority of a team's carries. But with his 681 carries and 718 touches over the past two seasons, plus the additional 109 postseason touches over that stretch, Henry is a potential victim of the "Curse of 370."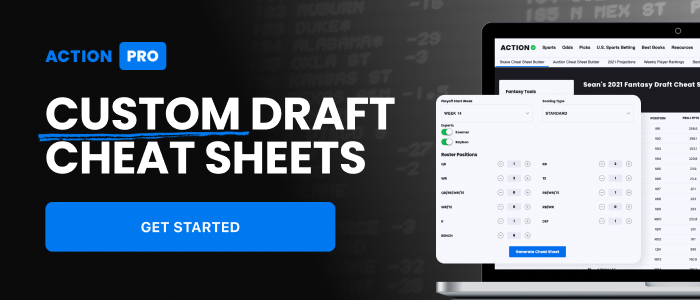 The Curse of 370
The "Curse of 370" was coined by Aaron Schatz of Football Outsiders when examining if Dolphins running back Ricky Williams could bounce back from a disappointing 2003 season.
In 2002, Williams had 383 carries for 1,853 yards while rushing for 1,372 yards on 392 carries the following season. Despite having nine more carries, Williams saw his yards per attempt drop by 1.34 per game while scoring seven fewer touchdowns.
Further research found that running backs who amassed 370 or more carries would see their production decline the following season. Schatz later added: "These backs basically fall into three categories: Guys who got injured the next year, guys who were never as good again, and guys who are Eric Dickerson."
Speaking of Eric Dickerson …
There have been 29 instances of running backs who have amassed 370 or more carries in a season. Only once has a player increased their production after amassing 370 carries: Eric Dickerson, when he rushed for 2,105 yards on 379 carries in 1984, setting the NFL's single-season record for the most rushing yards in a season, which still stands to this day.
Still, Dickerson saw a dip in his production after his 1984 season as he rushed for just 1,234 yards on 292 carries in 1985 while seeing his yards per carry decline from 5.6 to 4.5 YPC. And while Dickerson rushed for 1,659 yards on 388 carries in 1988, he saw another decline as he rushed for 1,311 yards on 314 carries in 1989 — then never reached 1,000 yards again for the rest of his career.  
… Then There's Every Other RB
As a whole, running backs who have received 370 carries have seen an average drop-off of 138 rushing attempts, 733 yards, 31 yards per game, 0.64 yards per carry and 8.1 touchdowns. In addition, these running backs average 3.8 fewer games played and 4.3 fewer starts.
With much of the NFL adopting a running-back-by-committee approach, Henry is only the second running back since 2008 to receive more than 370 carries — the last was DeMarco Murray, who rushed for 1,845 yards on 392 carries in 2014 before signing with the Eagles as a free agent in 2015, then rushing for an abysmal 702 yards on 193 attempts while starting only eight games. 
The 400 Touch Club
Although 370 carries is seen as the threshold for the decline in production for an NFL running back for the following season, 400 combined touches between carries and receptions is equally as harmful toward the future production of an NFL running back.
Henry amassed 397 touches over the 2020 regular season and another 21 in the postseason, so it's worth it to note that since 2000, running backs who have amassed 400 touches in a single season have seen their total yards from scrimmage drop by 639 yards, their rushing yardage drop by 519, their touchdowns drop by 5.2, their rushing attempts drop by 101, their overall touches drop by 113, and their games played by 2.5 the following season.
This is especially important to note for versatile backs who carry and catch balls out of the backfield.
Unlike the "Curse of 370," there are many players who were able to increase their production after receiving 400 touches, so it's clear that running back carries have a bigger impact on a player's workload than receptions.
Players such as Dickerson, Tomlinson, Davis, Martin and Smith were able to increase their production after a 400-touch season. Still, if you're looking at the trends since 2000, it's clear you should sell on running backs with 400 touches in their previous season:
Christian McCaffrey, 2019: The last running back to receive 400 touches was McCaffrey, who finished the 2019 season with a 403 touches for 2,392 total yards from scrimmage and 19 touchdowns, including 287 rushes for 1,387 yards and 116 receptions for 1,005 yards.
Le'Veon Bell, 2017: In his final season with the Steelers, Bell finished the season with 406 touches for 1,946 yards from scrimmage and 11 touchdowns, including 321 rushes for 1,291 yards and 85 receptions for 655 yards. After missing the following season (2018), he returned at the age of 27 and was never the same with just 245 carries for 789 yards in 2019.
Conclusion
Although 370 carries or 400 touches doesn't guarantee that running backs will be injury prone and/or decline over the rest of the career, it is clear that at some point, the workload will catch up to a running back — even one with the combination of power and brute force of Henry.
Over the past two years, Henry has amassed 827 touches between the regular season and postseason, and history tells us that running backs with that type of work load are on borrowed time — see: Shaun Alexander, Eddie George, Larry Johnson and Ricky Williams.
Henry likely won't fall off a cliff, but it's clear we won't see the same production from him going forward that we saw in 2020.
How would you rate this article?
This site contains commercial content. We may be compensated for the links provided on this page. The content on this page is for informational purposes only. Action Network makes no representation or warranty as to the accuracy of the information given or the outcome of any game or event.