Why Bears TE Cole Kmet Could Be A Dynasty Rookie Sleeper Pick
Credit:
Joe Robbins/Getty Images. Pictured: Cole Kmet
Cole Kmet Dynasty Rookie Analysis
Position: TE | School: Notre Dame
Height: 6'6" | Weight: 262 pounds
40-yard dash: 4.70 seconds
2020 Age: 21 | Class: Junior
Recruitment Stars: 4
Draft Position: 2.43 (Bears)
Cole Kmet's Fantasy Fit with Bears
If it smells like garbage and tastes like garbage, don't eat it — because it's probably garbage.
The Bears signed TE Jimmy Graham to a two-year deal this offseason with $9M in guarantees — and then they just drafted TE Cole Kmet in Round 2.

I'm starting to think the Bears don't know what they're doing.

— Matthew Freedman (@MattFtheOracle) April 25, 2020
I'm still bullish on Kmet: He should be an every-down contributor in 2021 and perhaps a top-10 player at the position in 2022.
But 2020 will be a sewage recycling plant.
Cole Kmet: Dynasty Analysis
Over the past five years, Notre Dame has had something of a dry spell. But in the decade before that, the Fighting Irish sent a high-end tight end prospect to the NFL seemingly every other season.
Anthony Fasano: 2.53, 2006
John Carlson: 2.38, 2008
Kyle Rudolph: 2.43, 2011
Tyler Eifert: 1.21, 2013
Troy Niklas: 2.52, 2014
In Kmet, the Irish have another top-tier draft pick at the position.
Full disclosure: I'm higher on Kmet than most people in the industry, and I don't care. I'm planting a flag.
[Easy Money! Get 2-1 Odds on Joe Burrow to Go No. 1 … (Yes, We're Serious)]
I know that there's nothing obviously great about Kmet when you watch him play. He's not a remarkable route runner. He's not a fierce playmaker. He's not an after-the-catch dynamo. He's about average when lined up in the slot and out wide. Per Pro Football Focus:
Overall, he's not really a player that is going to create on his own or win consistently in single coverage. Well over half of his 515 receiving yards were underneath the coverage or from finding a hole and when in single coverage he had just a 54.0 receiving grade.
His career positive play rate is significantly better against zone defense than man coverage (per the 2020 Sports Info Solutions Football Rookie Handbook).
Positive play rate vs. man: 41%
Positive play rate vs. zone: 67%
What he gets is basically what the defense allows him. He's a chain mover, not a difference maker.
On top of that, he's a below-average run blocker — and that's a problem considering that he's most effective as a receiver when inline.
And as an athlete, he has no agility. At the combine, he had a 13th-percentile three-cone time of 4.41 seconds (per Mockdraftable). He has no wiggle.
But other than all of that … he's great. Wait, why are you walking away from me?
Here's what I like about Kmet: He's an inline-sized Day 2 pick, and most of the best players at the position over the past decade have been second- and third-rounders weighing 245-plus pounds, such as:
Rob Gronkowski (2010, 2.42): Six top-six seasons
Jimmy Graham (2010, 3.95): Six top-six seasons
Travis Kelce (2013, 3.63): Four top-six seasons
Zach Ertz (2013, 2.35): Three top-six seasons
And that's to say nothing of Kyle Rudolph, Jordan Reed, Austin Hooper, Hunter Henry and Mark Andrews … and Jonnu Smith, Dallas Goedert and Mike Gesicki.
Not every second- and third-round tight end becomes a star, but if you want to find a future fantasy starter at the position, Day 2 is a great place to look.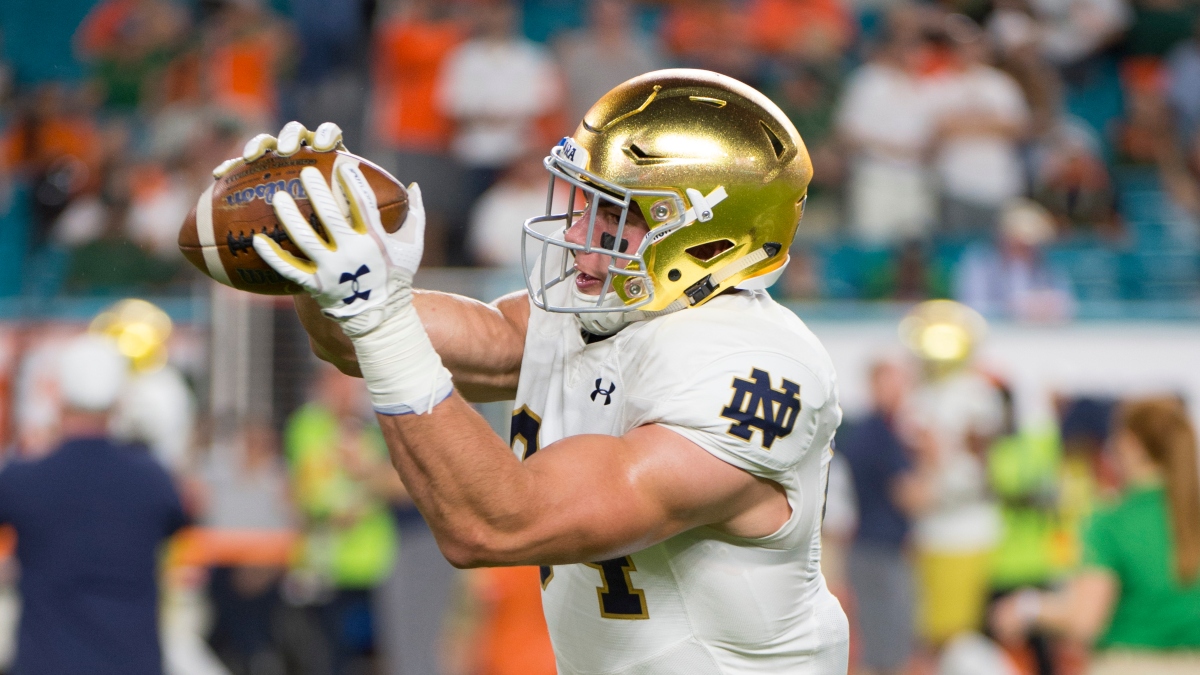 And Kmet will play all of his rookie season at 21 years old. That's incredibly important. Here are the receiving tight ends over the past 25 years to be drafted no later than Round 4 and to play their first season at age 21:
Irv Smith Jr.
David Njoku
Maxx Williams
Eric Ebron
Rob Gronkowski
Aaron Hernandez
Martellus Bennett
Jermichael Finley
Kellen Winslow
Jason Witten
Todd Heap
Tony Gonzalez
Say what you want about some of those guys, but it would be hard to find a better collection of tight ends with so simple a screen.
Even though he's not agile, Kmet is an explosive athlete. With his size, 40 time and 37-inch vertical and 123-inch broad jumps, Kmet has an 88th-percentile 126.3 burst score (per Player Profiler). He's a straight-line player — but at least he can move in that straight line quickly.
If I go into the RotoViz Prospect Box Score Scout and assign Kmet to pick No. 65 — the first selection in Round 3 — the two players to whom he's most comparable (on the basis of draft position, physical profile and college production) are Rudolph and Kelce.
As a young two-sport athlete who didn't focus fully on football until 2019, when an elbow injury shelved his baseball career, Kmet should be able to develop enough as a route runner and blocker to be a functional three-down contributor.
Like most tight ends — even good ones — he will probably contribute little within his first couple of seasons. But he has top-five tight end potential and could offer great value in rookie dynasty drafts if he slides down the board as fantasy investors focus on this year's glut of wide receivers, running backs and quarterbacks.
NFL Prospect Comp: Kyle Rudolph but younger
More Dynasty Analysis For Freedman's Top Rookies
---
Matthew Freedman is the Editor-in-Chief of FantasyLabs, part of The Action Network.
How would you rate this article?