Sizing Up Cowboys WR CeeDee Lamb Heading Into Dynasty Rookie Drafts
Credit:
George Walker/Icon Sportswire via Getty Images. Pictured: CeeDee Lamb
Is CeeDee Lamb the No. 1 wide receiver for fantasy purposes in the 2020 NFL Draft?
Matthew Freedman breaks down Lamb's prospects ahead of the draft, and where he should go in dynasty rookie drafts.
CeeDee Lamb Dynasty Rookie Analysis
Position: WR | School: Oklahoma
Height: 6'2" | Weight: 198 pounds
40-yard dash: 4.50 seconds
2020 Age: 21 | Class: Junior
Recruitment Stars: 4
Draft Position: 1.17 (Cowboys)
CeeDee Lamb's Fantasy Fit with Cowboys
I'm crying as I write this sentence — because my Cowboys have just won the Super Bowl for the 2020-21 season.
CeeDee Lamb to the Cowboys.

I. Can. Not. Be. Lieve. It.

Dak Prescott QB1.

— Matthew Freedman (@MattFtheOracle) April 24, 2020
The Cowboys are going all in on offense, and I love it.
Playing alongside wide receivers Amari Cooper and Michael Gallup — both of whom had 1,000-plus yards last year — Lamb is going to face extremely soft coverage. Although he's unlikely to see heavy target volume in his first season, he could still be a low-end WR3 in fantasy thanks to the general advantageousness of his circumstances.
CeeDee Lamb: Dynasty Analysis
I have Jerry Jeudy (Alabama) as the No. 1 wide receiver in the class, but that doesn't mean I don't love Lamb. I love him as much as weatherman Brick Tamland loves lamp. That's a lot.
A first-team All-American selection, Lamb actually might be the best receiver in the class. It's pretty close to a 50/50 tossup between Jeudy and Lamb, who has a lot in his favor. He is bigger (6-foot-2 and 198 pounds vs. 6-foot-1 and 193 pounds) and more explosive (124-inch broad jump vs. 120) and was more productive in college.
CeeDee Lamb (2018-19, 27 games): 127-2,485-25 receiving, 14.0 yards per target
Jerry Jeudy (2018-19, 28 games): 145-2,478-24 receiving, 11.9 yards per target
Lamb is the more aggressive player (13.2-yard average depth of target vs. 11), the more dynamic after-the-catch producer (11 yards after the catch per reception vs. 7.8) and, frankly, the tougher competitor (0.37 forced tackles per touch vs. 0.19).
On the football field, Lamb simply looks like the guy who is playing harder. He has a ferocity to him that every other receiver in this class lacks.
[Easy Money!Get 2-1 Odds on Joe Burrow to Go No. 1 … (Yes, We're Serious)]
He plays receiver almost the way that Marshawn Lynch played running back: He's always in attack mode. When the ball is in the air, he attacks it. When the ball is in his hands, he attacks defenders. He doesn't seem capable of playing at anything less than full intensity.
But Lamb's fervor — his violence — gives me pause. Guys with his frame don't normally get away with the big-bodied bully routine in the NFL. If you want to be DeAndre Hopkins or Davante Adams, you probably need be built like them.
DeAndre Hopkins: 6'1″ and 214 pounds
Davante Adams: 6'1″ and 212 pounds
Instead, Lamb is nearly a doppelgänger for Tyler Boyd (6-foot-1 and 197 pounds).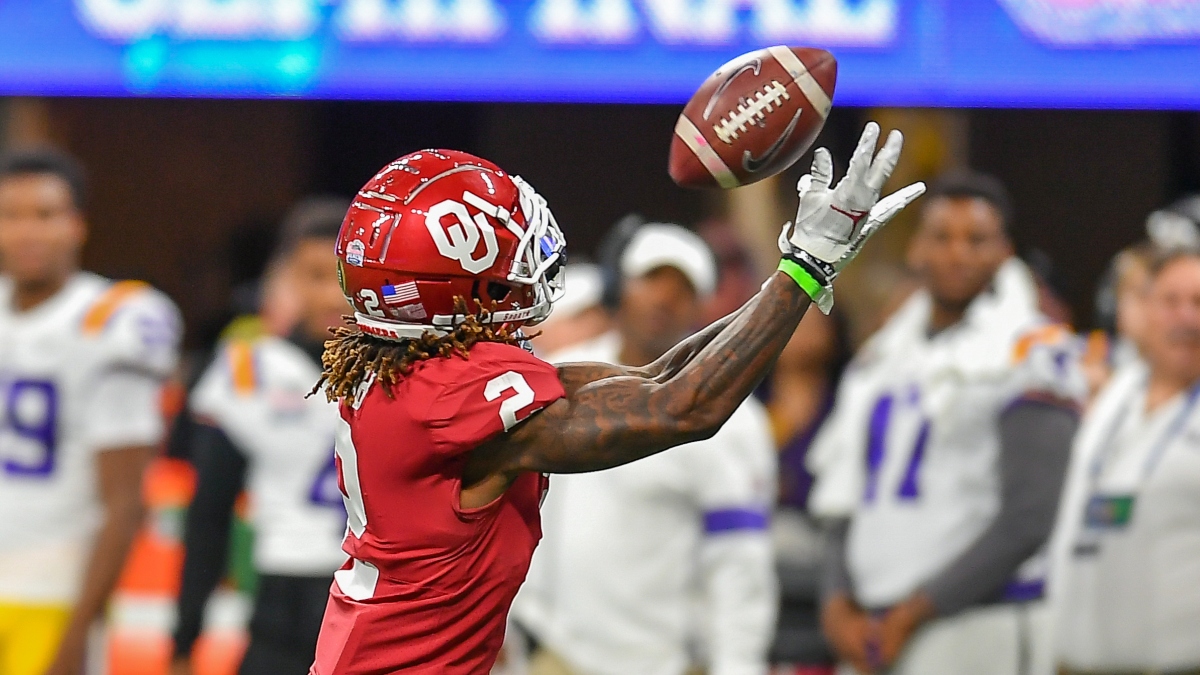 There aren't many receivers in the NFL with Lamb's thin frame — and not many of them have success. In most instances, they're unable to push around NFL cornerbacks. They lack the raw strength of their bully counterparts.
DeAndre Hopkins: 15 bench press reps
Davante Adams: 14 bench press reps
Last year, only two guys standing taller than 6-foot and weighing fewer than 200 pounds had 1,000 yards receiving: Boyd and D.J. Chark.
Boyd has taken the path previously trod by the similarly sized Brian Hartline (6-foot-2 and 195 pounds): Sure, he has back-to-back 1,000-yard seasons … but does any team actually want this slot-bound player to be its No. 1 receiver? Much of his production over the past two years has come with wide receiver A.J. Green on the sideline. Boyd is productive by default.
As for Chark, he has the speed (4.34-second 40-yard dash) of a small receiver and the strength (16 bench press reps) of a big receiver — and he's faster and stronger than Lamb (4.50, 11 reps).
None of this is to say that Lamb can't have NFL success. I find him excessively intriguing. Even as a true freshman, he had an impressive 44-807-7 receiving campaign on 68 targets at 18 years old despite playing behind John Mackey Award-winning tight end Mark Andrews and future first-round wide receiver Marquise Brown.
Lamb has always found a way to produce.
But in the NFL, I think his success will need to come as a polished route runner and climb-the-ladder receiver instead of an "I'm about to rough you up" dominator.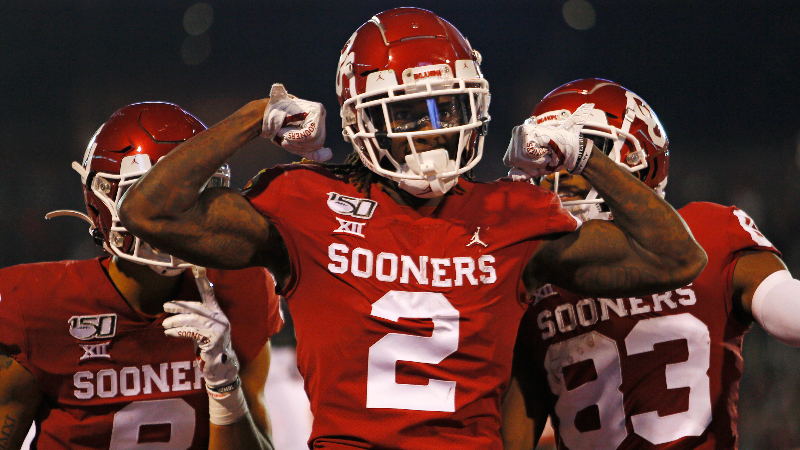 I know that people will say things like, "He'll just need to bulk up in the NFL." Yeah, maybe. But if does, he'll lose speed, and I have actual doubts as to whether he'll be able to add more muscle.
He's the kind of guy who just has a slight build. As a recruit, he was 172 pounds. That he put on 26 functional pounds in three years is amazing. But how much more weight can he reasonably put on?
Basically, I'm saying he's not Nuk. He might have some Hopkins-esque elements to his game — but he's not Hopkins. Or at least he won't be in the NFL. I think he'll have success. He just won't get it in a Nuk-esque style.
I don't want this writeup to come across as a bunch of doom-and-gloom pessimism. As I said at the top, I love Lamb — he's slated to be a 21-year-old first-round receiver with multiple 1,000-yard seasons to his name.
There have been 11 such players over the past 30 years.
Amari Cooper (2015, 1.04): Four seasons with 1,000-plus yards
Sammy Watkins (2014, 1.04): One season with 1,000-plus yards
Mike Evans (2014, 1.07): Six seasons with 1,000-plus yards
Brandin Cooks (2014, 1.20): Four seasons with 1,000-plus yards
Jeremy Maclin (2009, 1.19): Three seasons with 1,000-plus yards
Percy Harvin (2009, 1.22): One season with 1,000-plus yards
Kenny Britt (2009, 1.30): One season with 1,000-plus yards
Mike Williams (2005, 1.10): LOL
Larry Fitzgerald (2004, 1.03): Nine seasons with 1,000-plus yards
Reggie Williams (2004, 1.09): One season with 10-plus touchdowns
Randy Moss (1998, 1.21): 10 seasons with 1,000-plus yards
The odds are better than not that Lamb has multiple top-10 seasons in the NFL.
NFL Prospect Comp: DeVante Parker but smaller, slower and younger
More Dynasty Analysis For Freedman's Top Rookies
---
Matthew Freedman is the Editor-in-Chief of FantasyLabs, part of The Action Network.
How would you rate this article?
This site contains commercial content. We may be compensated for the links provided on this page. The content on this page is for informational purposes only. Action Network makes no representation or warranty as to the accuracy of the information given or the outcome of any game or event.