2020 Fantasy RB Tiers: How To Use These Rankings For the Optimal Draft Strategy
Credit:
Chris Graythen/Getty Images. Pictured: Christian McCaffrey
Running back is the most important position in fantasy football, so you need a strong strategy heading into the draft.
Sean Koerner -- the No. 1 fantasy football draft ranker of 2019 -- outlines his 2020 fantasy RB rankings into tiers.
You can use these tiers to strategize when to draft your RBs based on what Koerner thinks is the optimal strategy.
Running back continues to be the most critical position in fantasy football.
There are two main reasons RB typically decides the fate of your team each season:
As the NFL becomes an increasingly pass-heavy league and RBs are deployed for specific purposes, there are fewer workhorse backs. Positional scarcity makes it critical to draft at least two workhorse RBs.
The position is very volatile. RBs are the most likely players to miss time due to injury, or to lose their job. Given the position is much more about opportunity rather than talent, it paves the way for late-round picks or even waiver wire pickups to emerge as league winners.
Because of those two factors, there are a lot of draft strategies focused solely on how many RBs you should acquire early on.
On the opposite end of the spectrum is the Zero RB strategy, which I agree with … in theory. It mainly focuses on Reason No. 2 above, but ignores Reason No. 1 — that's why I would dub my approach as the RB Surplus Strategy: I first aim to draft two RBs before the end of Round 3 because, as I mentioned, it's critical to acquire two who are set to open the season with a workhorse workload. Then I target high-upside backs in the middle and late rounds.
Another important component of your draft strategy should be to understand the purpose of your bench. Generally, you don't want waste a bench slot on a quarterback or tight end — it's very easy to find a replacement for either position on the waiver wire if you're ever in a pinch or in need of a bye-week fill-in. (I explain my strategy of streaming QBs in further detail here.)
If I have seven bench slots, I'll usually aim to fill them with two to three WRs and four to five high-upside RBs.
The goal of stashing high-upside RBs, specifically, is to hopefully strike gold if one earns a one-off start or becomes their team's starter indefinitely. Think about the backup RBs who usually requires a No. 1 waiver wire claim or the highest Free Agent Acquisition Budget (FAAB) bid to acquire when injury or depth chart news breaks mid-season — I can't tell you how many times a RB who fits that profile was already on my bench.
Drafting RBs with the highest potential to be league winners allows me to be even more aggressive when I do have first priority on waiver wire claims or still have a high percentage of my FAAB available. To help you easily identify them, I've ranked backups by their upside here.
Overall, the position thrives on uncertainty. That uncertainty will also be at an all-time high this season, so it's essential to target specific types of RBs at certain points throughout the draft.
That's why I've outlined my complete blueprint to drafting RBs in 2020 below.
Fantasy RB Rankings
These rankings are based on half-PPR scoring. Click on a tier to skip to the analysis.
Tier 1
Christian McCaffrey
Tier 2
Ezekiel Elliott
Saquon Barkley
Alvin Kamara
Derrick Henry
Dalvin Cook
Tier 3
Clyde Edwards-Helaire
Nick Chubb
Joe Mixon
Austin Ekeler
Aaron Jones
Miles Sanders
Kenyan Drake
Josh Jacobs
Tier 4
Chris Carson
James Conner
David Johnson
Tier 5
Todd Gurley
Leonard Fournette
Le'Veon Bell
Melvin Gordon
Tier 6
Raheem Mostert
Cam Akers
Jonathan Taylor
D'Andre Swift
Tier 7
David Montgomery
Devin Singletary
Mark Ingram
Ronald Jones II
Tier 8
Adrian Peterson
Kerryon Johnson
Kareem Hunt
Marlon Mack
High Floor
Jordan Howard
Tarik Cohen
James White
Matt Breida
Duke Johnson Jr.
High Floor/Upside
Phillip Lindsay
Boston Scott
Zack Moss
Tevin Coleman
Ke'Shawn Vaughn
Carlos Hyde
High Upside
Alexander Mattison
Latavius Murray
J.K. Dobbins
Darrell Henderson
Antonio Gibson
Tony Pollard
Justin Jackson
Chase Edmonds
Tier 1
Christian McCaffrey, CAR
CMC deserves to be the first overall pick in every format. His elite utilization in the passing game is what gives him the highest floor/ceiling combo at the position.

The Panthers are the only NFL team that head into 2020 with a new head coach, offensive coordinator, defensive coordinator and quarterback. Given the limited offseason, this could be problematic for the Panthers, especially early in the season. I expect them to lean on CMC even more as a result.
[Create Custom Cheat Sheets Feat. Koerner's Rankings Now]
Tier 2
Ezekiel Elliott, DAL
Saquon Barkley, NYG
Alvin Kamara, NO
Derrick Henry, TEN
Dalvin Cook, MIN
Zeke seems like the safest bet of this tier, which is why draft him if I have the second overall pick.
The Cowboys are likely to run out of 11 personnel even more in 2020 considering they now have the NFL's best WR trio in Amari Cooper, Michael Gallup and CeeDee Lamb, and Zeke averaged 5.11 yards per carry out of 11 personnel compared to only 3.92 out of all other formations.
It's also likely the Cowboys will provide Zeke with considerably more goal-line opportunities than Saquon Barkley. Barkley scored only one of his six rushing TDs inside the 5-yard line last season. And while rushing TDs can be fickle, one of the best ways to project them is to focus on how many rush attempts a RB could see inside the 5-yard line, and I'm projecting the Giants to provide only the ninth-fewest such opportunities.
Then there's Kamara, who battled injuries and bad TD luck all of 2019. He went nearly three months without a TD (Weeks 4-16) before coming alive to score four over the final two games. The Saints produced the sixth-fewest rush attempts inside the 5 last season, but we should expect them to positively regress to a top-five team — it's why I expect Kamara to bounce back with a massive 2020.

The end of this tier offers you two options: Roll the dice on Cook's top-three upside or play it safe with Henry. I tend to play it safe with Henry because, even with his floor, he proved he has a high ceiling with his overall RB2 finish last season.
Tier 3
Clyde Edwards-Helaire, KC
Nick Chubb, CLE
Joe Mixon, CIN
Austin Ekeler, LAC
Aaron Jones, GB
Miles Sanders, PHI
Kenyan Drake, ARI
Josh Jacobs, OAK
No matter which position I draft from, it's highly likely I'll take one of these eight RBs. It's the final RB1 tier, and it's critical to have at least one RB before Tier 3 has dried up. If you have Pick 7-12, drafting two of these backs seems like the optimal strategy.
CEH, Ekeler, Sanders and Drake each have top-three upside if enough pieces fall into place. They're all used frequently in both the run and pass game, which allows them to be involved no matter the script — if their team leads, they see more carries; if their team trails, they see more targets.

Chubb, Mixon and Jacobs are all workhorse RBs, but concede a lot of their passing down work to another RB behind them on the depth chart, capping their ceiling and making them game-script dependent. Still, all three have the potential to become more involved in the passing game. If they see a spike in targets this season, they would become Tier 2 RBs.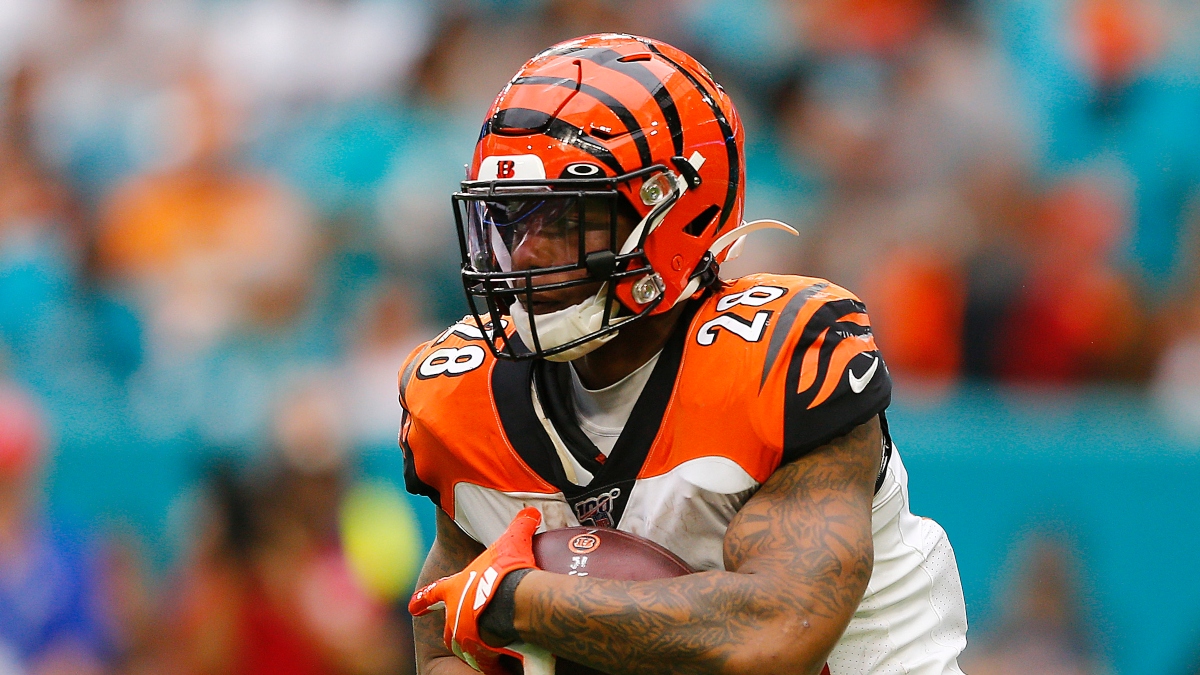 Tier 4
Chris Carson, SEA
James Conner, PIT
David Johnson, HOU
In 2018, Conner and Johnson had top-10 RB seasons. Then in 2019, both dealt with injuries and were "busts." Now heading into 2020, we have a chance to buy low on Conner and DJ.
Carson was one of my highest-owned RBs last season, and I do not regret it.
There was a time when we had to wonder if his fumbling issues were going to send him to the bench, but they didn't. Pete Carrol intends on riding Carson as the lead back again this year, making him a cheap high-floor/high-ceiling option.

If you decide to prioritize QB/WR or TE in Rounds 1 or 2, respectively, RBs in this tier should be available in Round 3, and it's critical to lock-in two RBs before the next tier (5) dries up.
In a sense, Damien Williams' decision to opt out the 2020 season helped boost the value of these three RBs. Previously, I was able to acquire CEH in this range. Now he's being drafted much earlier, placing an even higher premium on the remaining three backs in Tier 4.
Tier 5
Todd Gurley, ATL
Leonard Fournette, JAC
Le'Veon Bell, NYJ
Melvin Gordon, DEN
For various reasons, I don't want to end up with anyone in this tier.
Gurley should see a significant dip in TD production. He's going from the Rams, who provided the top-five most rush attempts inside the 5 over the past two seasons, to the Falcons, who provided the top-five fewest attempts over the same span.
Fournette could have some of his targets stolen by Chris Thompson and/or Leviska Shenault. Shenault reminds me of a bulked-up Kamara who lines up at receiver, so I'm guessing offensive coordinator Jay Gruden will use Shenault in a way that will lower Fournette's target share. And all Fournette offered in 2019 was volume, so any threat to his workload would spell trouble.
Bell lacks the juice to create much value on his own anymore — he needs an offense that will provide him with goal-line scores to get a handful of easy TDs. The Jets offense is incapable of assisting him there, so he has a very low ceiling as a result.
Any RB drafted within the first several rounds is a risky pick as they're the most likely position to miss games or lose their starting job, so you'd want them to provide some upside.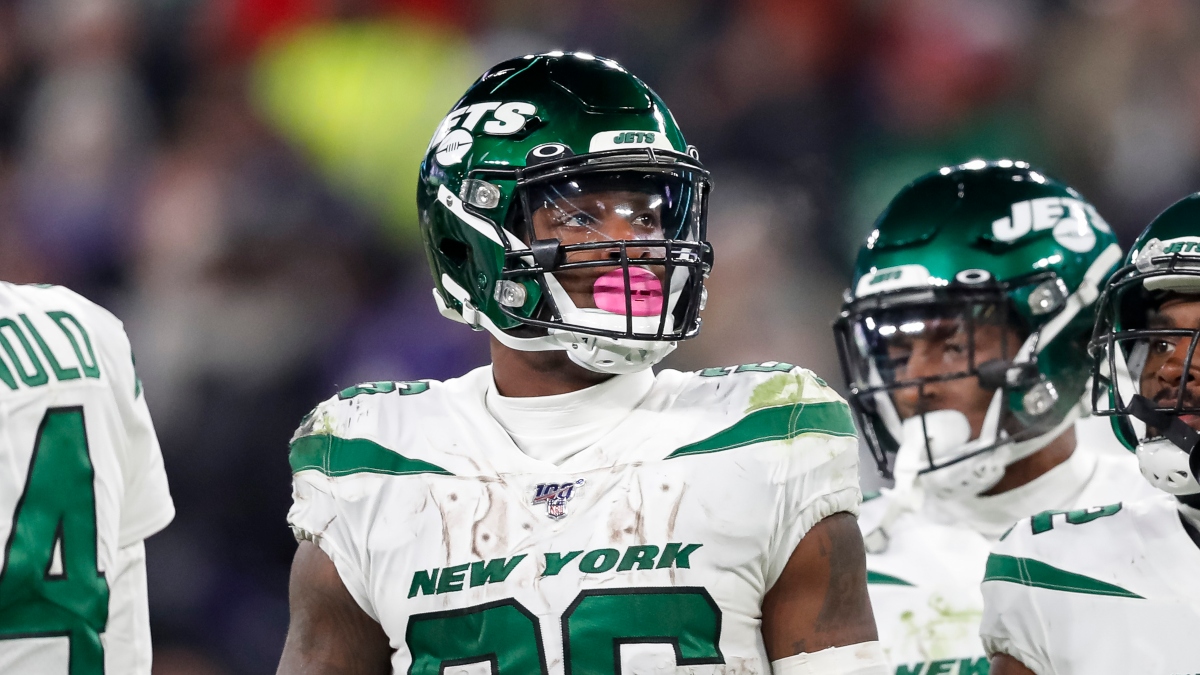 Gordon should have a pretty long leash, but it's going to tough to hold off a back like Phillip Lindsay all season long. Gordon is the first back off the board who we can't say with 100% certainty will be the starter for all 16 games when healthy.
Tier 6
Raheem Mostert, SF
Cam Akers, LAR
Jonathan Taylor, IND
D'Andre Swift, DET
I hate to say it, but Mostert is the closest example to my 2019 Fyre Festival Tier, where I ranked Damien Williams. Like Williams last season, Mostert is on an offense with a scheme that can carry any league-average back to RB2 value, but that's also part of the problem: Mostert is a league-average back, and Kyle Shanahan likes playing the hot hand at RB, so job security isn't high.
I would be cautious about investing too much into Mostert.
Akers, Taylor and Swift provide a ton of upside in this range. I would say that by Week 10, all three are RB2/Flex plays (or better).

Akers has the most natural path to RB1/2 value in this tier. I mentioned how Gurley benefited a ton from the Rams, setting him up with easy scores. Those opportunities will now have to go to someone else, but who? Right now, I have Akers and Malcom Brown sharing the goal-line work. If Akers emerges as the primary goal-line back, he'll get a boost in value as a RB1/2 without needing a teammate to miss time.
Tier 7
David Montgomery, CHI
Devin Singletary, BUF
Mark Ingram, BAL
Ronald Jones II, TB
Tier 7 is all about job security — or lack thereof.
I would say that by Week 10, at least one of these RBs will no longer be their team's starter. So when we're targeting a RB from this tier, we're betting on him to keep his starting role. Despite a disappointing rookie season, the RB with the best job security of this tier is Montgomery — even if he struggles again, the Bears don't have anyone behind him to pressure him.
On the flip side, Singletary, Ingram and Jones all have a third-round (or higher) rookie behind them on the depth chart. I would rank their job security as follows: 1) Ingram, 2) Singletary, 3) Jones.

I usually aim to have three RBs before this tier dries up.
Tier 8
Adrian Peterson, WAS
Kerryon Johnson, DET
Kareem Hunt, CLE
Marlon Mack, IND
AP became the de facto Week 1 starter after the Football Team released Derrius Guice. But it's fair to assume a team in rebuilding mode will want to see if their younger backs, like Antonio Gibson or Bryce Love, could be long-term options, therefore I would considering AP as only an early-season Flex option if you're in a pinch as he may become unplayable in the second half of the season.
Johnson and Mack are in similar situations — they're likely to begin the season in an even timeshare with D'Andre Swift and Jonathan Taylor, respectively. But it's only a matter of time until both second-round picks become their teams' featured backs. They'll offer some early-season value, but will likely see their value drop off over the second half of the season (sans an injury to either rookie), which is why I typically don't target either unless needed.
This brings us to Hunt, who fits the exact profile of the type of high-upside RB I like to target in the mid- to late-rounds.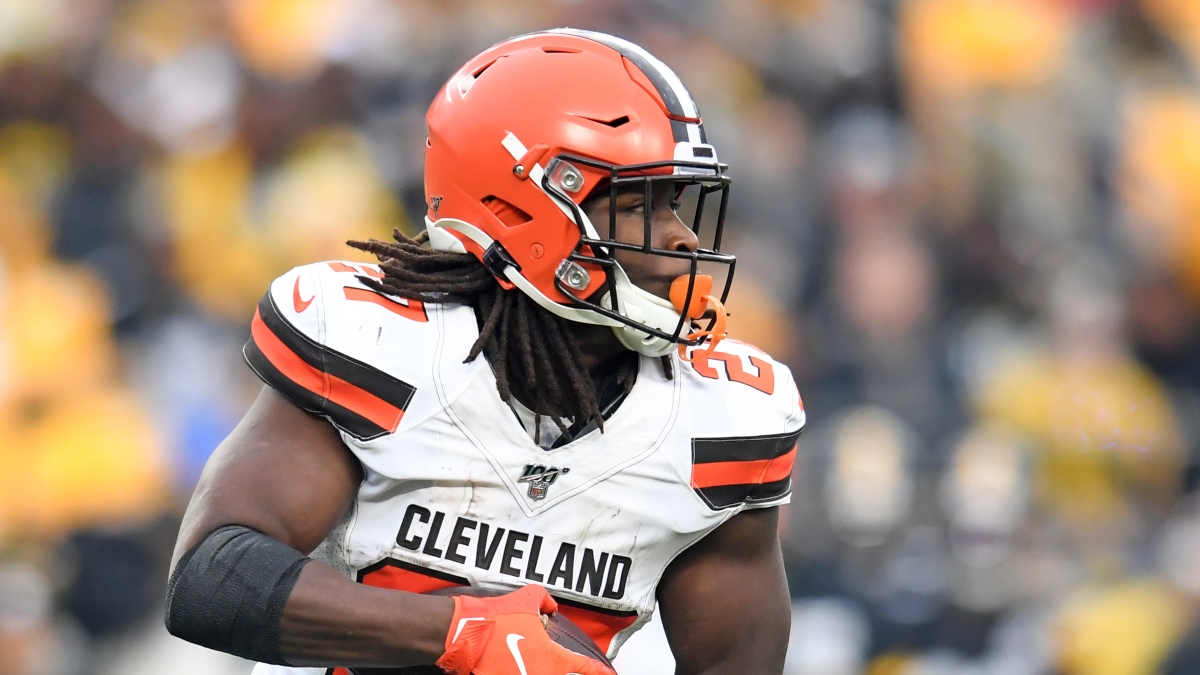 Now, it's important to clarify that I'm not targeting Hunt heavily because I expect Chubb to miss time — I'm targeting Hunt because his early-season role should be significant enough to function as a low-end RB2/Flex (in PPR), which is right in line with his current average draft position (ADP). The Browns will be very run-heavy under new head coach Kevin Stefanski, meaning the offensive will be more than capable of supporting two fantasy-viable RBs. It just so happens that there's also massive upside if Chubb were to miss time.
I would have Hunt valued right on the cusp of a top-five RB in that scenario, meaning his league-winning upside is basically free at his current ADP.
I rank every backup based on this type of potential in my Undervalued Upside Ratings.
Late-Round RBs
It's important to remember that the value of any RBs available at this point in a draft will depend on external factors that will ultimately determine their end-of-season rank. If their team's starter misses time, the following RBs could potentially finish with RB2/3 value (or better), while others will have their starter play all 16 games, preventing them from ever becoming a viable play in fantasy.

The goal isn't to predict who will have a teammate miss time; rather, the goal is to figure out which backs have the highest upside if it happens, as well as which RBs could win the starting role without a teammate missing time.
Now let's run through how to approach those three types of RBs in the later rounds.
High Floor
Jordan Howard, MIA
Tarik Cohen, CHI
James White, NE
Matt Breida, MIA
Duke Johnson Jr., HOU
All of these backs have defined early-season roles. They're less dependent on the health/status of the other RBs on the team. Because of this, they offer a very high floor, but also a relatively low ceiling.
Pass-catching backs typically fall into this category as their role typically doesn't grow or shrink over the course of a season.

You would want to seek out high-floor backs if you weren't able to draft as many RBs early on as you would have liked. They provide a helpful safety net to give you decent production early in the season, which allows you to have some high-upside RBs on your bench, waiting for their chance.
High Floor/Upside
Phillip Lindsay, DEN
Boston Scott, PHI
Zack Moss, BUF
Tevin Coleman, SF
Ke'Shawn Vaughn, TB
Carlos Hyde, SEA
The best combination to target at this point is high floor and high upside. These are backs who may be able to provide you Flex value during the season (even when the starting RB is active), but they all have RB2 (or better) upside if the starter were to miss time.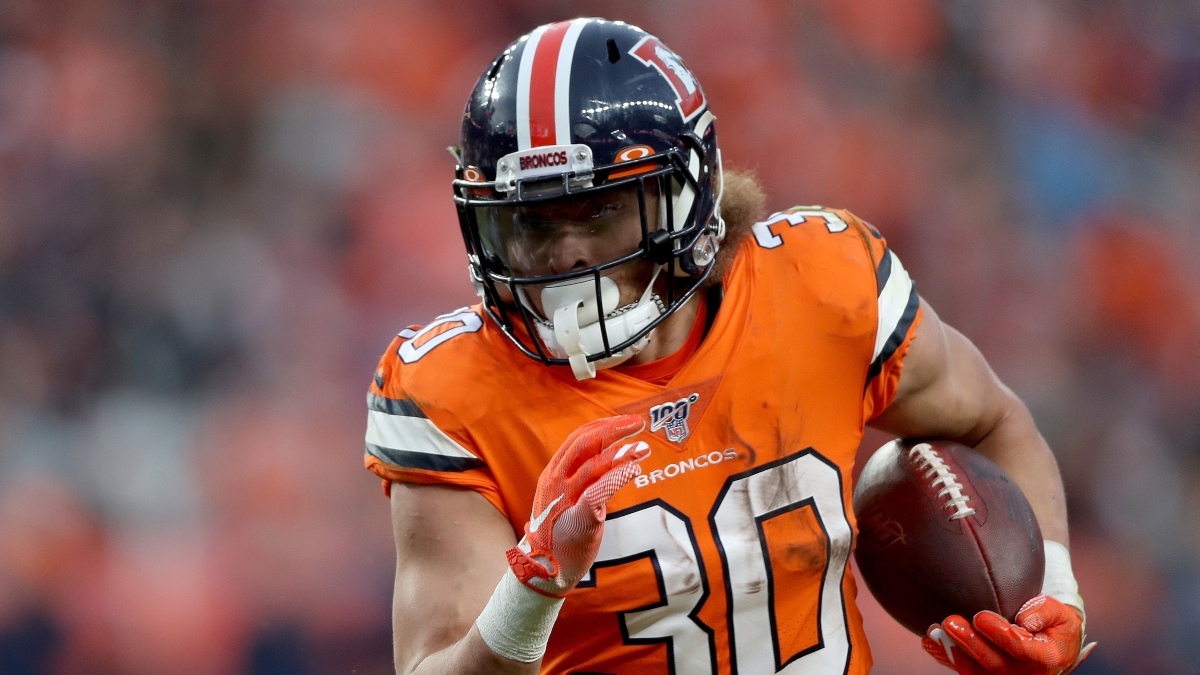 I go out of my way to target RBs that fit this profile.
High Upside
Alexander Mattison, MIN
Latavius Murray, NO
J.K. Dobbins, BAL
Darrell Henderson, LAR
Antonio Gibson, WAS
Tony Pollard, DAL
Justin Jackson, LAC
Chase Edmonds, ARI
I would consider most of this tier as handcuffs, meaning they would likely need their team's starter to miss time in order to ever make into your starting lineup. Thus if their team's starter plays all 16 games, they would have squandered a bench slot for you — a risk I am more than OK with as I treat my bench as a storage unit for high-upside RBs.
One of the easiest ways to hoard high-upside backups is to skip drafting a kicker and/or defense (if your league allows) and use those two spots on RBs. This increases your chances of striking gold if a backup suddenly has an open path to a starting role heading into the season. The best example of this was when I took James Conner in the final round of nearly all my 2018 drafts just in case Le'Veon Bell's hold out extended into the season (which it did … the whole season).
I typically add my Week 1 kicker and defense shortly before the season starts.
How would you rate this article?