The Fantasy QB, TE, Kicker & Defense to Stream for Week 1
Credit:
Michael Reaves/Getty Images. Pictured:
Streaming quarterback, kicker and defense has been a strategy I've used successfully for years. I parlayed that success into a series of weekly recommendations of the top streaming options at those three positions as well as tight end — a position I don't recommend streaming week-to-week, though still offer recommendations for fantasy players who may need a short-term rental.
If you had followed all my recommendations between Weeks 1-16 of the 2019 season, here's the type of season-long production you would have gotten in return:
Quarterback: QB6
Tight end: TE18
Kicker: K4
Defense: DEF4
Last season, my draft plan at QB was to target either Kyler Murray, Jameis Winston, Lamar Jackson or Dak Prescott later in the later rounds — the idea was to spend low draft capital on a high upside QB; if they didn't work out, I would stream the position.
I didn't end up streaming in many of my leagues last year, but heading into 2020, streaming QB is a strategy I'll be using in most of my leagues. The position is deep as it's ever been, which should provide us with plenty of options every week.
The reason streaming is such a powerful strategy is we essentially have QBs 15-32 on our proverbial bench — it allows us to take advantage of the best available QB based on matchup each week, whereas someone who drafts Daniel Jones will either have to play him in a tough matchup at Pittsburgh in Week 1 as my 26th ranked QB of the week or find a one-week replacement, who would take up valuable bench space.
Finally, with all the uncertainty that comes with COVID-19, having the flexibility streaming QB offers will give us a considerable edge this season. We won't be attached to a specific QB (unless we catch lightning in a bottle) and we won't have to carry a QB on our bench, allowing us to use that extra spot on a RB, WR or TE to give our team additional upside.

As for tight end, like I mentioned, I've never recommended streaming position — last year's TE18 results prove that it's challenging to stream it weekly. It's not as deep as a QB, matchups don't have as big of an impact on weekly rankings as they do for QBs and, any given week, the top-12 TEs are usually unavailable.
Usually, when you're streaming TE, it's due to an unfortunate event — either your TE is out with an injury, has a bye week or ended up being such a bust that you needed to cut bait. However, I believe this season's class is the deepest we've seen — there's enough talent that we may be able to come close to streaming low-end TE1 value.
You could also catch lightning in a bottle and end up with a permanent TE1.
Without further ado, let's go streaming!
Note: All recommendations are available in at least 50% of Yahoo Fantasy leagues.
The Week 1 QB To Stream
Chargers QB Tyrod Taylor @ Bengals
Taylor draws a great matchup against the Bengals as the Chargers' Week 1 starter.
The Bengals coughed up the most rushing yards to opposing QBs last season. Of course, a large part of that was because they faced Lamar Jackson twice. And while it's unfair to compare Taylor to the reigning MVP, the Chargers are expected to replicate the Ravens offense this season.
Current Ravens offensive coordinator Greg Roman played a huge part in designing the offense that allowed Jackson to thrive in 2019. In 2016, Roman began the season as the offensive coordinator in Buffalo, when Taylor was the Bills' starter. After an 0-2 start, Roman was fired and replaced by none other than current Chargers head coach Anthony Lynn.
Taylor ended up finishing as the QB7 that season. so Lynn already has a history of successfully maximizing Tyrod's dual-threat ability.
Look for Taylor to have a solid game out of the gate. While he may be without Mike Williams, Taylor still had his top three weapons in Austin Ekeler, Keenan Allen and Hunter Henry ready to go.
He's the top QB stream this week as my QB16 with a great floor/ceiling combo.
Week 1 TE To Stream
Steelers TE Eric Ebron @ Giants
Ebron has made a ton of noise in training camp. Head coach Mike Tomlin and Ben Roethlisberger have hinted at Ebron becoming a big part of their offense in 2020, so he has the potential to become their primary red-zone weapon.
A 10-touchdown season is certainly within his range of outcomes, which is why he's worth a Week 1 stream — not only does he have a great matchup against the Giants, but he could become a long-term TE1 play.
Week 1 Kicker To Stream
Colts K Rodrigo Blankenship @ Jaguars
Blankenship was a perfect 200-for-200 on extra points over his four years at Georgia while making 80% or more of his field-goal attempts each of his four seasons. He was then able to impress enough in training camp to win the Colts starting kicker job.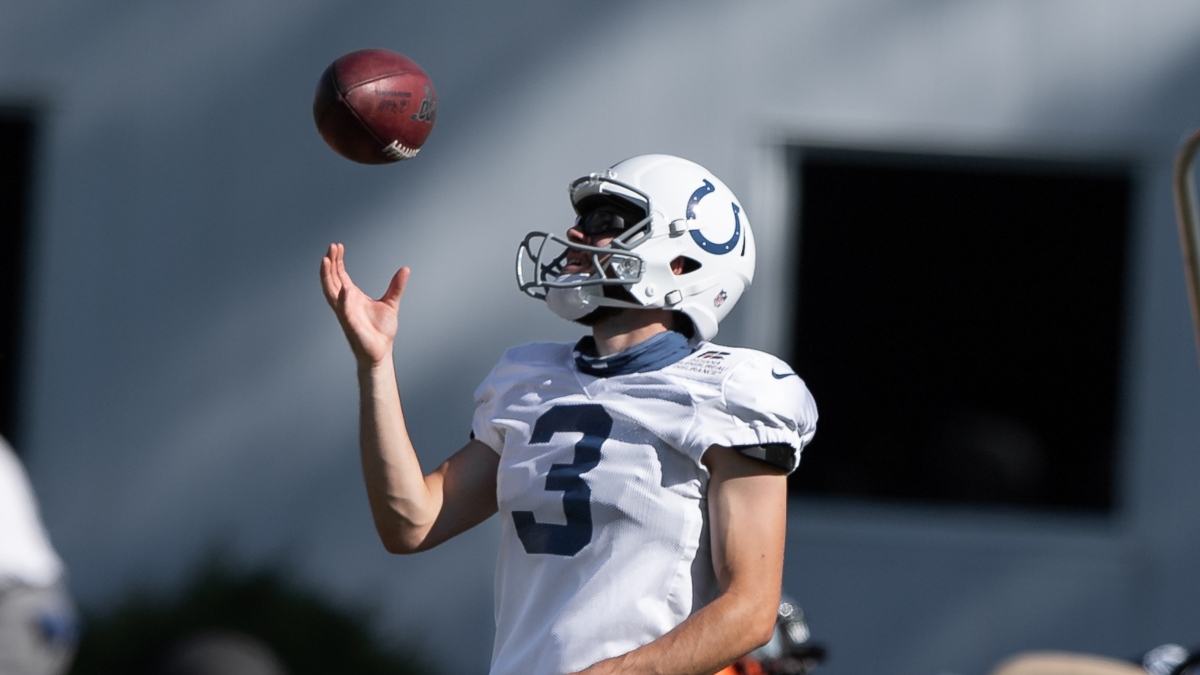 Blankenship should see plenty of opportunities at Jacksonville in Week 1 — the Colts have the sixth-highest team total and should move the ball against the Jaguars' re-building defense with ease.
Week 1 Defense To Stream
Chargers @ Bengals
Derwin James' season-ending injury is a massive blow to the Chargers defense, which has led to them getting dropped in a ton of leagues.
However, they have a plus Week 1 matchup against the Bengals.
Cincinnati's offensive line should improve this season with 2019 first-round pick Jonah Williams healthy to start 2020, but facing one of the best pass-rushing duos in Melvin Ingram and Joey Bosa is a tough opening test.
Joe Burrow is one of the most polished rookie QBs we've seen in quite some time, but my main concern for him is that without a preseason, this will be the first live game action he'll see at the NFL level, so he'll be more prone to turnovers and taking sacks initially.
This is a great spot to use the Chargers as a one-week stream.
How would you rate this article?