Why Jalen Hurts Has High Dynasty Upside
Credit:
Carmen Mandato/Getty Images. Pictured: Jalen Hurts
Jalen Hurts Dynasty Rookie Analysis
Position: QB | School: Oklahoma
Height: 6'1" | Weight: 222 pounds
40-yard dash: 4.59 seconds
2020 Age: 22 | Class: Senior
Recruitment Stars: 4
Draft Position: 1.53 (Eagles)
Jalen Hurts' Fantasy Fit with Eagles
Eagles head coach Doug Pederson will develop Hurts on the bench behind starter Carson Wentz. He should see almost no playing time this year and probably next year.
But in the event of an injury, Hurts will have league-winning potential as a waiver-wire add thanks to his top-tier rushing ability.
Jalen Hurts: Dynasty Analysis
Tyrod Taylor, Russell Wilson, Dak Prescott, Deshaun Watson, Lamar Jackson: In the words of Voldemort, "They never learn. Such a pity."
For much of the past decade, NFL executives have repeatedly misevaluated and underrated many quarterbacks who don't match the prototype, specifically guys who generate a significant portion of their value via the running game and have less than optimal size or arm strength.
Hurts is one of those guys.
Although he's just the No. 5 quarterback drafted in the class, the truth is that Hurts unquestionably has the highest upside of any 2020 rookie quarterback, including No. 1 pick Joe Burrow (LSU) and former teammate Tua Tagovailoa (Alabama) — at least in fantasy.
If not for what Burrow did in 2019, Hurts might have become the third straight transfer quarterback to win the Heisman Trophy for Oklahoma.
Hurts entered college as the No. 1 dual-threat quarterback recruit in the nation, and he opened his career at Alabama with two strong seasons, leading the Crimson Tide to the College Football Championship in each campaign.
2016 (15 games): 62.8% completion rate, 2,780 yards passing, 23:9 TD:INT, 191-954-13 rushing
2017 (14 games): 60.4% completion rate, 2,081 yards passing, 17:1 TD:INT, 154-855-8 rushing
I don't want to make too much of this, but as a passer, Hurts in his 19-year-old sophomore season was highly comparable to Wilson in his 20-year-old redshirt freshman campaign.
Jalen Hurts (2017): 154-of-255 passing, 2,081 yards passing, 17:1 TD:INT
Russell Wilson (2008): 150-of-275 passing, 1,955 yards passing, 17:1 TD:INT
What's more is that Hurts made tangible year-over-year improvements in his second season, based on a number of metrics, including adjusted yards per attempt (AY/A), average depth of target (aDOT), independent quarterback rating (IQR), catchable ball rate (Cbl%) and expected points added (EPA) as a passer, runner and per dropback (per the 2020 Sports Info Solutions Football Rookie Handbook).
2016: 7.4 AY/A | 7.7 aDOT | 108.0 IQR | 81% Cbl% | -7.7 paEPA | 12.2 ruEPA | 0.02 EPA/db
2017: 9.3 AY/A | 8.5 aDOT | 128.1 IQR | 83% Cbl% | 19.5 paEPA | 32.2 ruEPA | 0.11 EPA/db
By most objectives measures, Hurts had a promising sophomore season. But in the 2017-18 title game, he got Tua'ed, as head coach Nick Saban benched Hurts in the second half and went with the heralded true freshman backup instead, who led the team to victory.
After that, Hurts was predictably demoted for the 2018 season, and after a year of riding the bench, he transferred to Oklahoma for 2019.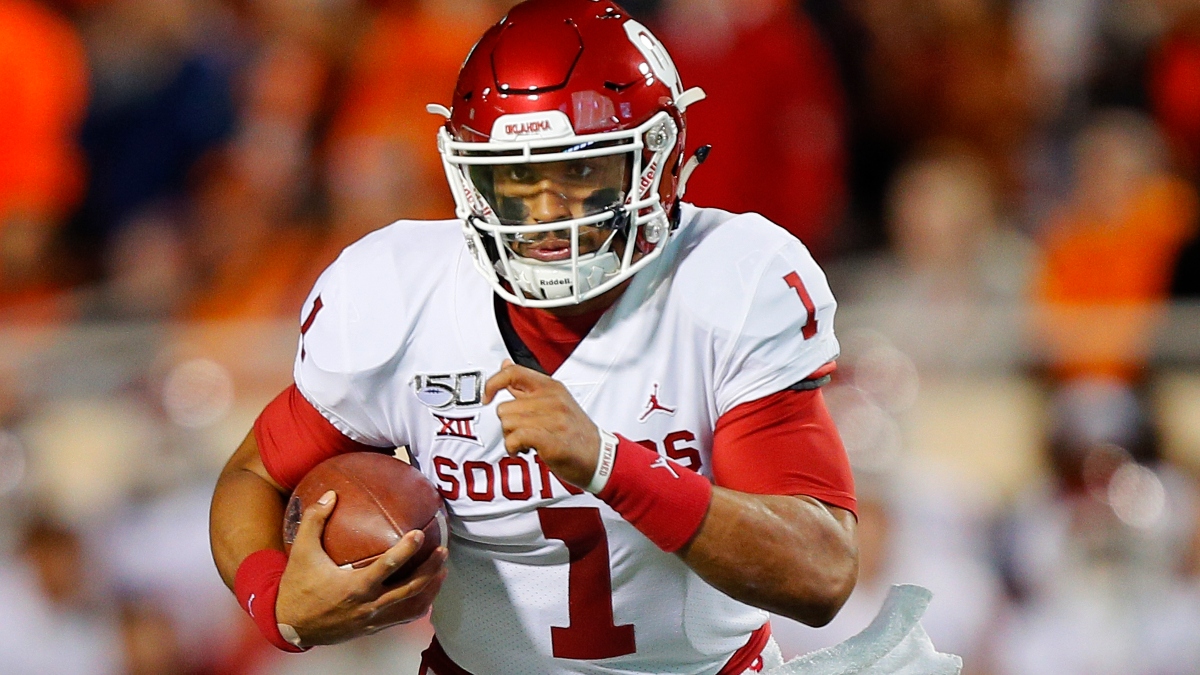 Given how well Hurts played as a senior in head coach Lincoln Riley's offense, you have to figure that he's kicking himself at least a little for not transferring as a junior.
In 2019, Hurts had himself a transformational season.
Passing: 69.7% completion rate, 12.2 AY/A, 32-8 TD:INT ratio
Rushing: 1,298 yards, 20 touchdowns, 5.6 yards per carry (including sacks)
Awards: Semifinalist – Heisman Trophy, Maxwell Award, Davey O'Brien Award
With his performance, Hurts put himself in the top three of many statistical categories on the SIS quarterback leaderboards, ranking right up there with Burrow and Tagovailoa.
Yards per attempt: 11.3 (1st-t)
On-target percentage: 81% (3rd)
Independent quarterback rating: 134.5 (3rd)
Expected pointed added per dropback: 0.38 (3rd)
And as a runner, Hurts absolutely dusted Burrow and Tagovailoa in expected points added.
Jalen Hurts: 53.9 ruEPA
Joe Burrow: 26.0 ruEPA
Tua Tagovailoa: 3.4 ruEPA
If you want to, you can discount Hurts' production because it came in a spread offense against subpar Big 12 defenses — but what Hurts did, he accomplished in his first year in a new system at a new school with new teammates.
What did Burrow do in his first year at LSU? And for that matter, what did Burrow do in his first year at Ohio State? (You don't actually need to answer that. We both know he did nothing.)
And by the way, we didn't discount quarterbacks Baker Mayfield and Kyler Murray for what they did at Oklahoma: They've been the No. 1 picks in the past two drafts, and Hurts was arguably just as good as they were.
% of accurate passes beyond 10 yards in Lincoln Riley's offense:
2017 Baker Mayfield – 51.7%
2018 Kyler Murray – 51.4%
2019 Jalen Hurts – 51.8%

spooky scary

— Seth Galina (@pff_seth) April 21, 2020
Per Pro Football Focus, Hurts trailed only Burrow in 2019 with his overall grade of 91.6.
Again, I wish to assert in no uncertain terms that Hurts has the highest fantasy upside of any quarterback in this class.
Hurts isn't a traditional, strong-armed pocket passer with pinpoint accuracy. He sometimes holds onto the ball too long as he waits for plays to develop, and he has a slow release. He's accurate to the short and intermediate areas of the field, but his downfield throws are a smidgen scattershot.
But Hurts is extremely careful with the ball. He rarely turns it over. On top of that, he's smart, tough and accurate enough to deliver the ball almost anywhere it needs to be, and his ability to make plays out of the pocket and to rush the ball on designed runs and forced scrambles gives him a true edge.
How high is Hurts' upside?
With his college production, athleticism and skill set, Hurts is essentially a combination of Jackson and Prescott: He's a better thrower than L-Jax, a better runner than Dak and probably not as good as either — but he's got potential.
He's going to open his career as a backup, but I wouldn't be shocked to see him get a full-time gig in a few years.
NFL Prospect Comp: Tim Tebow but right-handed, more accurate and just better overall
More Dynasty Analysis For Freedman's Top Rookies
---
Matthew Freedman is the Editor-in-Chief of FantasyLabs, part of The Action Network.
How would you rate this article?