What Makes Eagles WR Jalen Reagor the Ultimate Boom-or-Bust Dynasty Rookie Pick
Credit:
John E. Moore III/Getty Images. Pictured: Jalen Reagor
Jalen Reagor Dynasty Rookie Analysis
Position: WR | School: TCU
Height: 5'11" | Weight: 206 pounds (combine), 198 pounds (pro day)
40-yard dash: 4.47 seconds (combine), 4.28 (pro day)
2020 Age: 21 | Class: Junior
Recruitment Stars: 4
Draft Position: 1.21 (Eagles)
Jalen Reagor's Fantasy Fit with Eagles
My comp for Jalen Reagor entering the draft was "Jeremy Maclin with less production and draft capital."
I guess the Eagles have a type.
I guess I was wrong about the draft capital.
As a first-round pick, Reagor is likely to play right away, and if/when veteran wide receivers Alshon Jeffery and DeSean Jackson miss playing time in 2020, Reagor could see a big boost in target volume.
Even though he's a rookie, and even though he underwhelmed in his final season at TCU, Reagor could finish 2020 as the No. 1 wide receiver on the Eagles.
Jalen Reagor: Dynasty Analysis
I'm intensely conflicted on Reagor.
Under defensive-minded head coach Gary Patterson, TCU hasn't sent one successful wide receiver to the NFL over the past 20 years: Josh Doctson, Josh Boyce, Jeremy Kerley … pretty much any TCU receiver whose first name starts with the letter "J." It hasn't been pretty. That's not great news for Jalen.
More importantly, Reagor massively underproduced in 2019 with just 611 yards and five touchdowns on 43 receptions and 92 targets (per the 2020 Sports Info Solutions Football Rookie Handbook). He did manage to chip in with 14-89-0 rushing and two punt return touchdowns, but on the whole, his junior campaign was a catastrophe, given what he accomplished as a sophomore.
[Easy Money! Get 2-1 Odds on Joe Burrow to Go No. 1 … (Yes, We're Serious)]
Perhaps the depths of his disappointment can best be explored by comparing his 2019 numbers to those of the other top receivers in the class, specifically expected points added per target (EPA) and positive play rate vs. man coverage (PVM, per SIS).
Jerry Jeudy: 0.53 EPA | 48% PVM
CeeDee Lamb: 0.64 EPA | 48% PVM
Justin Jefferson: 0.67 EPA | 67% PVM
Henry Ruggs III: 0.59 EPA | 58% PVM
Tee Higgins: 0.68 EPA | 62% PVM
Brandon Aiyuk: 0.50  EPA | 41% PVM
Laviska Shenault Jr.: 0.41 EPA | 61% PVM
Jalen Reagor: -0.08 EPA | 32% PVM
There's no denying that last year Reagor's production was subpar. But his poor performance wasn't entirely his fault.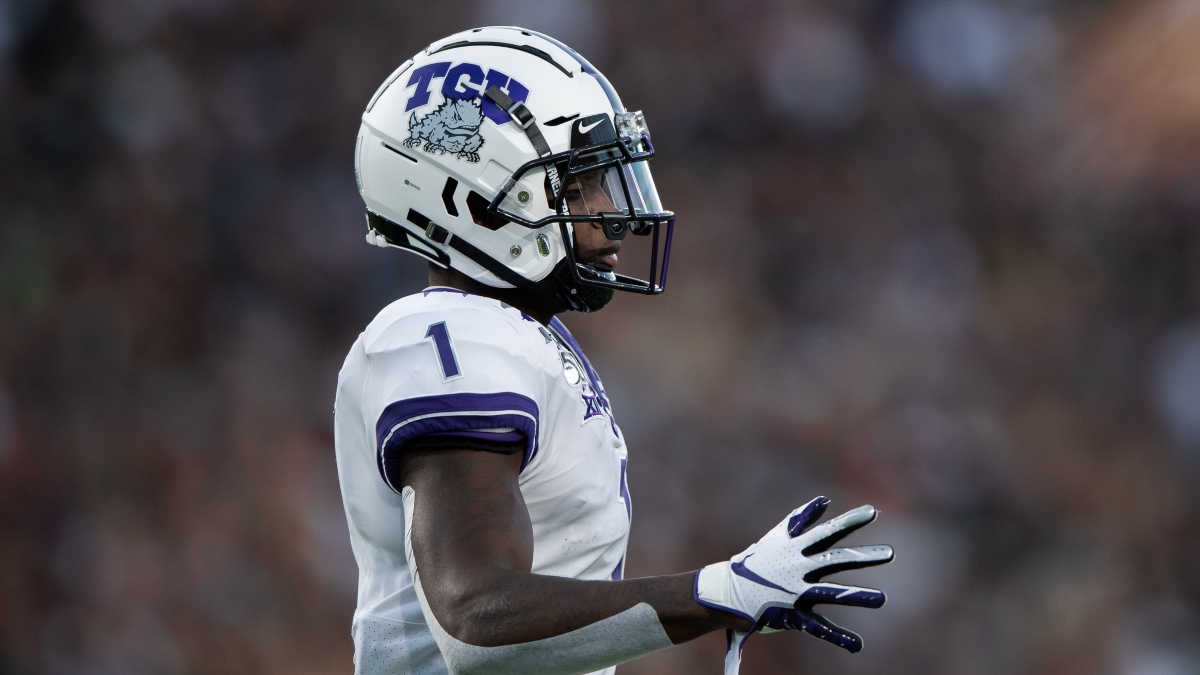 Per Pro Football Focus: "There are legit excuses for that, like him statically lining up at right wide receiver every snap, almost never getting thrown screens, and having one of the worst quarterback situations in the country. The ability to consistently get behind defenses was still very much there even if the numbers don't show it."
Quarterback play in particular is the primary reason for Reagor's collapse, per PFF: "Only 30.7% of Reagor's targets in 2019 were charted as accurate. Only three other FBS receivers had it worse this past season."
Basically, I'm Robin Williams in Good Will Hunting, and I'm telling you over and over that it's not Reagor's fault.
But even so — even if Reagor is not to blame for his lack of production in 2019 — it still materially hurts his long-term prospects: He is naturally hindered as a player by the fact that he failed to develop last year. He's not as far along the path of progress as he otherwise would be if all had gone according to plan.
So there's a significant bear case to be made about Reagor.
The bull case, though, is not unpersuasive. With the exception of Ruggs, Reagor is probably the best downfield receiver in the draft. He's not strong against press coverage, and he's more of a speedster than a sophisticated route runner, but he's physical at the catch point, and he has a wide catch radius thanks to his explosiveness (42-inch vertical and 138-inch broad jumps).
He can play inside and outside, and his versatile skill set as a receiver, rusher and returner speaks to his overall ability. He's a playmaker. And his 19-year-old sophomore season really was impressive (72-1,061-9 receiving, 13-170-2 rushing).
Entering the combine, Reagor was expected to compete with Ruggs for the fastest 40-yard dash at the position, but he showed up at the event weighing a bulked-up 206 pounds (TCU listed him at 195), and as a result he had a sluggish 4.47-second 40.
He also disappointed with his hilariously slow 4.46-second short shuttle and 7.31-second three-cone drill.
But at the combine he displayed elite explosiveness thanks mainly to his jumps, scoring a 99th-percentile 140.4 burst score (per Player Profiler), and at an unofficial pro day, he had a reported hand-timed 4.28-second 40 at a slimmed-down 198 pounds.
Am I incredulous about his "pro day" "40 time"? Yeah. But even if you adjust it to 4.38 seconds, that's still good. The dude is a legitimate athlete.
A boom/bust prospect, Reagor has the upside for multiple 1,000-yard seasons and the downside to be forgotten in three years.
NFL Prospect Comp: Jeremy Maclin with less production and draft capital
More Dynasty Analysis For Freedman's Top Rookies
---
Matthew Freedman is the Editor-in-Chief of FantasyLabs, part of The Action Network.
How would you rate this article?