Week 11 WR/CB Matchups: Mike Evans vs. Jalen Ramsey, Shadow Grades & More
Credit:
Katelyn Mulcahy/Getty Images. Pictured: Jalen Ramsey.
Wide receiver-cornerback showdowns might be the most important individual matchups in football.
In this piece, I leverage snap data from Pro Football Focus (PFF) to project NFL Week 11 WR/CB matchups, especially shadow situations.
For more, see the FantasyLabs Matchups page, where we provide basic and advanced data — including fantasy and red-zone performance — for each offensive skill-position player based on his matchup.
As we get more clarity during the week on the injury status of receivers and corners, I will update my WR/CB projections.
Let's start with this week's featured matchup and then run through all the potential shadow matchups, the most notable upgrades and downgrades and the injury situations to monitor.
WR/CB Injury Updates
UPDATE (Sun. 11/22): I have made updates based on injury reports for the week. Here are some changes and key situations to note.
Wide Receivers: OUT
Chiefs WR Sammy Watkins (hamstring/calf) is OUT.
Lions WRs Kenny Golladay (hip) & Danny Amendola (hip) are OUT.
Jaguars WR Laviska Shenault Jr. (hamstring) is OUT.
Titans WR Adam Humphries (concussion) is OUT.
Football Team WR Dontrelle Inman (hamstring) is OUT.
Wide Receivers: IN
Falcons WR Calvin Ridley (foot) is IN.
Chiefs WR Mecole Hardman (COVID-19) is IN.
Packers WRs Allen Lazard (core), Darrius Shepherd (shoulder) & Equanimeous St. Brown (knee) are projected IN.
Saints WR Tre'Quan Smith (concussion) is IN.
Patriots WR N'Keal Harry (shoulder) is projected IN.
Cornerbacks: OUT
Saints CB Marshon Lattimore (abdomen) is projected OUT.
Raiders CB Lamarcus Joyner (COVID-19) is OUT.
Panthers CB Donte Jackson (toe) is projected OUT.
Packers CB Kevin King (quadricep) is tentatively projected OUT.
Jaguars CBs C.J. Henderson (groin) & Sidney Jones (Achilles) are OUT & tentatively projected OUT.
Titans CB Adoree' Jackson (knee) is OUT.
Seahawks CBs Shaquill Griffin (concussion/hamstring) & Quinton Dunbar (knee, IR) are OUT.
Vikings CBs Mike Hughes (neck, IR), Holton Hill (foot, IR) & Mark Fields II (chest, IR) are OUT.
Jets CBs Brian Poole (knee, IR) & Blessuan Austin (neck, IR) are OUT.
Cowboys CB Trevon Diggs (foot, IR) is OUT.
Bengals CB Darius Phillips (knee, IR) is OUT.
Cornerbacks: IN
Packers CB Jaire Alexander (concussion/hand) is projected IN.
Ravens CB Jimmy Smith (ankle) is tentatively projected IN.
Patriots CB Stephon Gilmore (knee) is projected IN.
Broncos CB Bryce Callahan (illness) is tentatively projected IN.
Vikings CB Cameron Dantzler (concussion) is projected IN.
Cowboys CB Chidobe Awuzie (hamstring, IR) is projected IN.
Saints CB Chauncey Gardner-Johnson (arm) is IN.
Bengals CBs Mackensie Alexander (concussion) & LeShaun Sims (concussion) are IN.
Panthers CB Rasul Douglas (ankle) is tentatively projected IN.
Steelers CB Mike Hilton (shoulder) is IN.
Jaguars CB D.J. Hayden (hamstring, IR) is tentatively projected IN.
WR/CB Matchup of the Week
Buccaneers WR Mike Evans vs. Rams CB Jalen Ramsey
Kickoff: 8:15 p.m. ET on Monday | TV: ESPN
Ramsey is playing at a grown-man level this year.
Against the Cowboys in Week 1, Ramsey had a tough matchup and allowed a line of 8-81-0 receiving on nine targets. On top of that, he was beat deep for a long reception toward the end of the game that was called back by a questionable pass interference.
By the eye and the numbers, it was a bad performance.
Since then, however, Ramsey has allowed just 4.2 yards per target on a 40.0% catch rate and 3.6 targets per game. Last week, he was the primary defender on D.K. Metcalf, who was just 2-28-0 receiving on four targets.
Opposing quarterbacks want no part of Ramsey.
A 2017 All-Pro pass defender, he has always been great, but this year Ramsey has really come into his own. He seems to attack each play with the mindset that he's the best cornerback in the NFL — and he's probably not wrong.
As for Evans, 2020 has been an up-and-down campaign. While he's tied with Metcalf for No. 3 in the league with eight touchdowns receiving, Evans has underwhelmed overall with just 514 yards receiving in 10 games. He is on pace to fall well short of the 1,000-yard threshold for the first time in his seven-year career.
Last year, he had 9.1 targets per game and 9.8 yards per target. This year, he has 6.3 and 8.2. Decreased volume. Decreased efficiency. That will do it.
And against Ramsey, Evans is unlikely to improve upon his 2020 averages.
Action:Large downgrade for Evans
Potential Week 11 Shadow Matchups
Here are the shadow matchups I'm projecting.
Seahawks WR D.K. Metcalf vs. Cardinals CB Patrick Peterson
Kickoff: 8:20 p.m. ET on Thursday | TV: FOX/NFL
For most of the season, Peterson has been a "stay on your side of the field" corner. And that has made sense, given how inconsistent he was last year and how putrid he was in shadow coverage in Week 2 against Terry McLaurin, who went off for 7-125-1 receiving on 10 targets.
But over his past three games, the three-time All-Pro defender has returned to shadow coverage, following D.K. Metcalf, DeVante Parker and Stefon Diggs all over the field, and he hasn't looked entirely bad.
In Week 7, Metcalf was just 2-23-0 receiving on five targets, as Peterson grabbed an interception and became the first corner all year to keep Metcalf from totaling 100 yards or scoring a touchdown.
In Week 9, Parker was a respectable but non-lethal 6-64-0 receiving on seven targets.
In Week 10, Diggs was an impressive 10-93-1 on 11 targets, and in the final minute, he scored what looked like it would be the game-winning touchdown directly against Peterson.
But Peterson also snagged his third interception of the year and is hardly the first cornerback to struggle against Diggs, who heads into his bye week with a league-high 73 receptions and 906 yards receiving.
Peterson can still have his moments, and it's worth remembering that last year he absolutely schooled Metcalf in Week 16, holding him to zero receptions on just one target.
But Metcalf is No. 4 in the league with 90.7 yards receiving and No. 2 with 143.8 air yards and yards after the catch (AirYAC) per game.
---
AirYAC is a leading indicator of fantasy output. You can find it in the RotoViz NFL Player Statistical Summary Tool.
---
Metcalf is probably the closest thing the league has seen to Megatron since Calvin Johnson retired.
It's hard to imagine him having two poor games in a row despite his head-to-head struggles with Peterson.
Action:No change for Metcalf
Texans WR Will Fuller vs. Patriots CB J.C. Jackson
Kickoff: 1 p.m. ET on Sunday | TV: CBS
UPDATE (Sat. 11/21): I expect No. 1 cornerback Stephon Gilmore (knee) to play in this game and shadow wide receiver and former teammate Brandin Cooks.
In just two games this year has Fuller not had either 100 yards or a touchdown.
Week 2: Injured his hamstring during the game
Week 10: Played in inclement outdoor weather
Outside of those weeks, we're looking at a guy who is 36-590-6 receiving in seven games.
This is a tweet primarily about Josh Gordon and a little about Mike Williams — but in it, you can see that Fuller has been one of the league's most productive receivers on a per-opportunity basis for years.
Fuller has an intriguing matchup.
No. 1 Patriots cornerback Stephon Gilmore (knee) has missed three games, and I'm skeptical about his Week 11 availability.
In Gilmore's absence, Jackson has functioned as the team's top shadow corner, and I expect that to continue this week.
In fact, even if Gilmore returns, I still expect the speedier Jackson to cover Fuller, as the Pats have used him (not Gilmore) against Tyreek Hill in the past.
Although he has long played in Gilmore's shadow — pun, nailed it — Jackson is a strong defender. For his career, he has allowed just 6.6 yards per target with a 50.9% catch rate.
His outstanding career 5:14 touchdown-to-interception ratio speaks to how much of a true ballhawk he is.
Here's the thing: Jackson has played with a risky Marcus Peters-esque style this season, and it has allowed opposing receivers to produce.
In Week 10, Marquise Brown was just 2-14-0 receiving on six targets against Jackson and the Patriots, but in Weeks 8-9, Stefon Diggs was 6-92-0 and Breshad Perriman was 5-101-2 receiving.
But Jackson also has an interception in each of the past three weeks — actually, in each of the past five weeks to be precise — so even though he has given up big plays, he has also made plays for the Pats.
The matchup will be tough for Fuller, but another productive game is well within the range of outcomes for the speedster, even if his median projection should be lowered.
Action:Large downgrade for Fuller
Jets WR Breshad Perriman vs. Chargers CB Casey Hayward Jr.
Kickoff: 4:05 p.m. ET on Sunday | TV: CBS
It's possible the Chargers will look at the Jets and determine that rookie receiver Denzel Mims is the team's perimeter alpha, but it seems likelier that they will consider Perriman the No. 1 outside option based on his experience and ability.
Perriman is volatile, but he has potential. In Week 9, he was 5-101-2 receiving on seven targets against the Patriots in his return from injury, and last year, he was 25-506-5 receiving in the final five games of the season for the Buccaneers.
Perriman is usually bad, but sometimes he's very good.
I expect a not-so-good game this week.
The Chargers have played Hayward at left corner for most of the year, but over the past two games, they have used him in shadow coverage in an attempt to compensate for the talent they have lost since the preseason.
All-Pro safety Derwin James: Knee, IR — has been out the whole year
All-Pro cornerback Chris Harris Jr.: Foot, IR — has been out since Week 4
All-Pro safety/cornerback Desmond King II: Traded — last played for Chargers in Week 7
And it makes sense to use him in shadow coverage: He is good. Hayward entered the season as PFF's No. 3 cornerback, and he has allowed a catch rate of just 51.9% since joining the Chargers in 2016.
This year, his catch rate allowed is only 43.1%.
Action:Large downgrade for Perriman
Rams WR Robert Woods vs. Buccaneers CB Carlton Davis
Kickoff: 8:15 p.m. ET on Monday | TV: ESPN
I have become enamored with Davis this year.
Dating back to last season, Davis has allowed just 6.3 yards per target and a 53.6% catch rate. He can be inconsistent, but he has become a shutdown defender.
As for Woods, he is 42-469-4 receiving on 60 targets and having his worst Rams season of the post-Sammy Watkins era.
In 2018-19, he had 75.9 yards receiving and 8.7 targets per game. This year, he has 52.1 and 6.7.
He is now the clear No. 2 receiver behind Cooper Kupp in this offense, and I don't expect that to change this week.
Action:Large downgrade for Woods
Week 11 Shadow Borderline
There are two cornerbacks this week with somewhat complicated potential shadow situations.
Panthers WR Robby Anderson vs. Lions CB Desmond Trufant
Kickoff: 1 p.m. ET on Sunday | TV: FOX
The Lions have used Trufant in shadow coverage against dominant perimeter receivers in both games since he returned from injury in Week 9, but the Panthers have two such receivers in Robby Anderson and D.J. Moore. So, what will the Lions do with Trufant?
I think they'll probably play him at his customary left corner spot, where he will match up most with Anderson, who looks like the Panthers' No. 1 receiver given his edge over D.J. Moore in targets (86 vs. 69), receptions (64 vs. 39), yards receiving (772 vs. 736) and AirYAC (1,186 vs. 1,103).
Trufant never had a PFF coverage grade lower than 65.0 in his seven years with the Falcons, but his grade has dropped to 40.5 this year.
Just last week, Terry McLaurin went off for 7-95-0 receiving on nine targets against Trufant and the Lions.
At this point in his career, Trufant represents a neutral matchup at best.
Action:No change for Anderson
Patriots WR Jakobi Meyers vs. Texans CB Bradley Roby
Kickoff: 1 p.m. ET on Sunday | TV: CBS
The Texans have used Roby in shadow coverage every week he has been active — except last week.
He could have traveled into the slot to shadow Jarvis Landry, but he didn't, and that's why I have him on the shadow borderline.
Roby has flashed at times this year, but since 2018 when he became a top-two corner in his defenses (first with the Broncos and now with the Texans), he has allowed 8.5 yards per target.
Roby isn't a bad corner, but he's not someone a quarterback should avoid.
Over the past month, Meyers is 27-346-0 receiving on 37 targets and is the clear No. 1 option in the Patriots pass offense.
Action:No change for Meyers
Notable Wide Receiver Upgrades
Here are a couple of advantageous matchups that should not be ignored.
Jets WR Jamison Crowder vs. Chargers CB Tevaughn Campbell
Kickoff: 4:05 p.m. ET on Sunday | TV: CBS
Crowder is No. 9 in the league with 121.4 AirYAC per game and is 31-409-3 receiving in five games.
Campbell is a second-year undrafted third-stringer who has allowed 9-92-2 receiving on 11 targets in 79 career coverage snaps.
Action:Large upgrade for Crowder
Chiefs WR Tyreek Hill vs. Raiders CB Lamarcus Joyner
Kickoff: 8:20 p.m. ET on Sunday | TV: NBC
Hill has posted a league-high nine touchdowns receiving in nine games, and against the Raiders in Week 5, he had 13 yards per target (albeit on only six targets).
Joyner is a safety-turned-slot corner with a 72.6% catch rate allowed since joining the Raiders last year.
Action:Large upgrade for Hill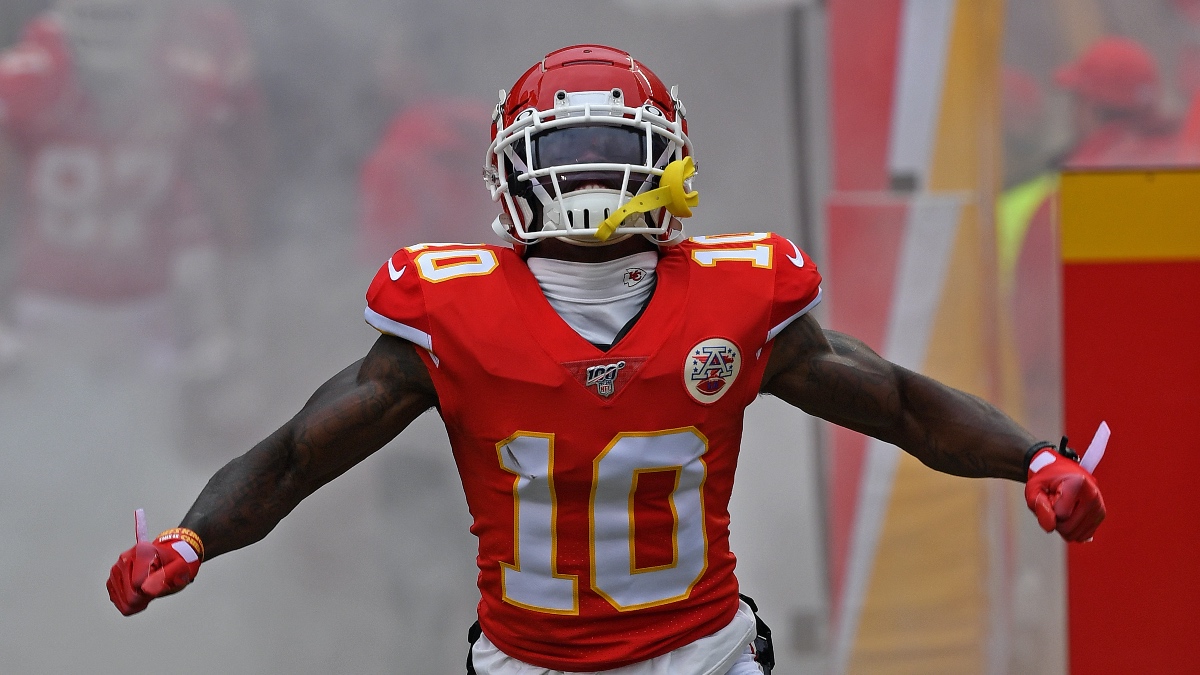 Notable Wide Receiver Downgrades
Here are a couple of disadvantageous matchups to keep in mind.
Ravens WR Willie Snead IV vs. Titans CB Desmond King II
Kickoff: 1 p.m. ET on Sunday | TV: CBS
Since the Week 7 bye, Snead leads the Ravens with 14-207-2 receiving and 292 AirYAC on 18 targets, but I mean, c'mon — he's Willie Snead.
King is a 2018 All-Pro slot defender allowing 6.9 yards per target on three targets per game.
Action:Large downgrade for Snead
Titans WR A.J. Brown vs. Ravens CB Marlon Humphrey
Kickoff: 1 p.m. ET on Sunday | TV: CBS
UPDATE (Sat. 11/21): I expect cornerback Jimmy Smith (ankle) to play in this game and match up most with Brown, who still has a tough matchup.
Brown has an outsized 11.2 yards per target for his career, but he lacks the top-tier target volume of the league's other premier perimeter receivers.
Humphrey shifted to the perimeter last week in the absence of cornerback Jimmy Smith (ankle) and was targeted just once. An All-Pro defender last year, Humphrey has allowed just 6.1 yards per target this year.
Action:Large downgrade for Brown
WR/CB Injuries to Monitor
I take a cautious approach to players I think are likely to be questionable at best. If they look probable to play by the weekend, I will include them.
Here are the injury situations I'm monitoring and projecting early in the week.
Wide Receivers: OUT
49ers WR Deebo Samuel (hamstring) is projected OUT (BYE).
Wide Receivers: IN
Cornerbacks: OUT
49ers CBs Richard Sherman (calf, IR) & K'Waun Williams (ankle) are projected OUT (BYE).
Bills CBs Levi Wallace (COVID-19) & Josh Norman (COVID-19) are projected OUT (BYE).
Giants CB Ryan Lewis (hamstring, IR) is OUT (BYE).
Cornerbacks: IN
NFL Week 11 WR/CB Matrix
Pos = left, right or slot WR or CB
Projected shadow matchups are CAPITALIZED
WR Exp = Wide Receiver Expectation: I rank from 3 to -3 how much I think we should adjust expectations for wide receivers based on matchups. 3: Large upgrade. 2: Medium upgrade. 1: Small upgrade. 0: No change. -1: Small downgrade. -2: Medium downgrade. -3: Large downgrade.
Thanks to Scott Barrett for providing me with some of PFF's historical data.
---
Matthew Freedman is 751-591-31 (56.0%) overall betting on the NFL. You can follow him in our free app.
The Editor-in-Chief of FantasyLabs, Freedman is commonly called the Oracle & the Labyrinthian.
How would you rate this article?
This site contains commercial content. We may be compensated for the links provided on this page. The content on this page is for informational purposes only. Action Network makes no representation or warranty as to the accuracy of the information given or the outcome of any game or event.